It began with Instagram intrigue…check out @houndhousect and you'll see what we mean. Hound House is a 1790 farmhouse located in Newtown, and home of partners, Designer Collin Robison and Trent DeBerry. Their Instagram gives us glimpses of interesting vignettes around the home and pics of cute greyhounds. The only natural thing to do would be to gently stalk and eventually reach out and say, "Hi @houndhousect, can we come and visit your home and grill you on all things Hound House?!" To which the guys said, "Come on over, we'll have Kentucky Mules and chat for a while."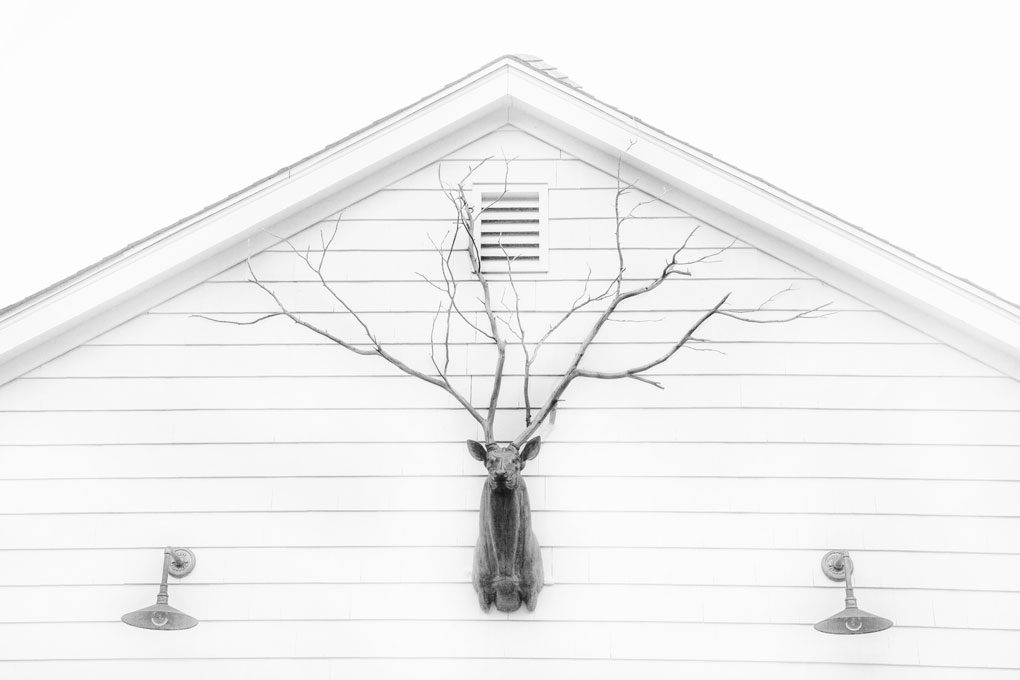 We so enjoyed our afternoon picking Collin's brain about his unique style as a designer and taking a tour around each room of Collin and Trent's eclectic home; a true feast for the eyes. Every room tells a story in the most magical and whimsical way. The furniture is unique and the style is hard, if not impossible, to categorize. It's no wonder Hound House is also a venue to rent for film or photo shoots. In fact, the guys were still doing a spot of rearranging the day after the Dan Patrick show had used the back gardens to shoot a Thanksgiving dinner scene.
Enjoy the musings, vignettes, and visuals below. Plus, you'll find some pretty awesome Collin Robison designer tips we collected along the way. And right at the end, Trent's special Kentucky Bourbon recipe. They were that good, and we had to ask him to share.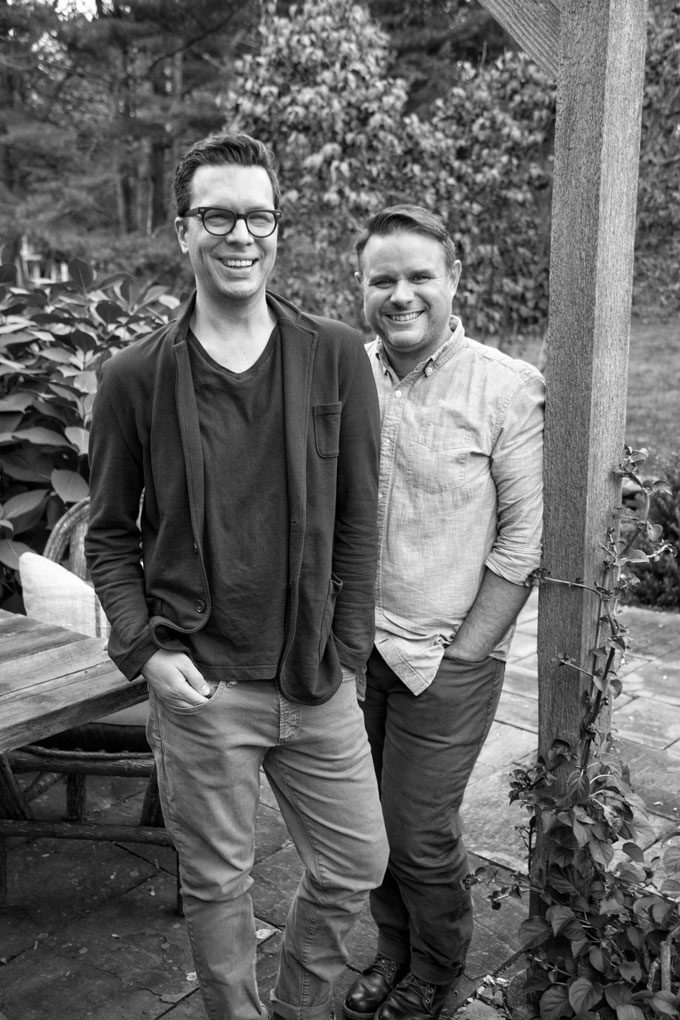 A storyteller
I describe my design as environment designer. That's what I strive to do. I always have a narrative in my mind for a space. It's a place and time that may not even be a real place and time. When I was doing this house, it was kind of an English country home, hunting lodge, all of this stuff meshed together. Then, when I'm looking at pieces I'll ask myself, does this fit into my narrative? That's what I really enjoy doing, creating an atmosphere. The details are very important, but I love the overall – how the light affects everything, the textures, how it tells that story.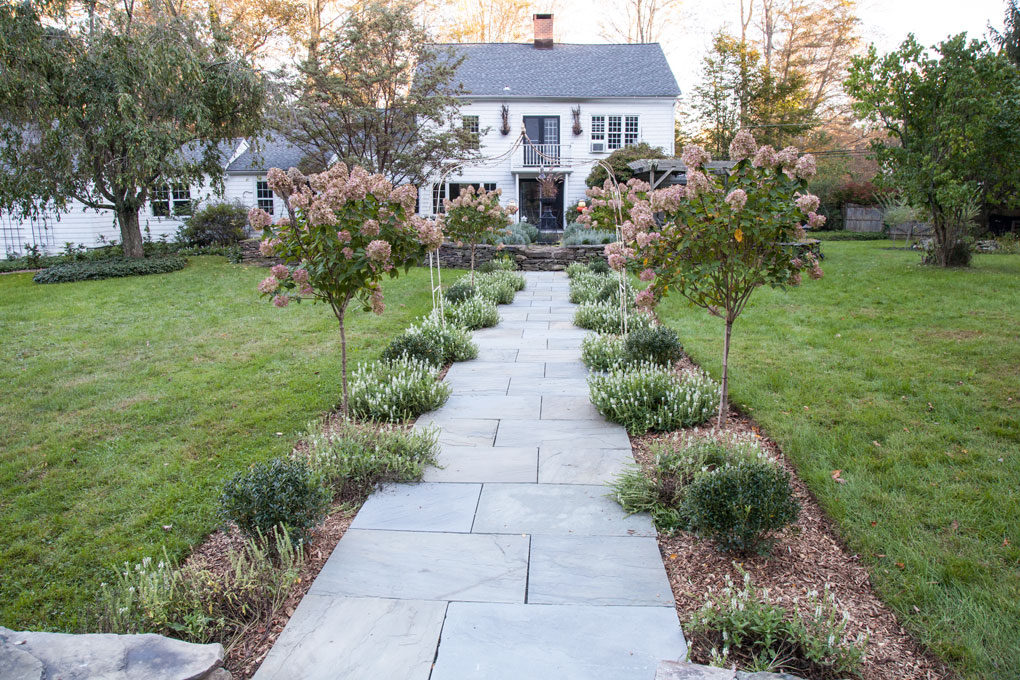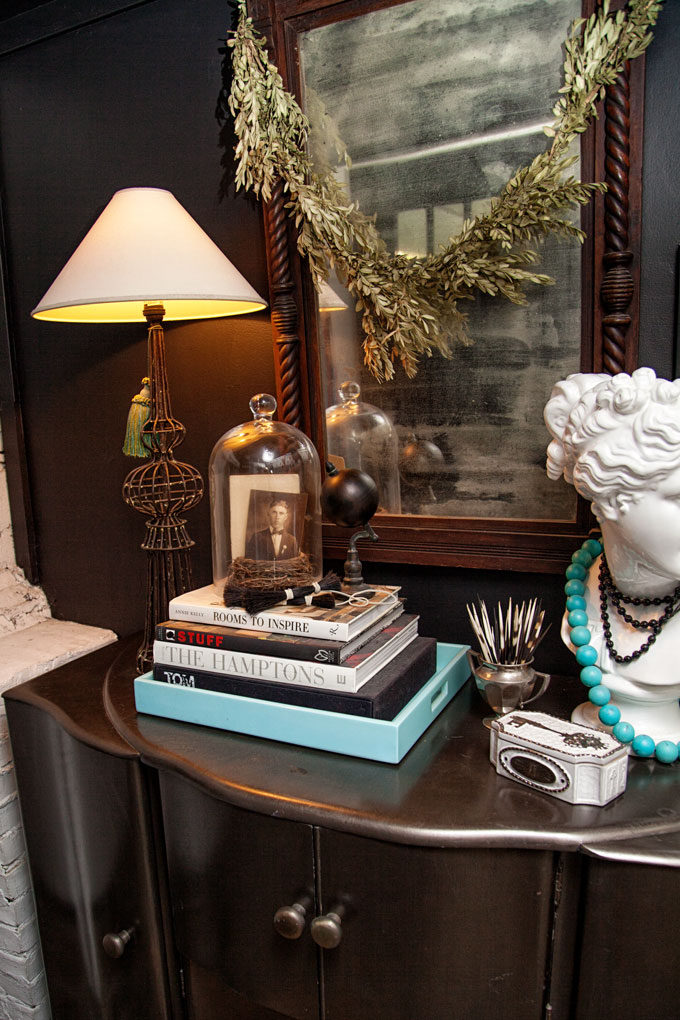 Hound House, the brand…
Hound House kind of happened by accident. About a year and a half ago I was like, "This house is going to the dogs!" and somehow we started calling it Hound House. We were on the Newtown Historical Garden tours in the summer of 2016, and that was the first time we officially started using the term, and it kind of stuck.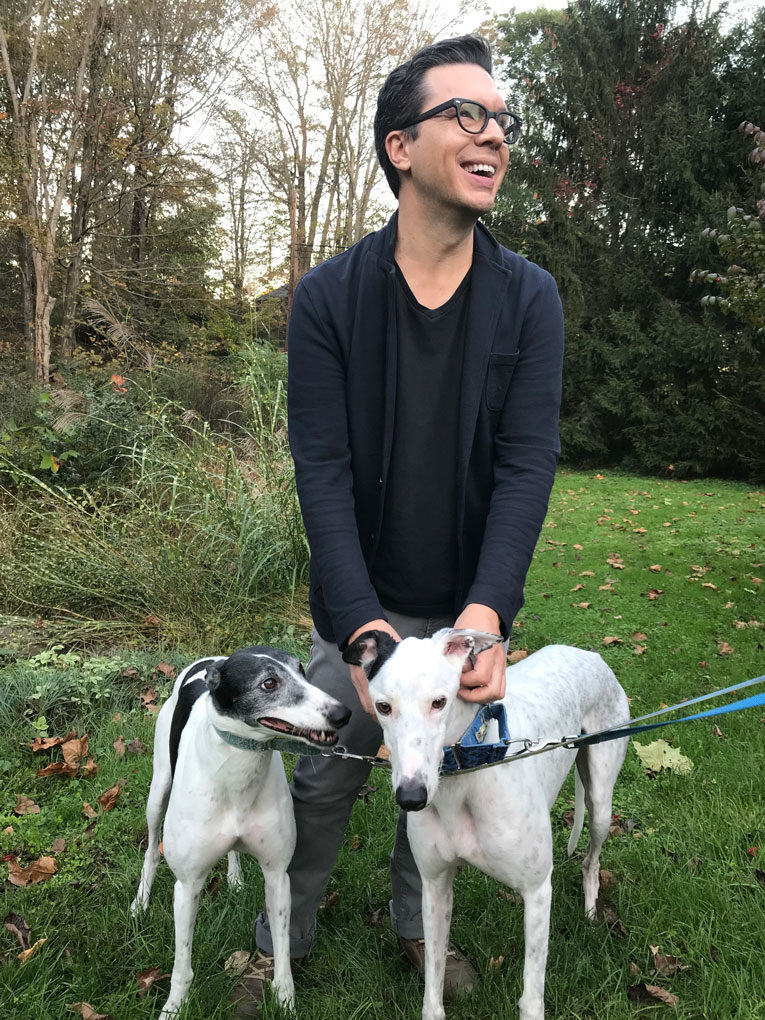 Connecticut Cottages and Gardens…
We had a shoot with Connecticut Cottages and Gardens and bonded with that photographer. She had a client, Royal Velvet, a linen company, and she pitched the story to them (to shoot at Hound House). They loved it and shot their fall campaign here in June.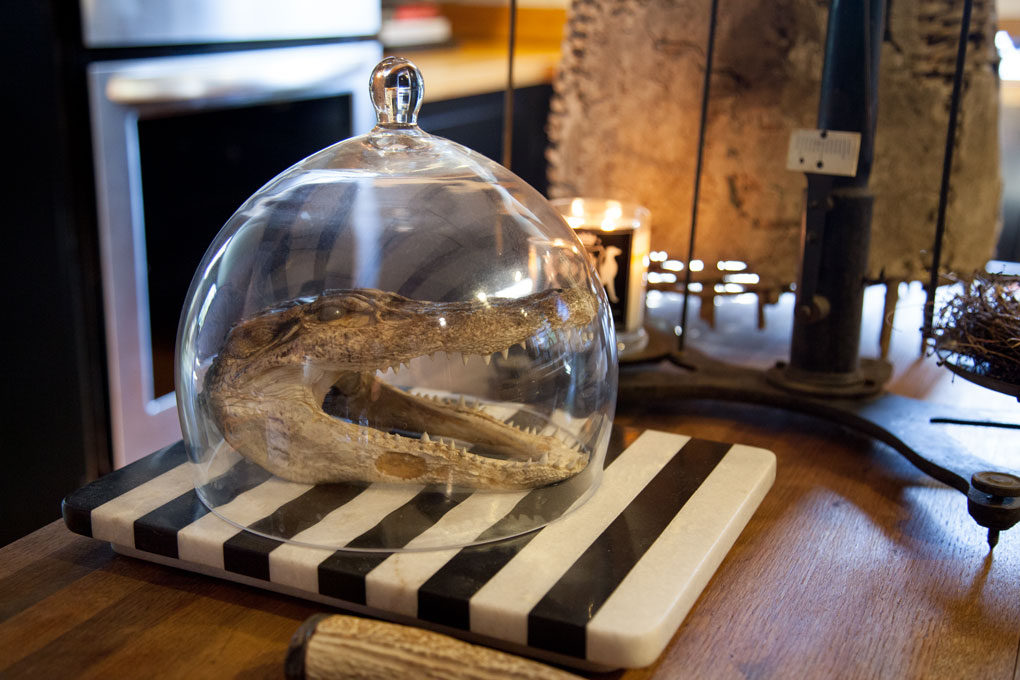 Everything in this house tells a story. Everything is pretty personal and everything has come from different parts of our lives. A lot of the artwork we got when we lived in Texas and New Orleans. We like to add a sense of humor to each room.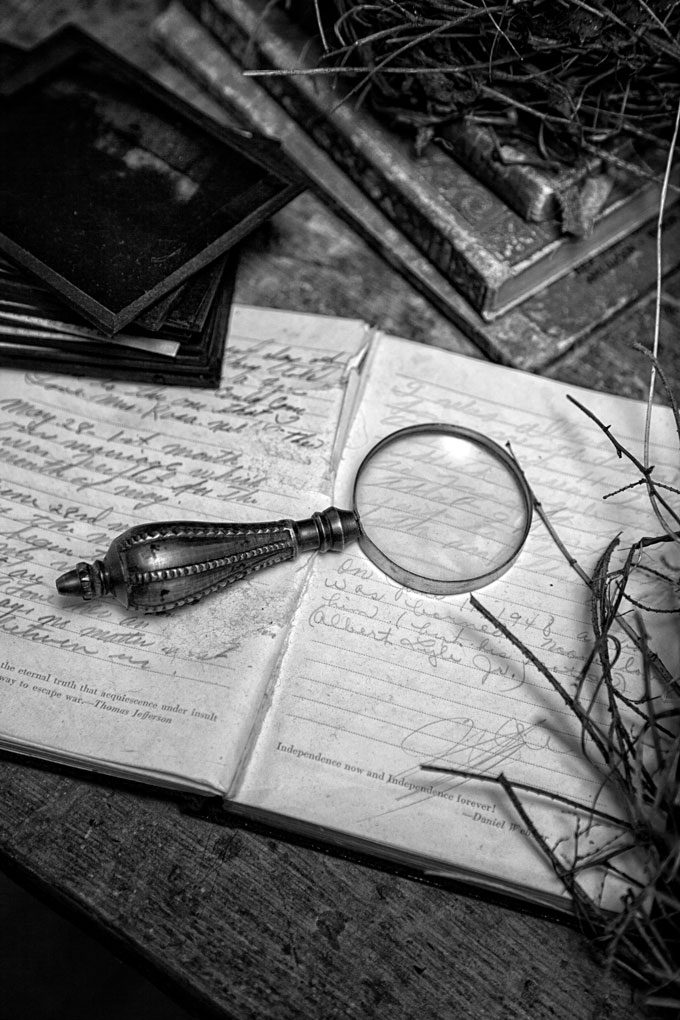 ⚠Designer Tip:
Dorothy Draper said, "I always like to put in one controversial item. It makes people talk".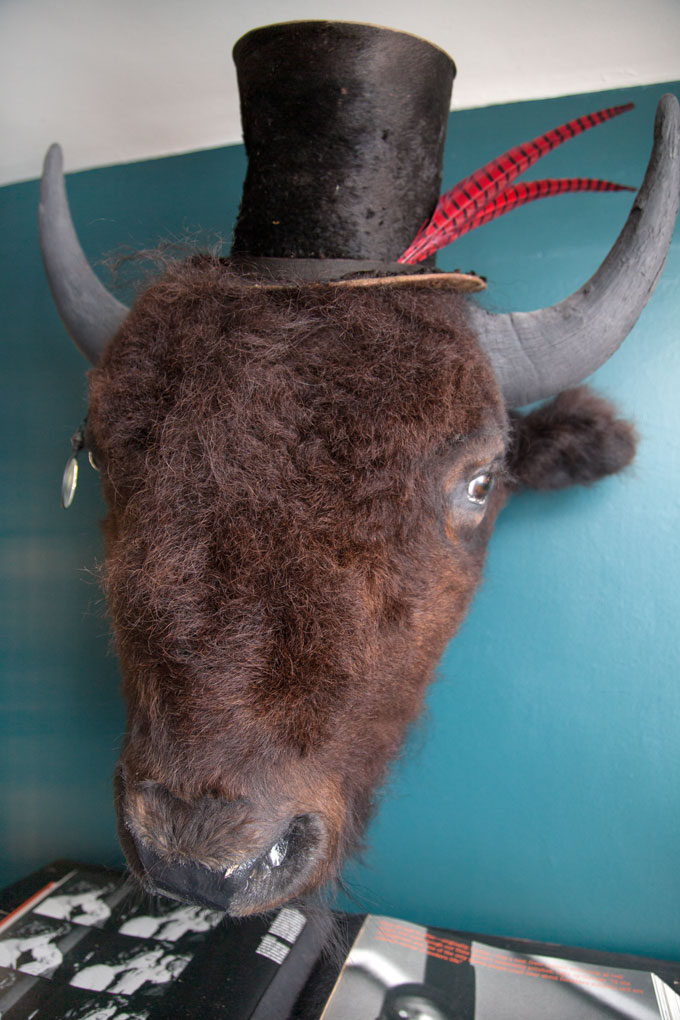 How else can I live with a zebra?
A jumping-off point for this house was Aynhoe Park in England…I don't remember the guy's name, but he made his money in the music industry, found this country estate, redid it, and crazy stuff – he had full-size polar bears with goggles, and full-sized giraffes floating from the ceiling in balloons, and that's what got me to buy my first piece of taxidermy. Before, I was kind of turned off by it, and seeing it in a way where it was more whimsical and really were more characters, then I was like, ah! How else can I live with a polar bear or a zebra!?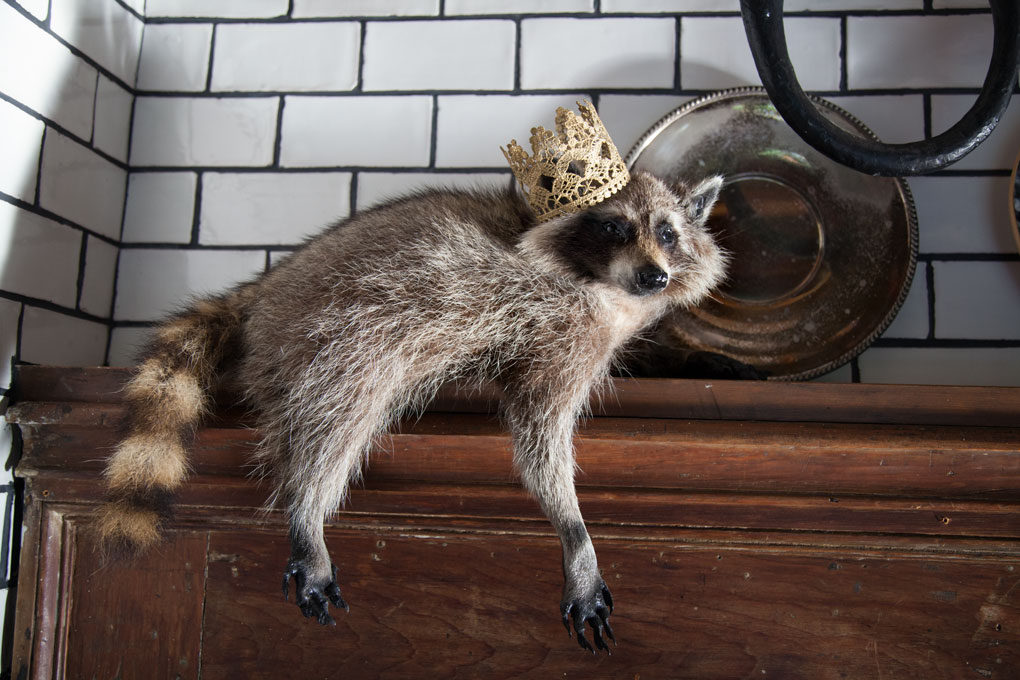 ⚠Designer Tip: The poor man's English leather-bound book.
One day I looked at the bookcases and felt they looked too busy. We took their jackets off. That didn't help. So I decided to cover them all in brown paper! Trent covered, I stamped.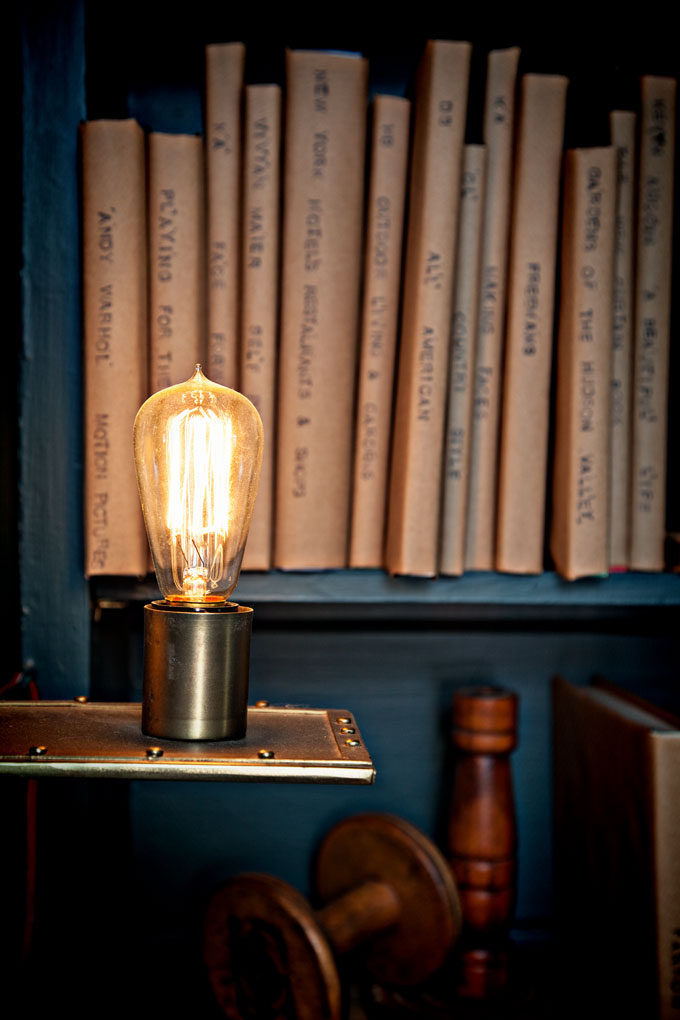 Taxidermy never looked so good!
We've made our taxidermy characters. I mean, they have crowns or little telescopes around their necks, and most of them have names! It's taking something that some would maybe see as dark and making it more whimsical.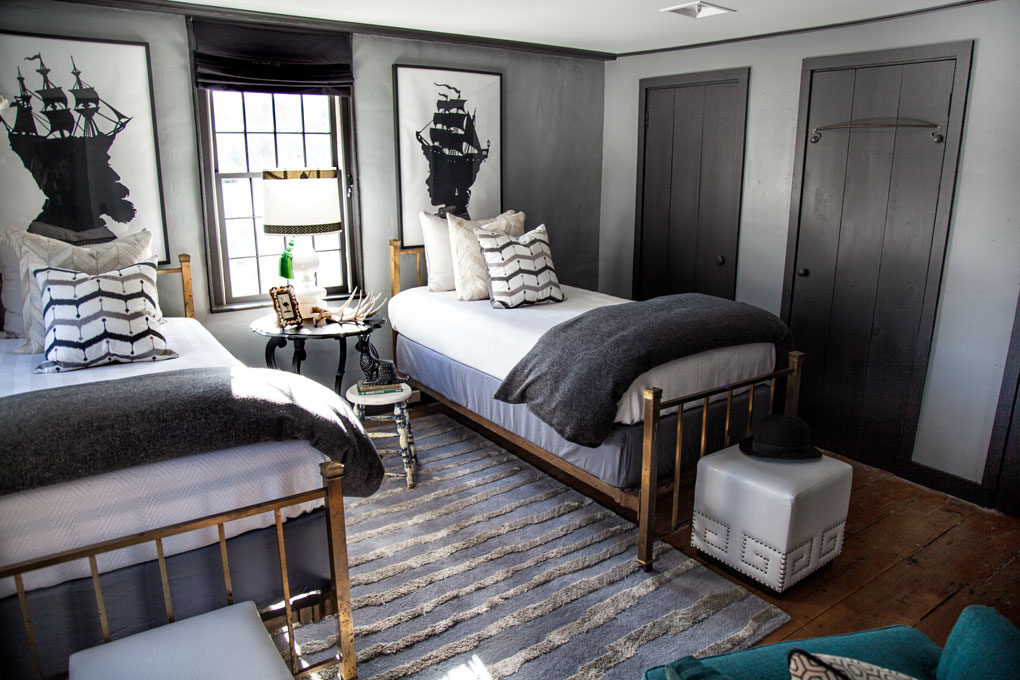 Hound House Lifestyle
On the lifestyle end is the candle line. Right now we have our signature scent and our holiday scent. The next one is probably going to be Cutting Garden for the spring. Then we'll do a Library candle, which will be Bourbon, tobacco, and lemon. So it's all based around Hound House. Candles can currently be bought at Shakespeare's Garden and Queen Street Gifts in Newtown and eventually on our website. Coming soon!
The ideas are all unfolding…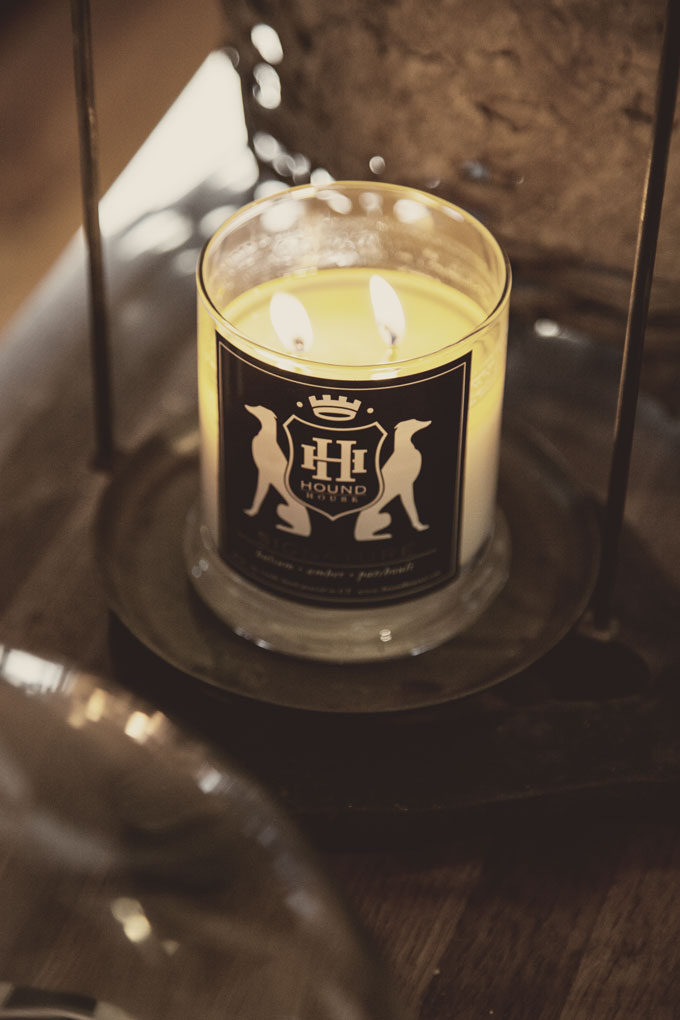 ⚠Designer Tip:
Let the bigger pieces be more neutral and solid and the accessories are what you can play with. They're cheaper to change out, they're easier – pillows and things like that.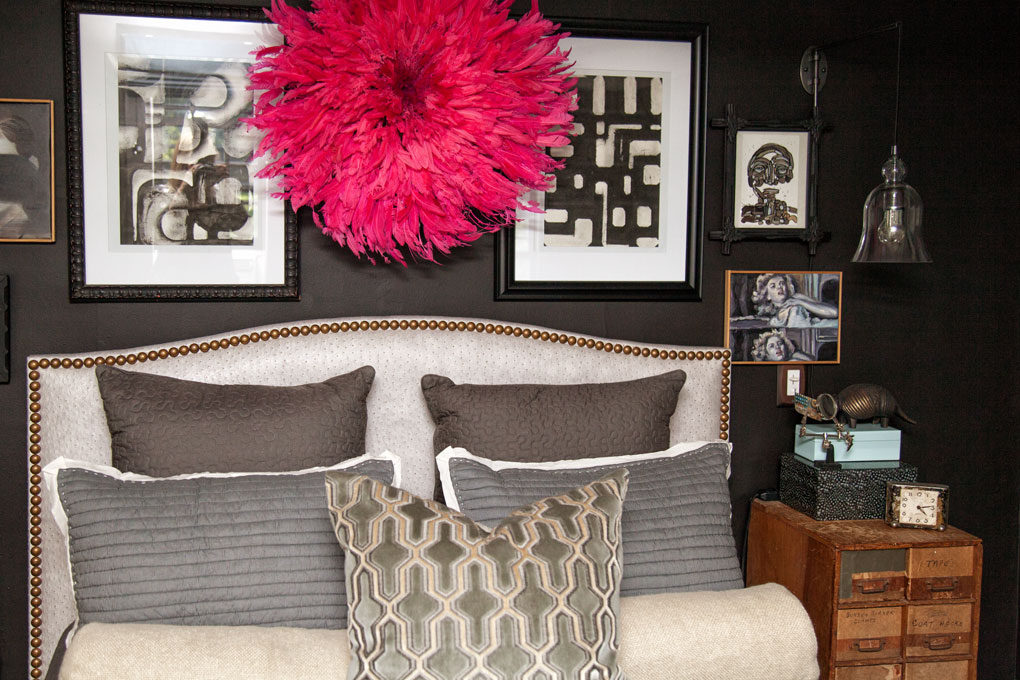 Envelope Pusher
When I was younger I would look at books about designer's homes and I'd think, that's very eclectic and yet their work seemed to be more focused. I think as designers we have so many influences, it's like a drug; you've seen so much and done so much, you're tired of it so you go a little bit more extreme. Always pushing the envelope.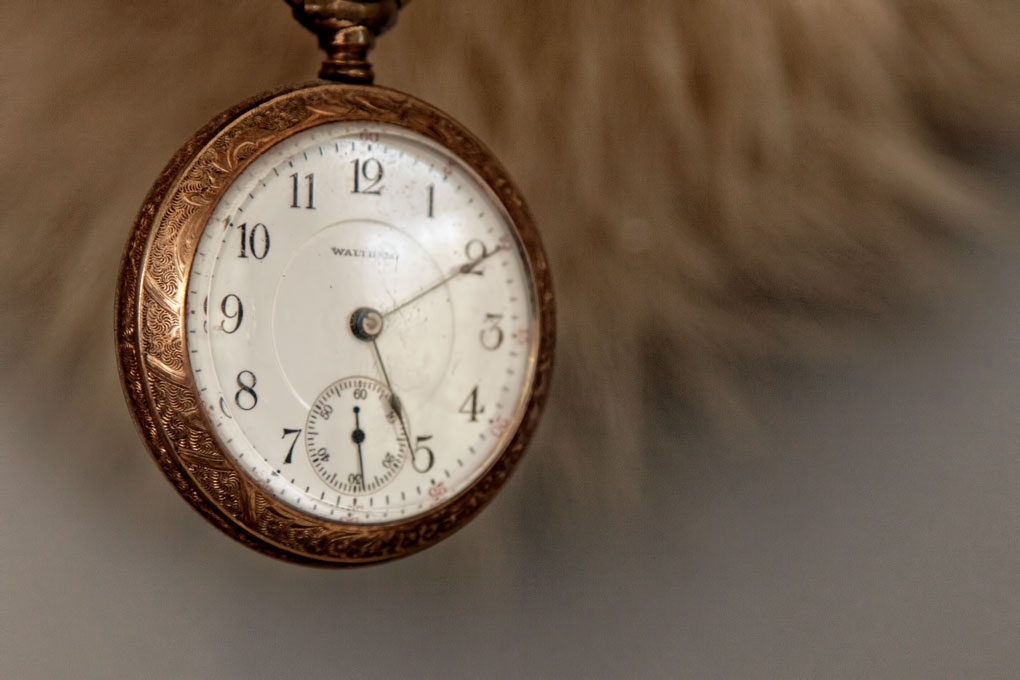 What's ugly is beautiful…
I love finding things that maybe yesterday I thought were ugly, then I'll become obsessed with it and hopefully, make other people look at things in a different way. I've had several people who have come to the house who maybe aren't artistic, but as they are here throughout the evening, I can see it soak into their pores. I love seeing that change.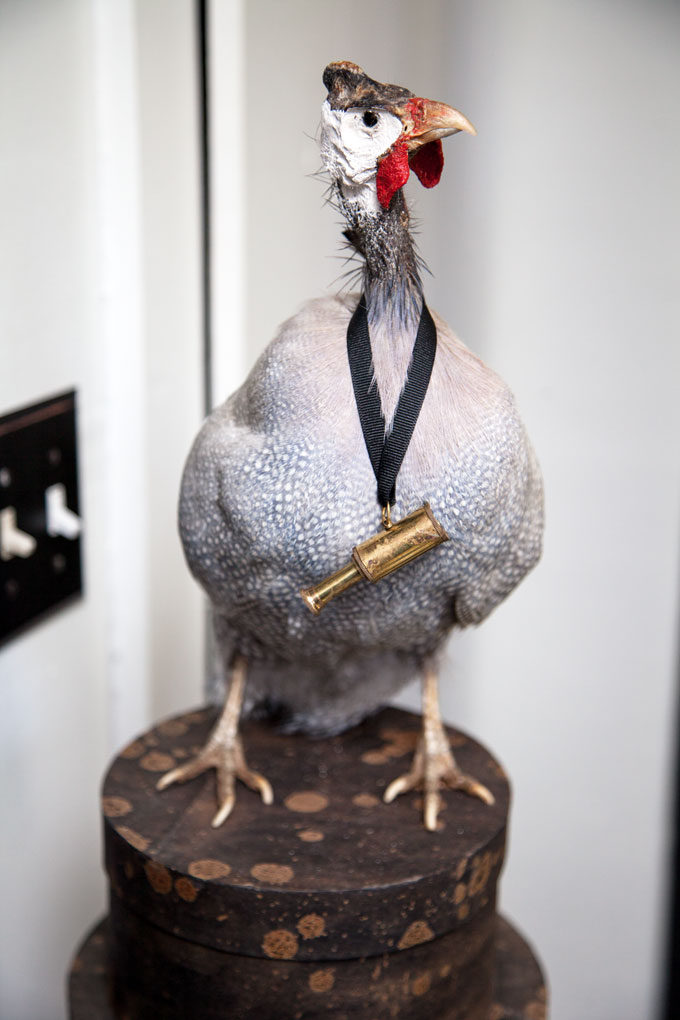 ⚠Designer Tip:
I've been to houses where people have really beautiful pieces, but there was no contrast, so you didn't notice them. My concept is that if you have something perfect with imperfect, old and new, light and dark, they bring one another out. Take risks!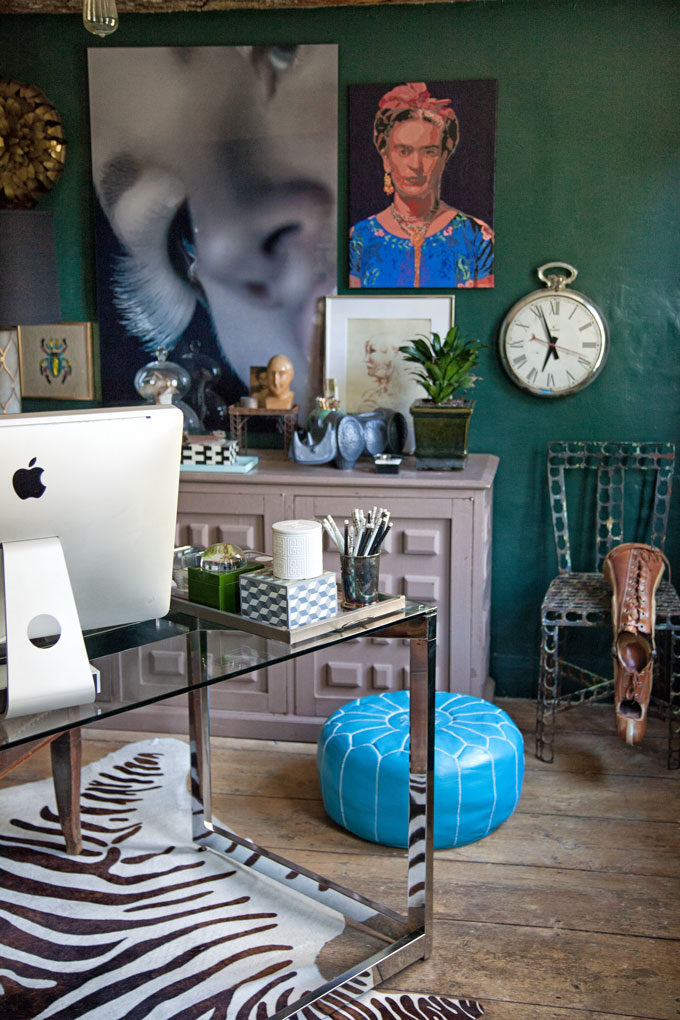 Inspired?! We were too! Here's your weekend challenge: mix up a Kentucky Mule (recipe below, thanks, Trent!) and go put something controversial in your favorite room!
Kentucky Mule
2 oz Bourbon in an old-fashioned glass with ice
Top with ginger beer
Finish with a lime wedge
Garnish with mint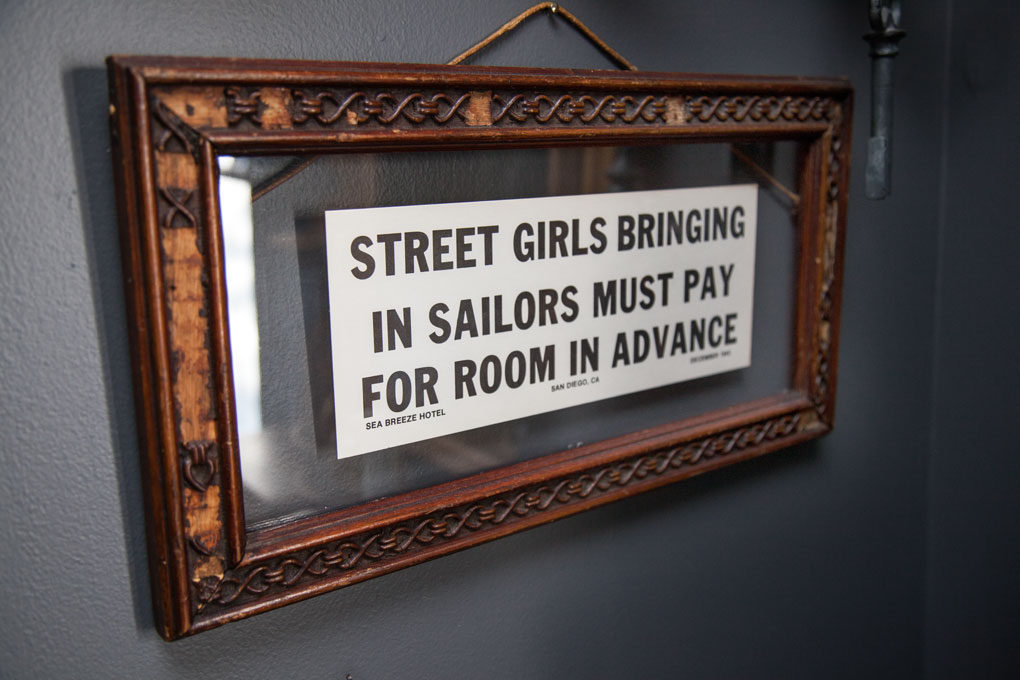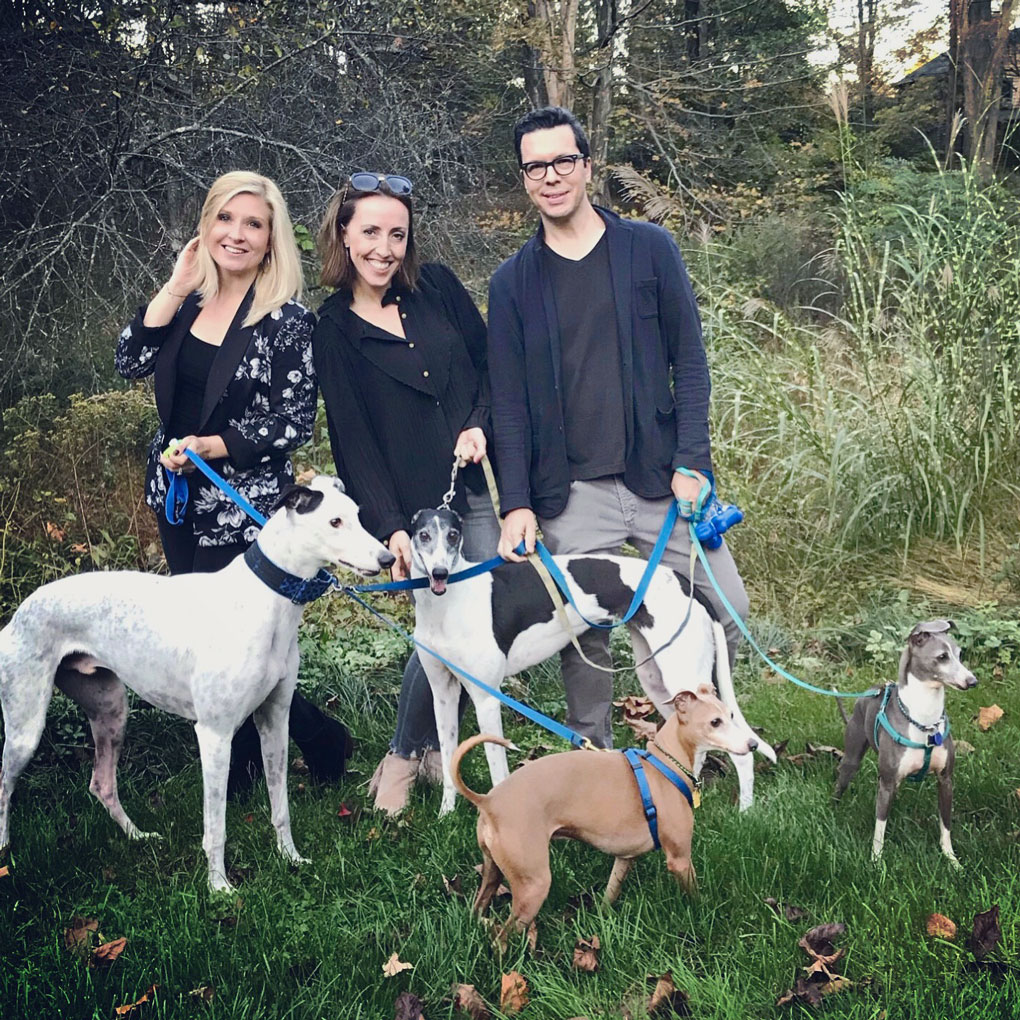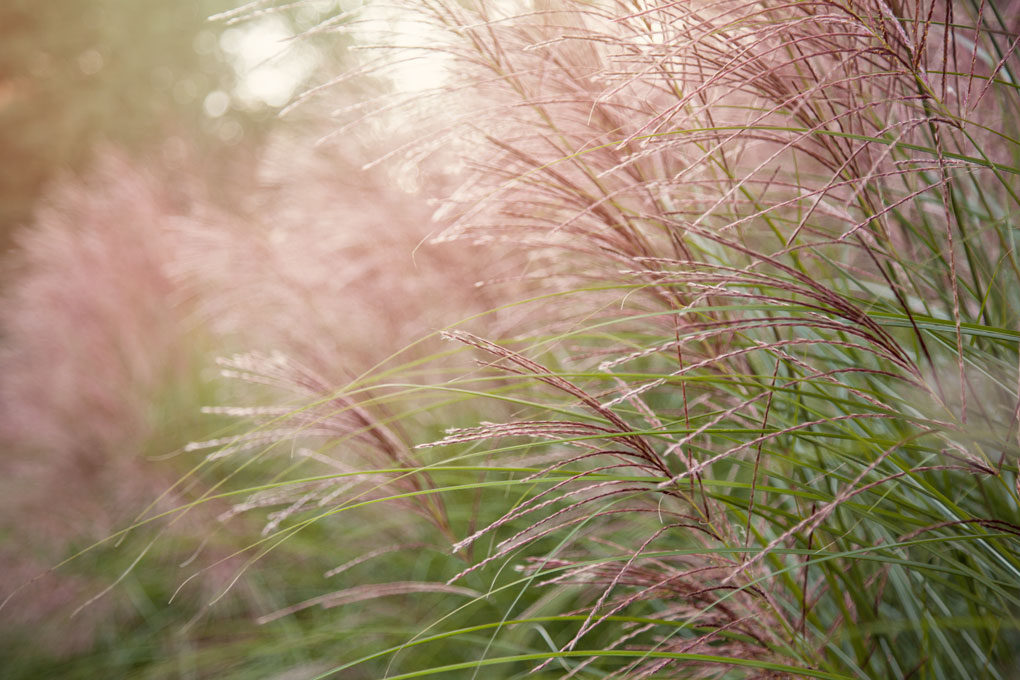 ---
Hound House is a place to discover Collin Robison Design, a venue for photoshoots, movies, and commercials. Hound House will also be available for events.
Pics: Lora / Words: Bev