Lora's new sister-in-law, Esme, tipped us off to Lilac Girls, a novel by Martha Hall Kelly. She told us there was a strong link to Litchfield County in the book, and maybe we'd be interested in it. We were, so we each downloaded the Audible and about 2 days later Lora was done and told me she loved it, and about 3 weeks later I was able to say ditto. Lora's a fast listener.
When we saw that the Gunn Memorial Library would be hosting Martha Hall Kelly for a discussion and book signing, we reached out and asked her if she'd like to hang out with us for a little while in the morning and let us ask all kinds of questions about the book! We decided on The Mayflower for breakfast, and all agreed that Caroline Ferriday would very much approve.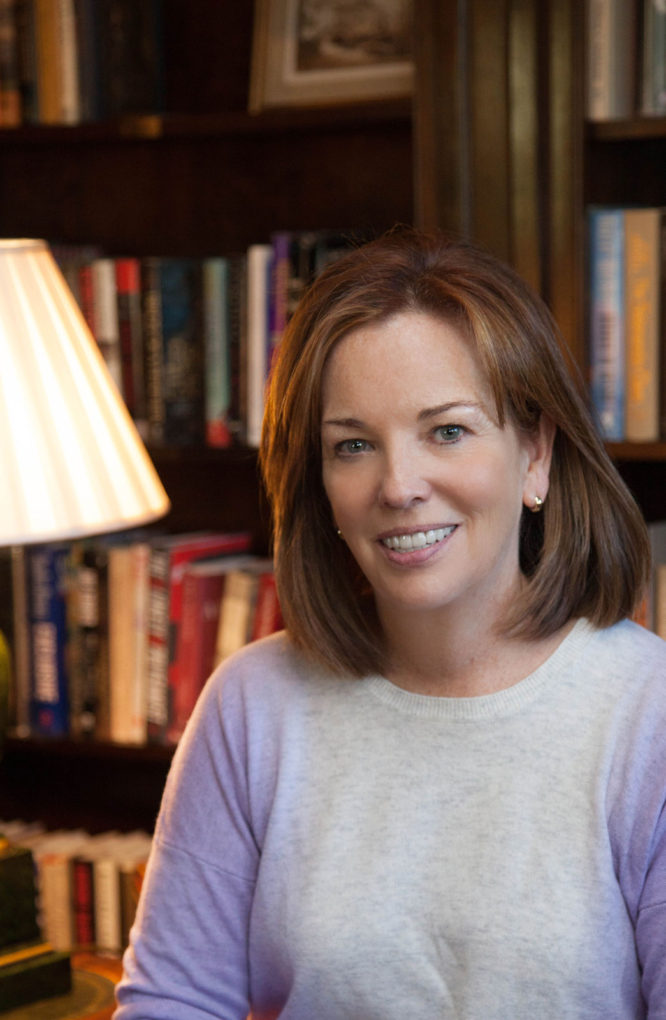 Martha Hall Kelly….
Lilac Girls came to life after Martha awarded herself a personal day and made a day trip out to the Bellamy-Ferriday house in Bethlehem, a place she had wanted to visit for a while. The home is as Caroline Ferriday, a Broadway actress, and debutante left it at the time of her death in 1990.
During the tour, Martha noticed a picture of Caroline Ferriday with some women on her desk and asked her tour guide about it. This was when she learned about "The Rabbits" – a name given to a group of female prisoners at Ravensbrück concentration camp who were experimented upon. Caroline Ferriday took up the cause of bringing some of the survivors to the US and fought for justice.
Intrigued and unable to shake the story of Caroline, Martha started researching her life and the story of the Rabbits. Lilac Girls was published in April of this year; Martha Hall Kelly's first novel. In just over a week it had made it to the New York Times Best Seller List.
Lilac Girls has been published in 14 countries so far…
…and we predict the movie version will surely happen in the near future.
Lilac Girls….
Is the story of three women whose lives were affected by World War II.
Caroline Ferriday, a New York socialite who spends time at her family country home in Bethlehem.
Kasia Kuzmerick, a Polish teenager and prisoner at Ravensbrück – the concentration camp for women, along with her sister Zuzanna.
Herta Oberheuser – A female doctor at Ravensbruck.
Read Amazon's book review here…
Interview…and there's no spoilers, promise!
For our readers, can you give a synopsis of the book in 10 words or less?
A story of forgiveness based on a true story.
What did you do before you became a writer?
I was a copywriter. I used to write for major advertising agencies. I'd write 30 second TV commercials. I stopped when I had my third child. Then, when I went up to the Bellamy-Ferriday house and discovered that story…I still wasn't a writer and didn't intend on being a writer…and that's what led to my becoming a writer.
Working on anything currently?
Yes, two prequels that Random House just acquired! One takes place in WW1 and features Caroline's mother and two Russian characters. And the third book is a pre-prequel and that takes place in the Civil War and uses the same structure. It features Caroline's grandmother who was an incredible woman and nursed soldiers on the Gettysburg battlefield. She was also a staunch abolitionist.
Historical fiction is your thing! A lot of research must go into your books, were you always into history?
Somewhat. I didn't like it in school. It was always about dates and battles, and equipment. I love old homes, and that's why I came up to the house. I love learning about history through people's lifestyles.
Did you have a favorite character to write? Was one easier to write than the other?
I found Zuzanna easy to write. She was one of my favorite characters. She was just so lovely. I based both of the characters of Kasia and Zuzanna on my daughters. Kasia was very responsible and wise and had good resourcefulness and intuition and Zuzanna was so loving and had such a positive attitude.
Any thoughts towards turning the book into a movie?
It's so funny before it even became a book, my husband and I would go to dinner and talk about casting and who would be who. It was fun and it would also help me, by bringing the characters alive. In my office, I had photographs everywhere of the characters. Like Judy Dench was Eliza and Kate Winslet was Matka.
But no, no one has optioned it…yet.
Who would you cast for Caroline?
Cate Blanchet…or Nicole Kidman..or Mary from Downton Abbey.
Ahh yes, that's good!
We especially loved the parts of the story that took place in Bethlehem; like when the post office has its only other big influx of mail other than what they have at Christmas. Caroline has managed to get the Rabbit's story in the public eye and people from around the country were sending letters and donations. Did that happen?
Yes, that's true. The post office used to be right across from Caroline's house. So she could just walk right across the street. When I interviewed her gardener he told me some great stories about Caroline. She had a tense relationship with the postmaster because if they got her mail wrong, she'd tell him in no uncertain terms how upset she was.
Then, like book groupies, we followed Martha over to the Gunn Memorial Library to hear what questions other fans would have!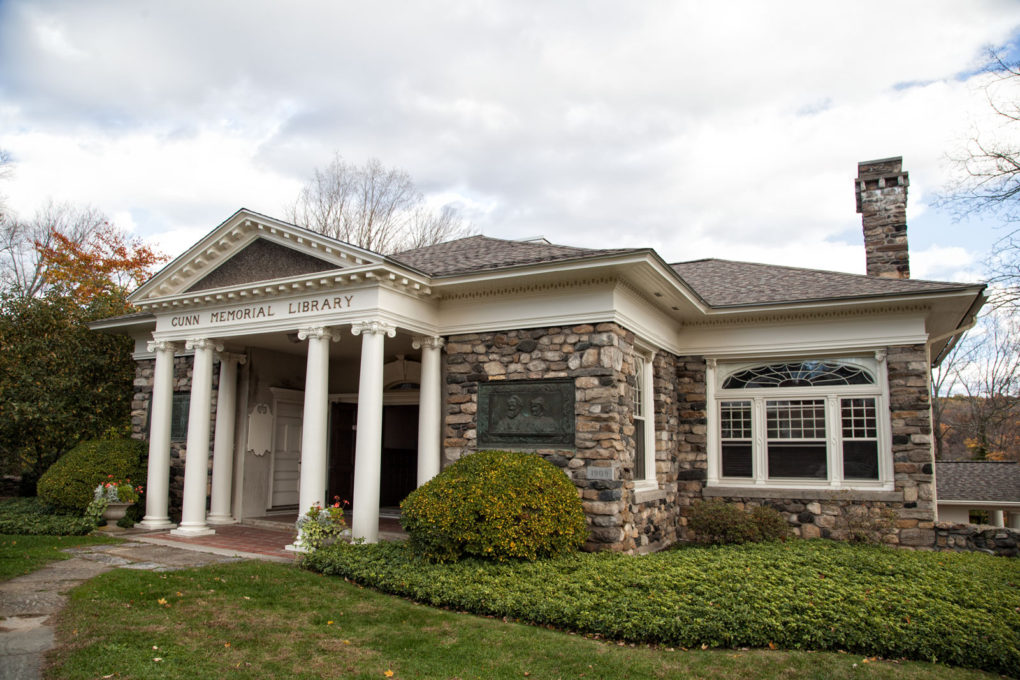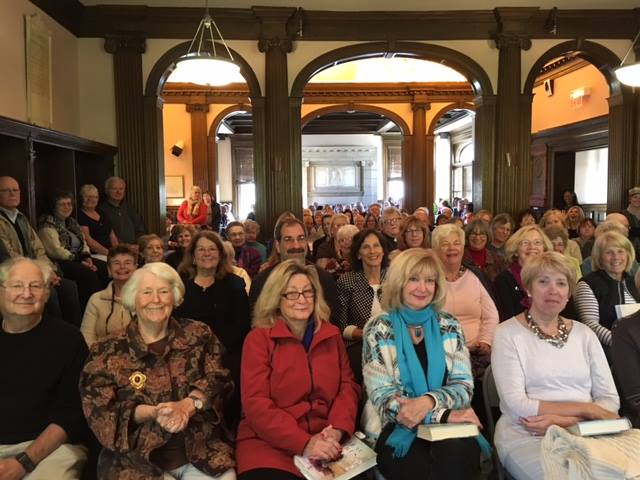 This crowd also agreed – Michelle Dockery (Lady Mary, Downton Abbey) to play the part of Caroline Ferriday!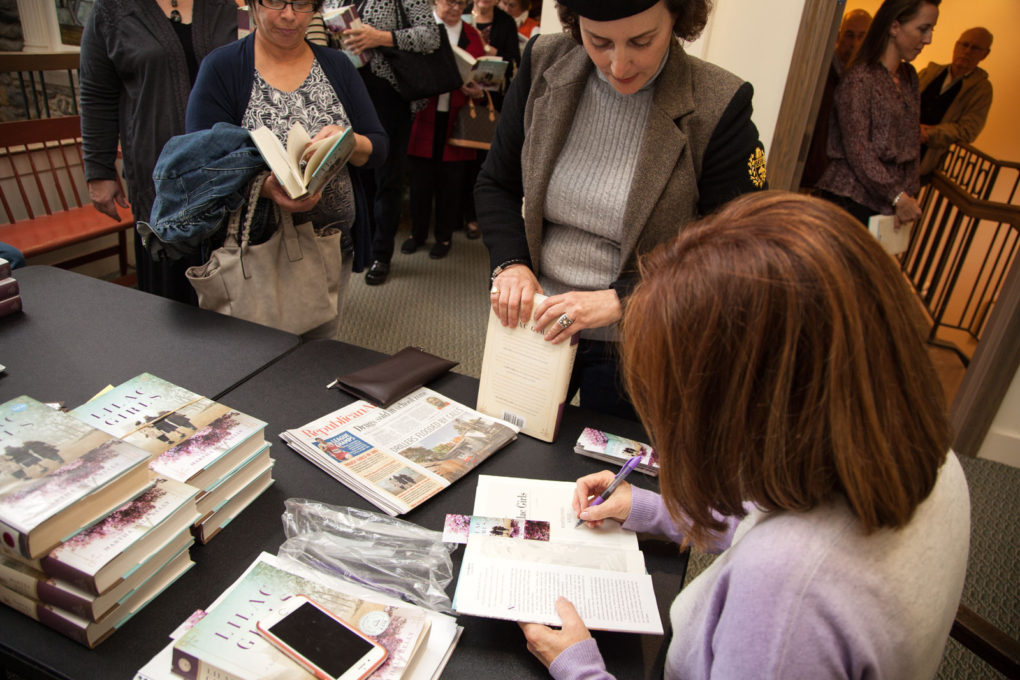 As you can probably tell, we loved the book and love the author….four thumbs up from Unlocking Connecticut!
Have you read it? Let us know!
---
Photos by Lora Karam, except the crowd shot, taken by Martha herself from the podium!