Six hours in Simsbury on a beautiful spring day! It's been a while since we've gone on a day tripping adventure and it felt so good to get out, explore, and discover new businesses again, just like the old days. Check this post out for an afternoon with a pal which includes popovers, painting, llamas, and more…
6 hours in Simsbury (Hartford County)…do we make good day trip itineraries or what?! ? Let us know where you want us to go next!
SHOP
First stop (for us, but you can mix it up as you wish!): boutique & gift shopping. ? We're repeat visitors to AvaGrace and love Tracy's collection of gifts (for men, women, babies, kids) plus all the cute clothes & accessories she carries. You're going to find stylish apparel, accessories & gifts for you and those you love. Give them a follow.
EAT
Oh look at that, it's already lunchtime! Good thing Popover Bistro & Bakery is just around the corner from Ava Grace; you don't even have to move your car. All kinds of popover heaven on the menu, plus plenty more for all taste buds. They have a great tea menu (Chamomile Cardamom Latte!), coffees, fresh smoothies, and cocktails. We went with a couple of blood orange margs!
And besides our amazing sandwiches and popoverwiches, we also had to try the buffalo cauliflower (it won Lora's ?) and fried Brussel sprouts ( ? Bev).
Also of note, they have fresh baked goods, a large amount of gluten free options, are vegan/vegetarian friendly, and are female-owned! ?
CREATE
At this luxury paint showroom, you'll find endless inspiration, design expertise, and really good (British ?) paint! We had a Farrow & Ball of a time with Thomas Mach Interior founder, Thomas Mach, and Olivia Hanzel.
Olivia showed us just how easy it is to get started on a furniture painting project – no sanding, and no prep necessary when you're using amazing Annie Sloan Chalk Paint. They just so happened to have a chest of drawers ready for us to practice on. Follow them to find out about workshops!
Look them up for full residential and commercial painting services, especially kitchen cabinetry spraying, using Farrow & Ball. ?
Thomas is also the color consultant for the New Britain Museum of American Art for their art exhibitions.
SELFIE STOP
Or scenic spot. Name it what you will, it's pretty and made us want to skip.
There weren't any flowers there yet this year when we visited, so we decided to be the flowers. ?
The Bridge is located at 1 Old Bridge Road, Simsbury.
ANIMAL THERAPY
Flamig Farm in West Simsbury is for anyone who could use an uplifting dose of farm life. Stop by and visit some really cute animals, baby goats, alpacas with adorable underbites, ponies, ostriches, and more! Also check out their farm store where you'll often find baby chicks, bunnies, or a friendly cat. Pick up fresh eggs and some gifts while you're there.
Other fun Flamig Farm things to do; gather the family for a farm stay, children's programs, camps, parties, and pony rides!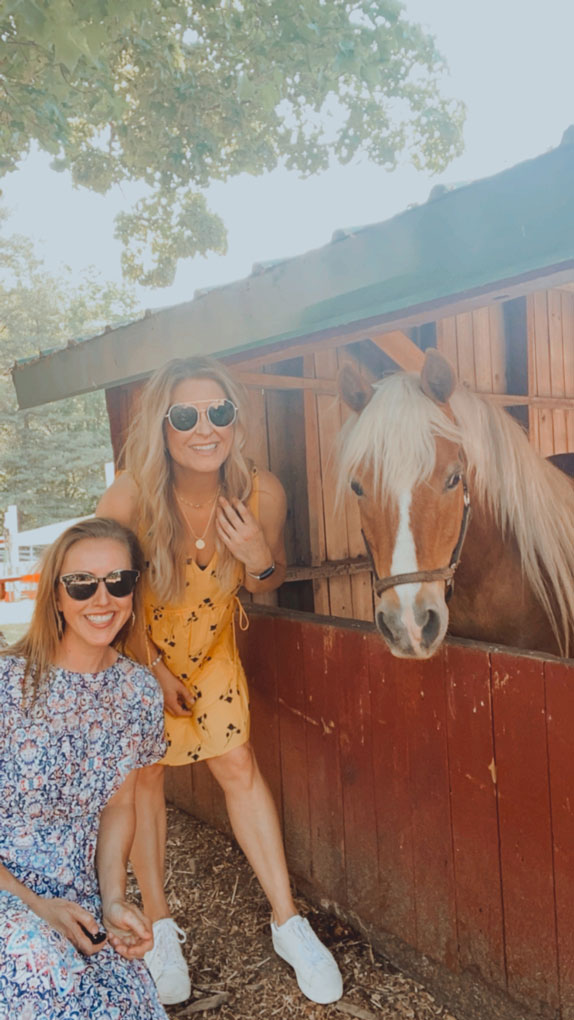 HUG A REALLY BIG TREE
Pull over for the Pinchot Sycamore on your way to the next stop.
According to Outdoor Project; "The Pinchot Sycamore is the largest tree in Connecticut and the largest sycamore in New England. While a 1965 memorial in front of the tree lists its circumference as 23 feet, 7 inches, the latest measurement by the Connecticut Botanical Society in 2016 recorded its trunk to be over 28 feet (8.5 meters) around and its height to be over 100 feet (30 meters)."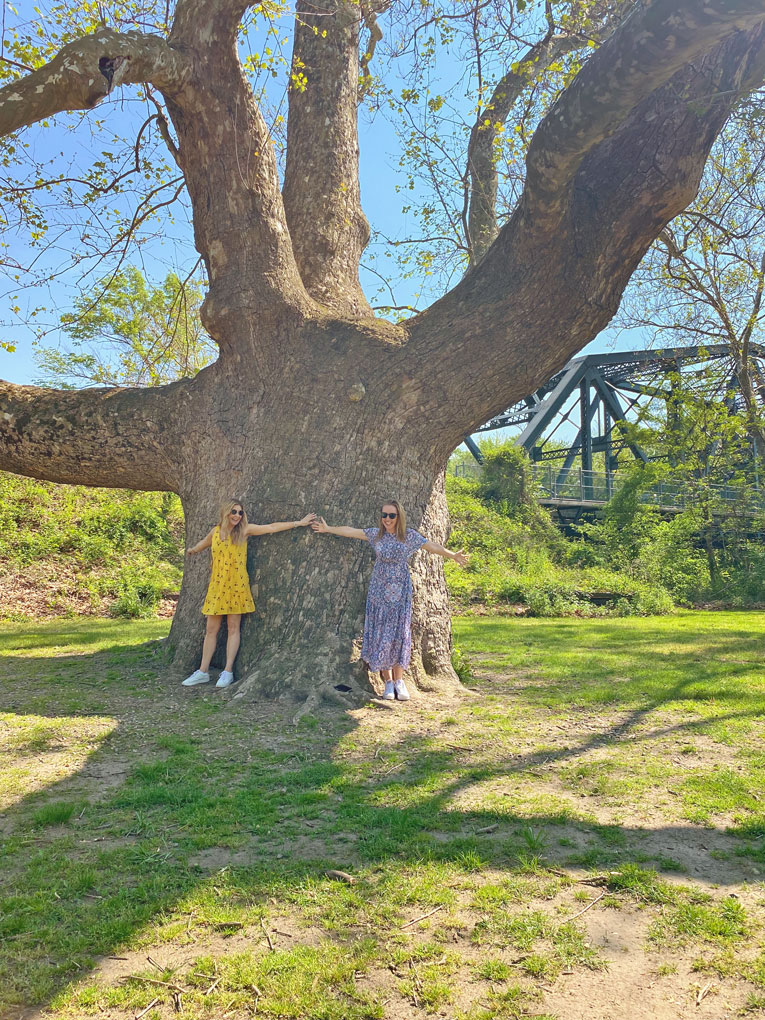 "How to feel tiny" by Bev & Lora. Stand next to this tree! Wow!
TAKE A HIKE
The Heublein Tower is your reward after you hike 1.25 miles. The Tower Trail walk to the Tower takes approximately 30 – 40 minutes. Also running through the park is a section of the Metacomet Trail.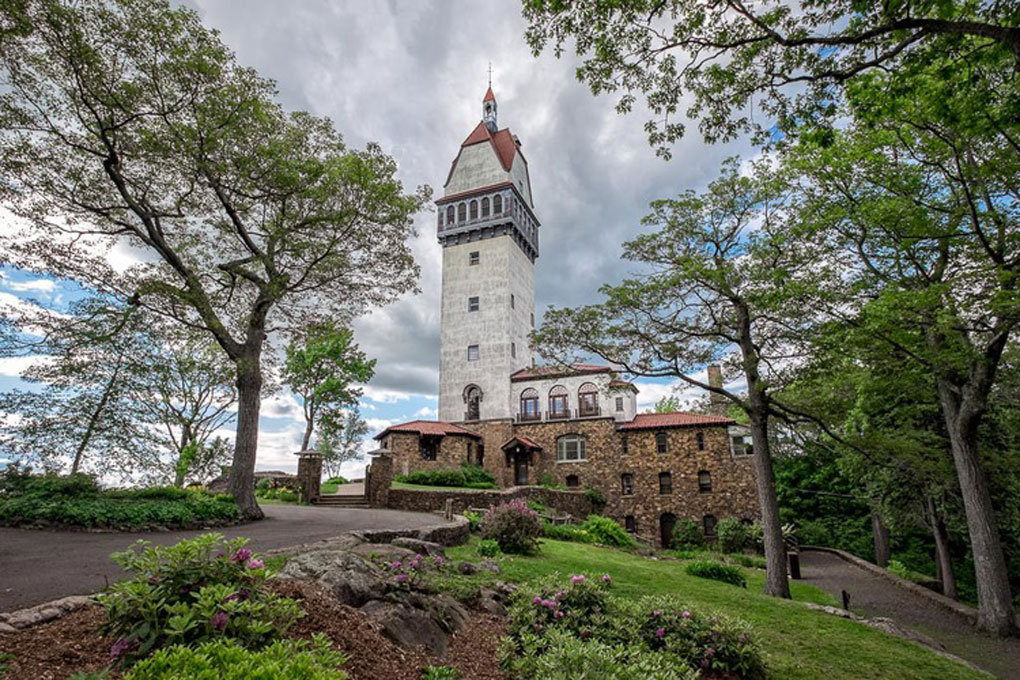 We confess, we didn't fit in the hike on this day…but we'll be back, Simsbury, we'll be back!
---
Pics: Lora (except as noted)/ Words: Bev