Bottle Stop Wine and The Hopkins Inn collaborating to put on a special food and wine event was the perfect pairing. The evening affair would include four courses and dessert made by talented Chef Franz Reiter of The Hopkins Inn, with a different wine for each course picked out by Bottle Stop Wine and Spirit.
When invited to attend and report back to our readers – we were happy to oblige…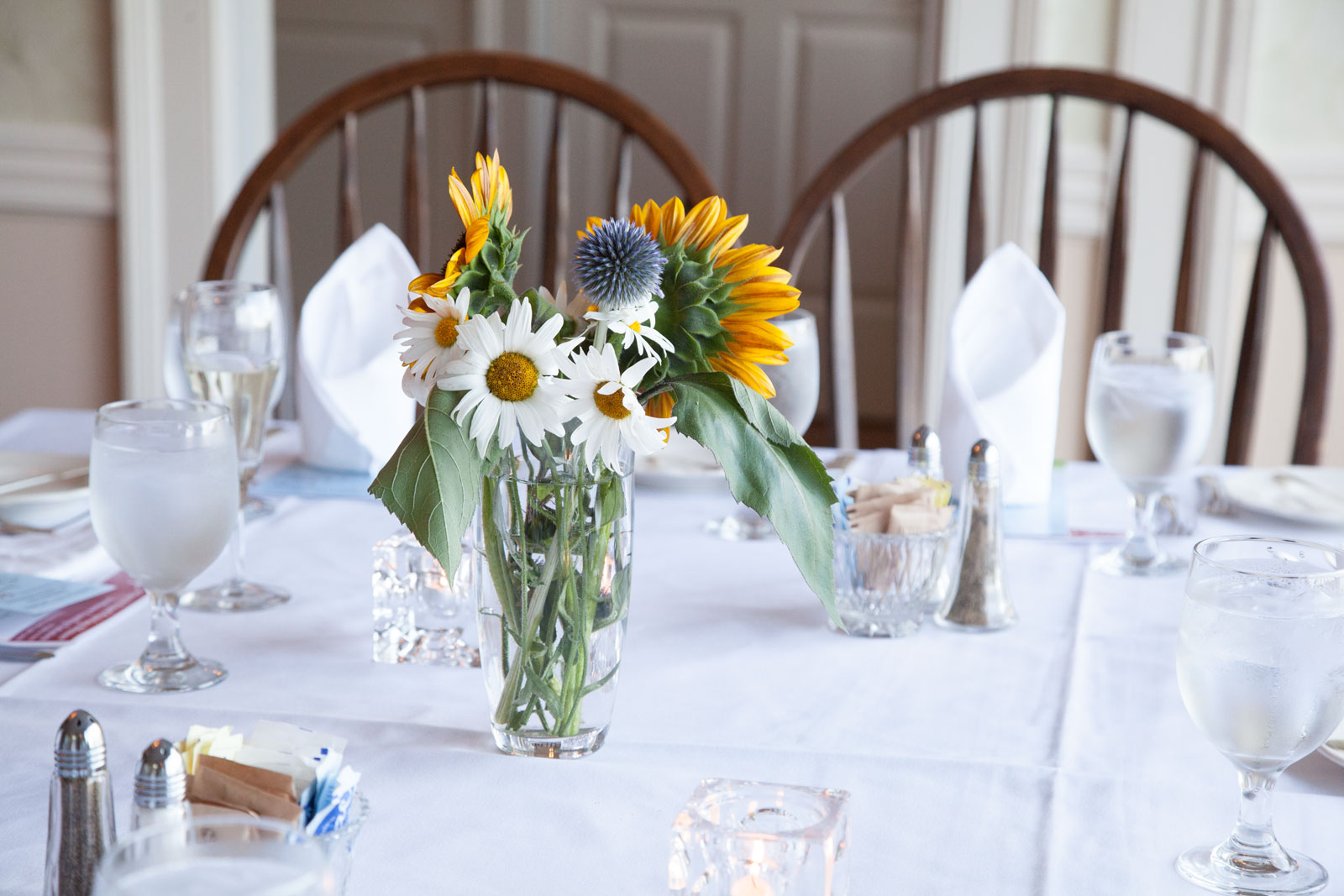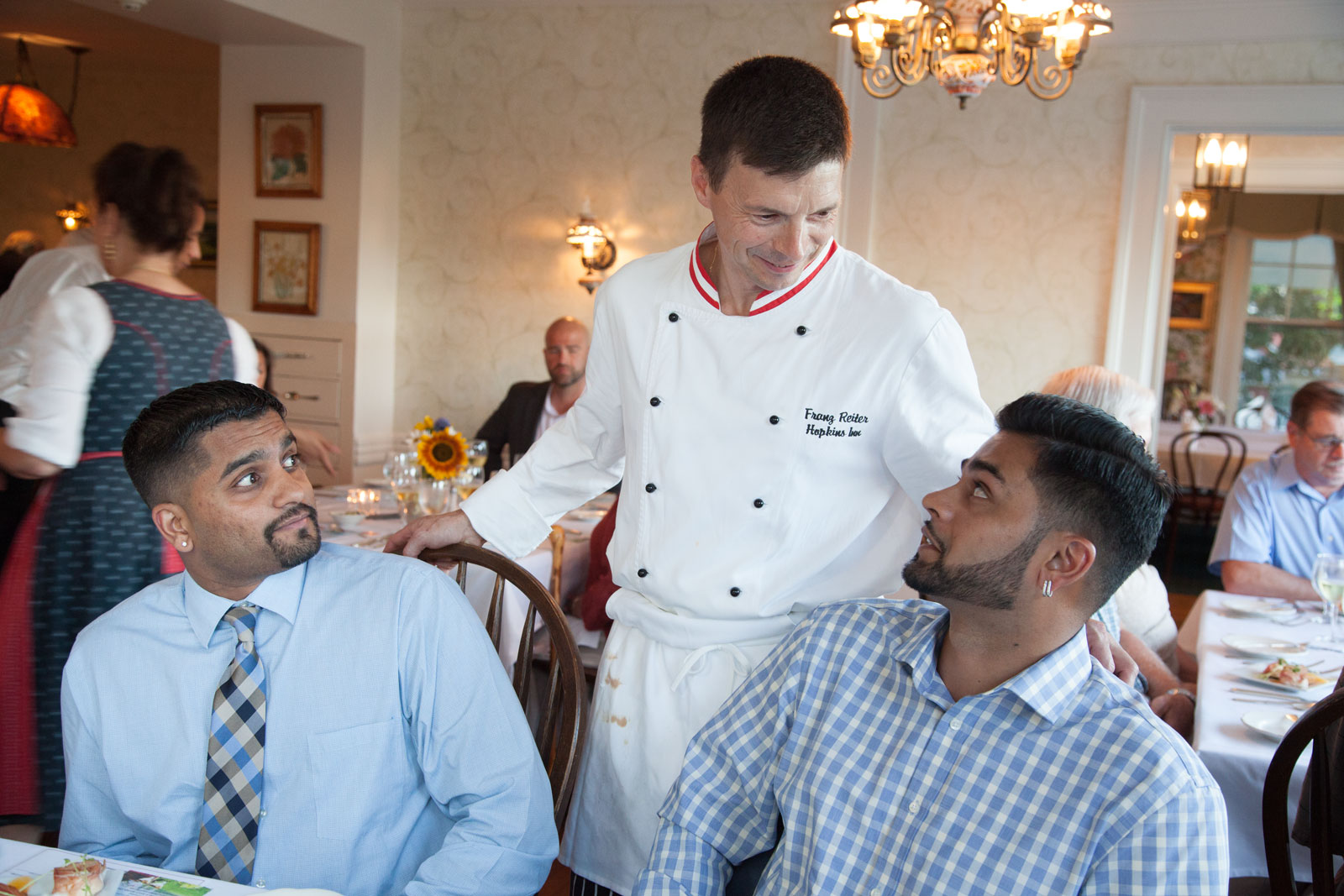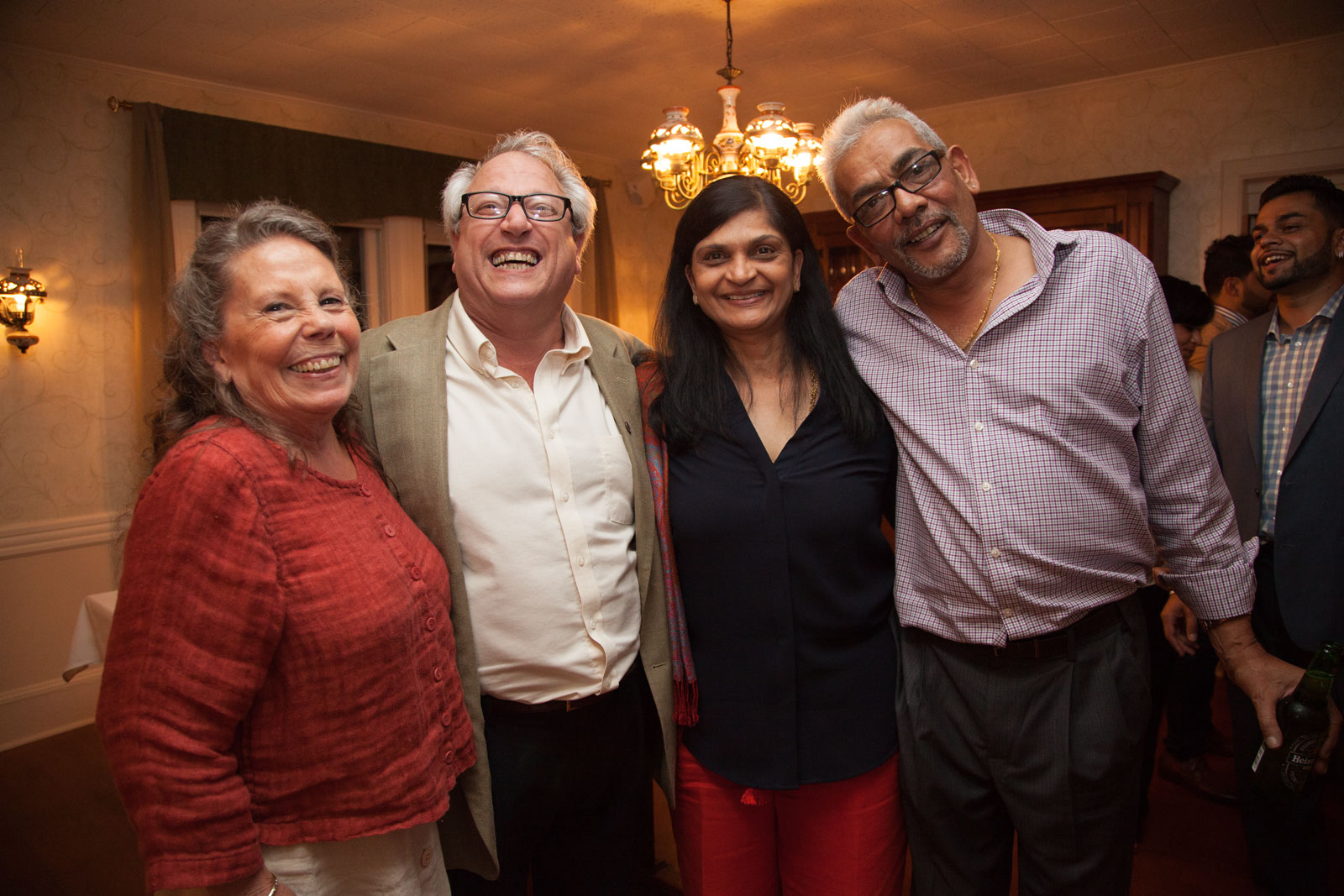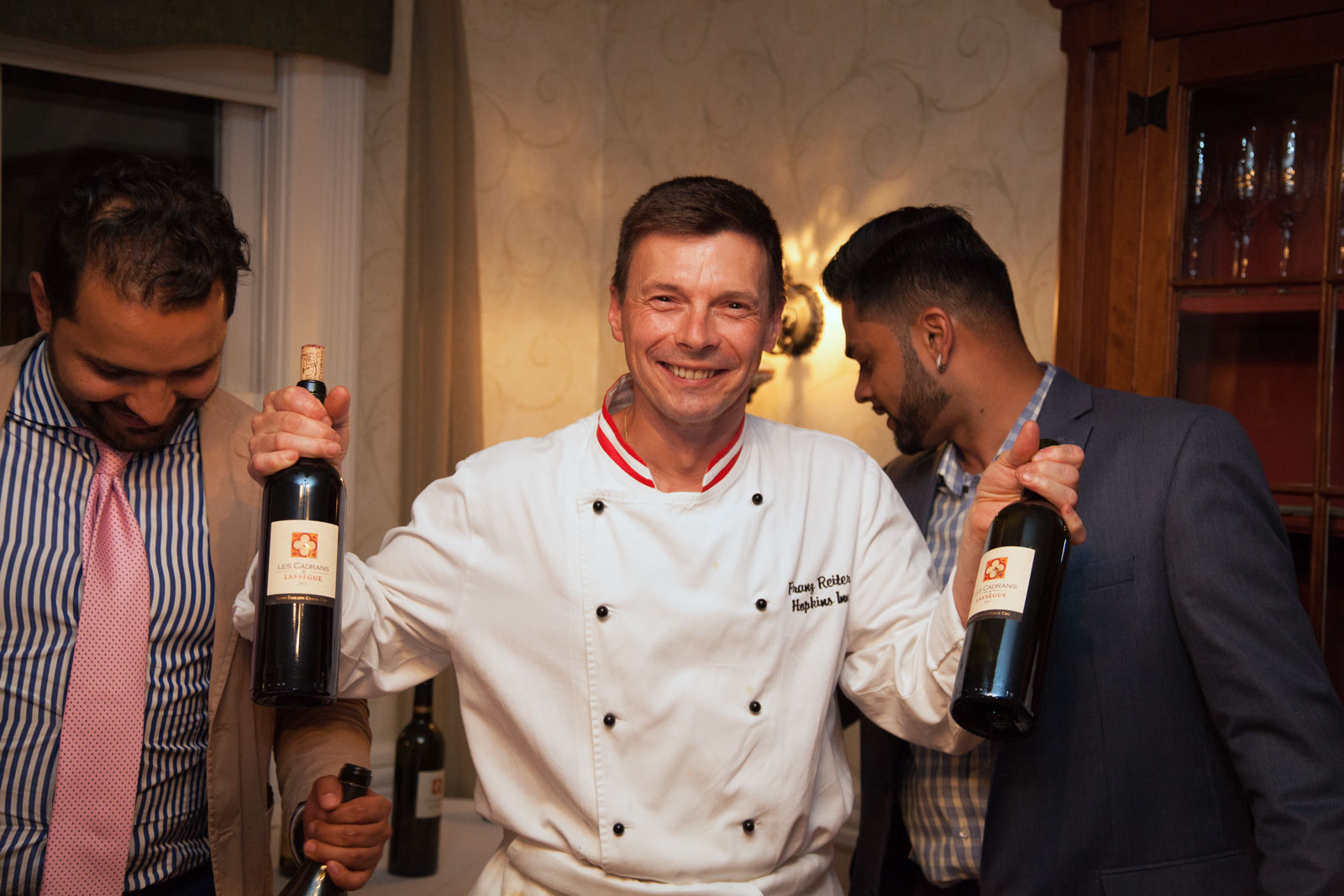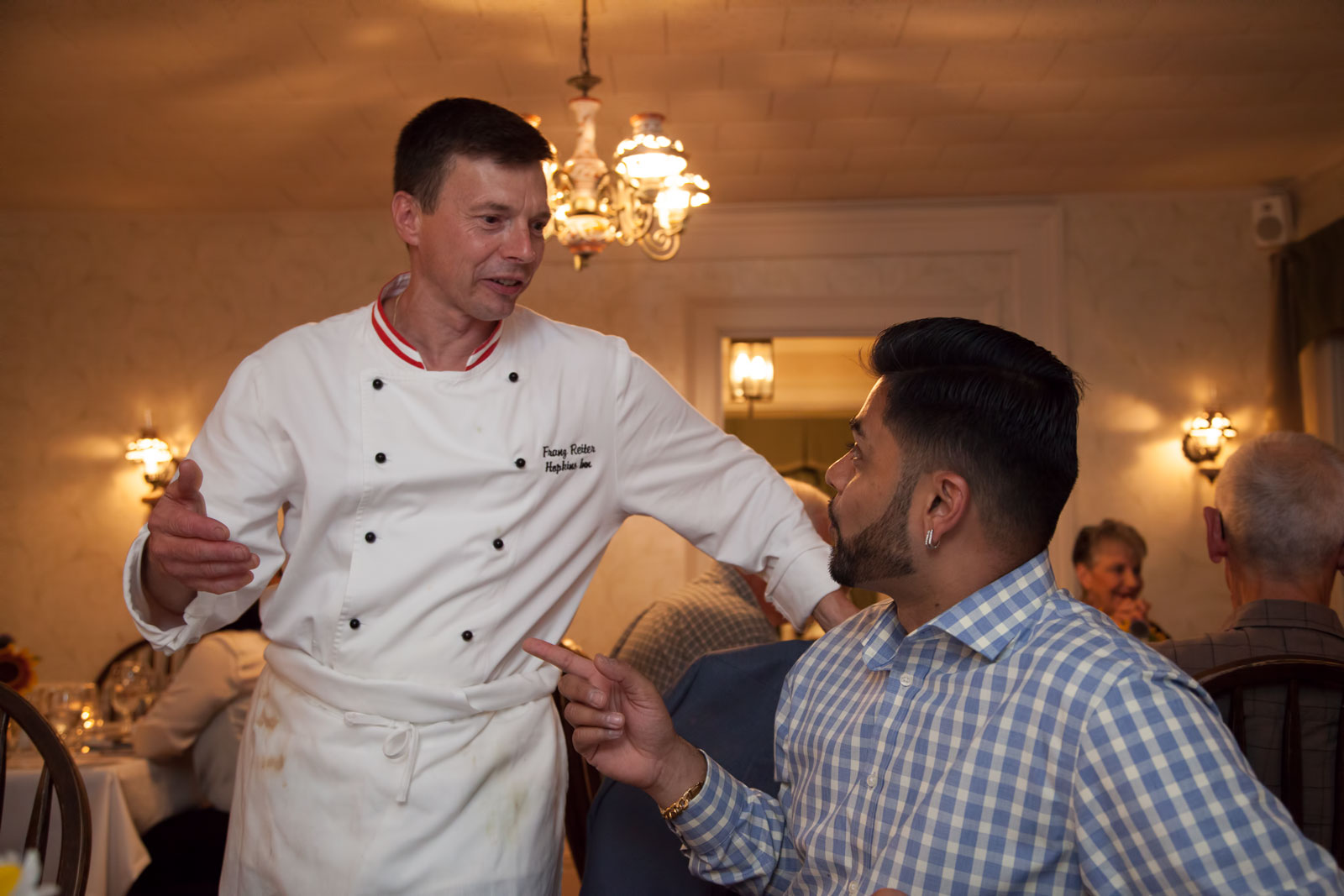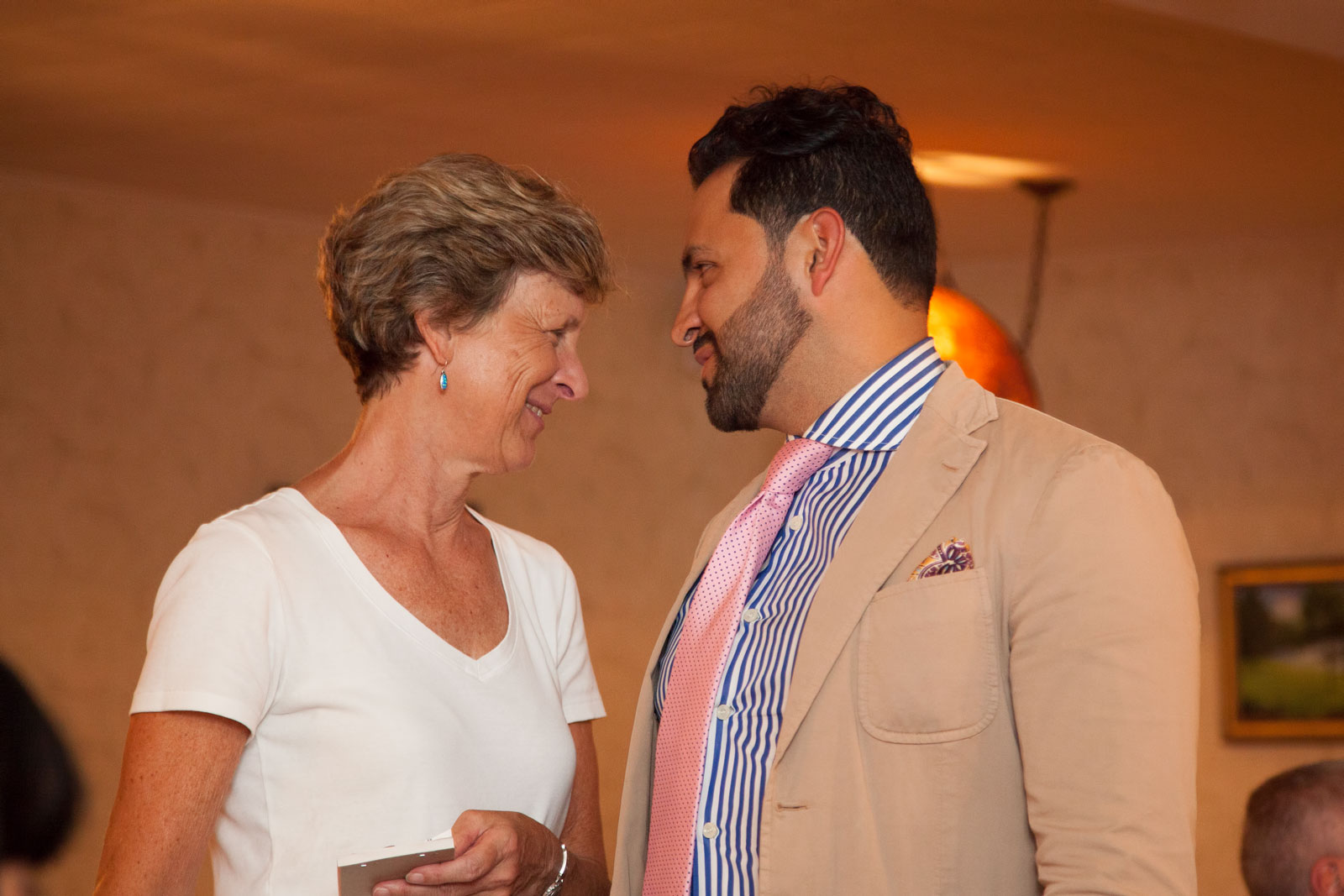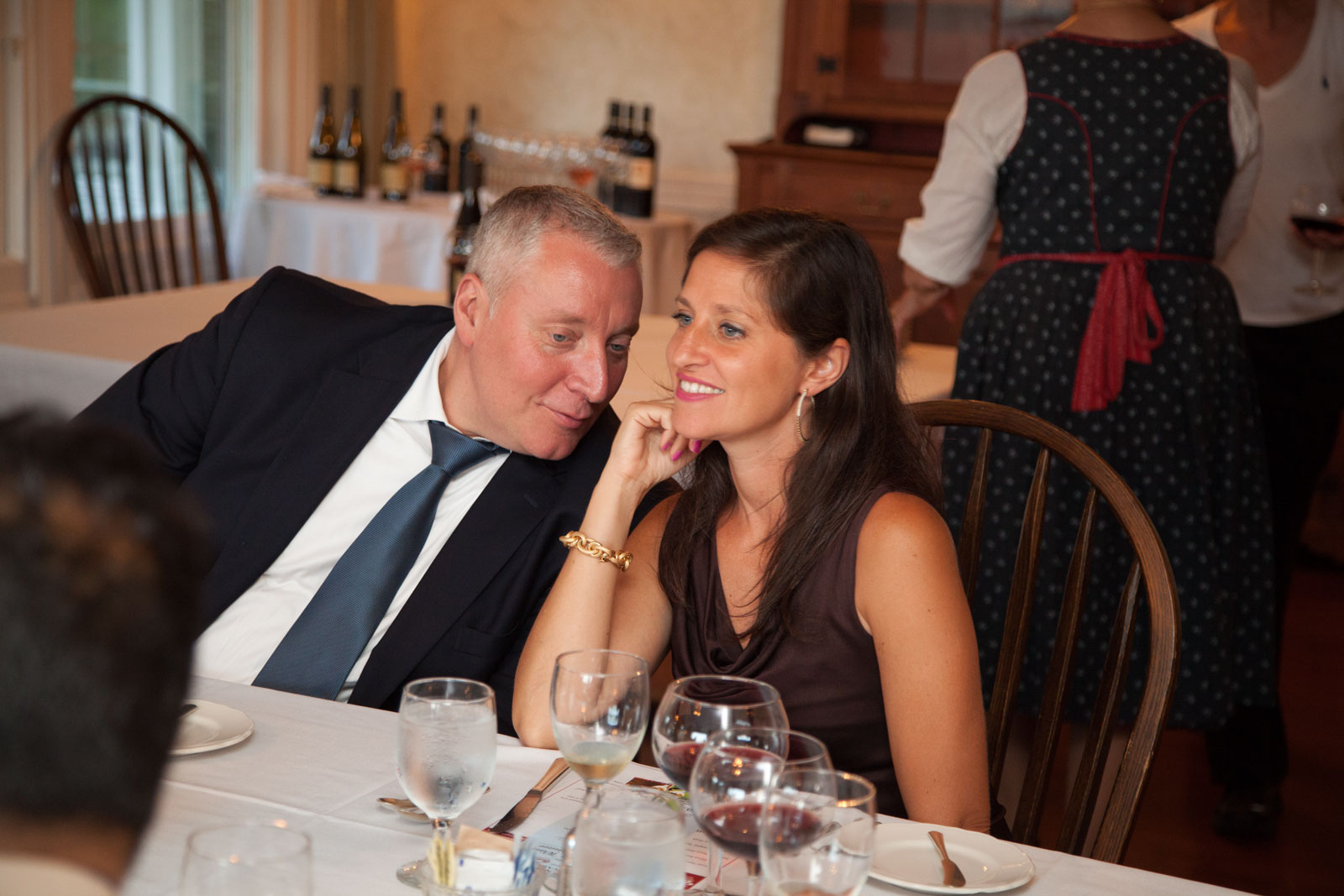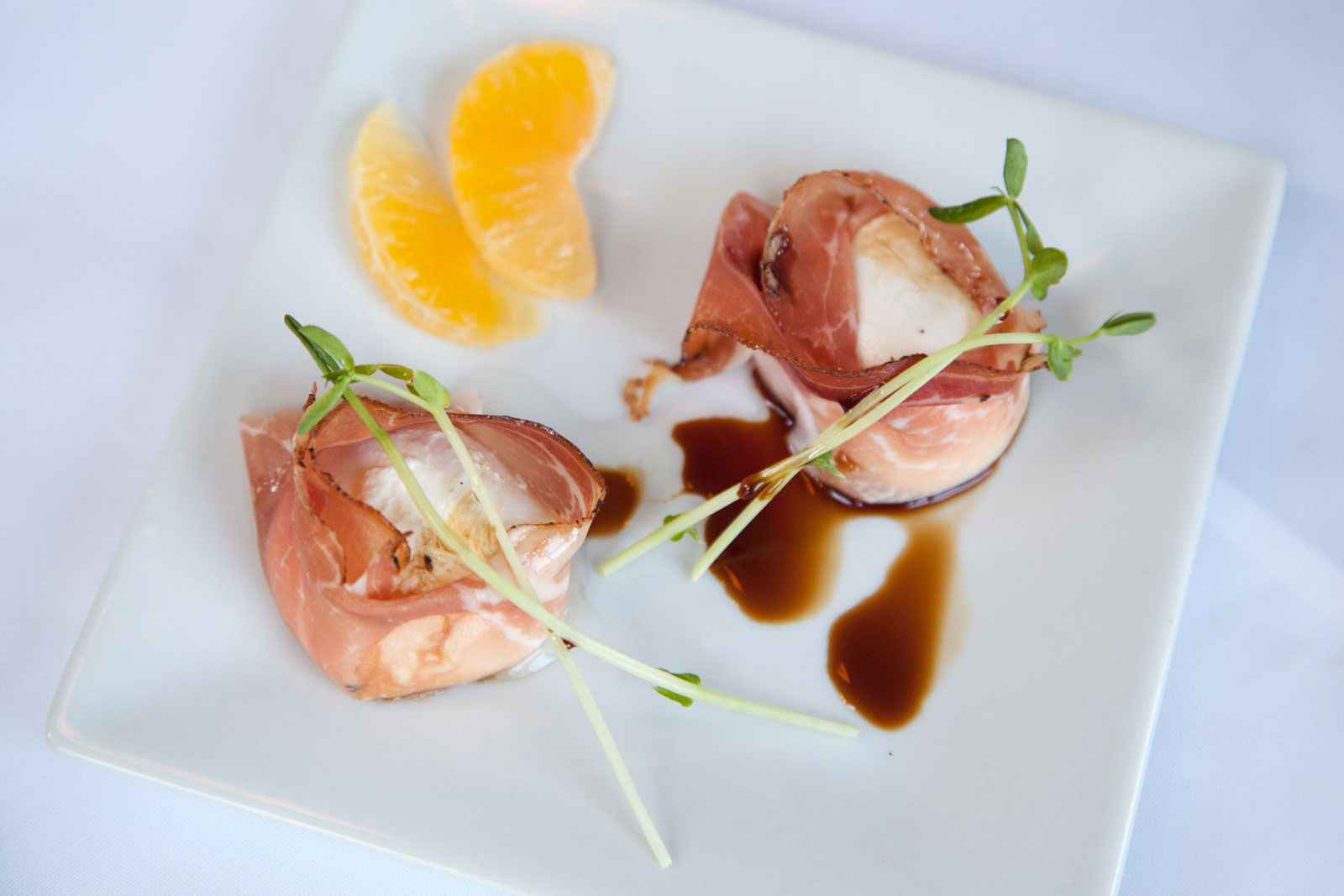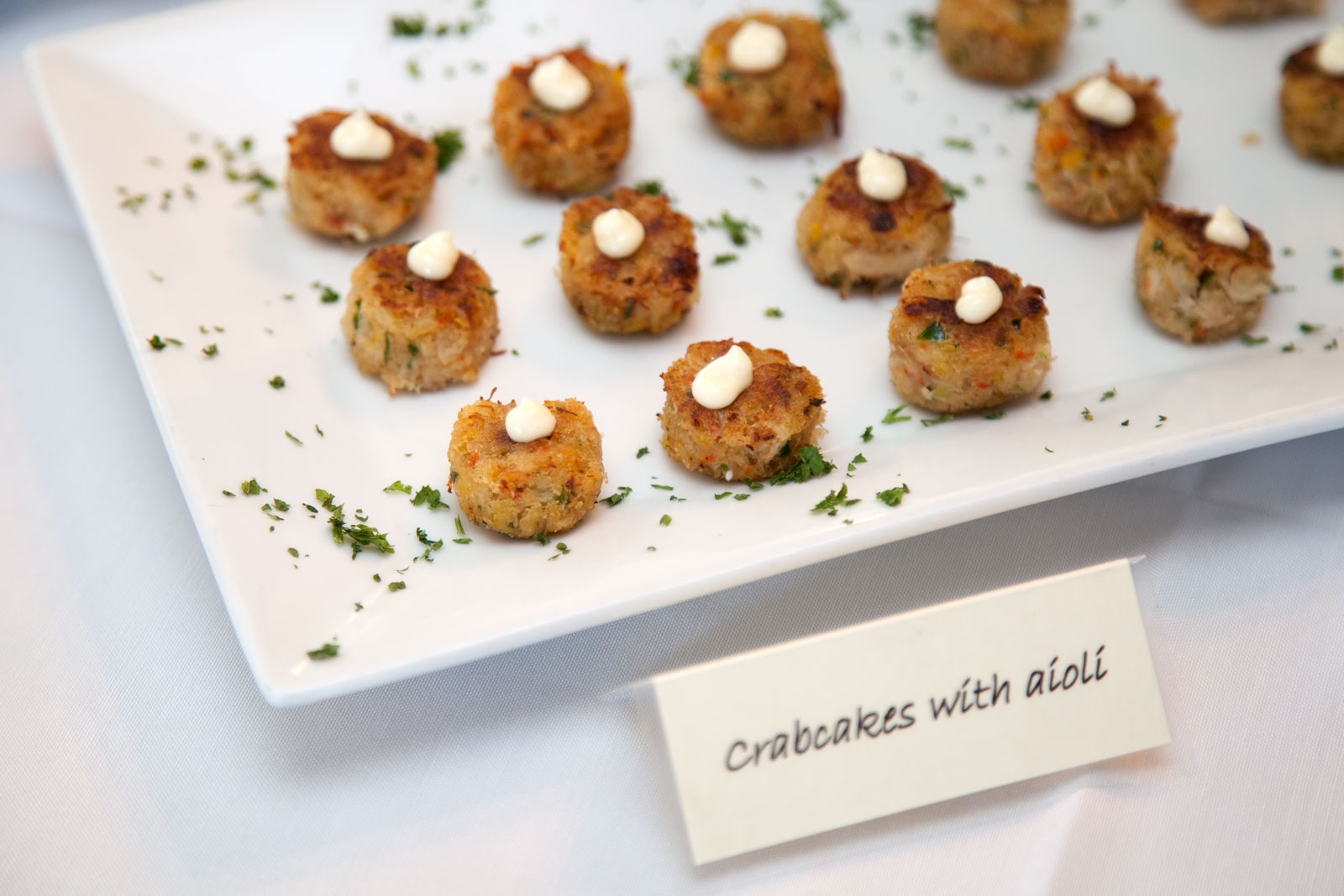 Just call me G
Girish Patel, or "just call me G," sommelier and Director of Operations of Bottle Stop Wine and Spirit was hosting the evening. The family-owned business has two more Bottle Stop stores in Connecticut. When we arrived at The Hopkins Inn, it was obvious that this is very much a family venture when we were introduced to the matriarch and patriarch of the family, the super lovely Susan and Ray Patel; plus G's brother, H (Susan joked with us that she just assigned letters to her children), and G's sister-in-law Raini. We were so lucky to be invited to join the family at their table for the evening and got to hear first hand from Susan (the original wine expert of the family) exactly how to appreciate each wine.
The view
The view at The Hopkins Inn restaurant never gets old. Although the evening was moved inside due to an impending thunderstorm, it was fine with us to enjoy the same scenery from behind the large windows and inside the air-conditioned dining room. Less hair frizz.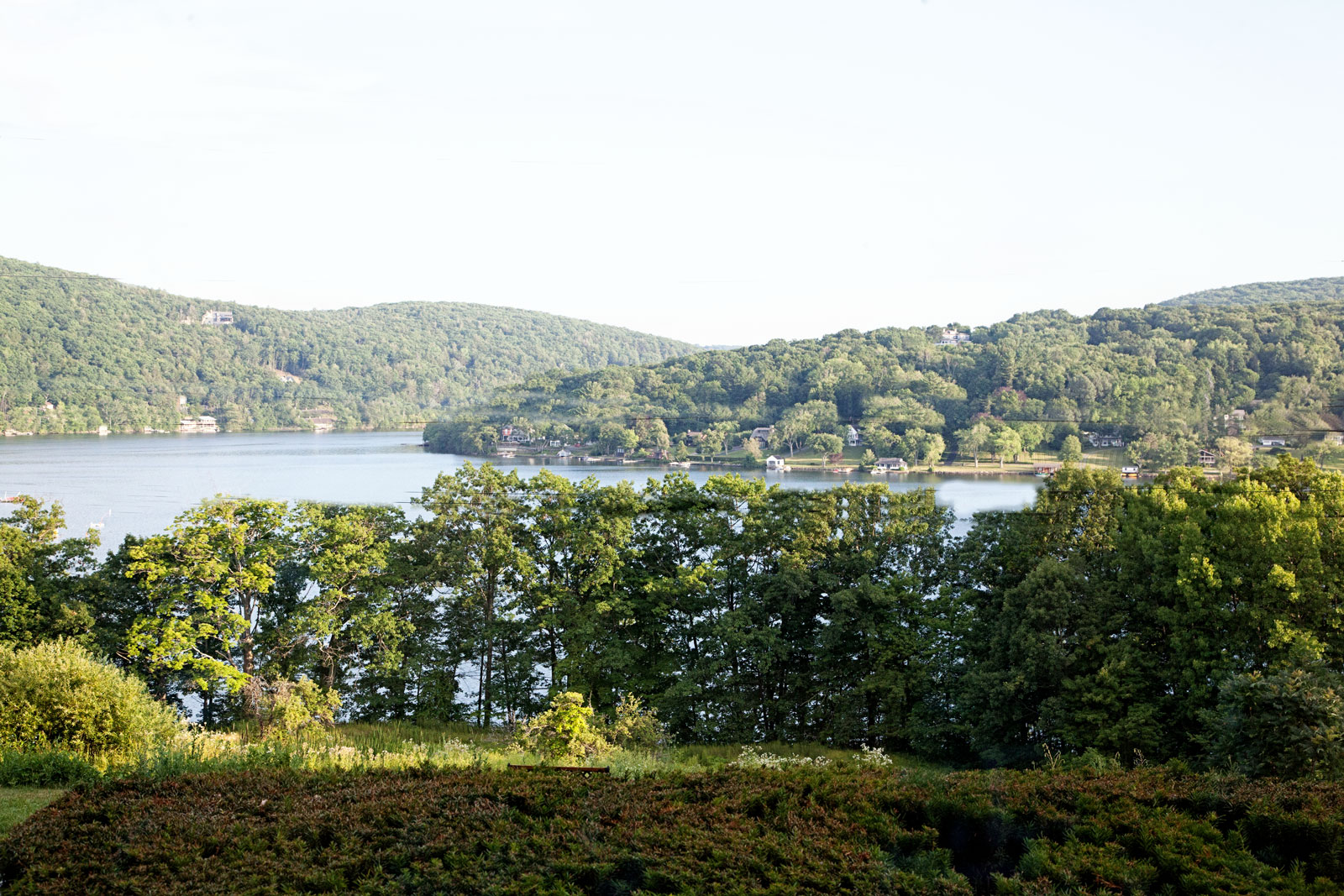 First, a little champagne, some hors d'oeuvres, and mingling with the other guests about to embark on the taste journey!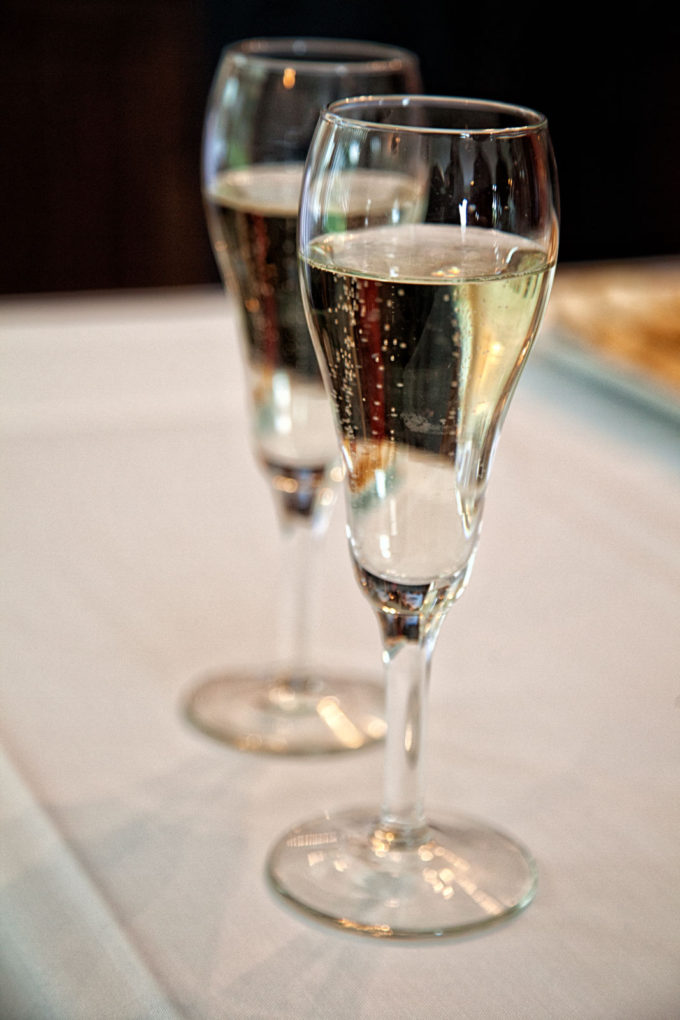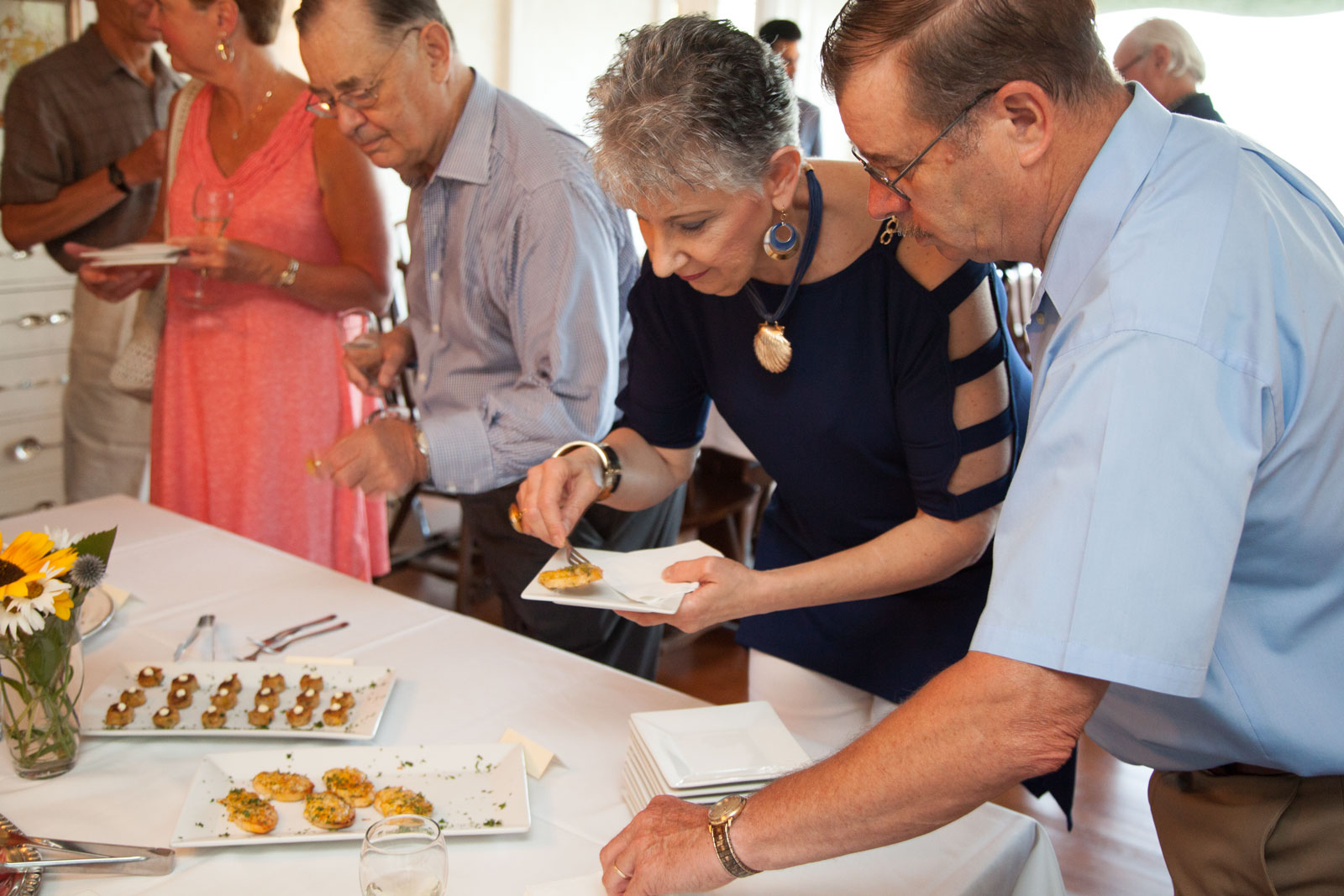 Guest speaker Luis Suarez of Jackson Family Wines began the evening by telling us some great stories about Jackson Family Wines beginnings and its history. Each wine was introduced with some information about the vineyard, a story or two about the farmers, the climate, and the wine's special qualities.
The first tasting of the evening was the Galerie Sauvignon Blanc "Naissance" – which was perfect with the chilled cucumber bisque with crème fraîche and smoked salmon.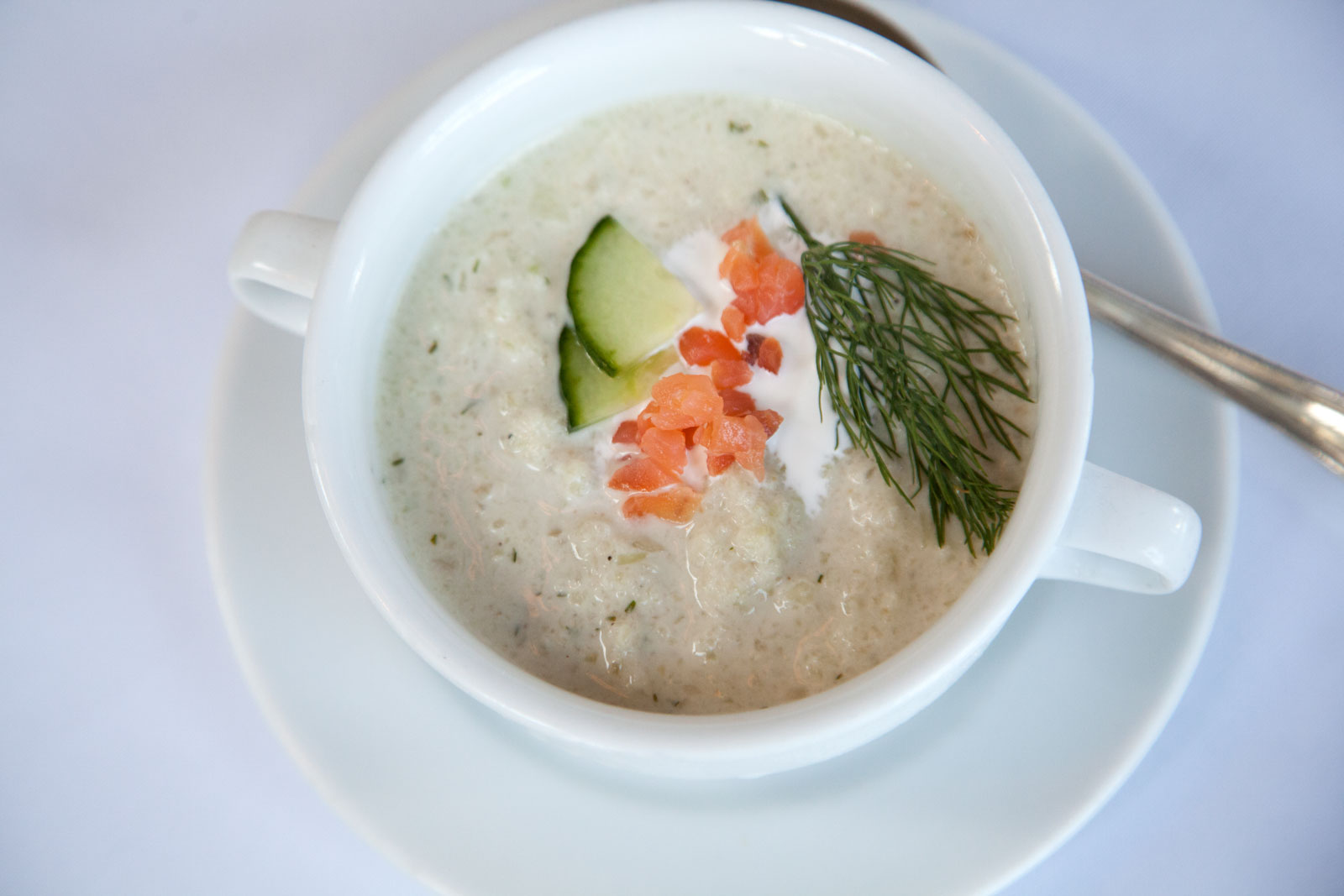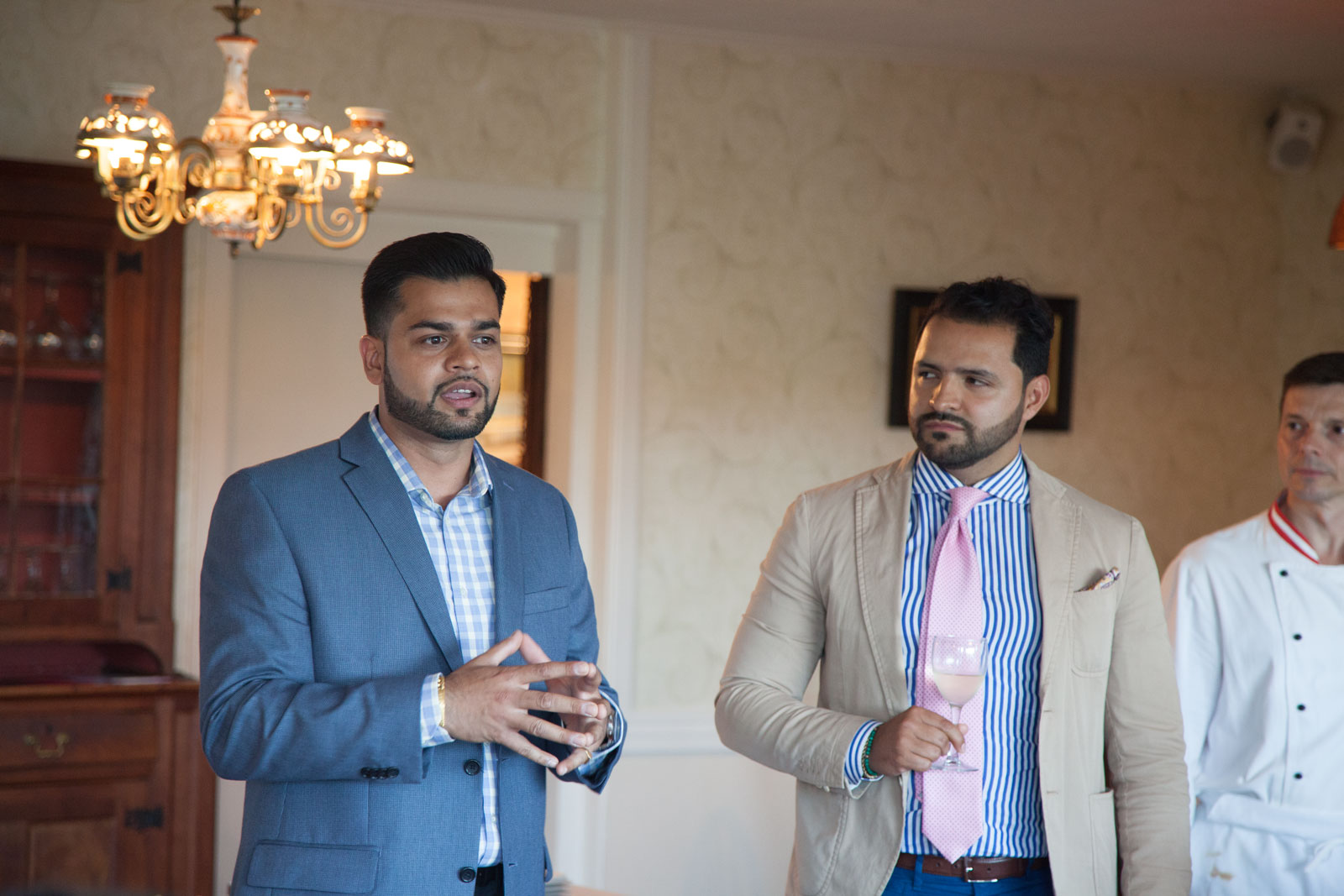 Left – G Patel Middle – Luis Suarez Right – Chef Franz
Second course
Second course – Bocconcini mozzarella wrapped with Schinkenspeck served with a Stonestreet Estate Chardonnay, Alexander Mountain 2013. A long name, but can we tell you, this wine made us completely re-think everything we thought about Chardonnay. So smoky and delicious before and after a bite of Bocconcini!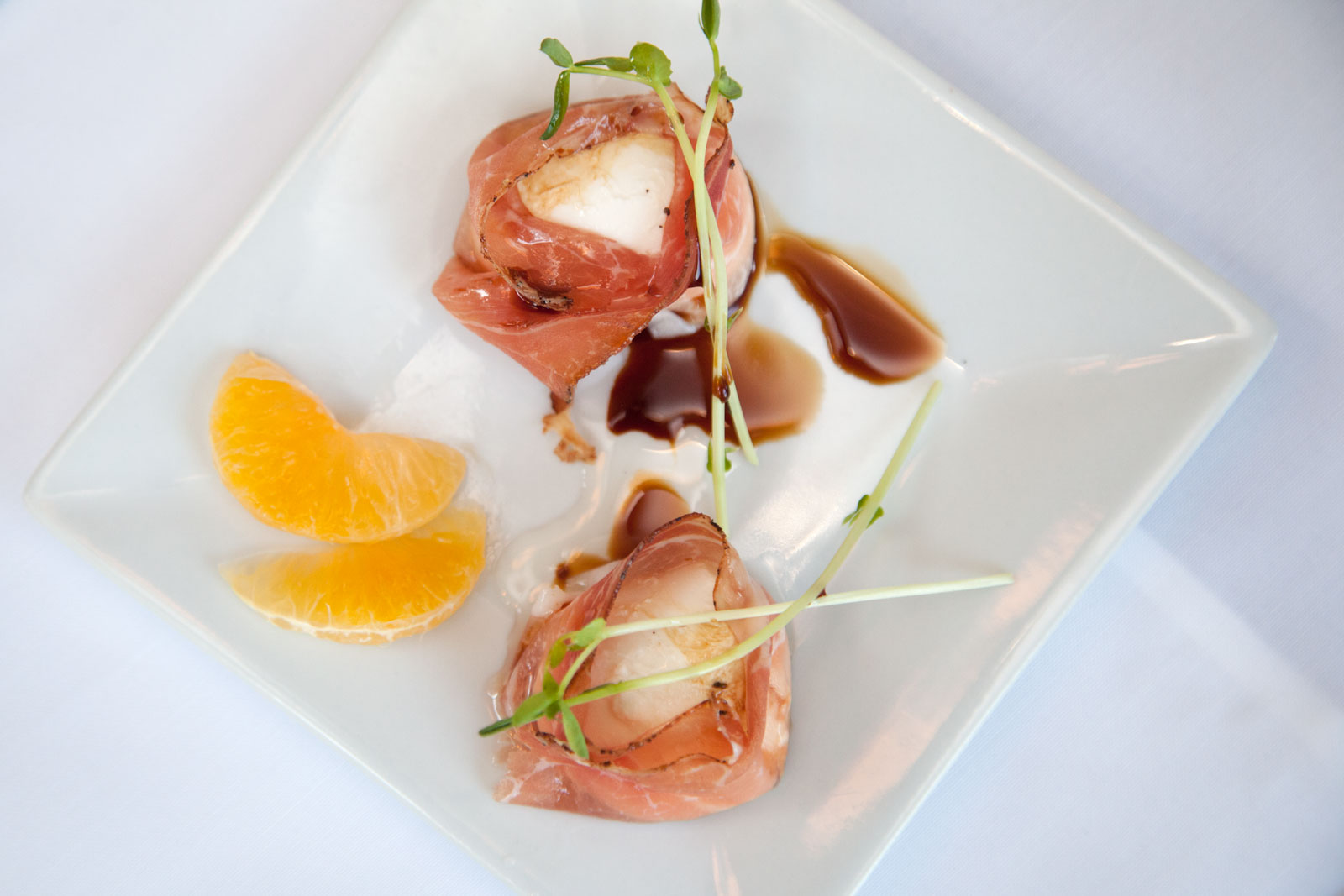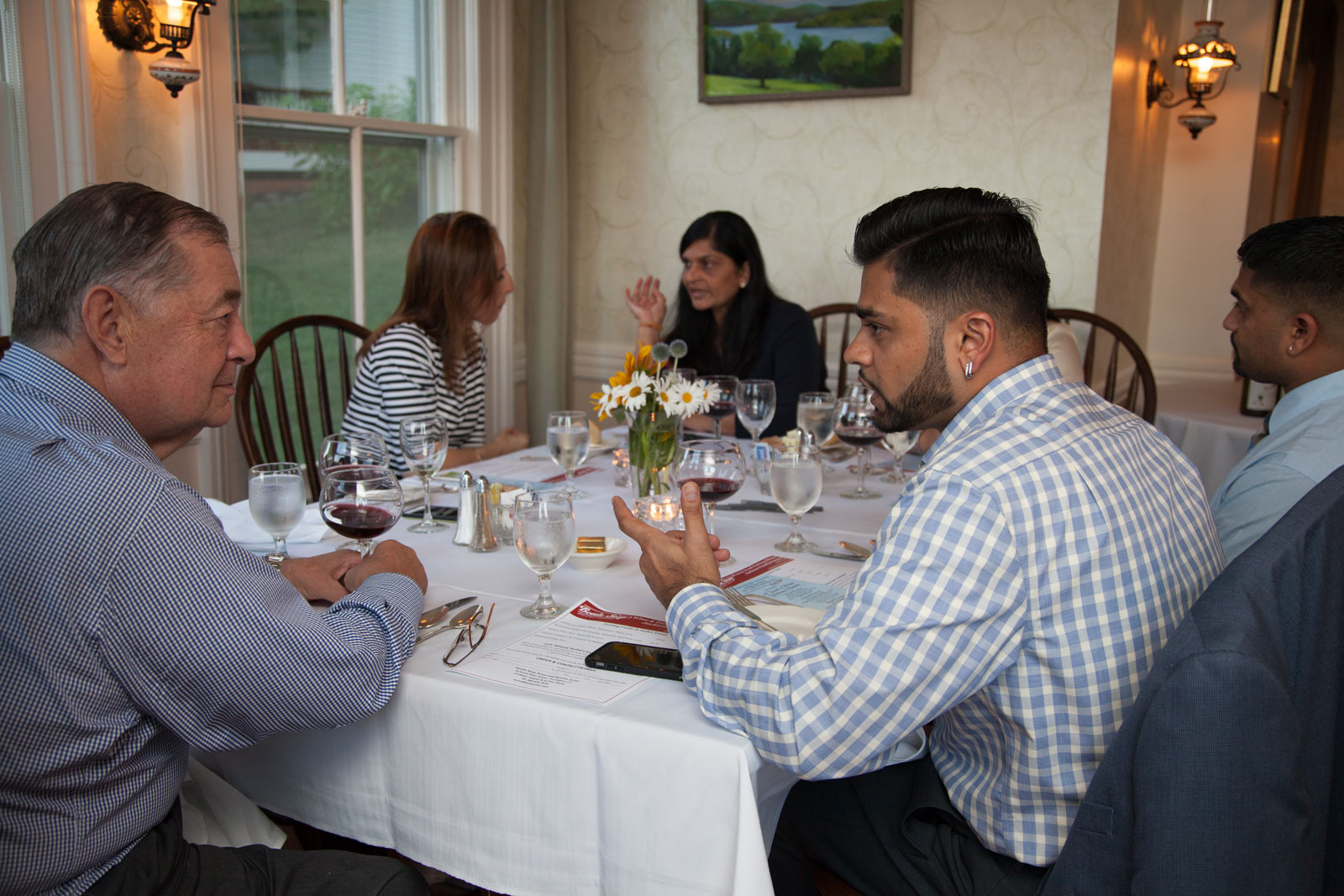 I think this might be the exact moment that Susan was teaching me how to properly experience wine, and to let the wine sit in the mouth for a moment to hit those taste buds. A lot of great wine talk happening at this table!
Third course – a baby arugula salad with Gorgonzola cheese served up with Nielson Pinot Noir, Santa Maria 2013.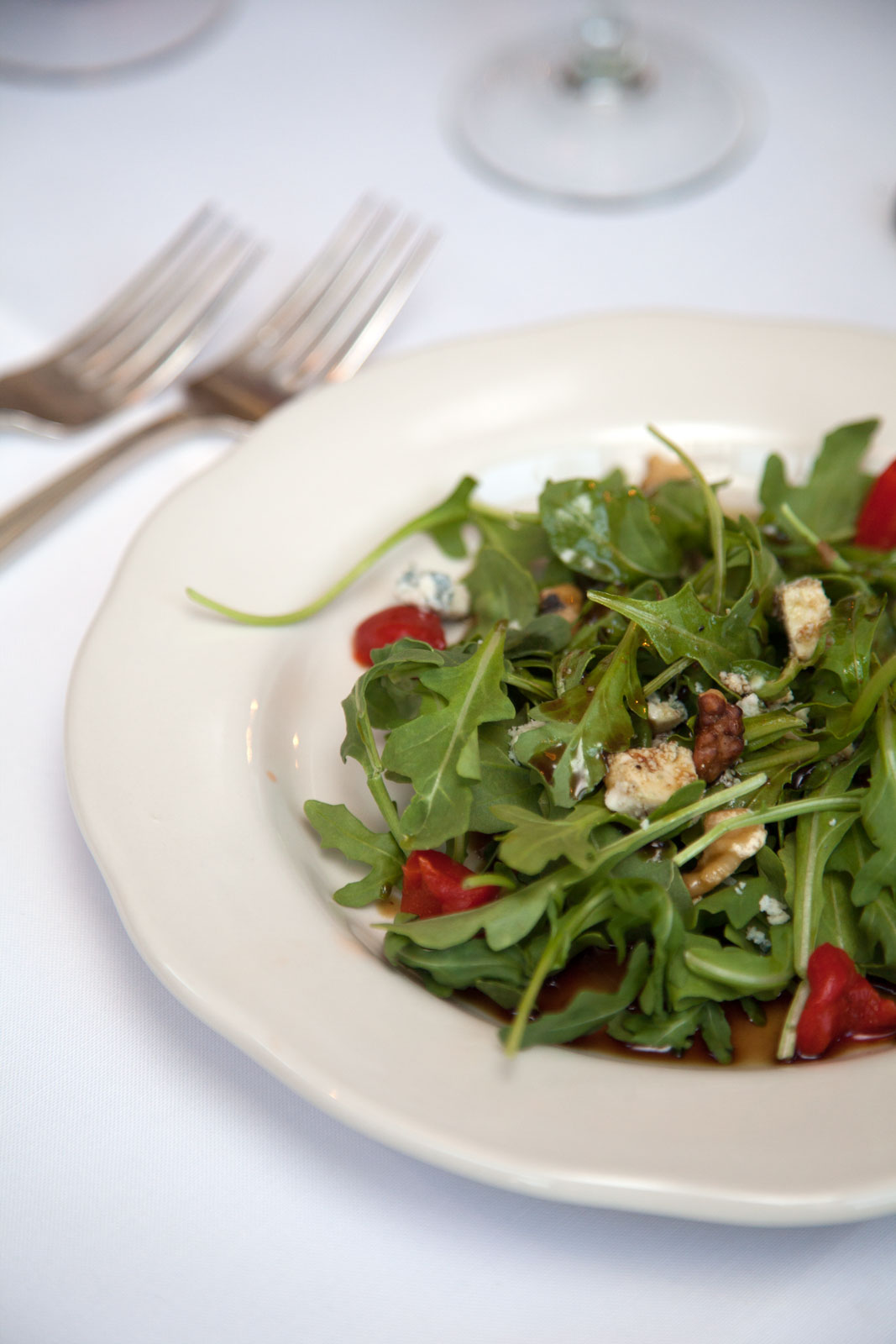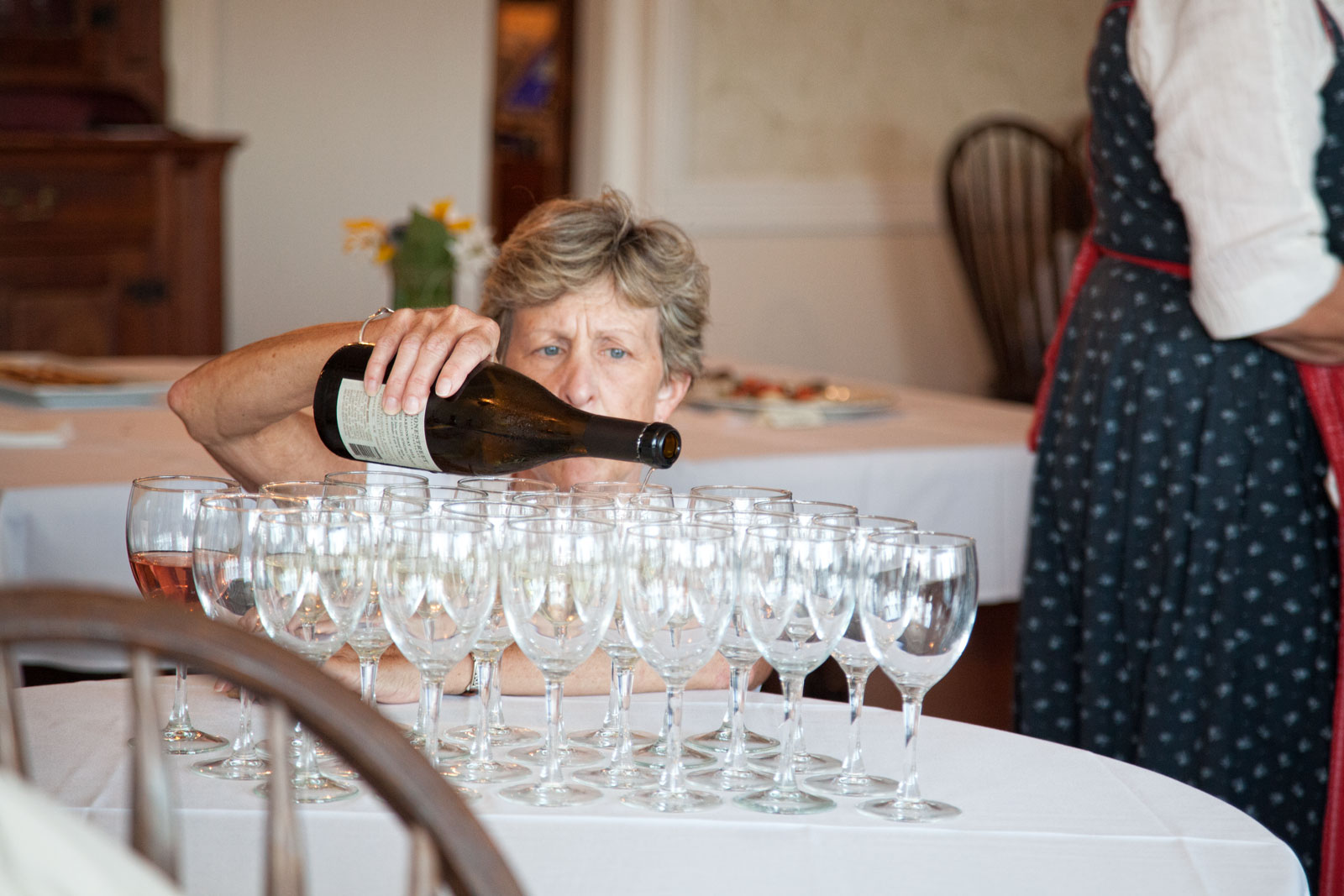 Anke Franklin who has worked at The Hopkins Inn for many years, carefully pouring.
So many of the employees at Hopkins have worked for the inn for 20+ years, which was a big deciding factor when G was looking for the perfect Litchfield County restaurant to collaborate with for the evening's festivities.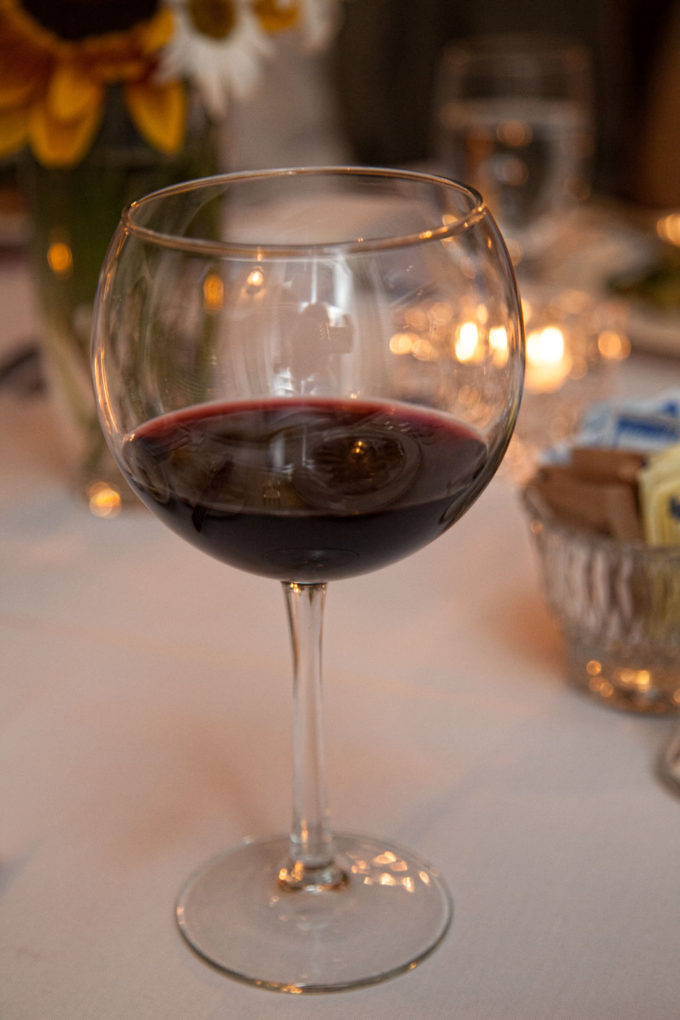 Fourth course – Pan-seared peppered duck breast served with the infamous Hopkins Inn Rösti potatoes (so, so good!). Wine = Chateau Lassegue "Les Cadrans" Bordeaux 2011.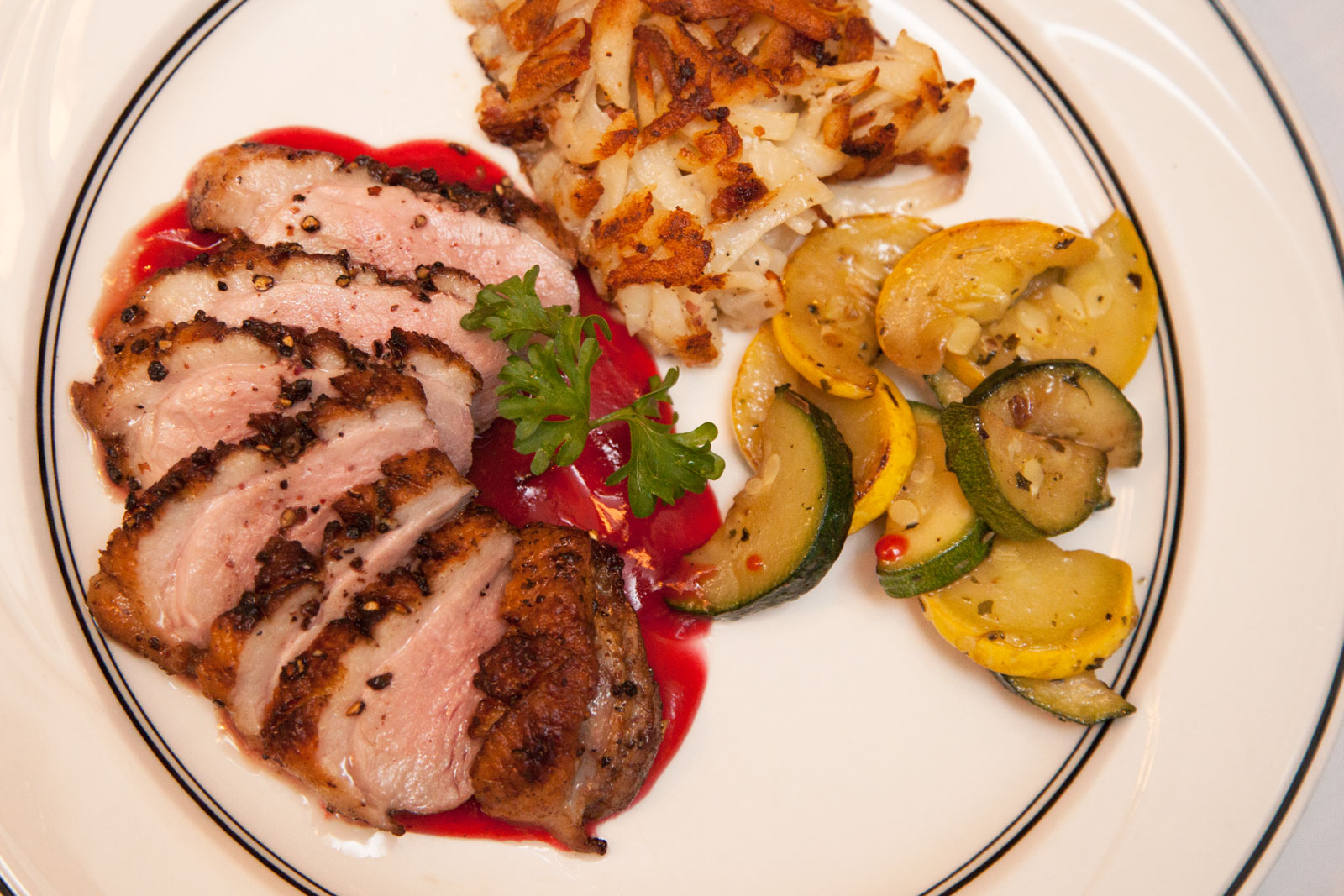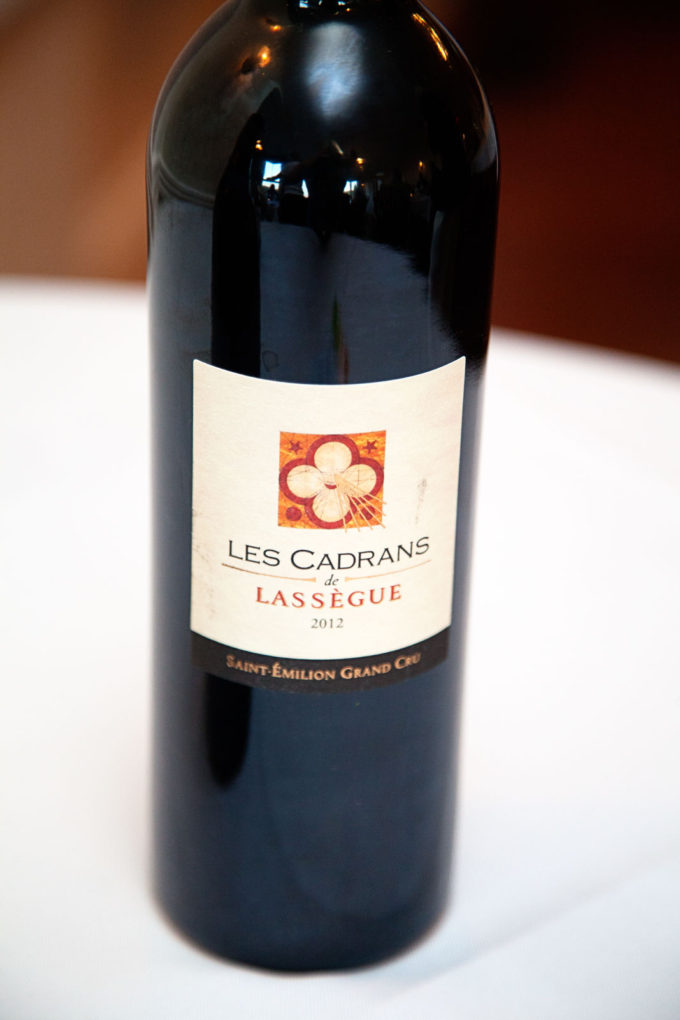 And just when we thought we couldn't eat anymore….dessert.
Room for dessert, always
Frozen chocolate mousse trio served with a Sandeman Ruby Port. A perfect ending on our taste bud journey!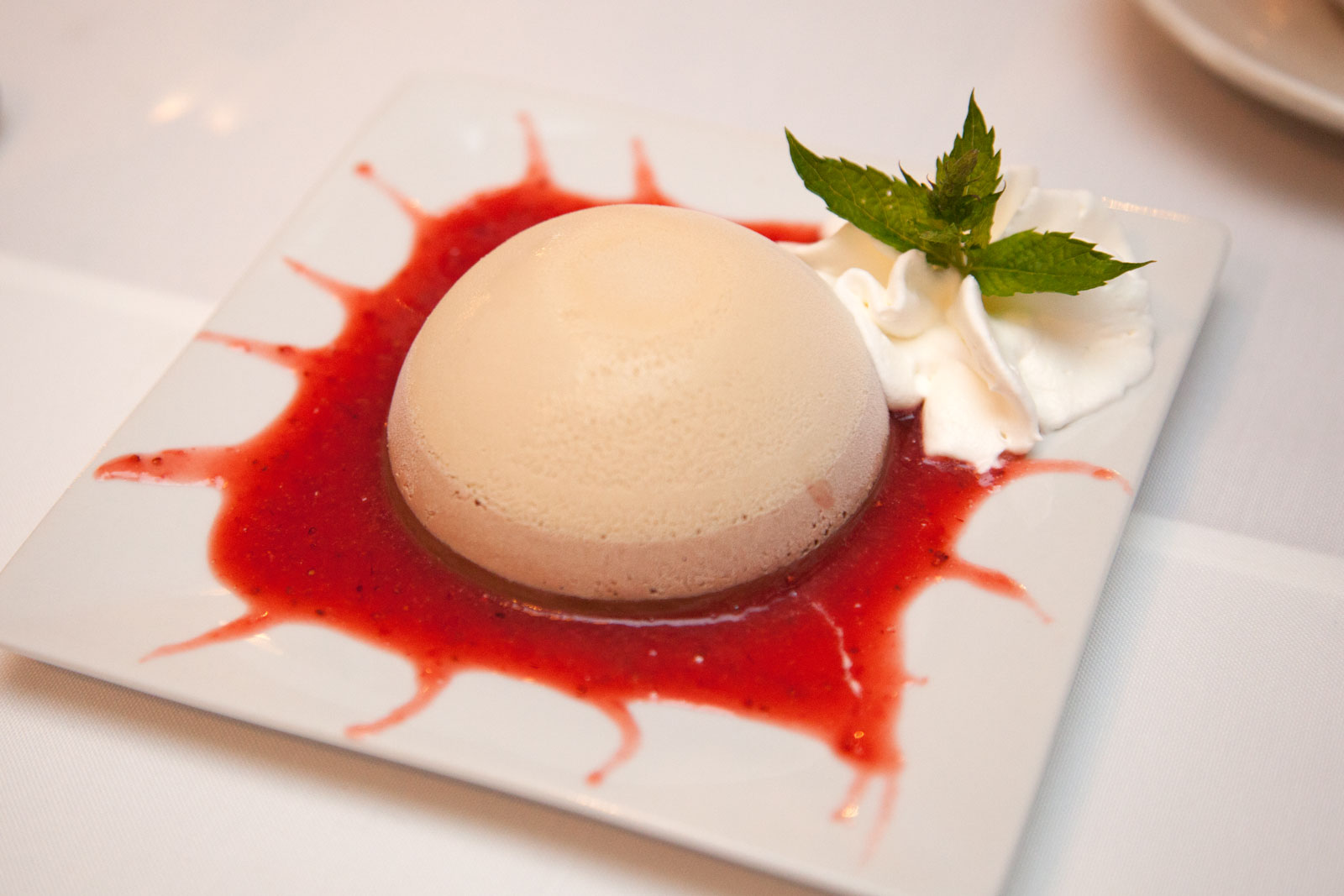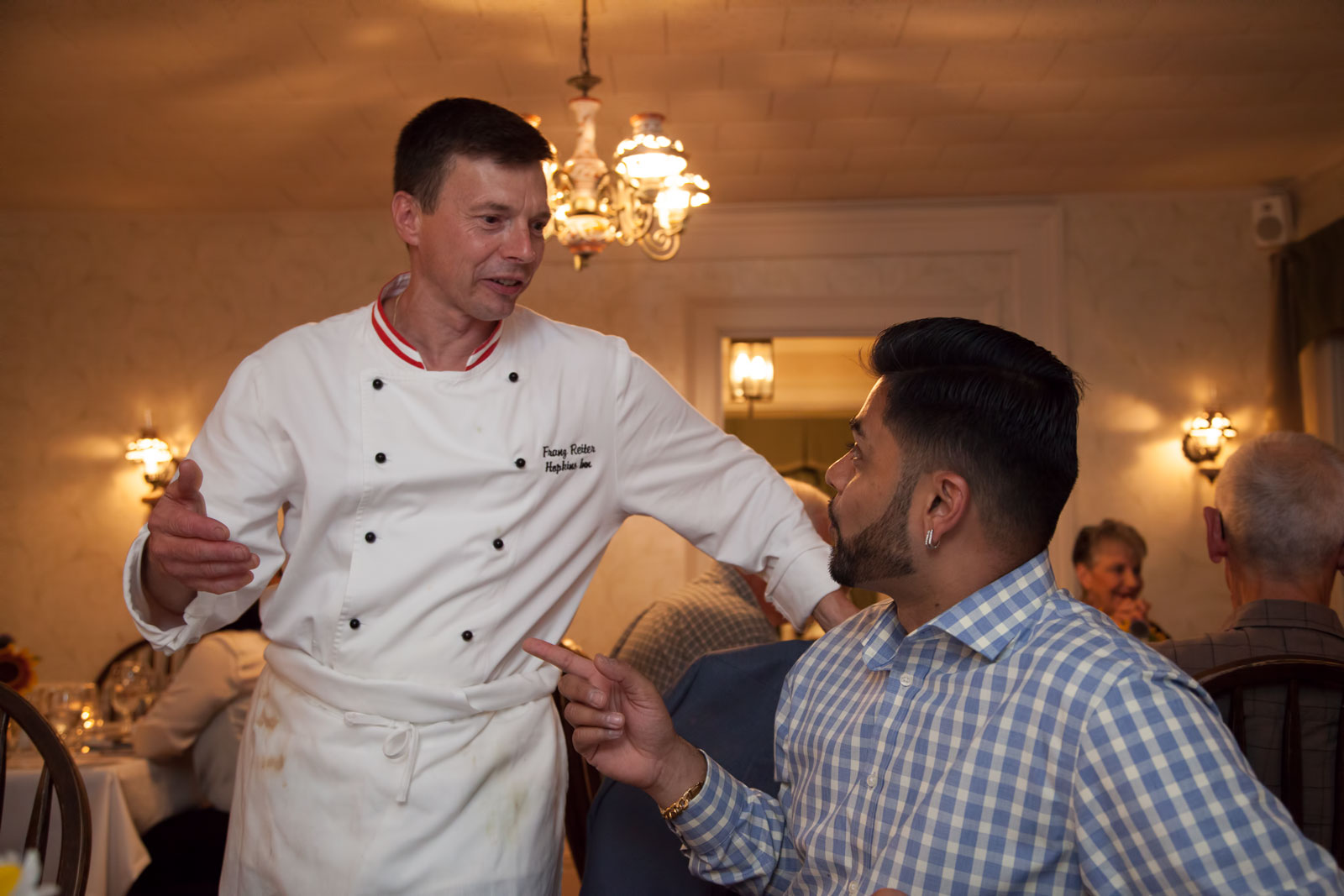 Chef Franz Reiter joining us at our table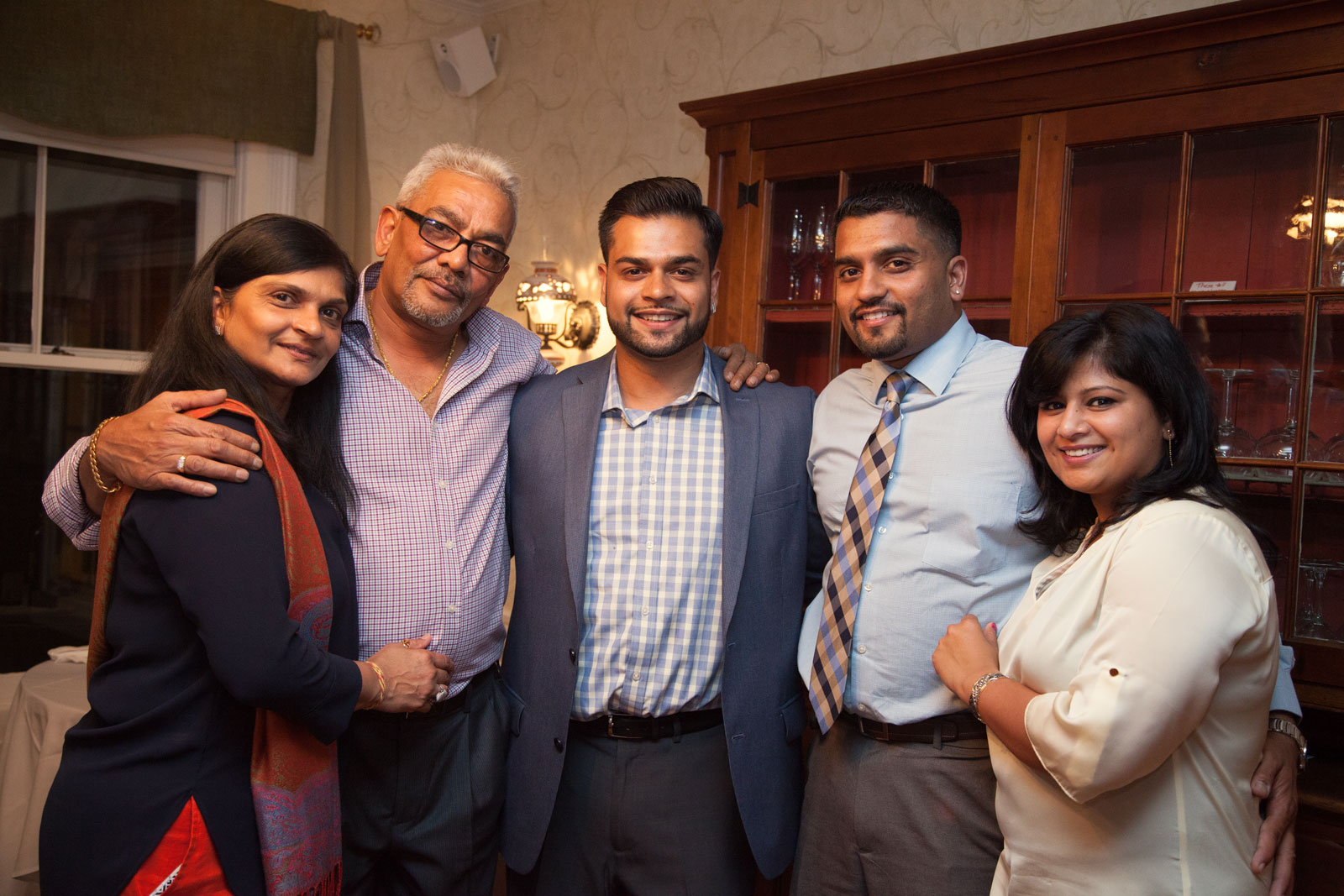 We LOVE the Patel family and wish for them to adopt us 🙂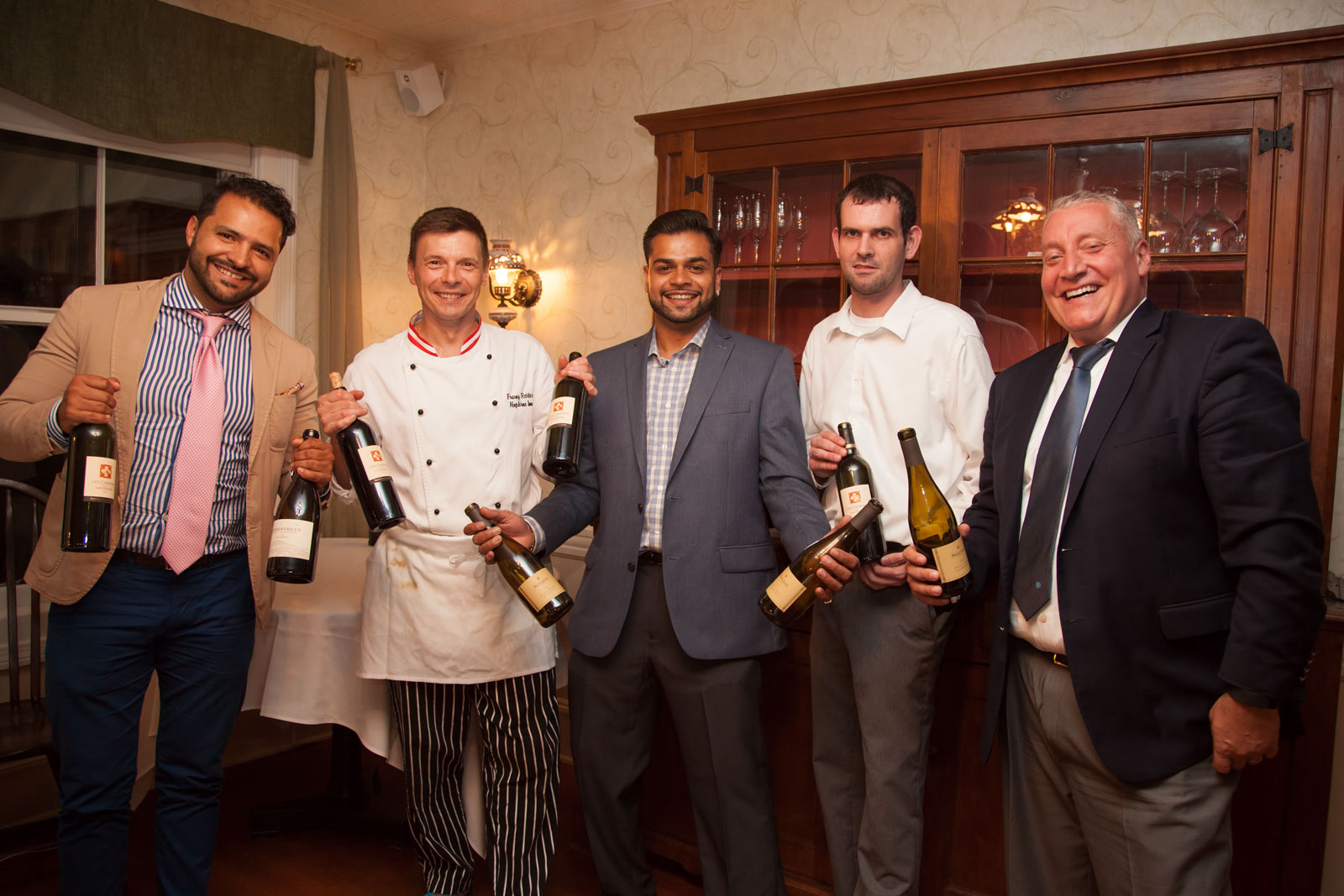 Say "wine!!!"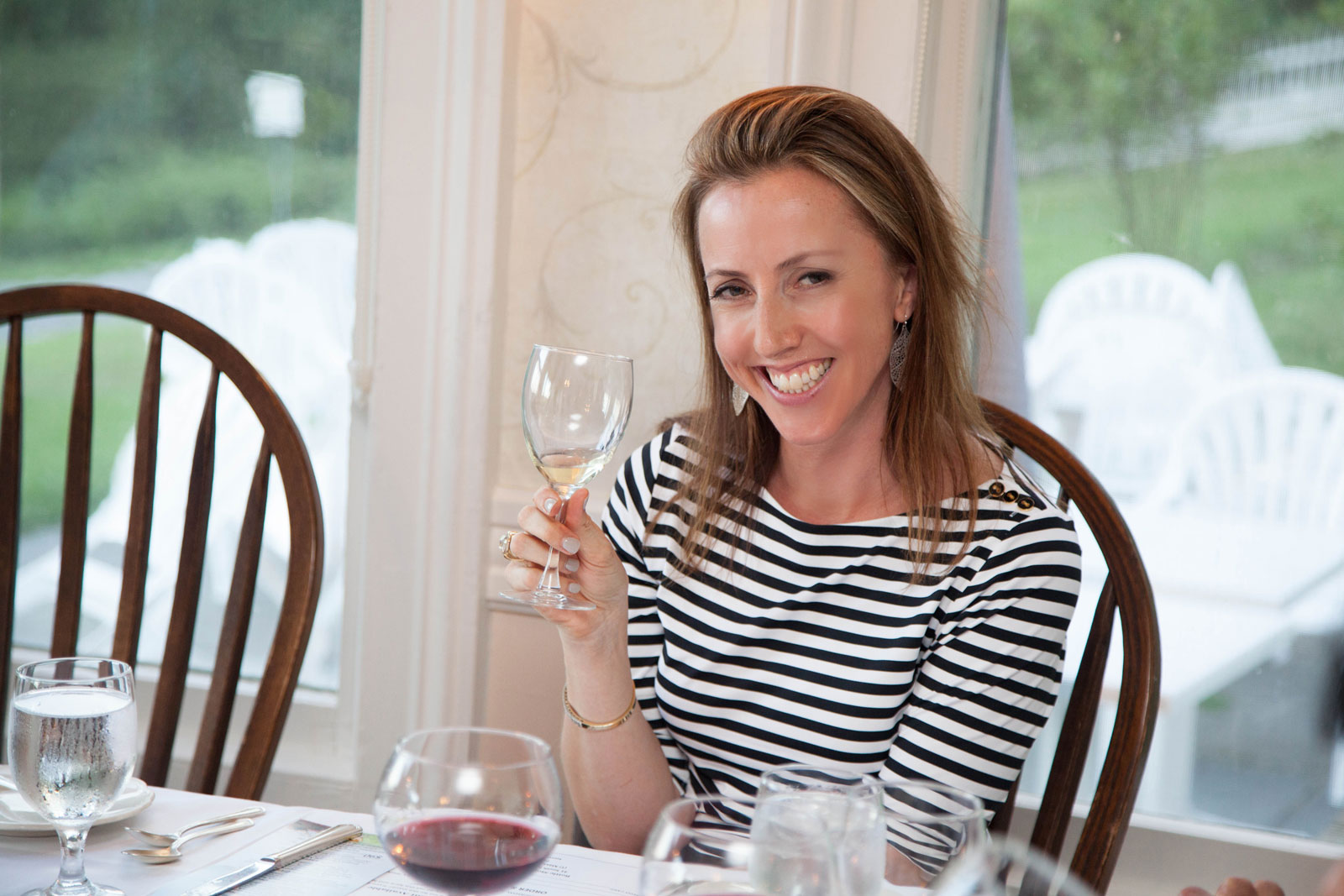 I'm not going to say we're happiest when we have a glass of wine in hand….but..well…
Such an enjoyable night! We learned a lot, enjoyed the most delicious food/wine combinations, and joined the Bottle Stop wine fan-club. We'll be making the trek up to Torrington very soon to stock up on some of their recommendations (they have many customers that drive long distances for their selection and prices). Susan explained to us that one thing that is great about their stores, is that they really know each wine they sell. They can sell you a "couture" fine wine, and they can sell you a "ready-to-wear" less-known, gem of a wine. We love when people explain things in fashion terms!
We can't get that Stonestreet Estate Chardonnay, Alexander Mountain 2013 out of our minds…must stock up!
Sign up for Bottle Stop's newsletter here to keep in the loop about future events. Also, we can't wait to head back to the Hopkins Inn in September to feature them, and show you guys what an awesome place it is! Perfect Getaway for leaf peepers for sure!
---
Bottle Stop Wine – (LC location) 31 South Main Street, Torrington, CT 06790 860-618-7878
The Hopkins Inn – 22 Hopkins Road, Warren, CT 06777 860-868-7295
Words/Bev – Pics/Lora 🙂