Ho ho…holy cow, there's only 1 week until the big day! Do. Not. Panic. If you're looking for something unique with a local Connecticut story, or have a craft-spirit lover on your list, look no further than Litchfield Distillery! Here are a few of our favorite things you can find when you visit their Distillery store.
Post sponsored by Litchfield Distillery
Ever since Litchfield Distillery opened its doors four years ago, we've been big fans of their spirits and contributions to our community. They distill amazing, award-winning spirits that are produced with locally-sourced ingredients found right here in Litchfield County. As the holiday shopping season enters its final frantic stages, we encourage you to visit the Distillery for some awesome holiday gifts.
1. Bourbon, Vodka, and Gin!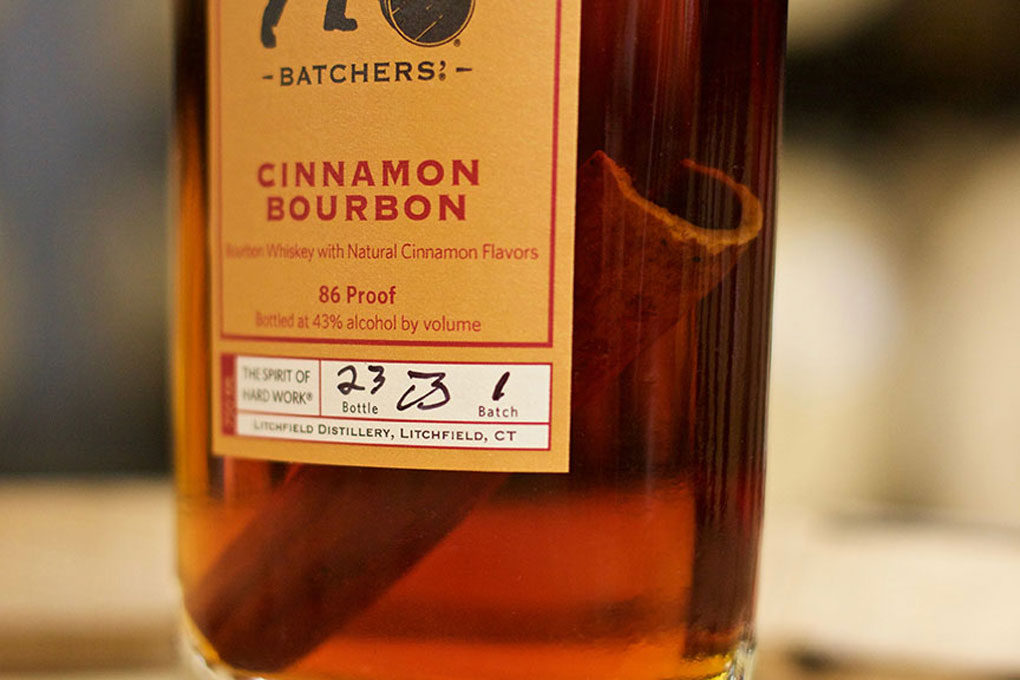 Litchfield Distillery sells over 12 kinds of spirits from traditional bourbon, vodka, and gin, to uniquely-flavored spirits like this yummy Cinnamon Bourbon. If you're looking for a great cocktail to serve at your holiday party, try their "It's That Time of the Year" drink that features Cinnamon Bourbon, apple cider, and fresh lemon juice. It's super easy to make and extremely yummy. Click here for the recipe.
2. Wood Gift Boxes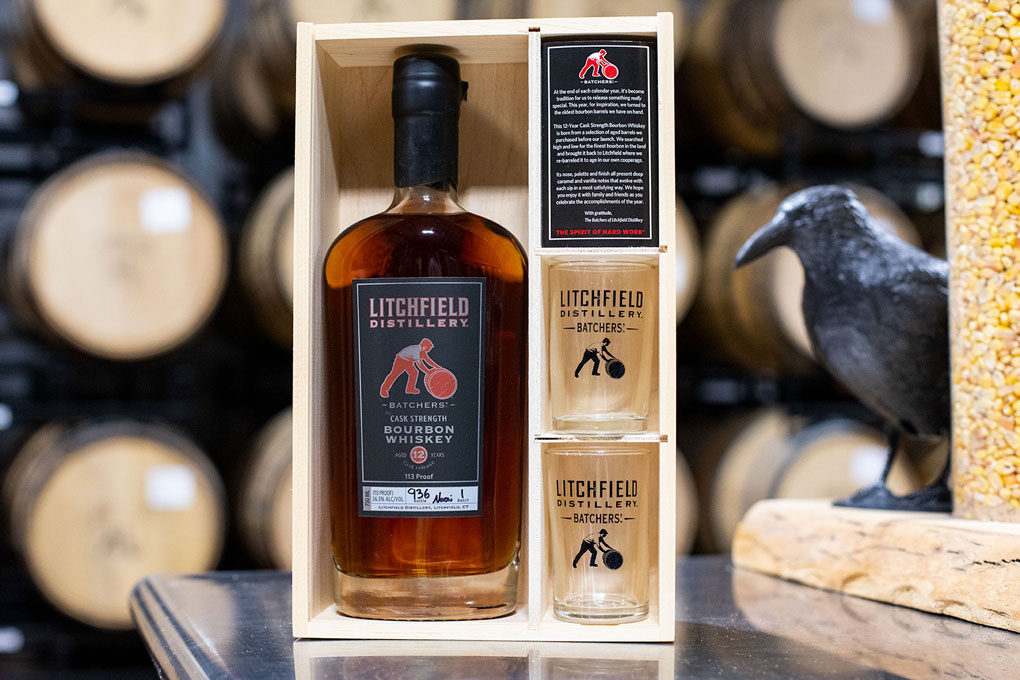 Once you pick the spirits you want to gift, grab a few of their branded wood gift boxes to help make wrapping easier. Or, buy this Limited Release 12-Year Cask Strength Bourbon Gift Box Set. At the end of each year, it's become a tradition for Litchfield Distillery to release something extraordinary. If you have a true bourbon aficionado on your gift list, this super-premium bourbon will truly make their holiday season!
3. Non-Alcohol Products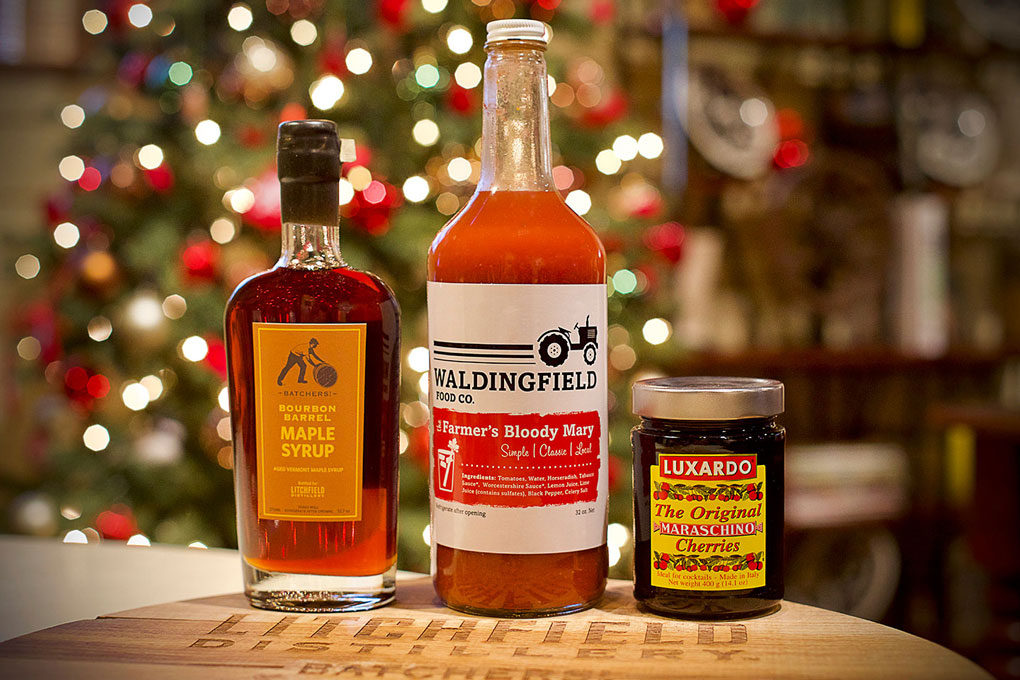 One of the Distillery's hidden gems is their Bourbon Barrel Maple Syrup. OMG, we're addicted. It's made in partnership with Maple Craft Foods in Sandy Hook, CT. The Distillery sends empty bourbon barrels to Maple Craft where they are filled with pure maple syrup, aged for several months and bottled. The bourbon flavor is subtle and adds a delicious layer of complexity. You'll want to pour it on more than just pancakes—try it on ice cream!
Got a Bloody Mary fan on your list? Pair Litchfield Distillery's Vodka with Waldingfield Farm's amazing Bloody Mary mix. Yum! Or, pick up some maraschino cherries along with a bottle of bourbon to make classic Manhattans.
4. Branded Clothing and Gear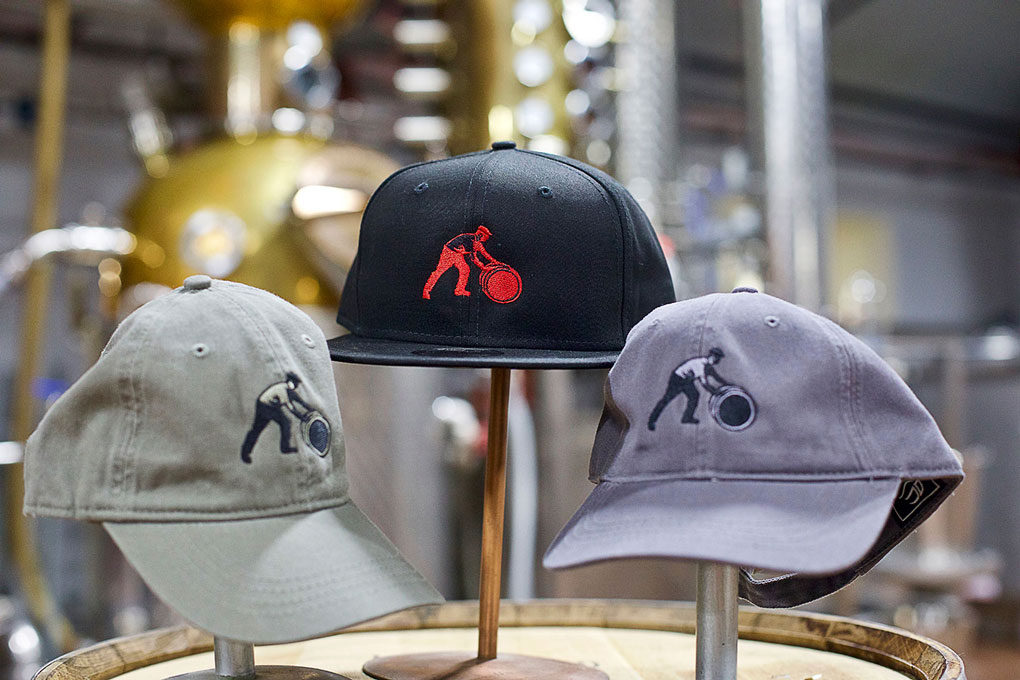 There's an assortment of high-quality shirts, sweatshirts, fleeces, hats and more for men and women. If you know someone that embodies The Spirit of Hard Work®, they'll love to wear the Litchfield Distillery brand!
5. Signs and Accessories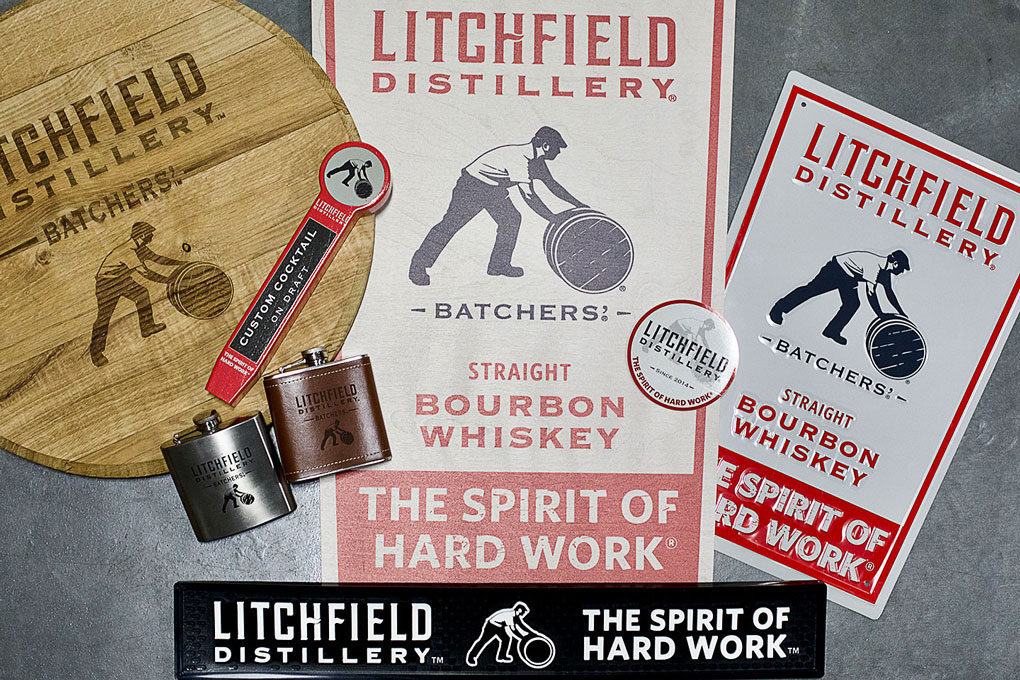 Got someone who loves their home bar or man cave/lady lair? Grab one of Litchfield Distillery's signs or barrel heads. Plus, you'll find flasks, bar mats, branded cocktail glasses, and much more!
6. Scented Candles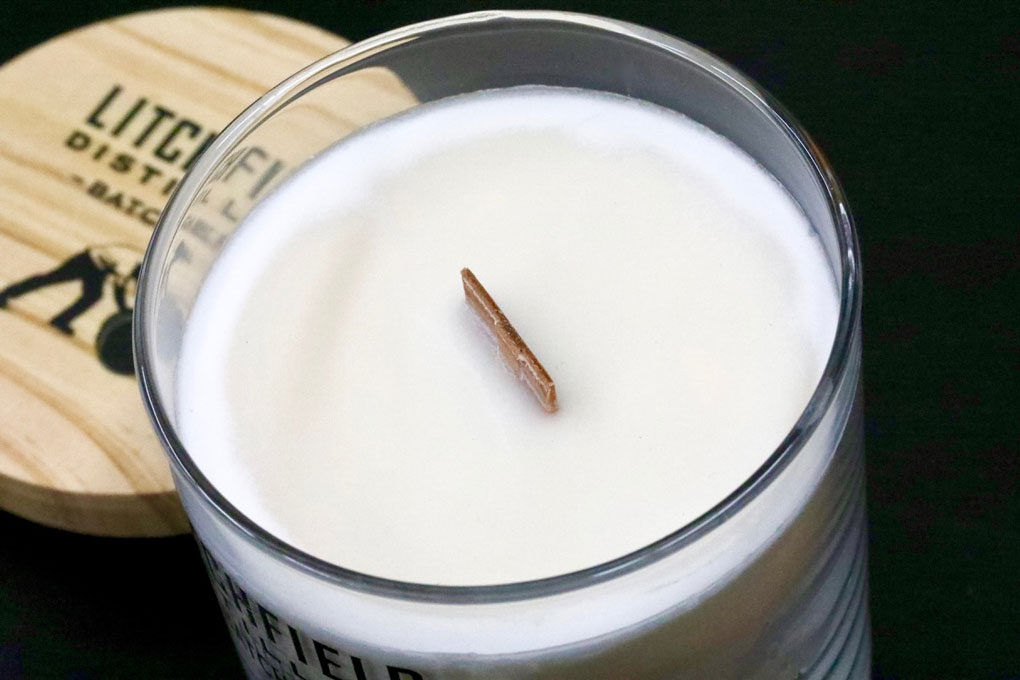 What would the holidays be without candles? Litchfield Distillery carries "spirit-inspired" scented candles produced locally by Olive My Home. These wooden-wick candles are 100% soy wax and filled in Litchfield Distillery rocks glasses, so you can repurpose the glass after the candle is finished!
Give Local This Holiday Season!
Litchfield Distillery is a true local success story and continues to gain national recognition and awards for their Connecticut Made spirits.
Don't forget that they offers free tours and tastings. It's a fun and informative experience that lets you experience their farm-to-bottle-to-farm philosophy. If you're looking for something to do to entertain guests, be sure to book a tour! Visit www.LitchfieldDistillery.com for up-to-date hours during the holidays.
During December, the gift store is open seven days a week, 11 am to 6 pm.
---
569 Bantam Road, Litchfield, CT 06759
Pics provided by Litchfield Distillery