Judy Collins is a true musical icon. She has over 50 albums to her name, is an author, a musical mentor, a sought-after keynote speaker, and so much more. What better venue to see her perform on November 28th than Infinity Hall in Norfolk? We chatted with Judy and fell in love with her down-to-earth, honest and humorous personality. Make sure you grab your tickets today before they are gone. Get to know more of her below:
Chats with Judy Collins!
September 18th is a huge day! It's your first studio album in four years. It's called Strangers Again. Tell us about the amazing talent that is joining you on this album.
I'm skipping around the room now! Ari Hest I've worked with before; he's a wonderful writer. He wrote "Strangers Again," which is this great song that titles the album.
Don McLean, I've been doing some concerts with him the past couple of years and I told him this has been on my mind and he says, "Oh my, I'd like to do "Send in the Clowns" with you." And I said, "Great idea!"
And Jimmy Buffett when I told him he said, "I have been dreaming about this for years. I want to sing "Someday Soon" with you." So that started me off!
I had been to a lot of wonderful concerts in the past couple of years. I've been to see Michael McDonald, Glen Hansard, and Randy Newman. And I fell in love with one of Randy's songs that I had never known so I reached out to Jackson Browne to sing that with me; he was happy about that. And Michael McDonald I just love so much and I've always wanted to sing with him, so we did "Miracle River." "Miracle River" was written by his wife, Amy Holland. And I had just heard the song by chance. I was looking through some other songs by the co-writer whose name is John Goodman, and he said, "well, what do you think of this?" And I heard it and I said that's exactly what I'm looking for. And he said, "You know it's funny, because it was written by Michael's wife." So that was great fun!
Willie Nelson I convinced to sing, which didn't take much convincing – he loved it. The song by Dave Carter is called "When I Go", which is a wonderful spiritual song – I think a lot of people identify with it. It has an American Indian vibe – there are a lot of images I think of as being very much American Indian belief and it has exotic lines in it about life on Earth and departing. It's such a moving song; I'm just crazy about it. I've been singing that in concert lately and people do love it.
And of course, the song that Jeff Bridges chose, "Make our Garden Grow" is from Candide. I didn't know anything about Candide. I had never heard it (Lora admits that to Judy as well). I was quite surprised and very pleased. It's the kind of song I would have picked up and would have been singing years ago if I'd known it.
Glen Hansard had a great song of his that I loved and so we did a duet with that ["Races"].
Also Thomas Dybdahl had a new song that he wanted to sing with me and somebody I've known for years, Larry Klein, was producing it. Larry was married to Joni Mitchell. And he and I and Thomas worked on that song together. It's called "From Grace."
So I learned a lot of things, found some songs that I didn't know anything about, had a divine time! Like going to the dance and my dance card is full (laughs). I've had a great time!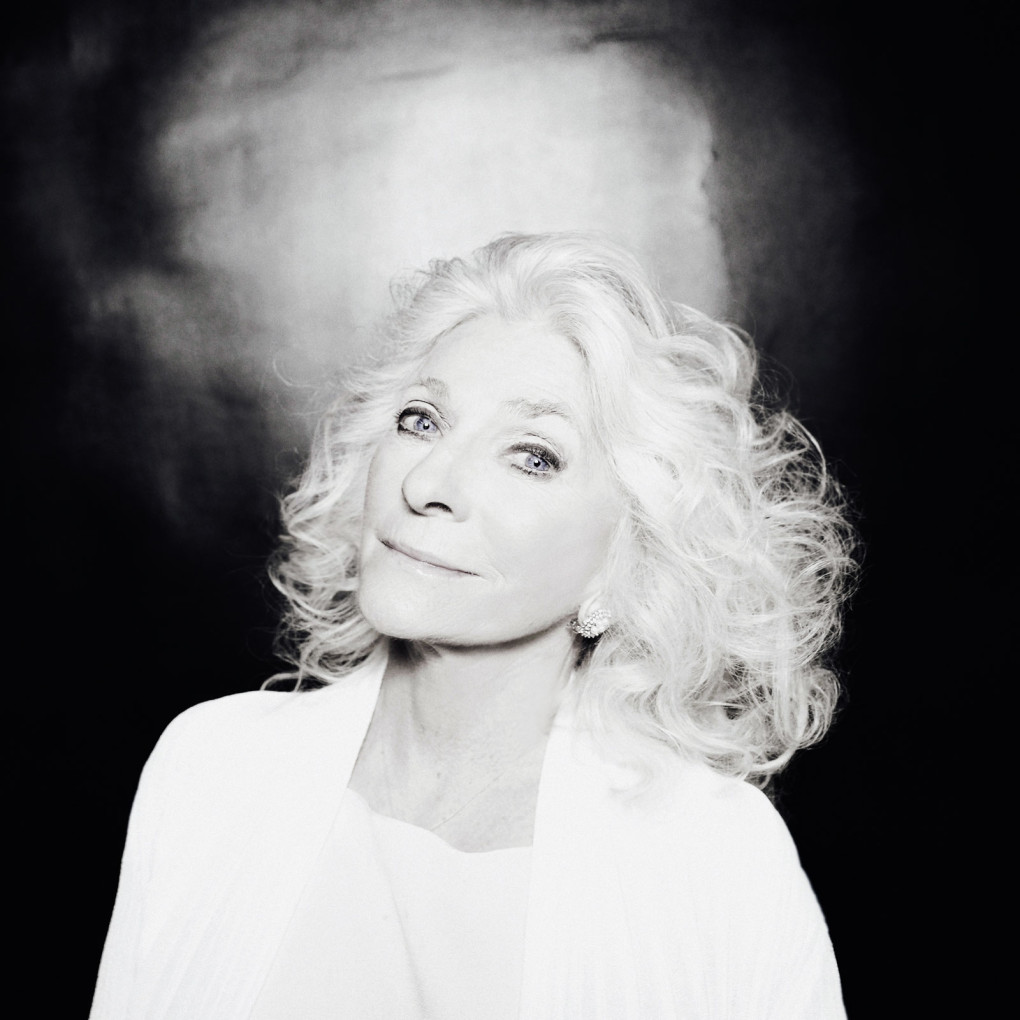 Beverley and I keep pretty busy, but we need to know, first of all, you're as active as ever…you write, tour worldwide, paint, are a record label head, are a musical mentor, a sought after keynote speaker…I could go on….where do you find the stamina to get it all done? What motivates you?
I'm very involved with living an athletic and healthy life. So what I do with my habits are the things that keep me going, I'm sure. First of all, I eat well. I have a food plan that is very abundant, but it does involve eating 3 meals a day and no carbs, no sugar, no crap, no flour; none of those things. I don't even drink Diet Coke! In fact I started drinking Diet Coke a few years ago – it gave me a little kick. I am a caffeine addict for sure.
But I've had migraine headaches since I was about 13 and I have a few every year and they are always traumatic because I have the aura and I can't talk for a while. The headache is the least of the problems. Anyway, about 2 years ago I started to have some symptoms of TIA's. Do you know what those are? (Lora says no….) Transient Ischemic Attack. They resemble a mini stroke. And it's very similar to what happens with a migraine. When you get the aura from the migraine, your face gets numb and you can't talk and you get nauseous. So I started to have these things and my father died of an aneurism so I got busy and went to have the test and they found nothing was wrong. But I was talking to my pianist about it and he said, "Stop drinking Diet Coke." And I stopped. It's going on 2 years now and I want to tell you something. I have not had a migraine headache or any of these symptoms since. So I'm very, very proactive about getting rid of the Diet Coke and the aspartame in the diet.
Anyway, I exercise regularly, usually about 5 times a week. I'm either on my treadmill or I do the stationary bike or I run; not outside anymore. And I have to do that 5 times a week 30-50 minutes, plus my crunches! I meditate, I read good books that are interesting and have to do with spiritual matters. And I try to laugh a lot – I think it's the fountain of youth (Lora and Judy laugh…lol).
You're performing at Infinity Hall in Norfolk on November 28th (and Infinity Hartford on November 27th) and we'd like to mention to our readers to grab tickets now while they are still available. Tell us what you love about Connecticut and performing here:
You know, I've been on the east coast for a long time, living in New York for 55 years. And truly, my Connecticut audience has really kept me going. They've taken care of me and followed my career and booked me for concerts and bought my books and my CDs, so I really owe a lot to this community and the state and I love singing to that audience. It's very exciting!
Judy finishes the sentences:
1. I'm most proud of the fact that I got up this morning (more laughs!)
2. My favorite song is "Amazing Grace"
3. I find happiness in my everyday routines, the simple things, making a good meal, making sure I get my bed made, making sure that I can take the time to call my friends.
4. What's next on my bucket list is the Grand Canyon. I've never been there and I'm a Colorado girl! The second is climbing Longs Peak (also in Colorado), but that will wait…(laughs).
---
Visit Judy Collins's website, her Facebook. Contact Infinity Hall for tickets!
Black and white photo of Judy by Shervin Lainez, color photo by Brad Trent. Used with permission by Judy Collins.
Interview: Lora & Bev