We've done it again, only this time our Holiday Gift Guide has doubled in size! There are so many great options for shopping locally in Litchfield County that we couldn't limit the list to 10 like we did last year. We've found 20 different gift ideas for you – something for everyone on your list, and in every price range. Forget Amazon and keep it in the Litchfield County family!
Our gift to you – making your holiday shopping easy. Click the business name or photo to visit their websites!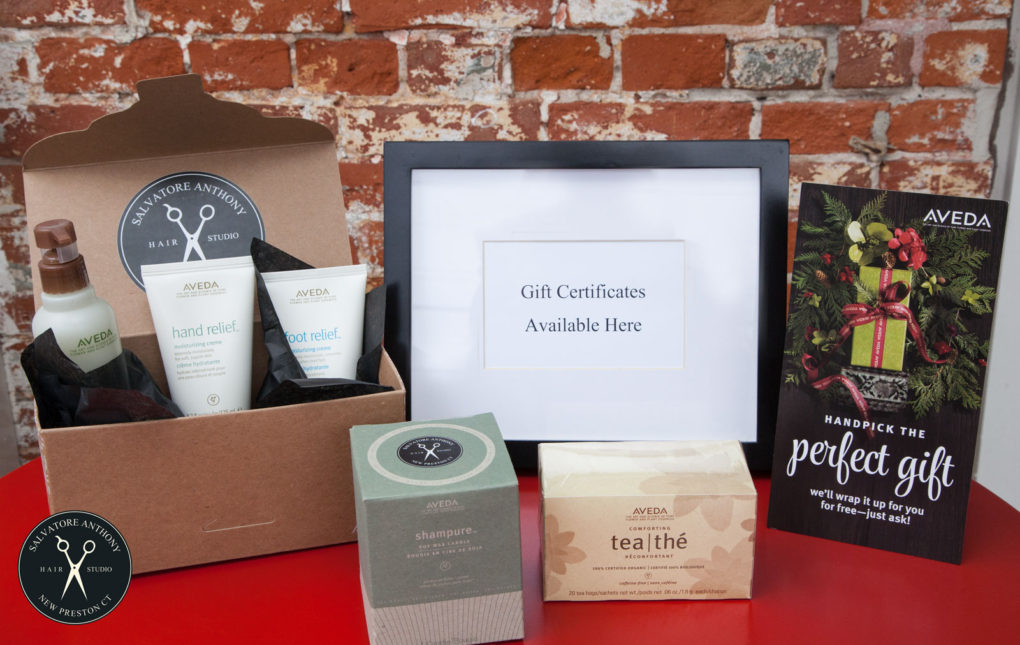 Treat your family and friends to a gift certificate with New Preston's new NYC stylist, Salvatore Anthony. Surprise her or him with a new look for the new year! Or, build your own gift sets – Sal carries the fantastic Aveda line. Going away for the holidays? Grab some Aveda travel sizes!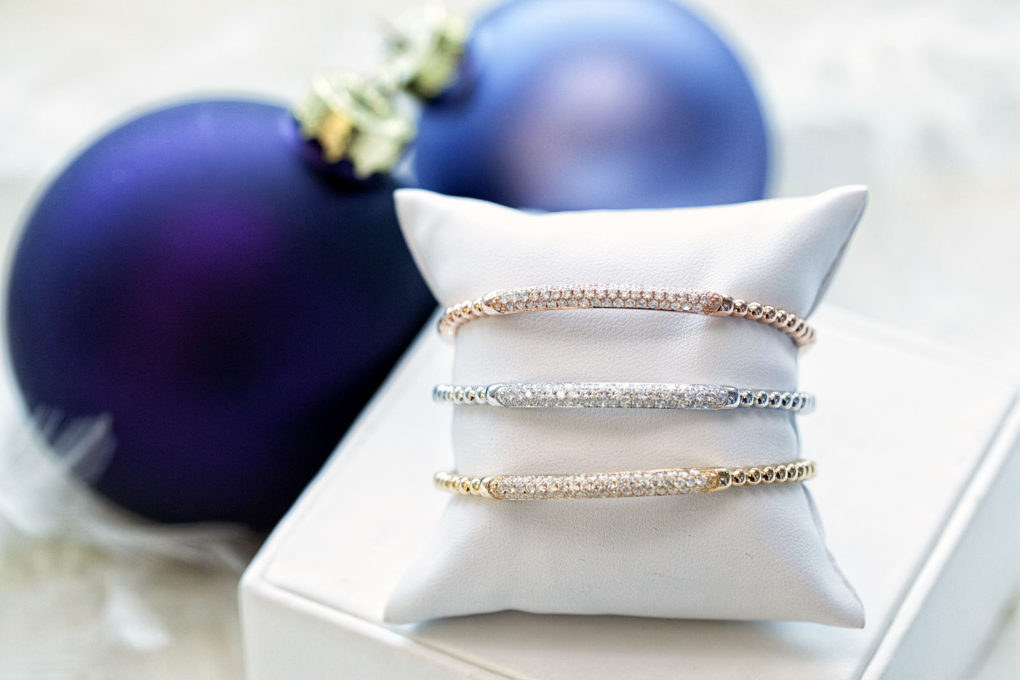 Pick from white, yellow, and rose; these 18k gold bracelets look awesome alone or stunning as a stack of 3 (each 1.06 carat diamond total weight). Onyx II in Watertown was voted by INSTORE Magazine as one of 2016's "Coolest Stores in America," and you'll understand why when you visit. Daniel and James offer a level of personal service that is rare to find. Prepare to find something fabulous!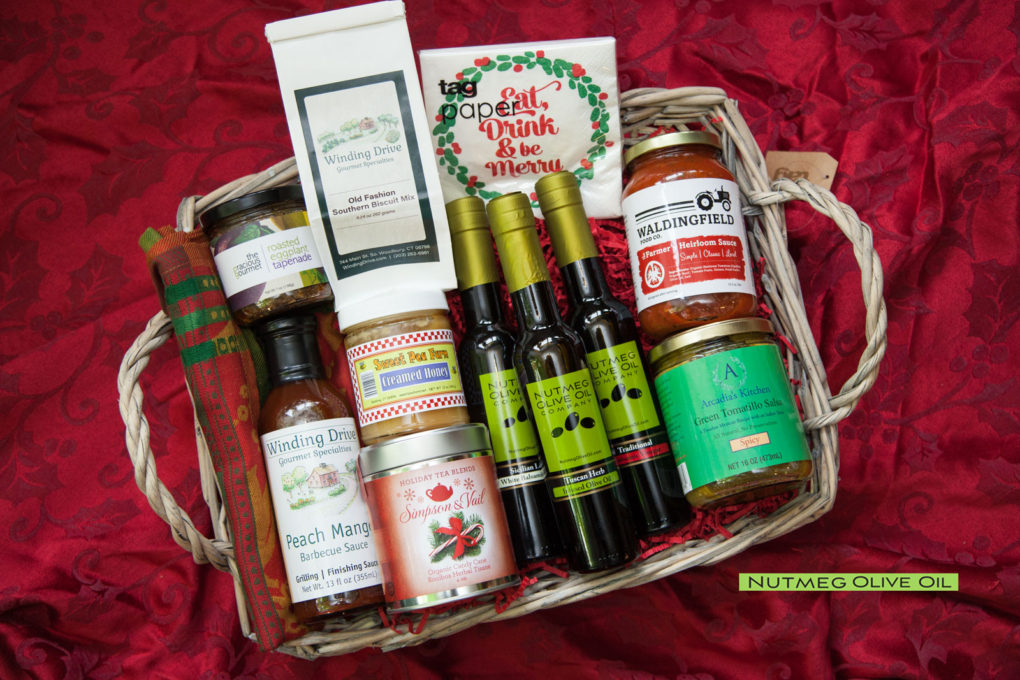 You can't go wrong with an edible gift, especially when it includes New Milford's Nutmeg Olive Company premium oils and balsamic vinegars. We've been addicted ever since we did one of our first blog posts about them. Create your own Connecticut gourmet basket with some of the great assortment of CT made goods they carry! Or you can grab a ready made basket. Gift wrapping is complimentary.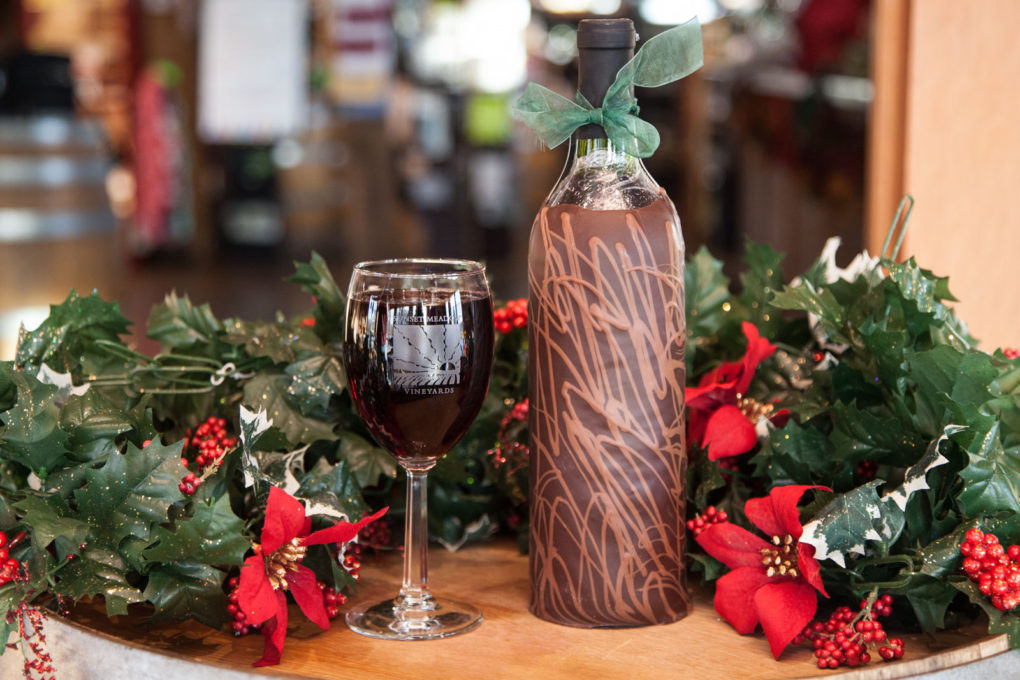 We went crazy for this one! Goshen's Sunset Meadow Vineyard wine and Fascia's chocolate, combined into one tasty gift. Whoever thought of this is a genius, we tell you! Their white wines come covered in milk chocolate, and the reds come in dark. Perfect dinner party gift and conversation starter! While you're at the vineyard, make sure you sample the hot mulled wine, followed by a taste of the wine slushy ?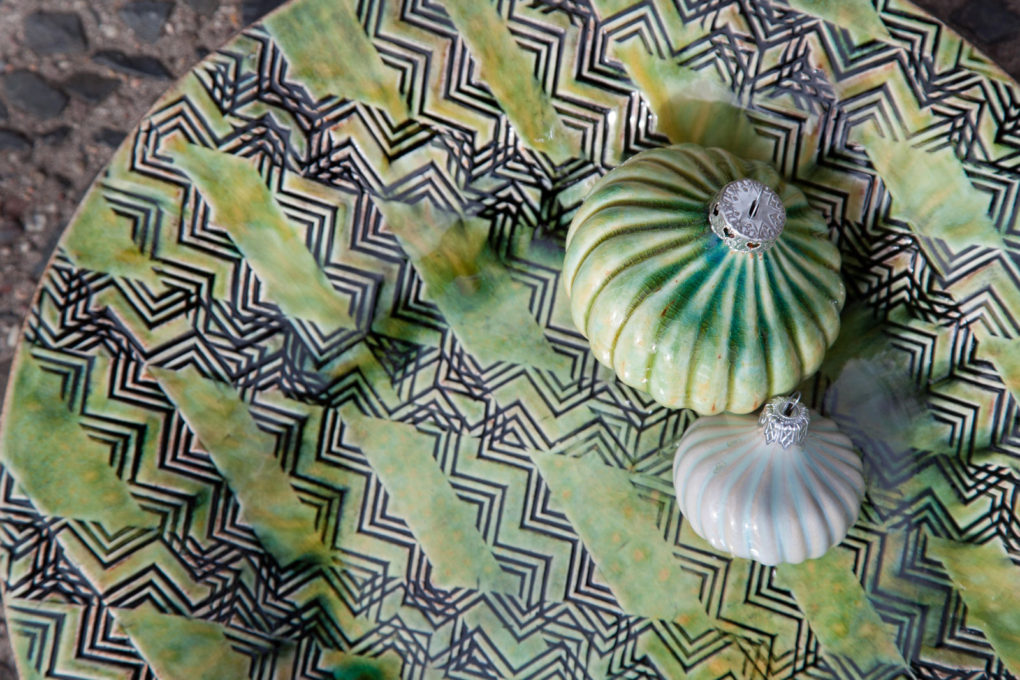 The ratio of awesome gift factor to price is just too good at Bantam Tileworks. Their platters, bowls, and plates are all beautiful and one-of-a-kind. Each piece is made by hand right in the Bantam studio adjoined to their showroom. Need teacher gifts? They have BT Christmas ornaments ranging from $10 to $24 – each one unique and beautifully glazed in Bantam Tileworks' distinct style.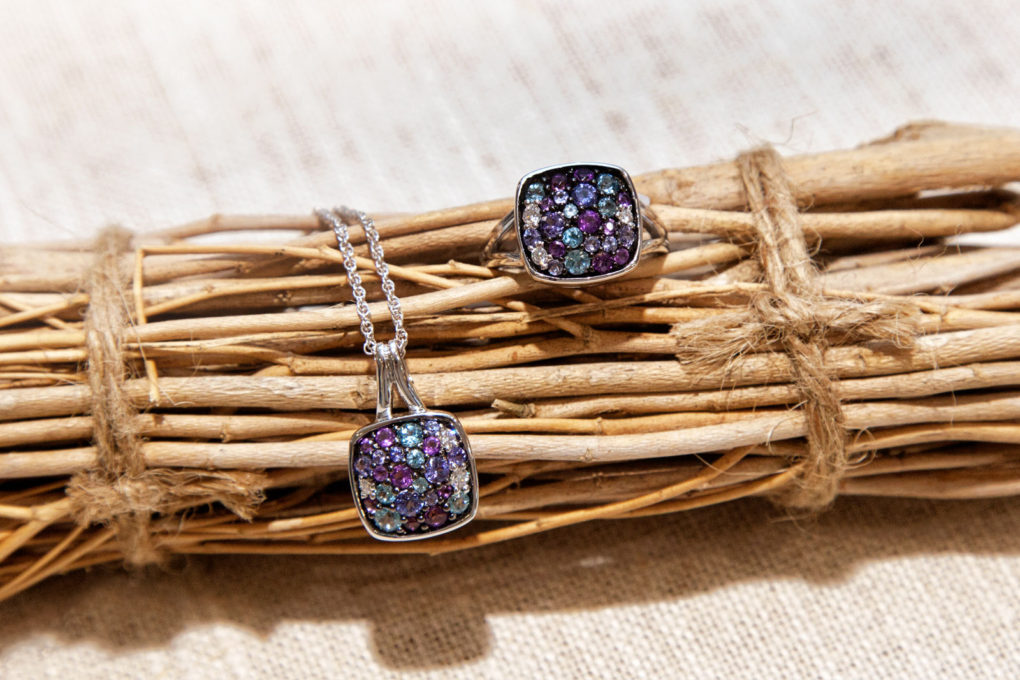 We would want to be the lucky lady that receives either of these beautiful pieces. Tanzanite, diamond, amethyst, and blue topaz, the cushion-shaped 14k gold cluster necklace ($1295) and ring ($1395) will make her very happy indeed! Robertson Jewelers can help you find just the right gift, whatever your budget. Visit their bright, sparkling showroom in New Milford.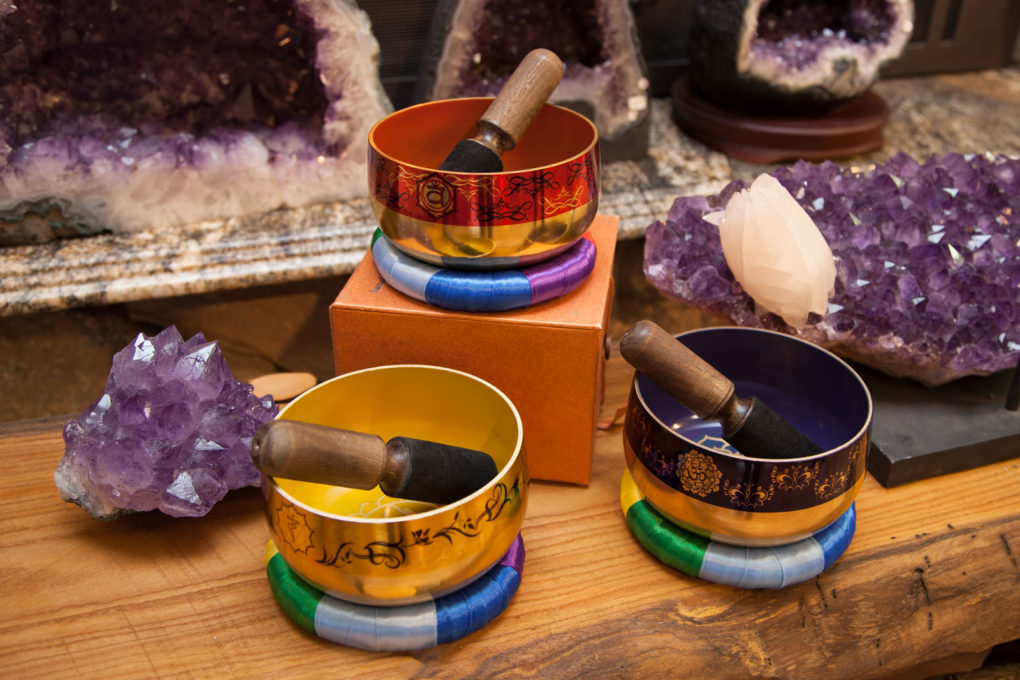 For anyone who could use a little "Om" in their lives, Mother Earth Gallery in New Milford has singing bowls ranging from $29 to $395. Some of the benefits of working with these singing bowls include; cleansing the auric field, inducing altered states of consciousness, and can be used as a tool for manifesting change through prayer and affirmations. Plus, they simply sound om-mazing.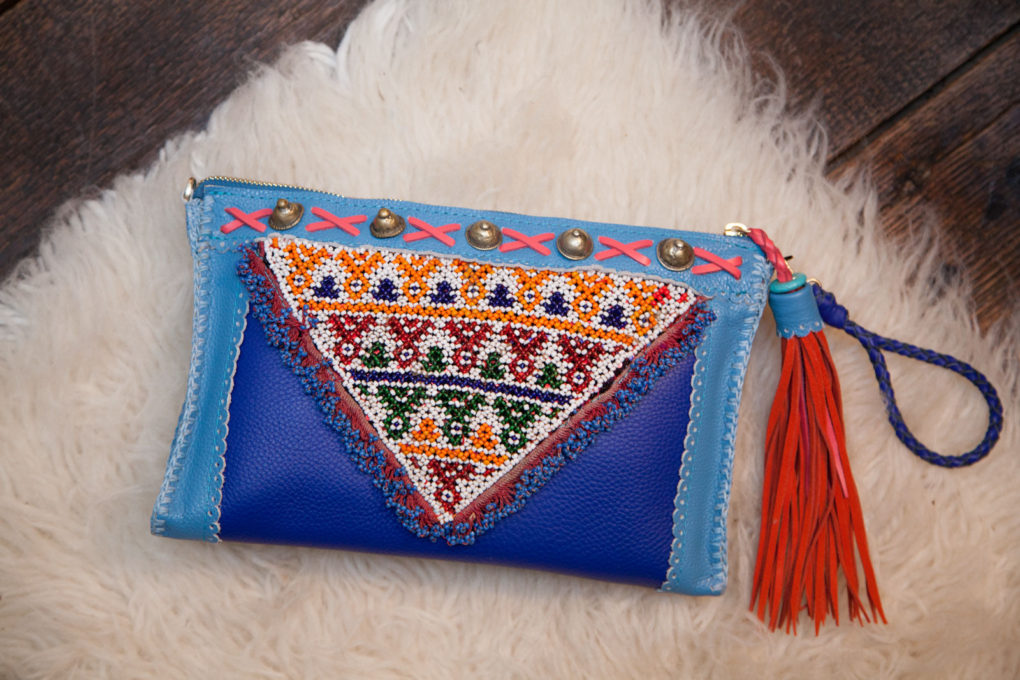 Combine boho-chic and European glam and you have every single cool thing Shop Cathy B carries! Shop from her Instagram or make an appointment to visit her Woodbury grotto, which is jam-packed with every kind of accessory. Fringed bags, leather/cashmere texting gloves, scarves, jewelry, boot cuffs…the list goes on. Lots of pieces come straight from Ibiza – very on trend!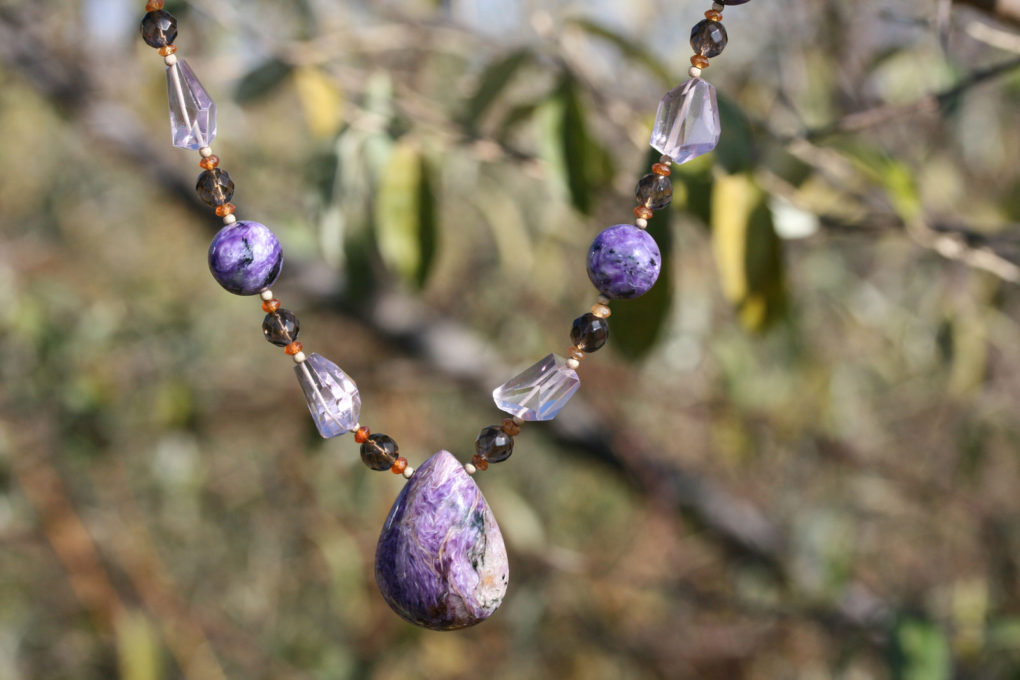 Both the creative and classic women on your list would be thrilled to receive a one-of-a-kind gift from a local artist. Each of Steinen's natural stone necklaces and bracelets is hand stamped with a number guaranteeing its authenticity and uniqueness. Browse Steinen's holiday selection online and use code SWEETHEART for free shipping at checkout.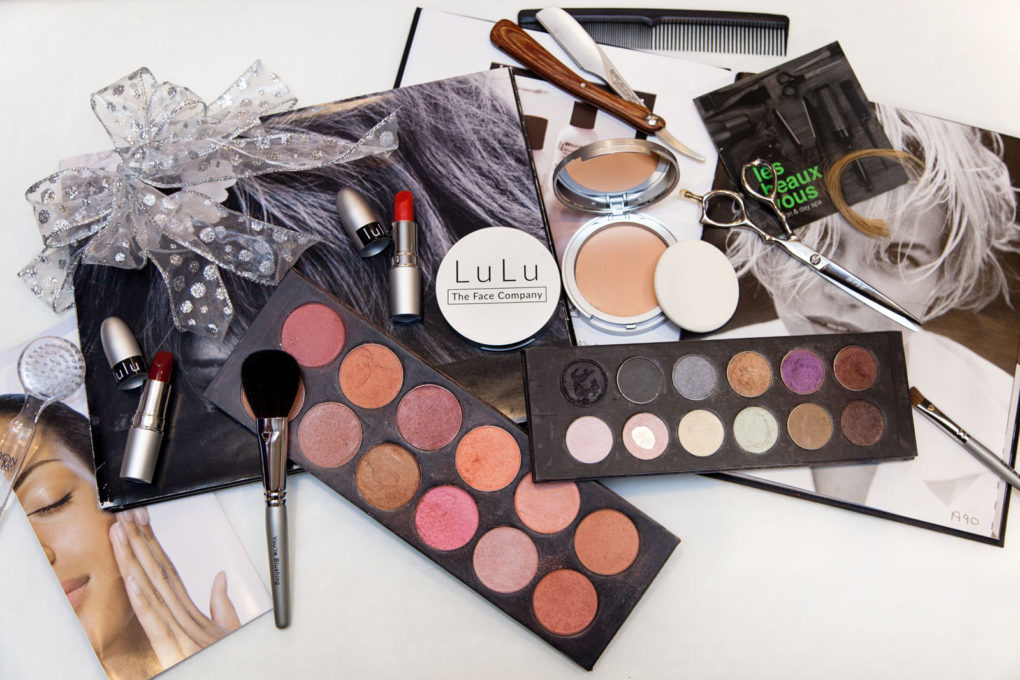 Les Beaux Vous has developed an amazing new cosmetic line, The LuLu Face Company. Torrington salon and spa owner Linda Temkin has created a collection of multi-tasking products that are skin care quality and easy to use. They'll be offering some fantastic package deals this holiday season including a full collection of LuLu cosmetics and brushes for $150 ($250 value). Add a facial for even bigger savings. Or, the deluxe package; all of that plus a haircut and Bumble blow-dry. Heaven!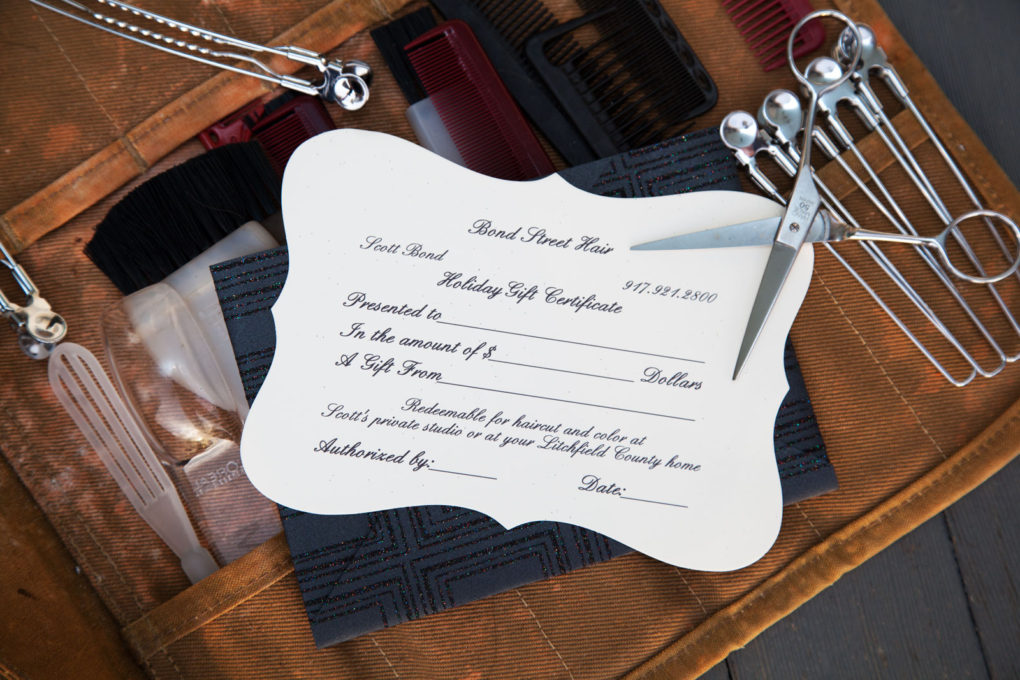 NYC – London – LA – Goshen! Treat somebody you love to a gift certificate with Scott Bond, celebrity hairstylist. The recipient can go to Scott's private Goshen studio, or he can make a house call (within Litchfield County). Be warned, after one session with Scott, he/she will want to become a regular. He's a good-hair-day wizard, plus he's lot of fun to be around ?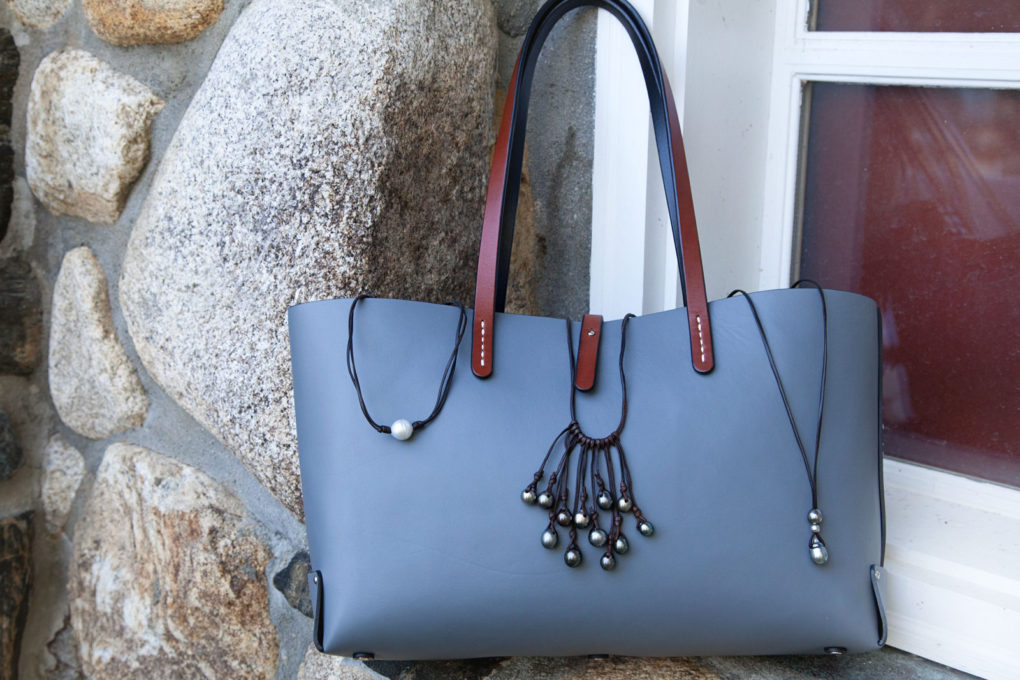 We're letting a Leitz leather bag (we die for this color) model the Leitz leather jewelry. Quickly becoming the LC "it" bag, it would be on anyone's dream wish list. Equally gorgeous would a piece of Leitz Leather jewelry. We love the Tahitian pearls and leather collection. Buy a couple of pearl and leather bracelets, or chokers and layer up; super stylish! Prices start at $125. Contact [email protected]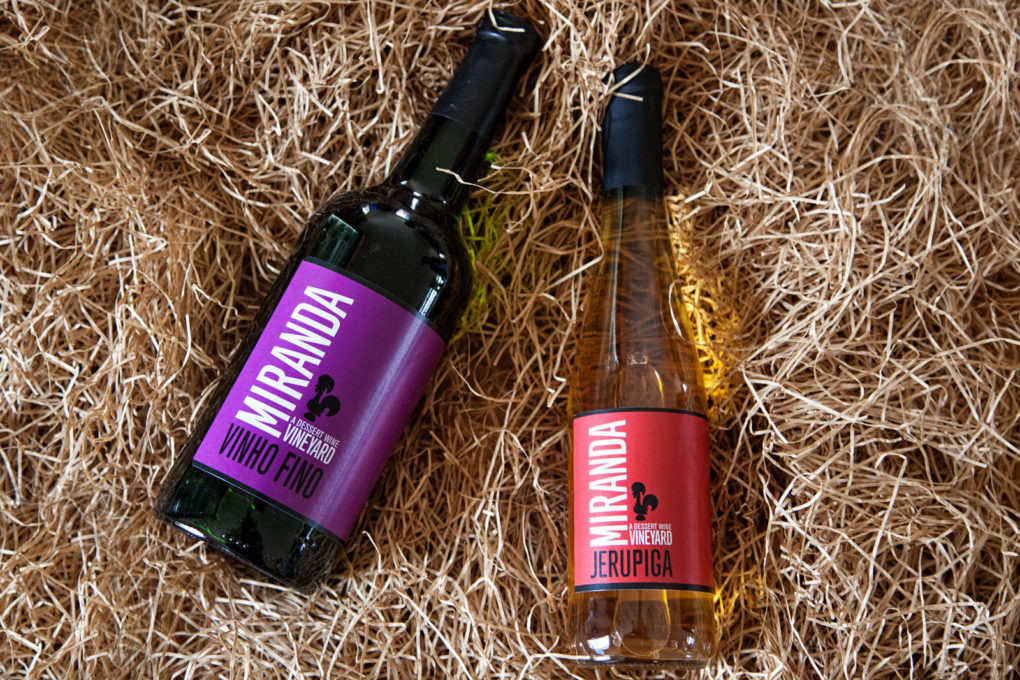 Stock up on a few bottles of dessert wine from Miranda's Vineyard in Goshen. Buy Vinho Fino for the holiday season – this dessert wine is so delicious. True story, neither of us thought we liked dessert wine until we tried Miranda's! The Jerupiga is a traditional Portuguese holiday wine. It's limited edition, so grab some quickly. Dessert wine is the perfect night cap to have by the fire, along with some roasted chestnuts. Doesn't that sound lovely?!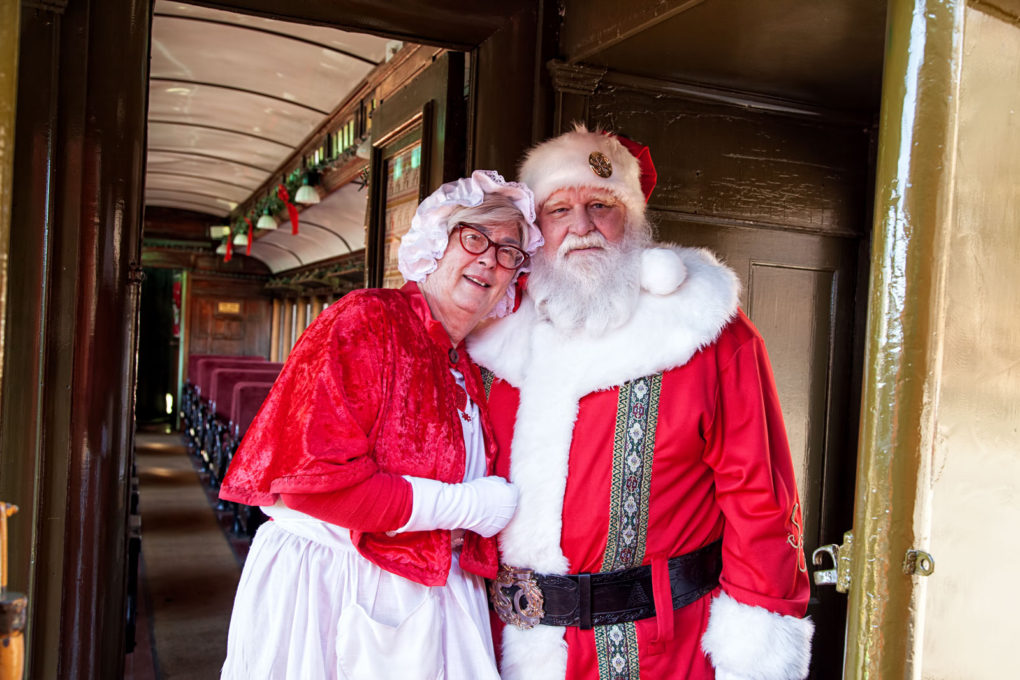 We stopped by the Thomaston Railroad Museum of NE to catch a sneak peek of the Northern Lights/Santa Express during dress rehearsal, and then turned into 12-year-old girls the moment Santa and Mrs. Claus stepped off the train. Bring your kids, bring your parents, go with a girlfriend; this slice of Christmas magic shouldn't be missed. Take a journey on one of Thomaston's historic trains, visit with Santa, and sing Christmas carols with the elves. Full details here.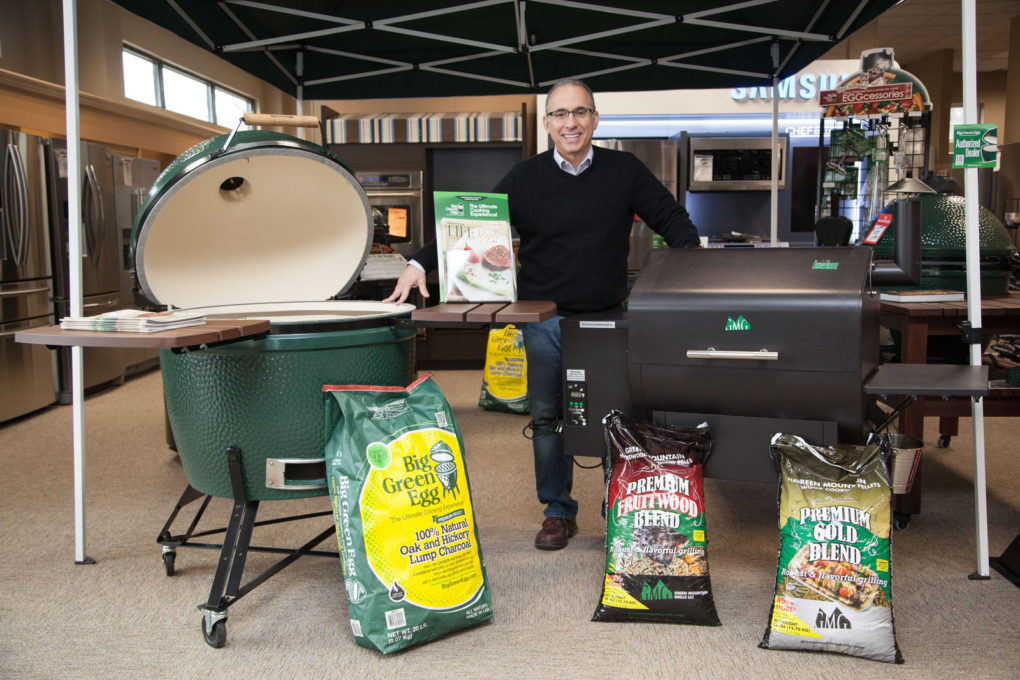 BBQing isn't just for summer weather. Green Egg charcoal grill or Green Mountain pellet grill – take your pick. Powerhouse Appliances in New Milford carries the largest selection of outdoor grills in NW CT. Grills cost from $349 and up. Give the gift of grilling with a brand new charcoal or pellet grill. And tell owners Jay and Jeffrey (doing a great job modeling with the grills above) we said hi!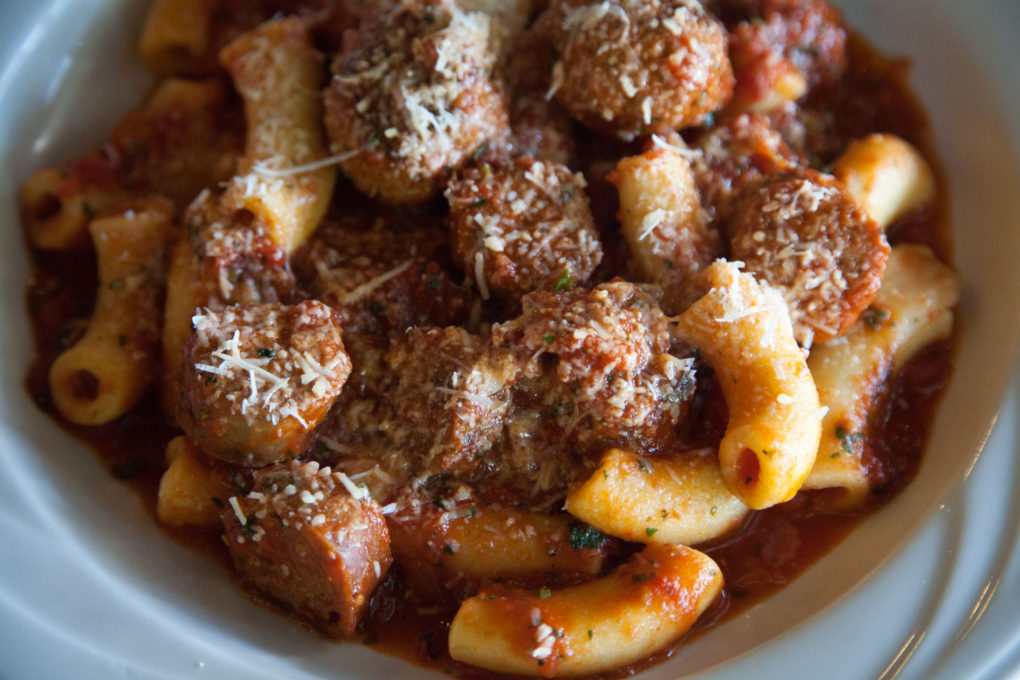 Drooling? Chef Dennis DeBellis, Jr.'s homemade pasta is every bit as delicious as this photograph looks. Great restaurant, great menu, and yes, great gift. John's Cafe in Woodbury is offering a $20 credit with the purchase of every $100 gift certificate (thru Dec. 31, 2016). Also good to know, they make throwing a dinner party really easy with an extensive take-out menu. And you can order online!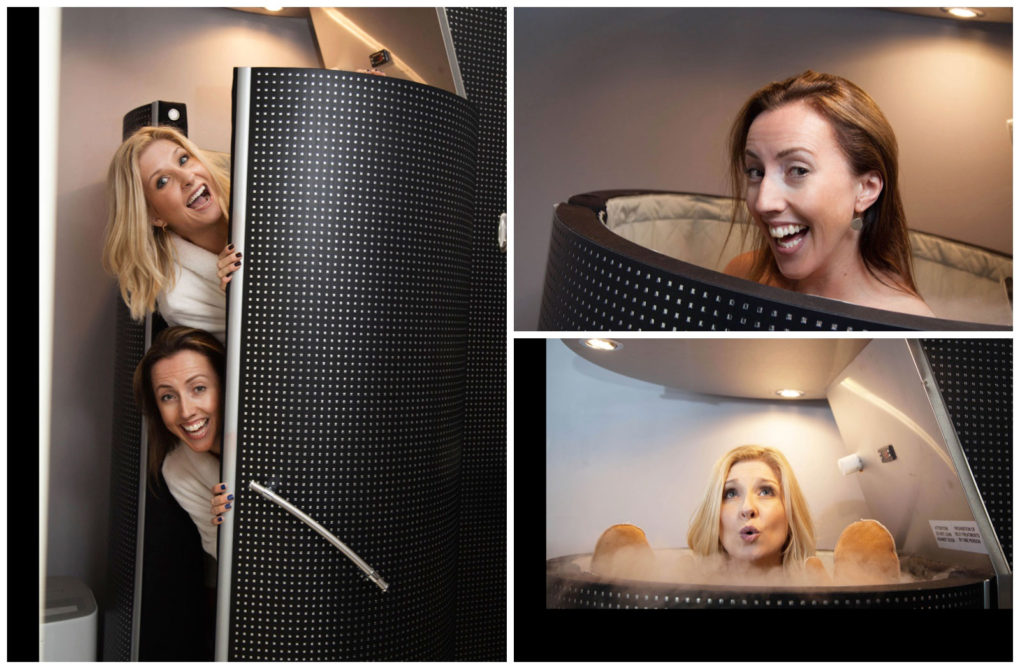 We all want to age with grace, and that's exactly what Grace Medical Aesthetics delivers. The GMA team offers body contouring, medical grade skin treatments, platelet rich plasma and micro needling, wrinkle relaxers, cryotherapy, and lots more! For a limited time, they're offering 3 cryo sessions for only $99 AND a free medifacial with the purchase of a $250 gift card. Ohhh the options!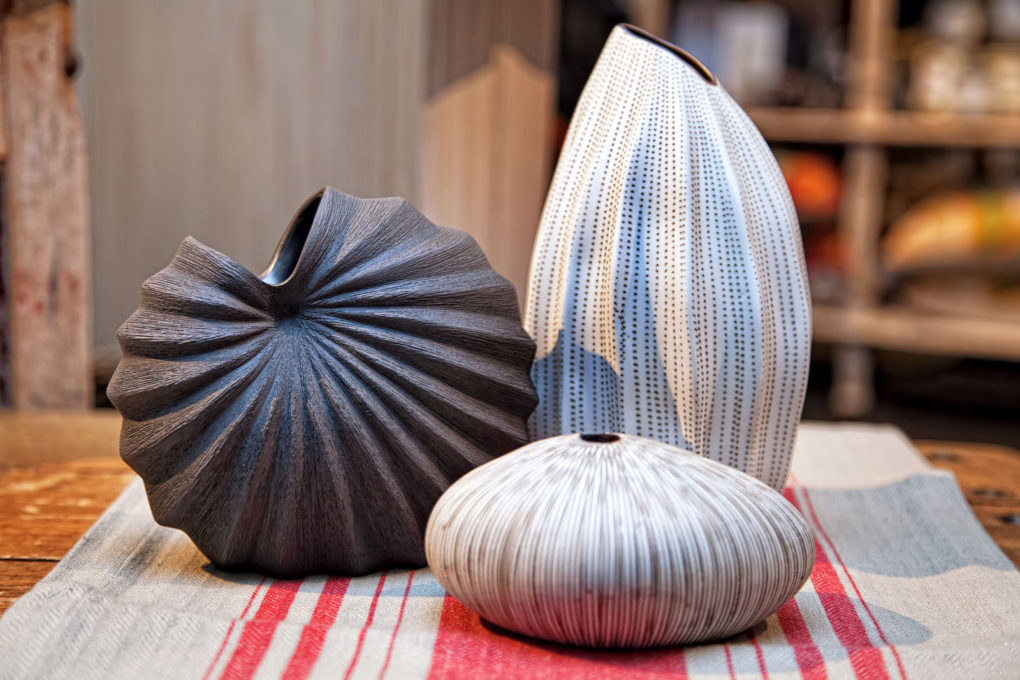 We think these unique vases are truly beautiful. Made in Thailand, these vessels are based on the shapes of shells and have a sculptural element. Starting at $35, you'll be giving them a little piece of art. Stop by Terston in Kent for apparel and accessories, house and home goods, plus heavenly scented lotions and candles. It's chock-full of perfect gift ideas.
Just in time for dinner party season, the Litchfield Distillery now makes a delicious coffee bourbon. The subtle coffee flavor pairs perfectly with the Bourbon's vanilla and butterscotch notes (so the label told us). If vodka is more your thing, grab a bottle of their new apple vodka. Enjoy a visit to the distillery (always fun) or buy a bottle from one of the 500 locations that now carries LD spirits.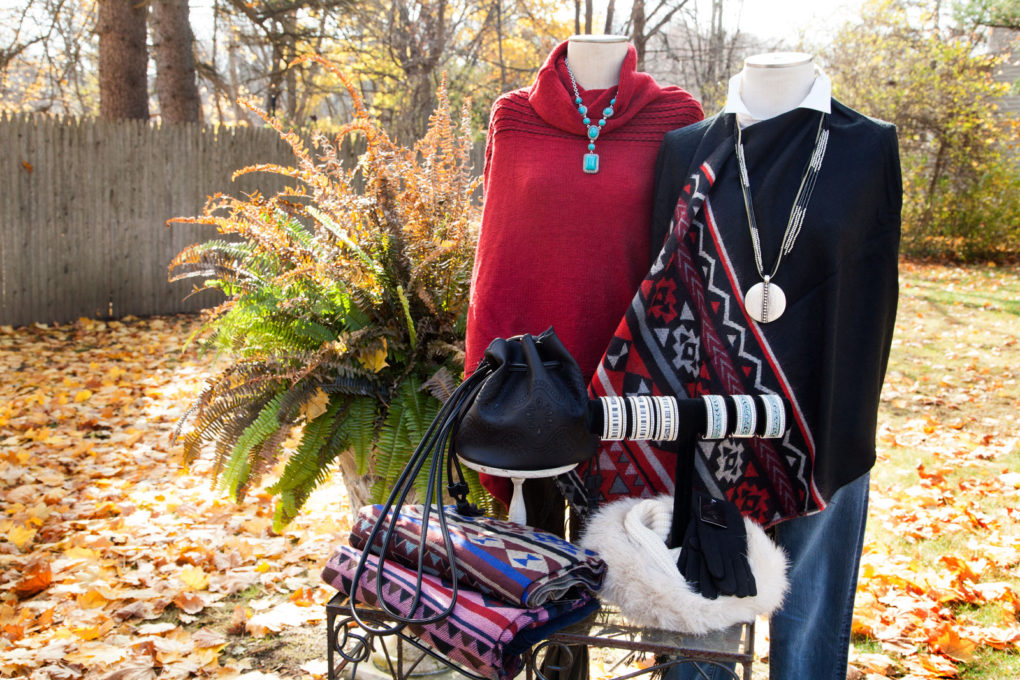 A Litchfield County favorite consignment store, Rebecca Christine's in New Preston has lots of awesome new items, as well as consignment. Many of the gift and accessories carried are made locally. This store is a fun one to visit – so many cute things to be found, and consignment treasures to discover!  Be prepared to get side-tracked! Gifts at any price range, and a complimentary gift bag.
---
See? We told you we'd make this easy for you!
Words: Bev/Photos: Lora (except for Steinen, provided by Steinen Jewelry)