When Daniel Sanchez and James Michael Murphy at Onyx II Fine Jewelers invited us to join them for dinner at Good News Café to chat about a possible partnering idea; we won't lie, we were intrigued!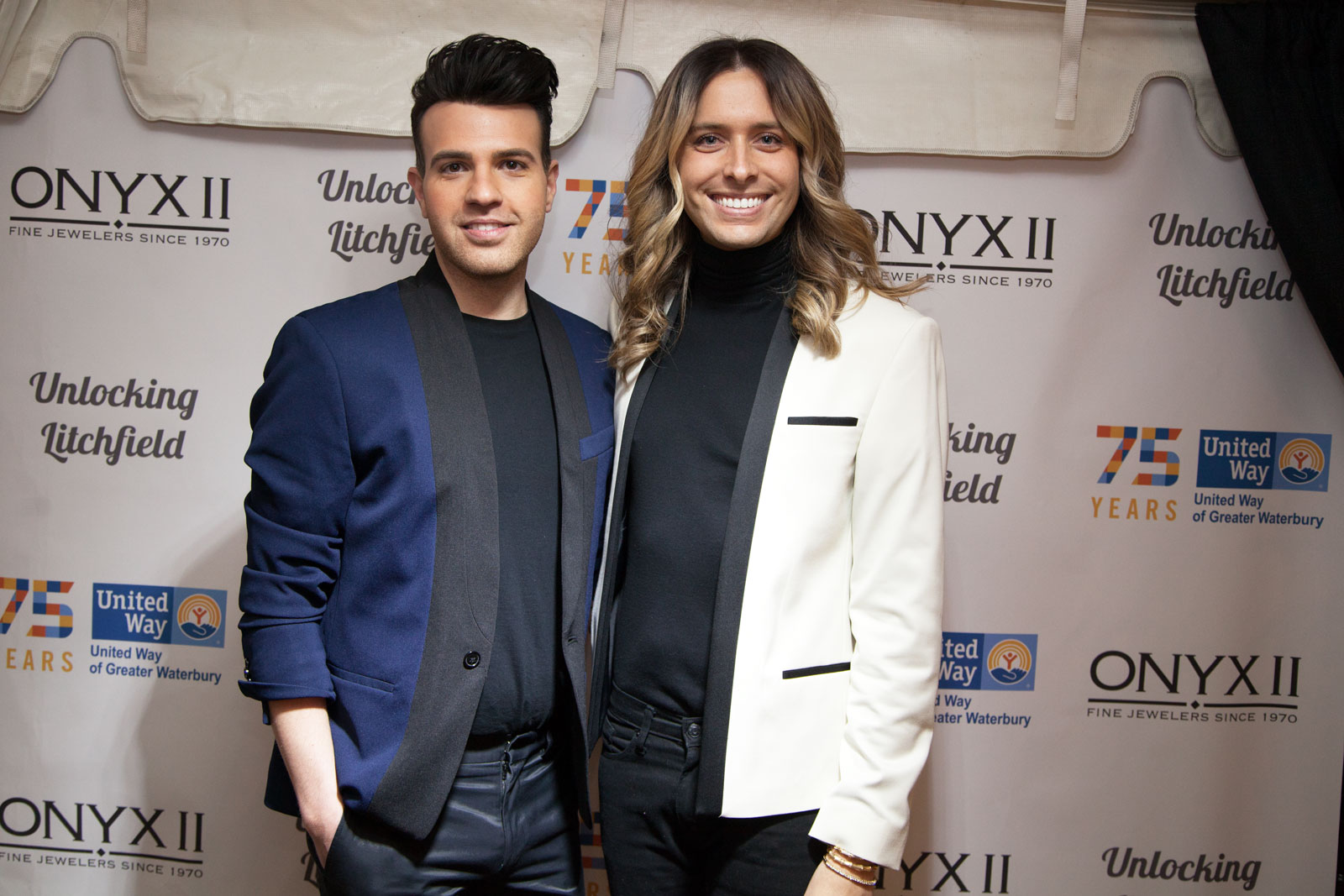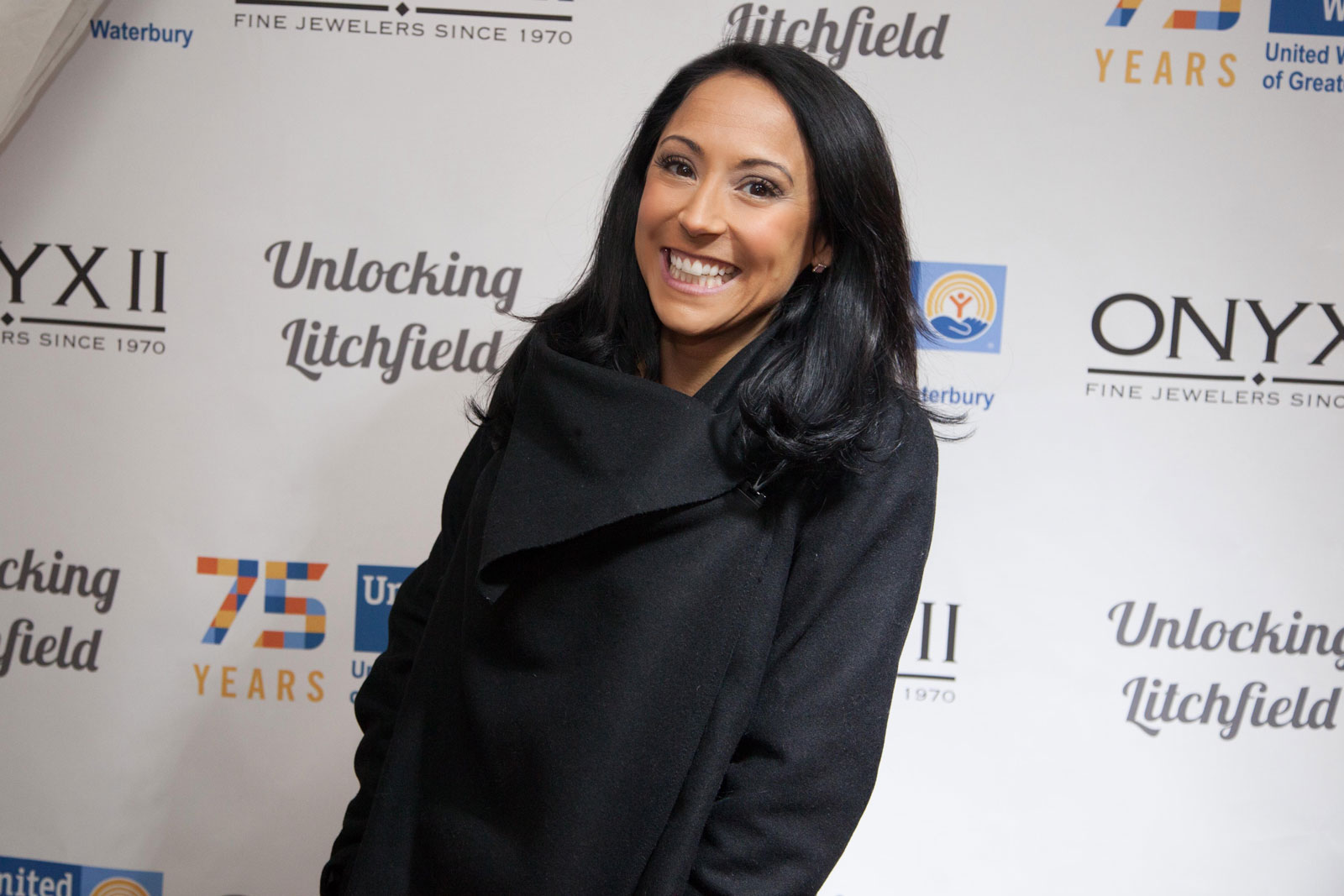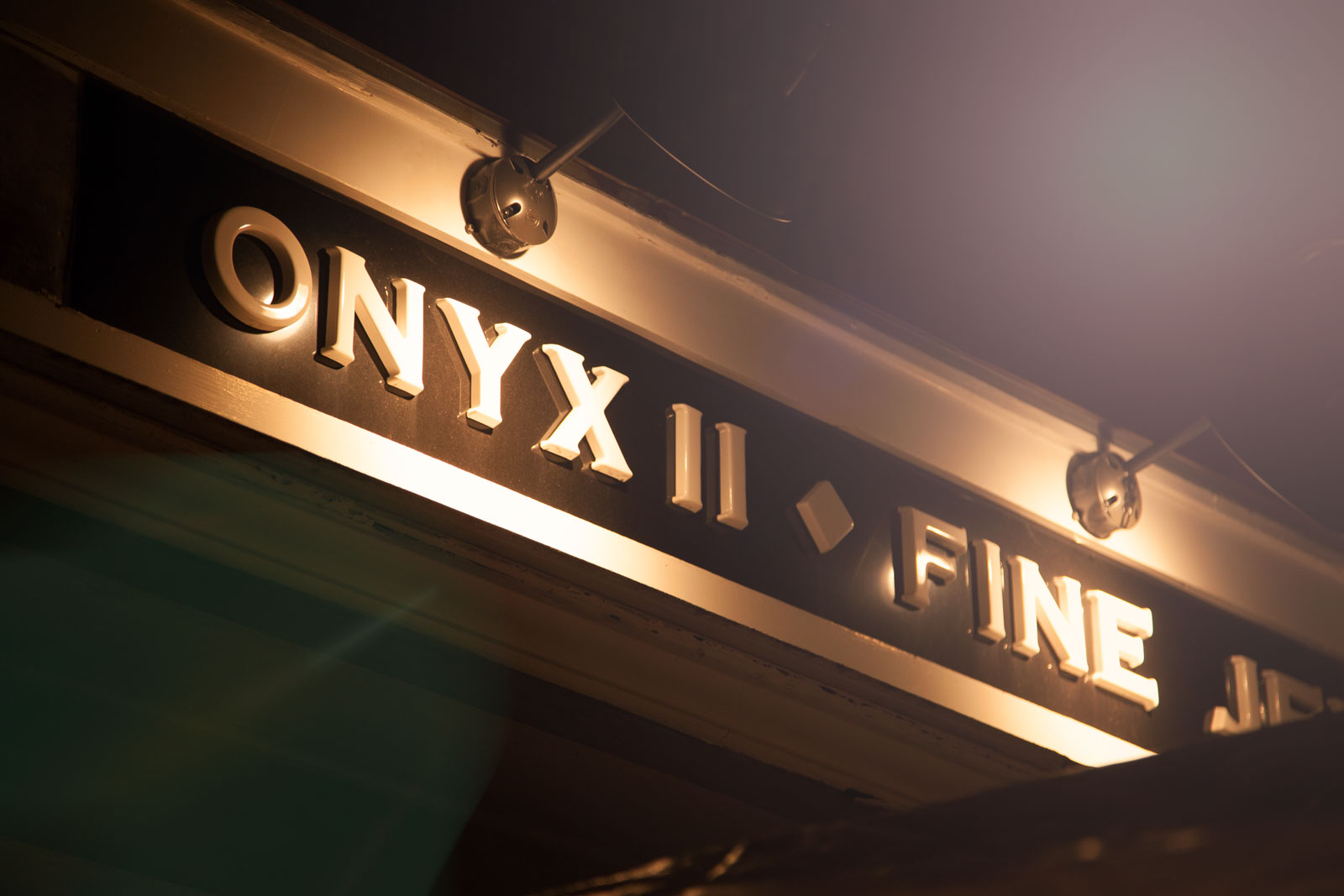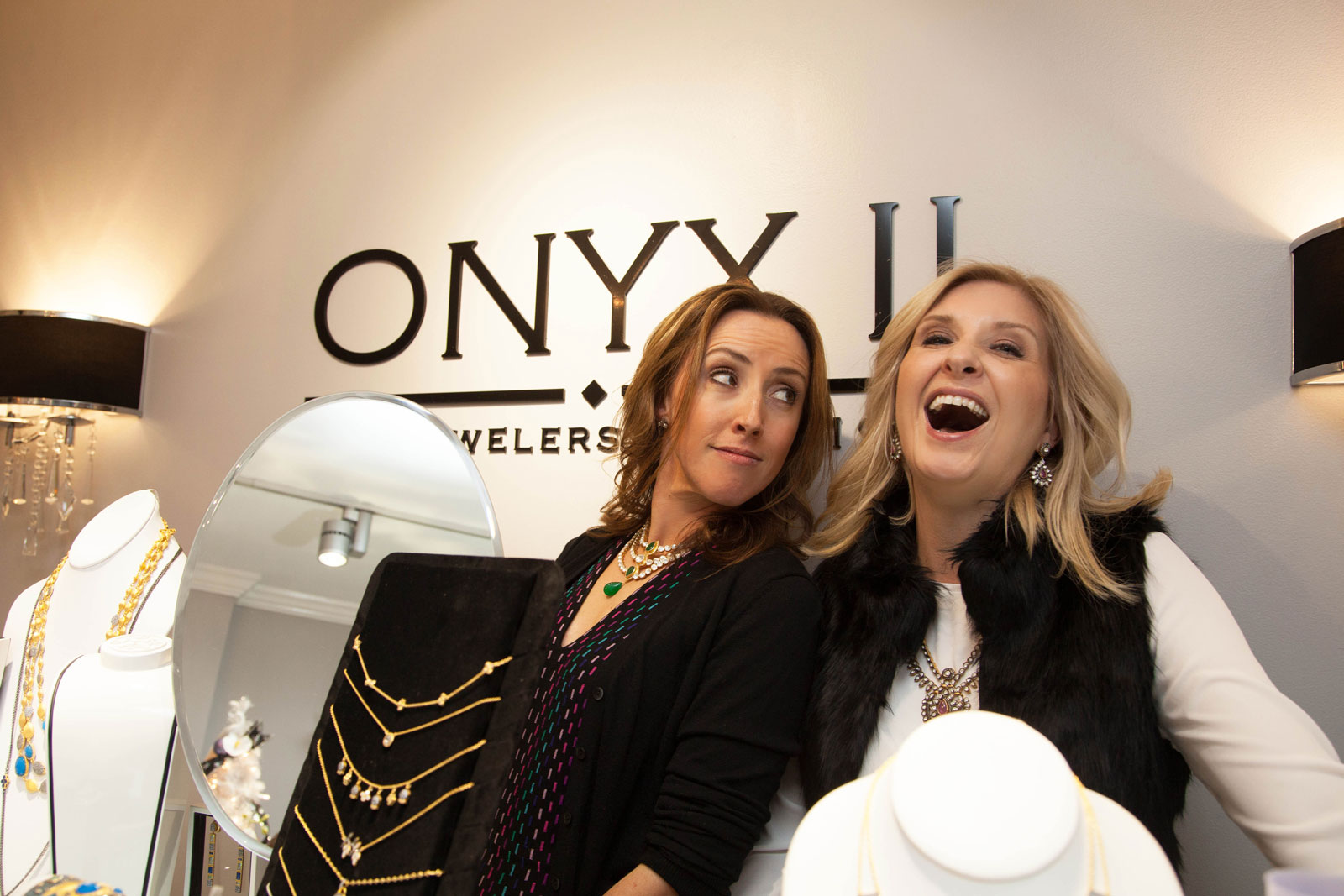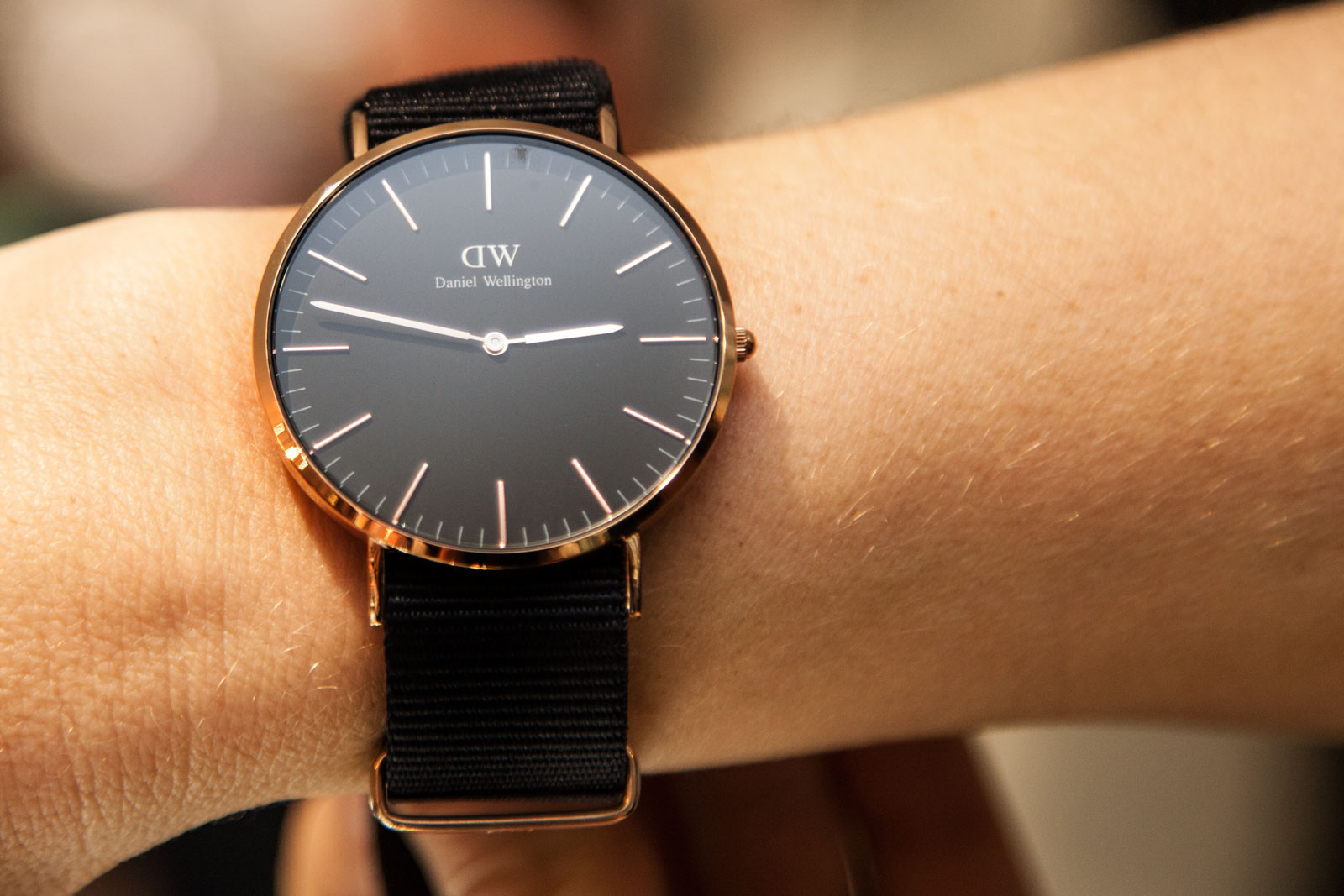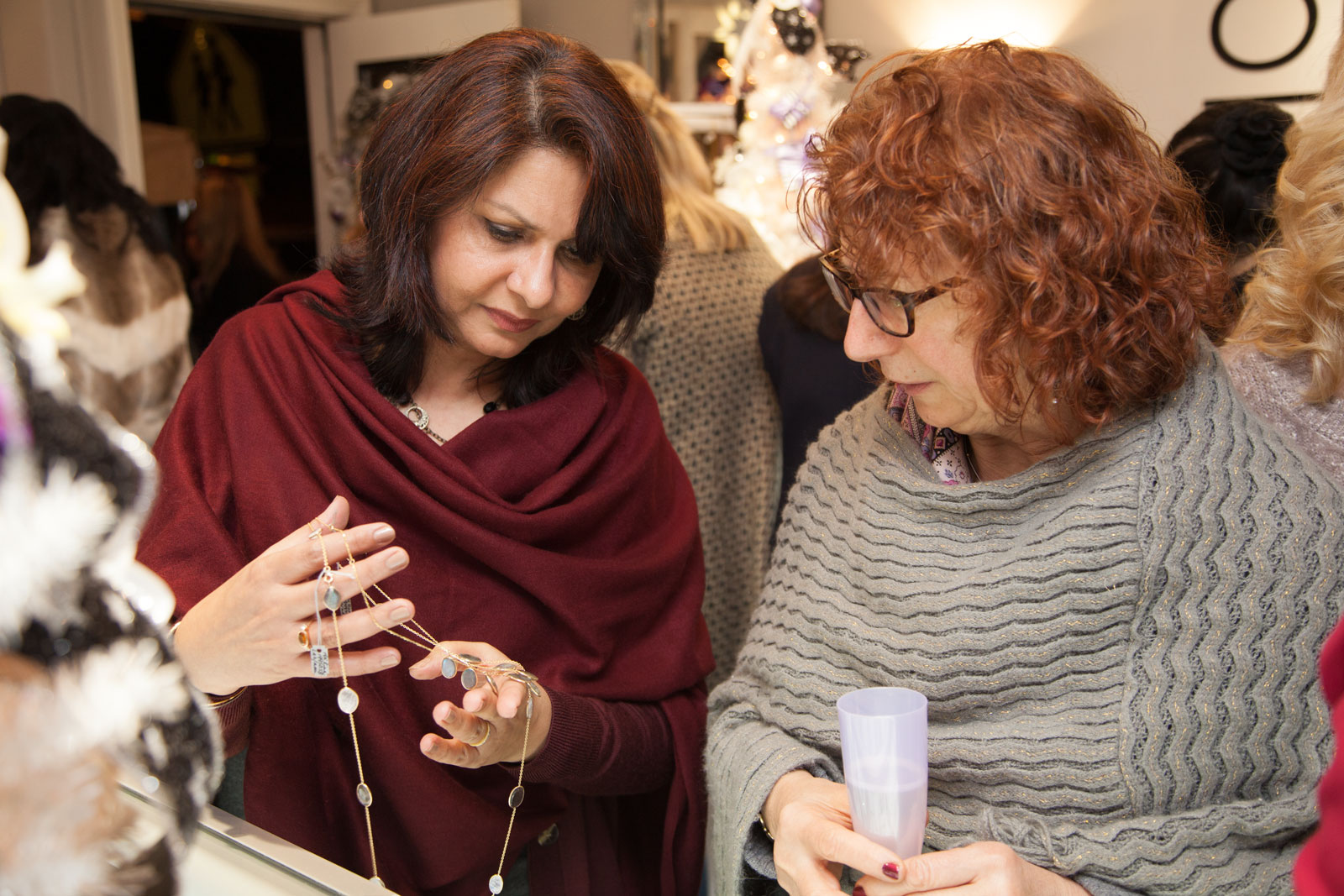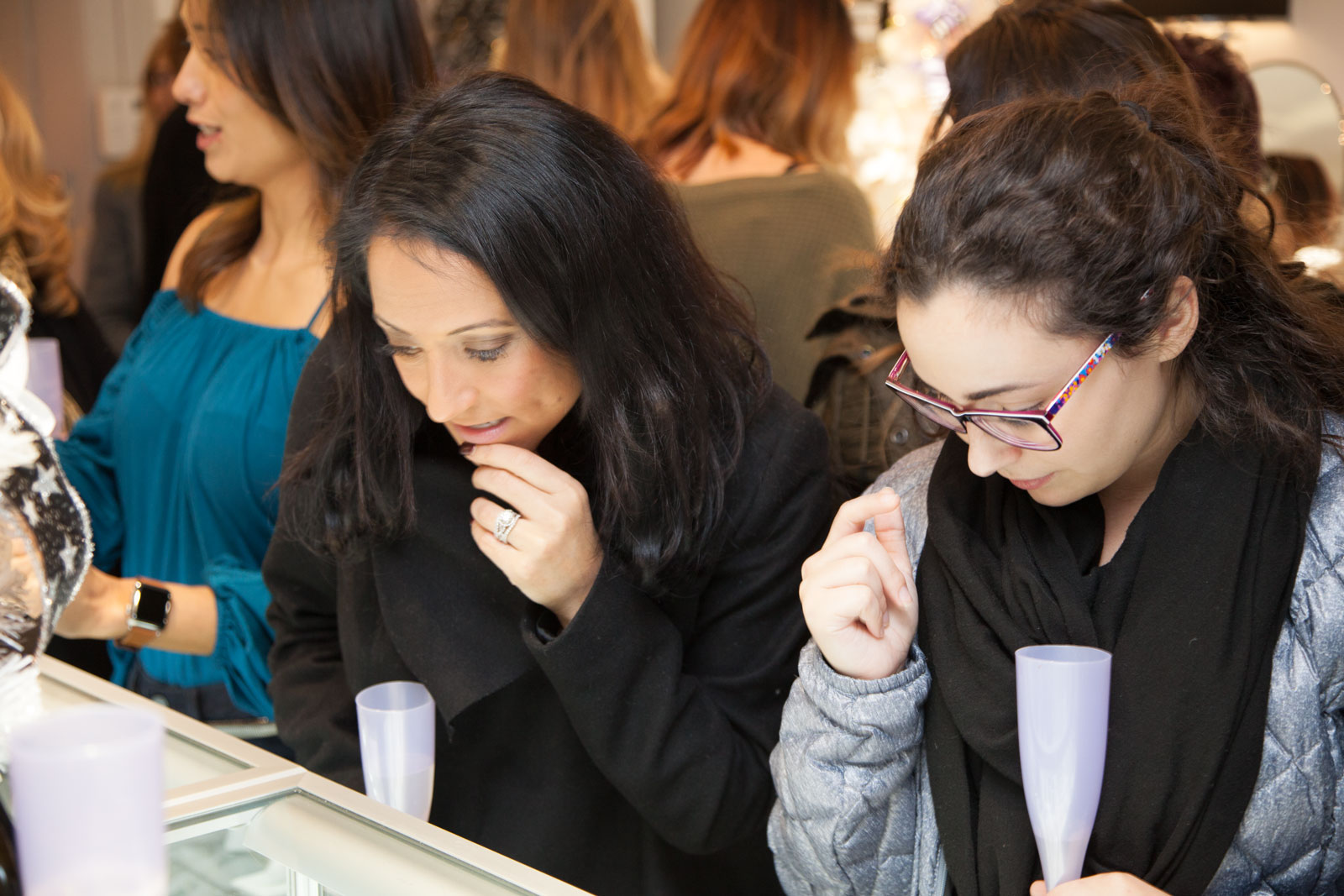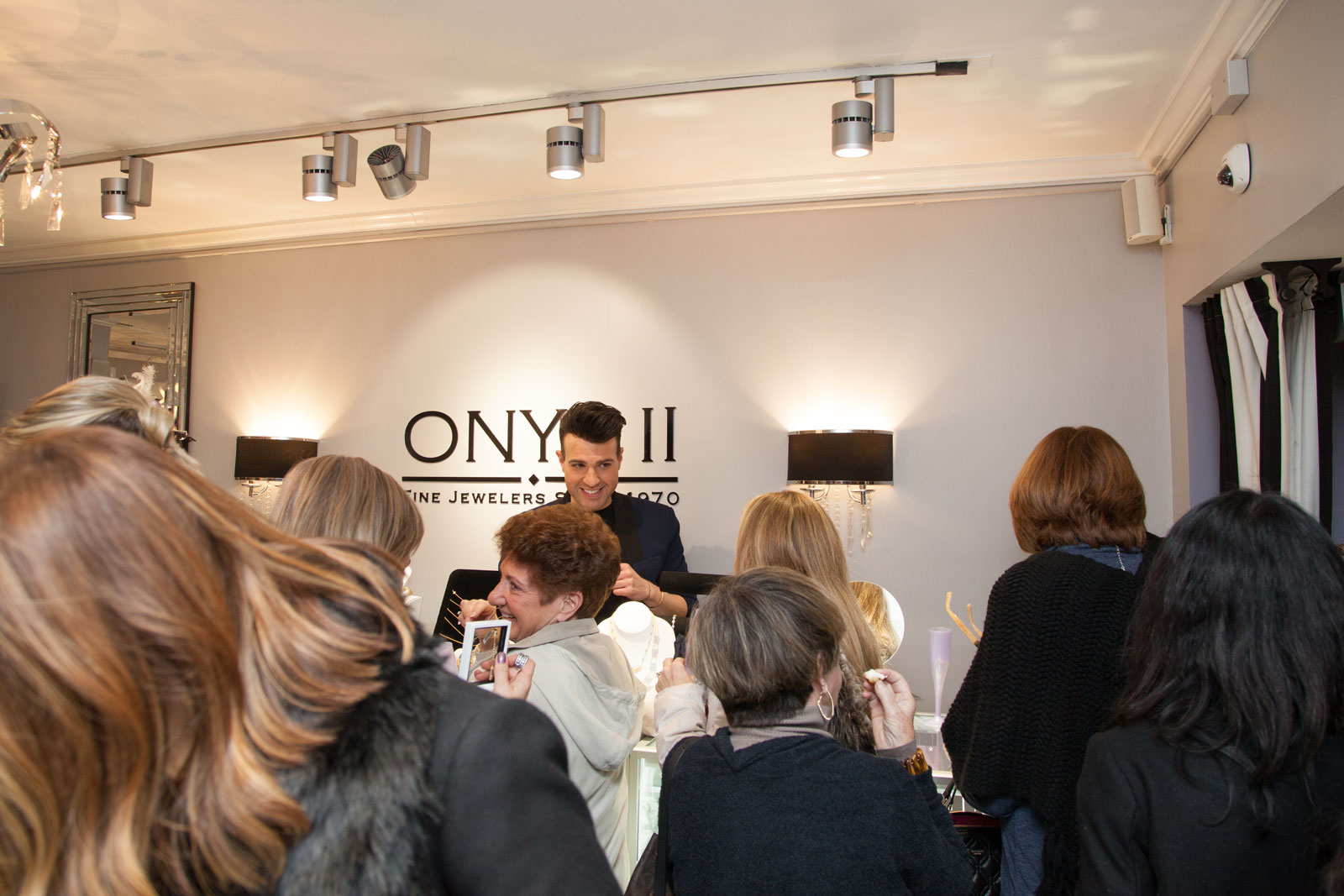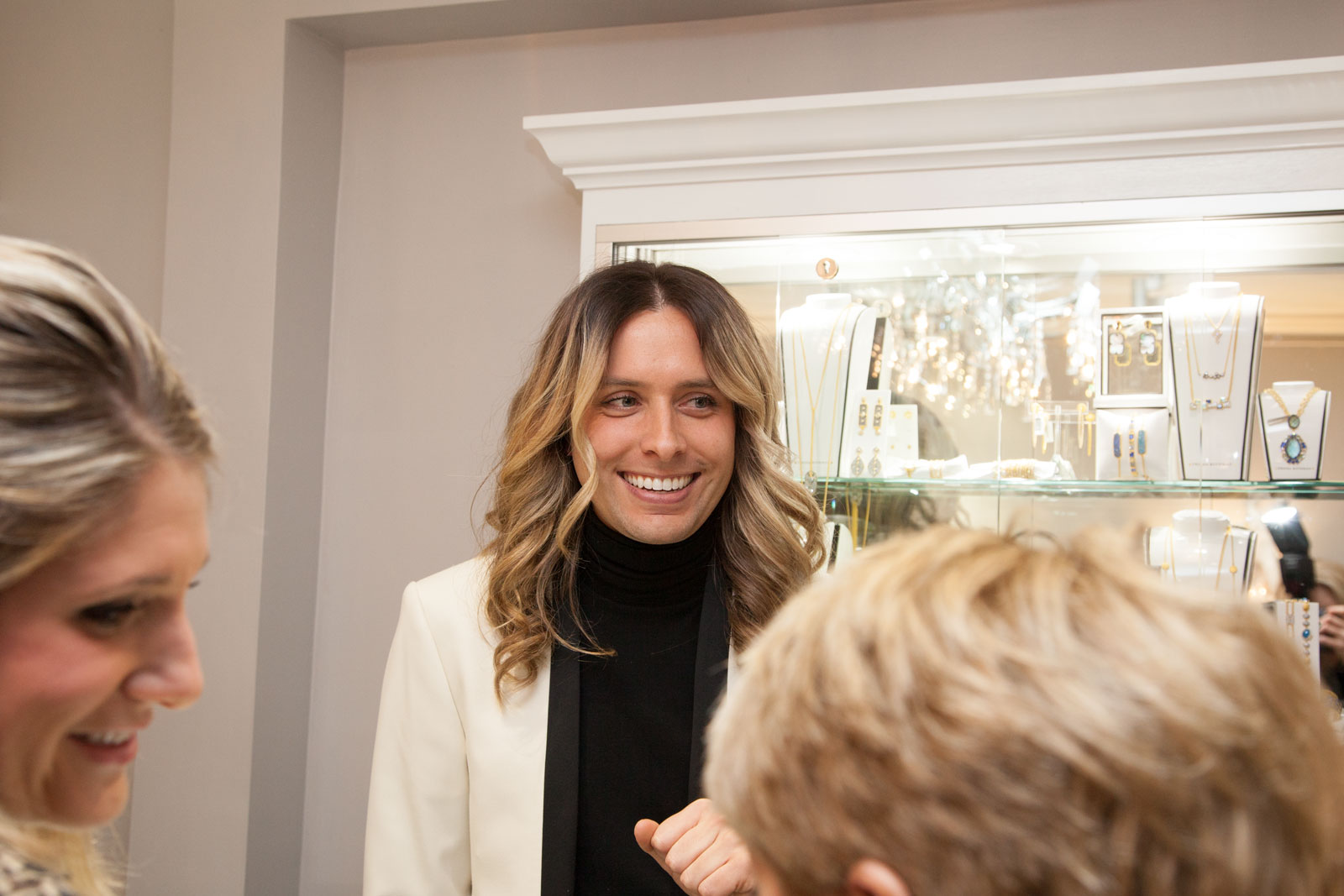 We do!
To say we're two women who love a bit of glitz and glam is an understatement. We do. We love it. Dan and James are perhaps the very definition – suave, stylish, and they know their diamonds. Dan is movie star handsome and James has cheekbones and hair that any supermodel would envy. When they proposed that we partner with them to host their annual open house and trunk show…we didn't hesitate to say, "We do!"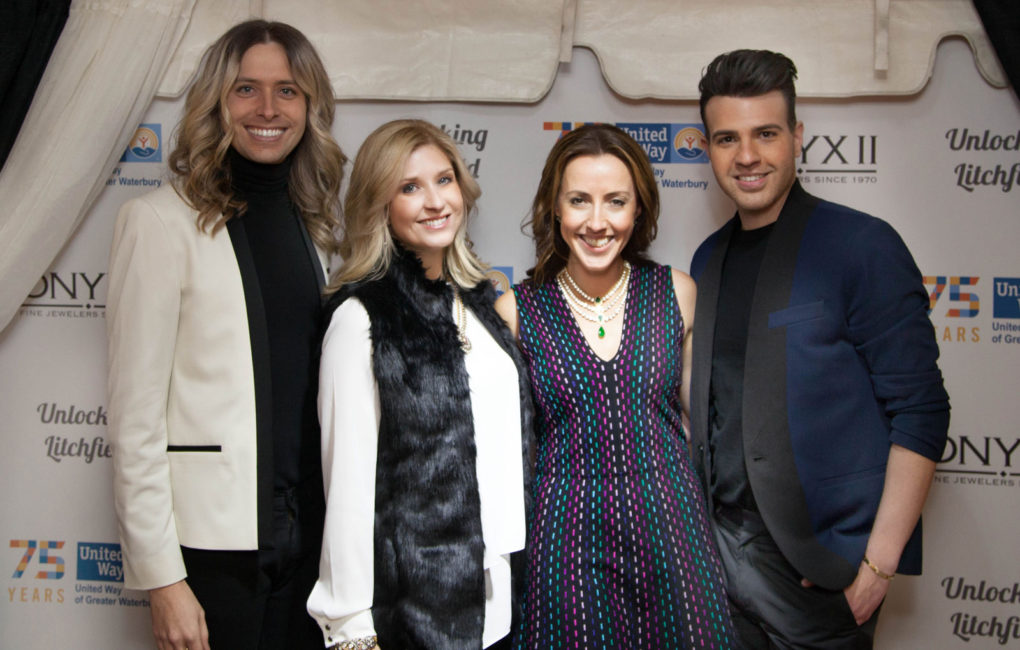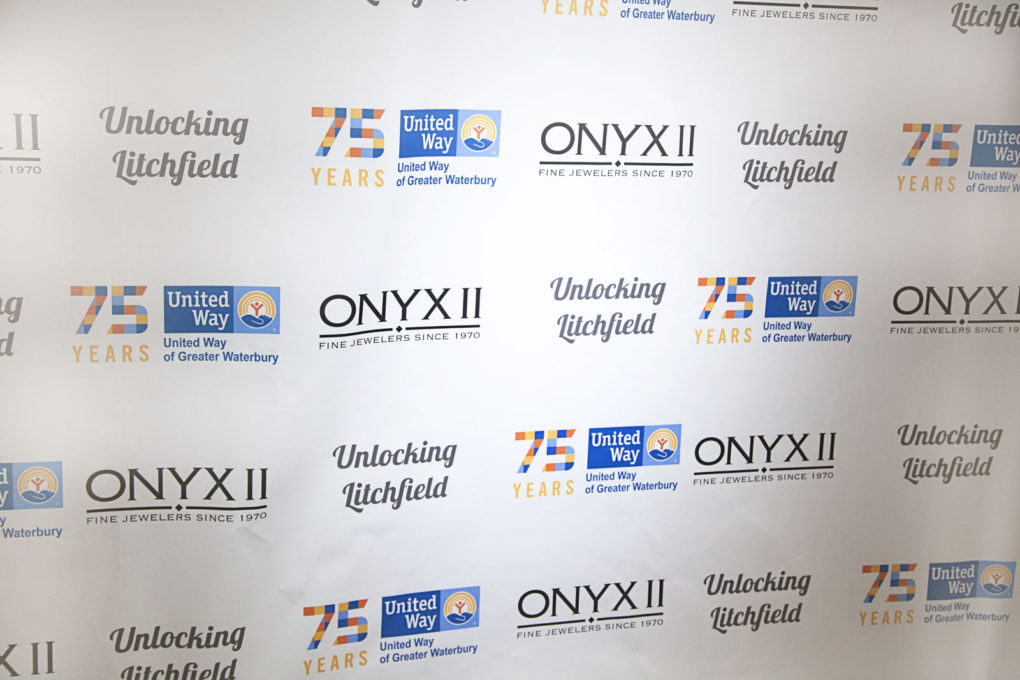 On December 1st, Onyx II threw their third annual trunk show event. They always partner up with a charity or non-profit within the immediate community, donating a portion of the night's sales. The first trunk show was for the Waterbury Chorale, the second was the Palace Theater, and they did a special edition trunk show last spring for the Mattatuck Museum.
This year, a portion of the trunk show's profits would benefit the United Way of Greater Waterbury. A whopping $12,795 was donated by Onyx this year! YAY!
United Way of Greater Waterbury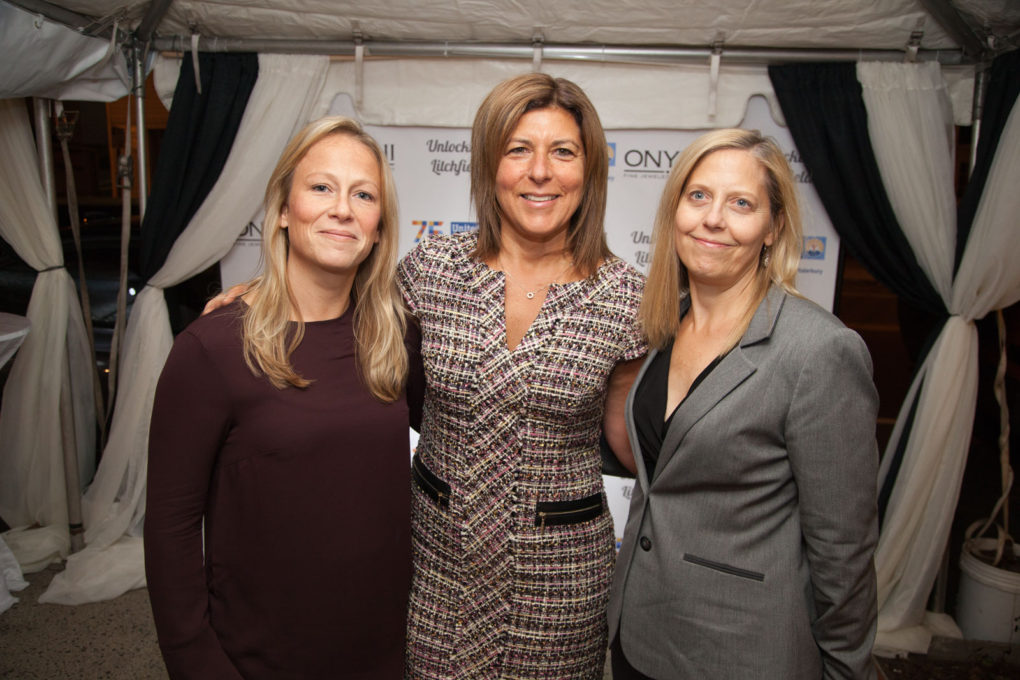 United Way co-chairs – Melissa Martin, Sandy Vigliotti Senich, Barbara Diorio
A few words from United Way:
United Way funds 43 local programs, partners with 26 agencies and supports 15 community initiatives, touching thousands of lives in our 10-town region each year. After 75 years of helping our neighbors in need, United Way of Greater Waterbury is embarking on its most ambitious goal yet: to raise more hands and more funds this year than ever before!
The power of United Way is that the impact we create is all connected. Helping one family helps us all. Addressing more than one challenge someone is facing helps get their whole life back on track. United Way invests in strategies across 3 impact areas – Education, Income Stability, and Basic Needs. We are taking care of immediate needs, while also making investments that will prevent problems from happening in the first place.
By supporting United Way helps alleviate homelessness, hunger, unemployment and provides children with educational opportunities to succeed. Individual after individual, family after family, for 75 years it is individuals like you that have been helping United Way of Greater Waterbury make the connections that set those with challenges up for success.
Back to the jewels…
We got to Onyx II a half hour before the festivities were to begin so we could be styled with piles of jewelry! Dan and James evaluated our outfits and adorned us with these gorgeous necklaces, plus rings, plus bracelets, plus earrings. We approved.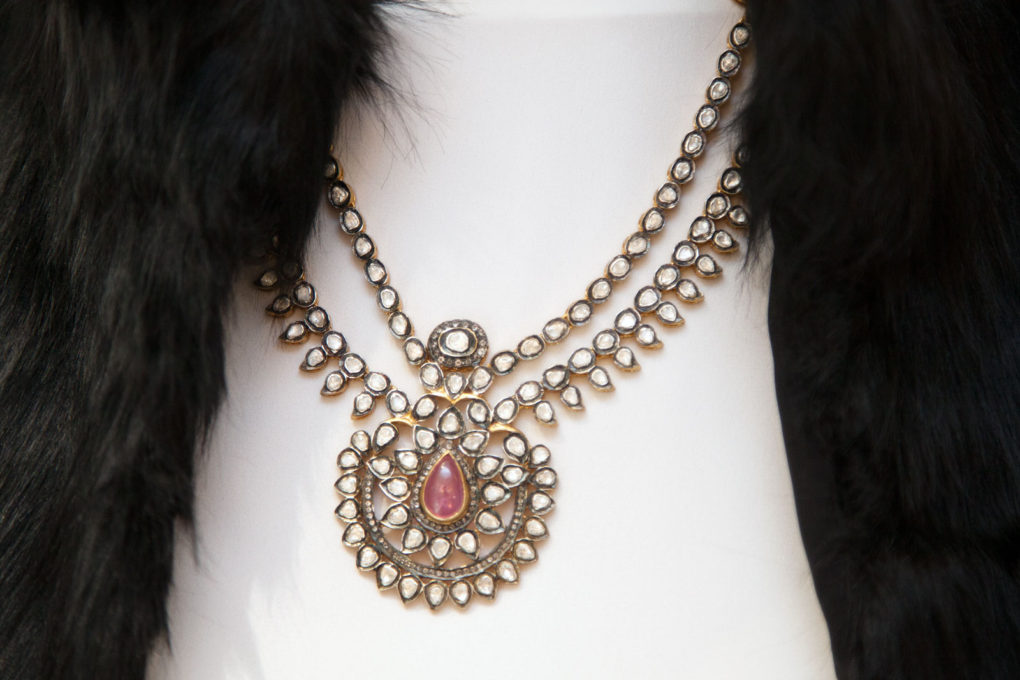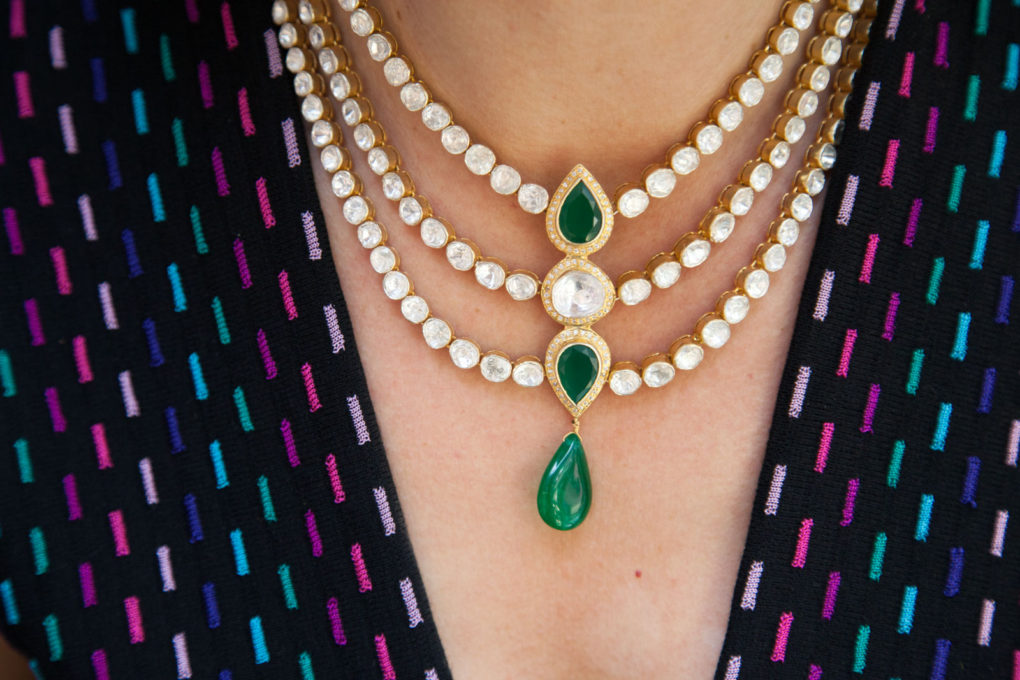 Before the droves arrived, we had time for a quick photo shoot. Our personal motto; "Never ignore a good step and repeat moment".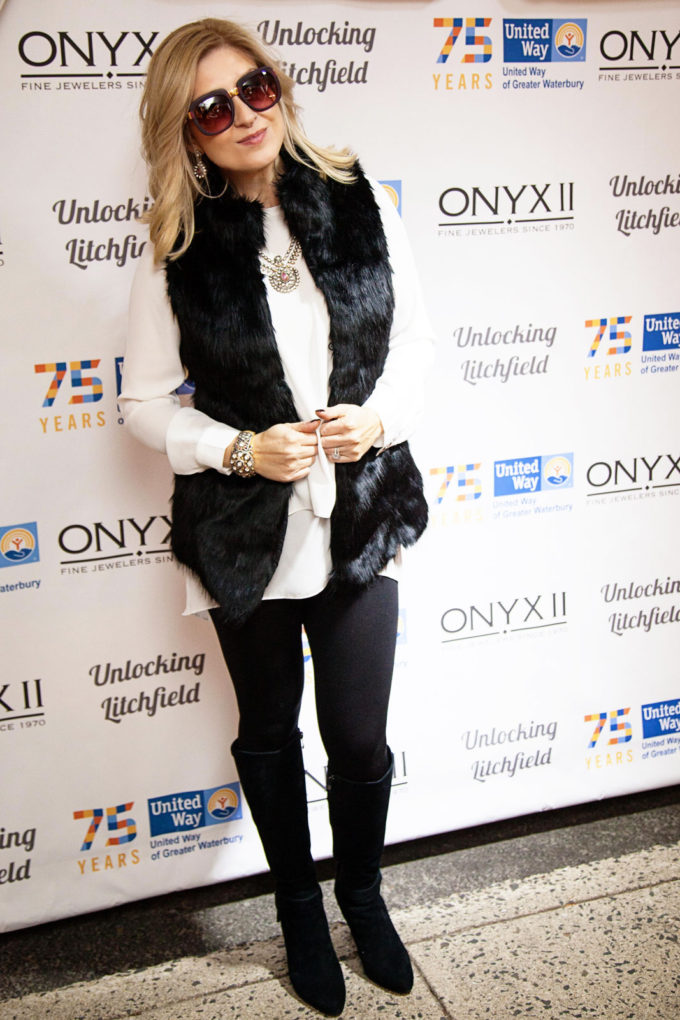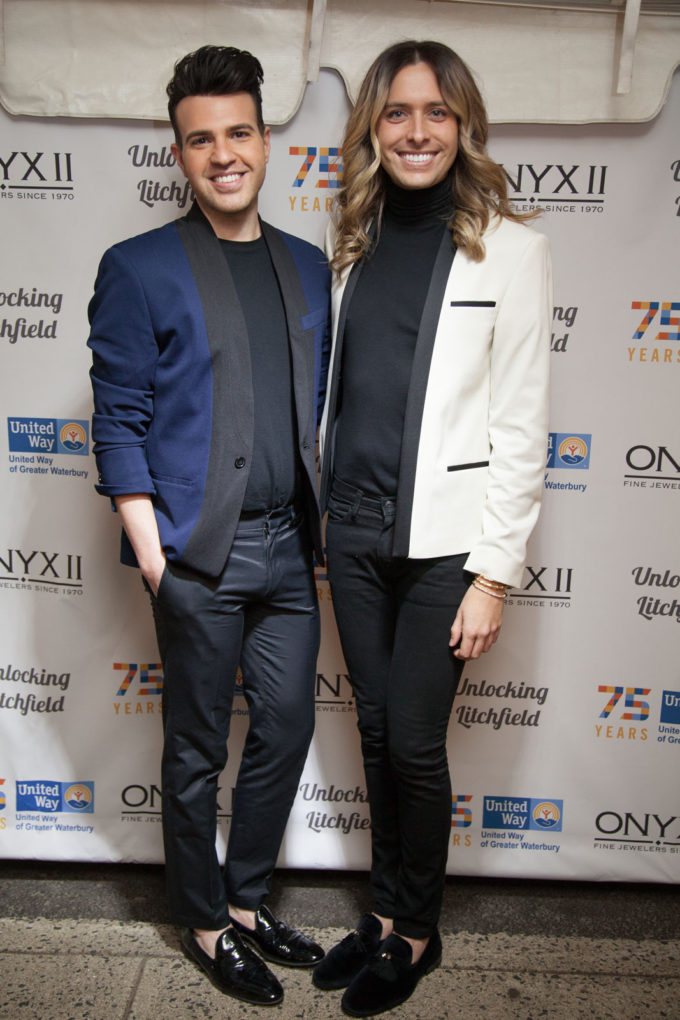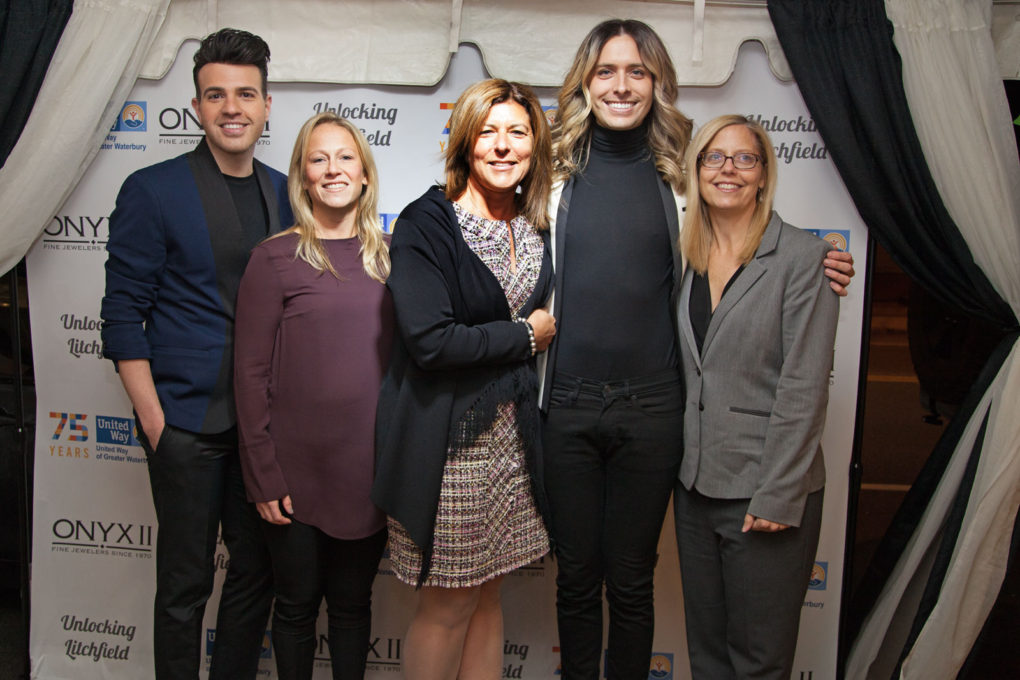 James' renowned window display also makes for a good backdrop. This year's theme – A journey around the world.
"Between the stars and moon sits a crystal ball, for all who pass to gaze into and wonder where this story will take us next!"
We love it! Go take a gaze next time you're in the neighborhood.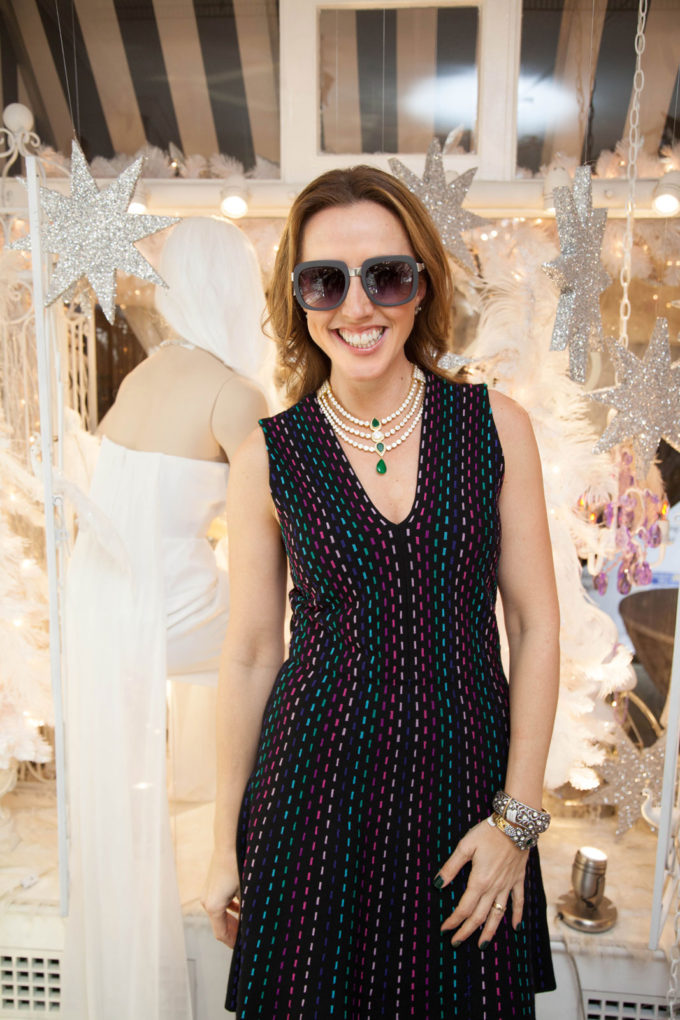 And it's showtime!
We're not the only ones who are drawn to James and Dan's charisma. I think we met half of the women of Watertown and surrounding areas. Such a fun group….and not shy when it comes to purchasing new baubles and finery!
An estimated 200-300 women (and a sprinkling of brave men) came through Onyx II's 300 square foot boutique showroom between 6-9 PM. Or, 1.5 cases of Prosecco by 7:30 PM if you prefer to measure things in those terms.
Crazy!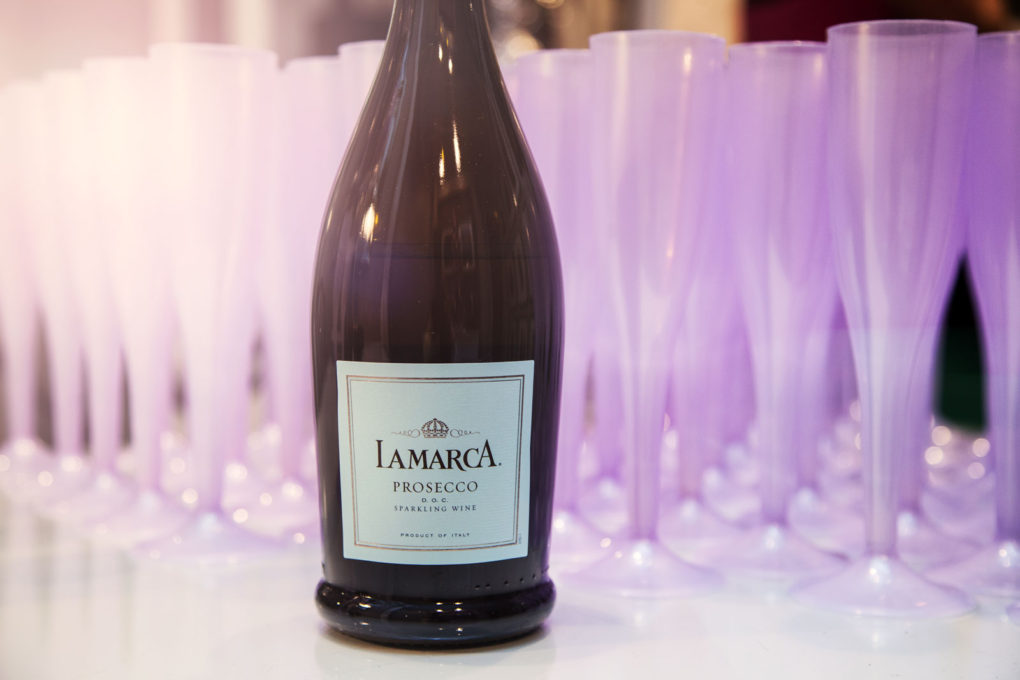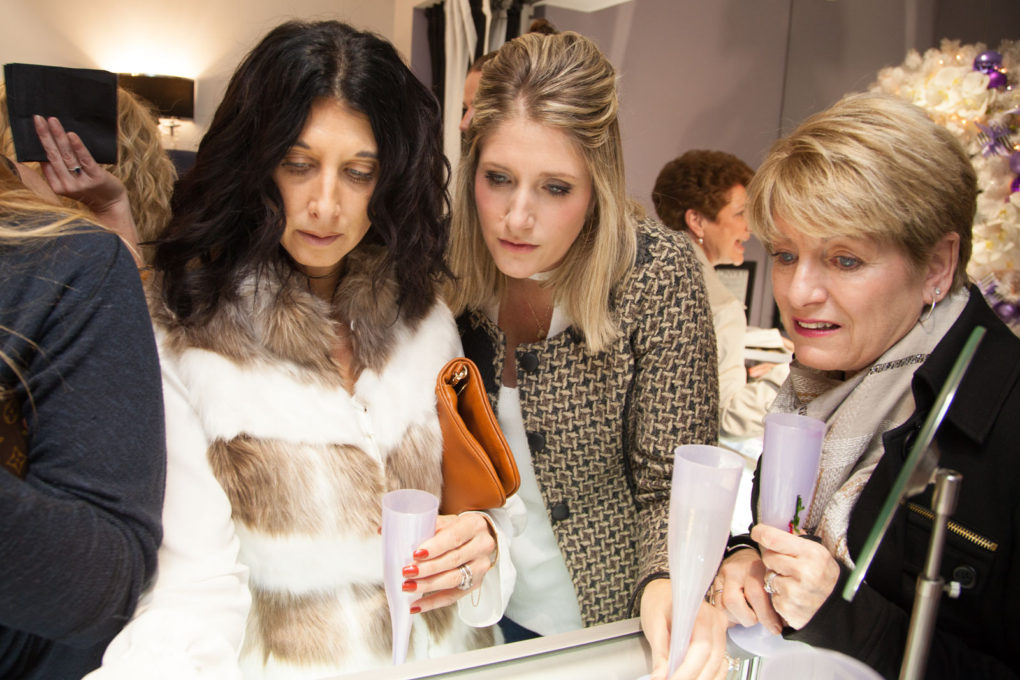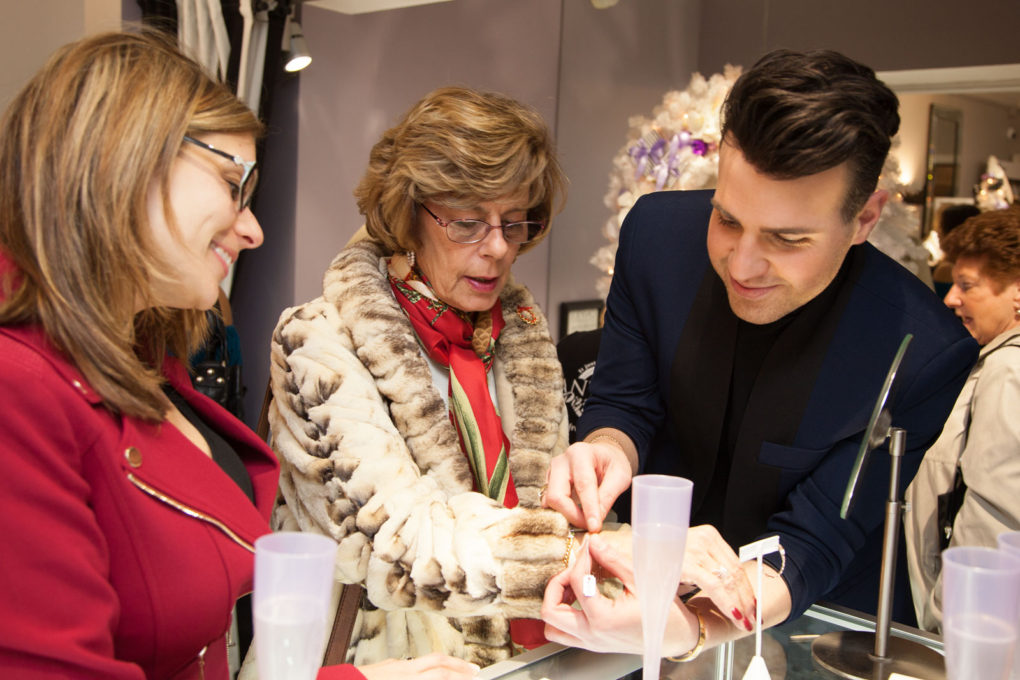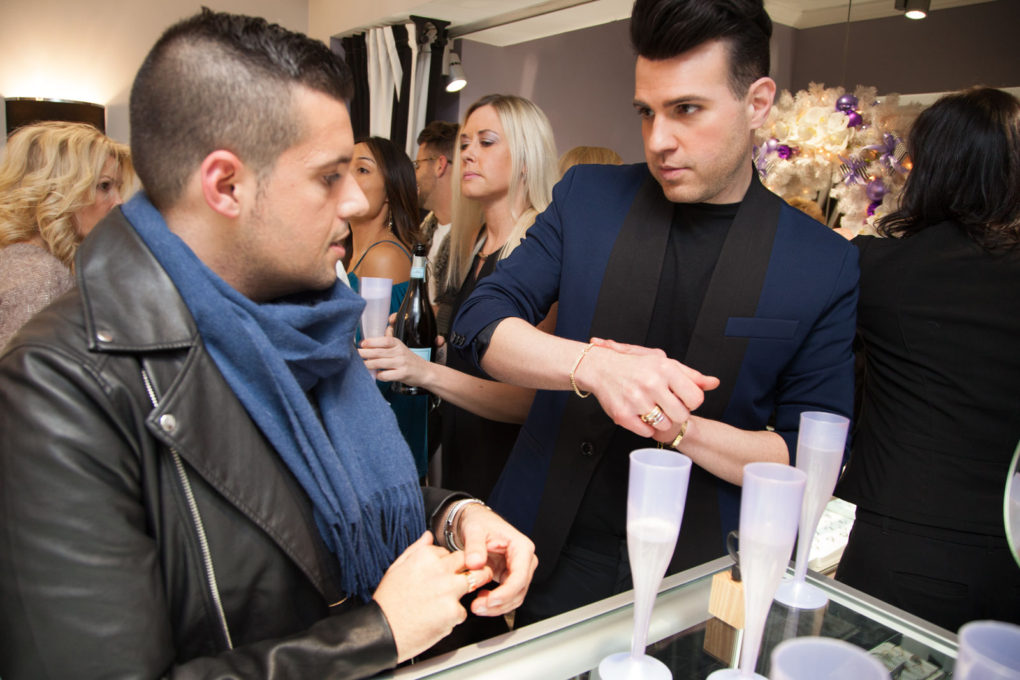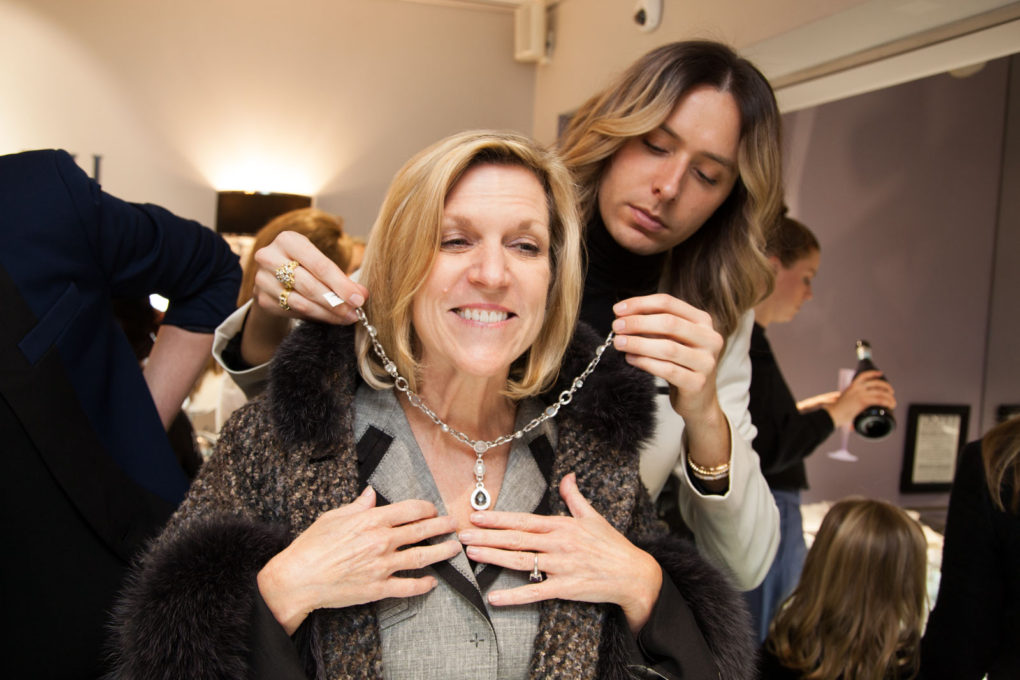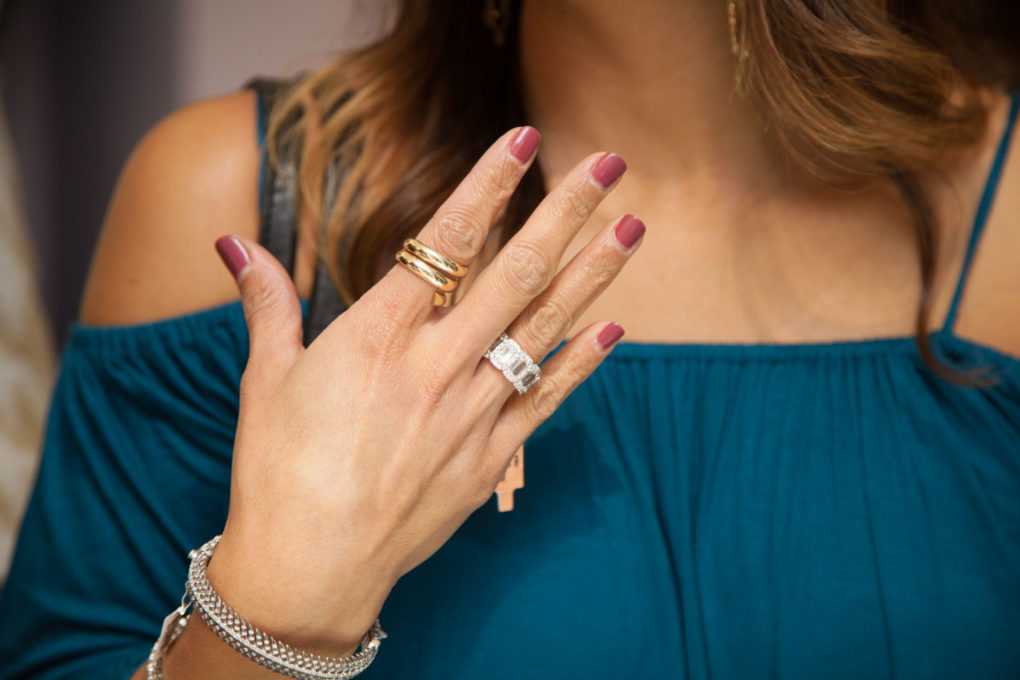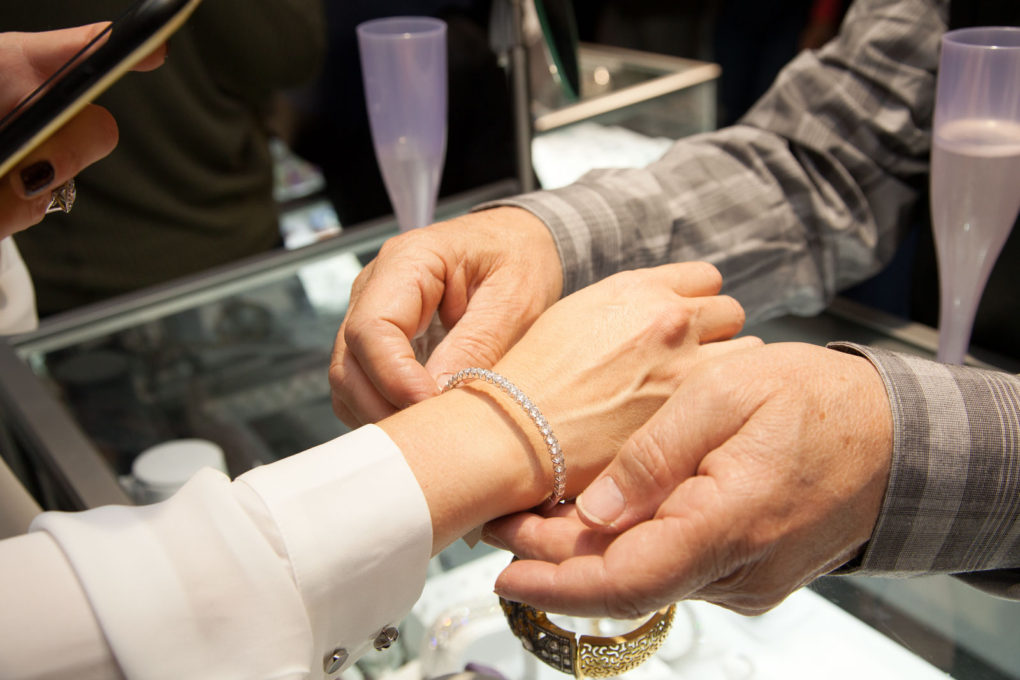 We decided to try our hands at sales. Also, there was more space behind the counter; might as well be helpful!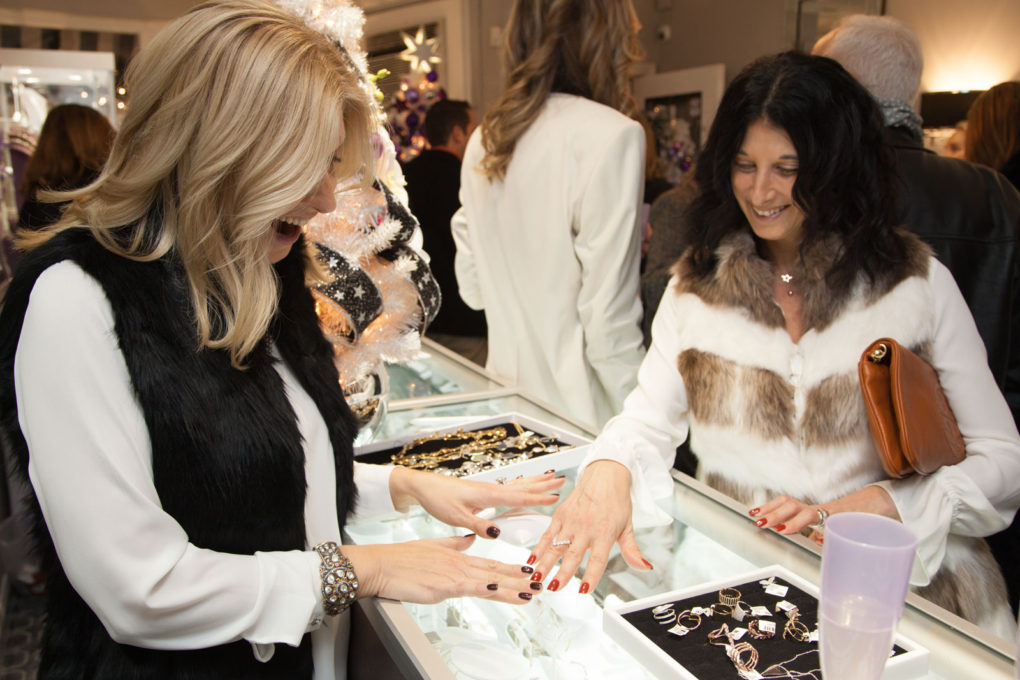 Lora went for the "ooh" and "ahhh" sales technique.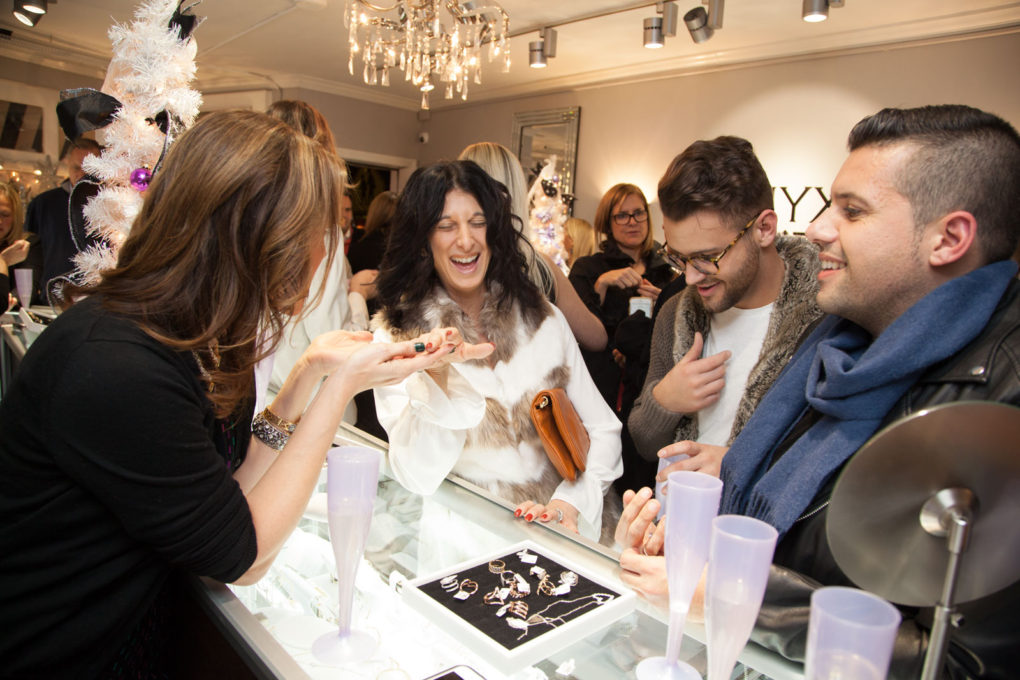 Bev, opting for comedy sales. A different technique.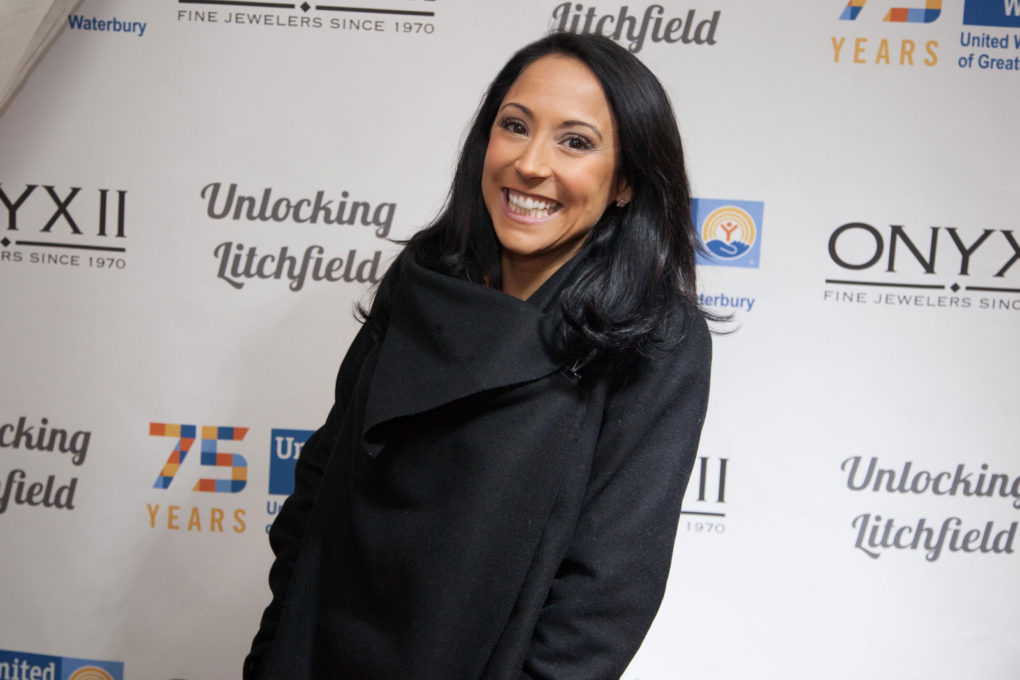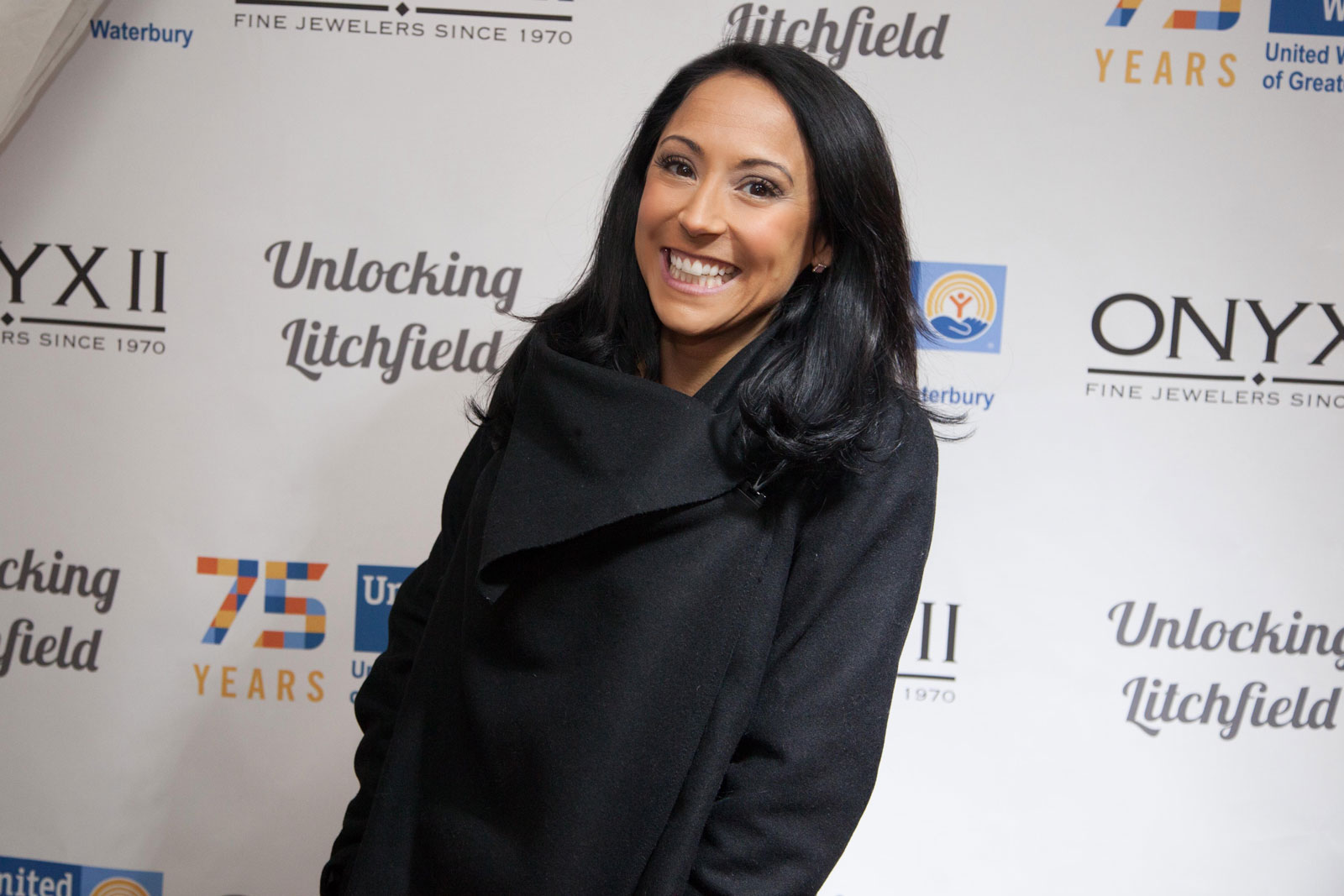 Teresa Dufour stopped by to do some shopping…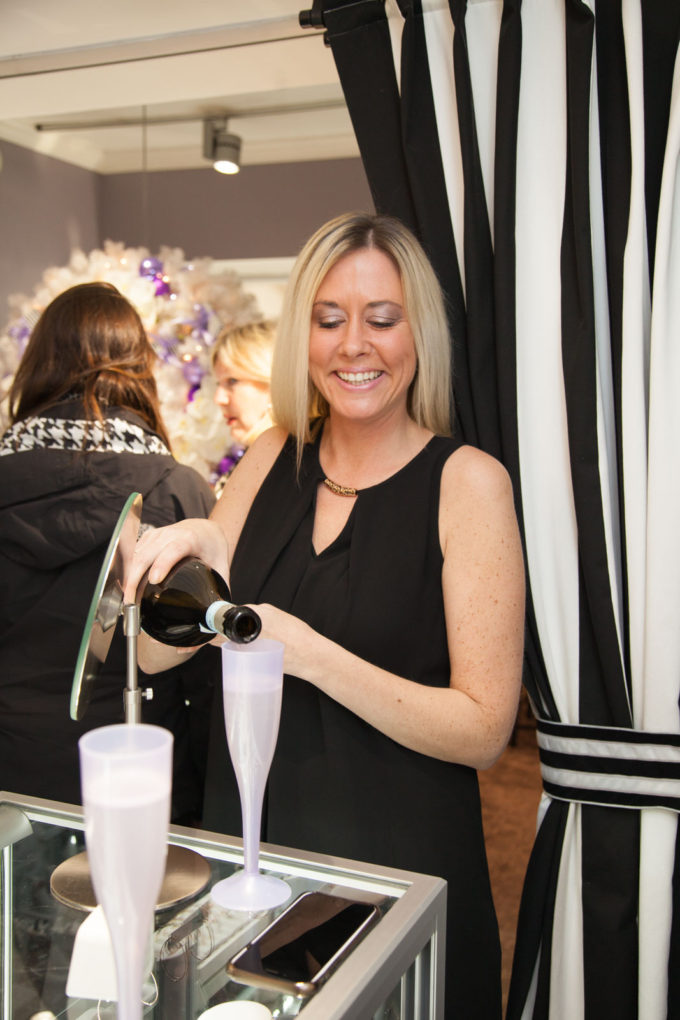 Stacey Darrah kept everyone's drinks topped off.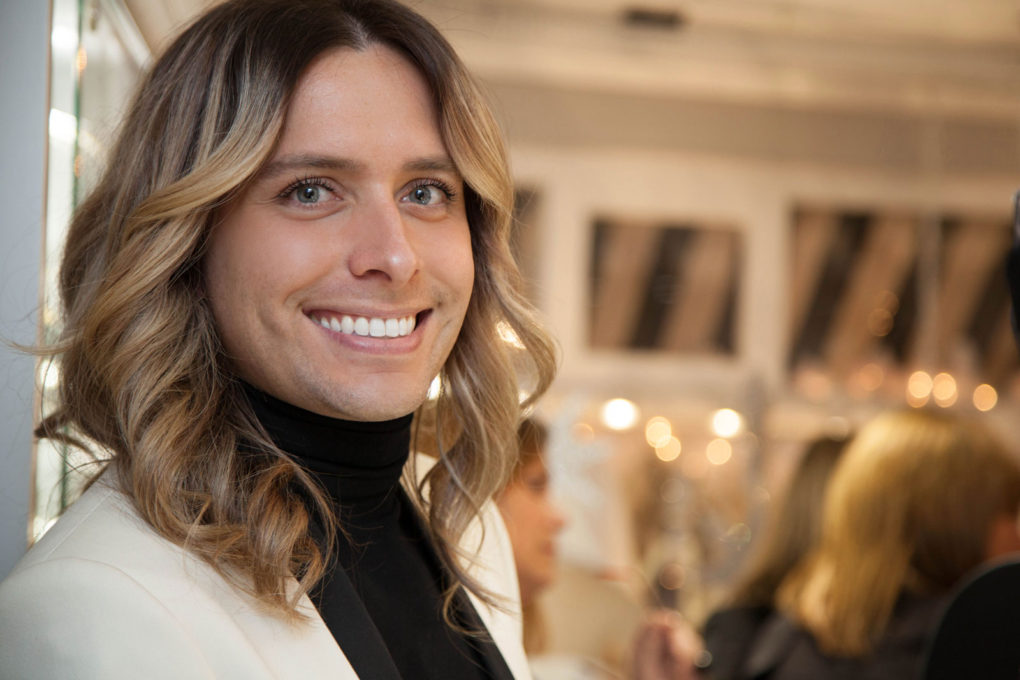 Behind the counter, with James Michael Murphy.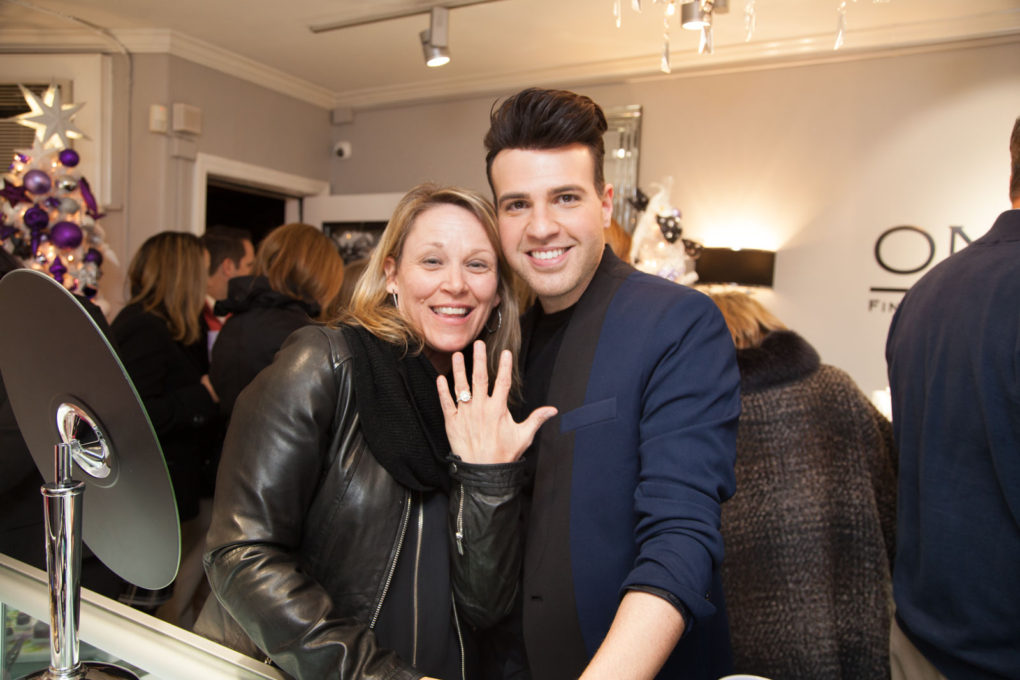 Daniel helped Stacy LaCapra find "the one."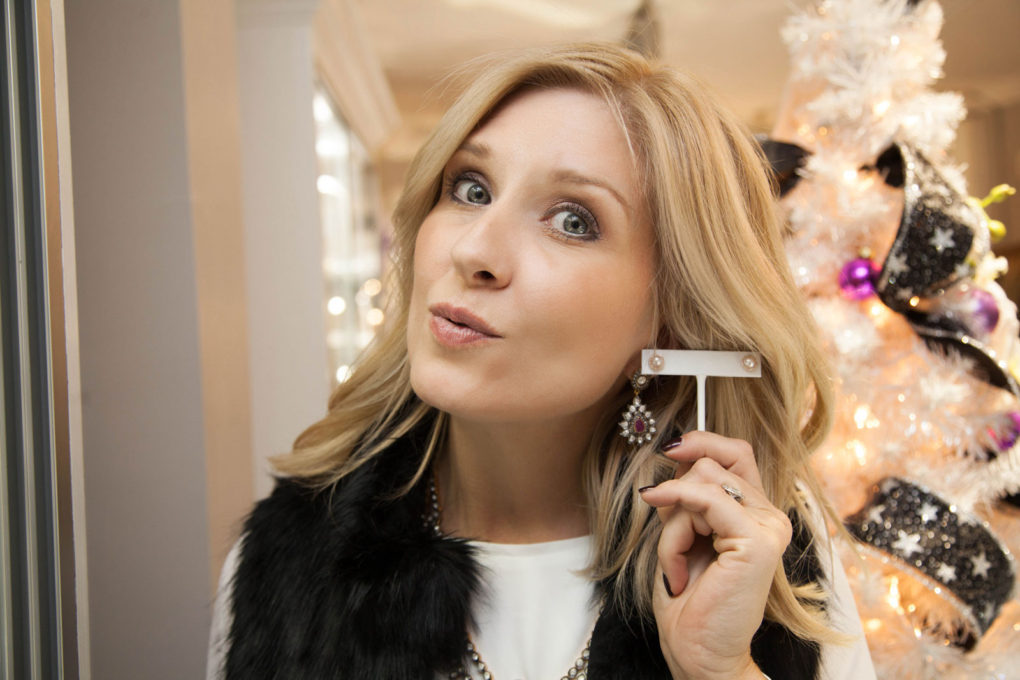 We wonder if two pairs of earrings at a time is too much?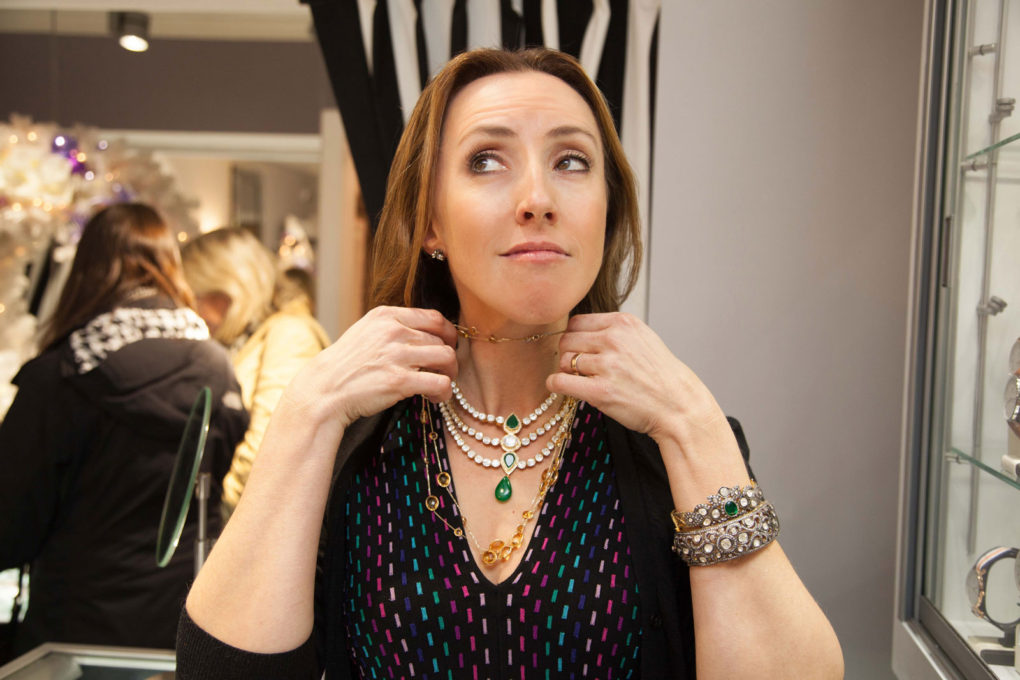 Too much?
Too much was not the case for many who attended. Cards were handed over one after the other to Peggy Shove Columb, manning the checkout.
While Lora captured many a happy face…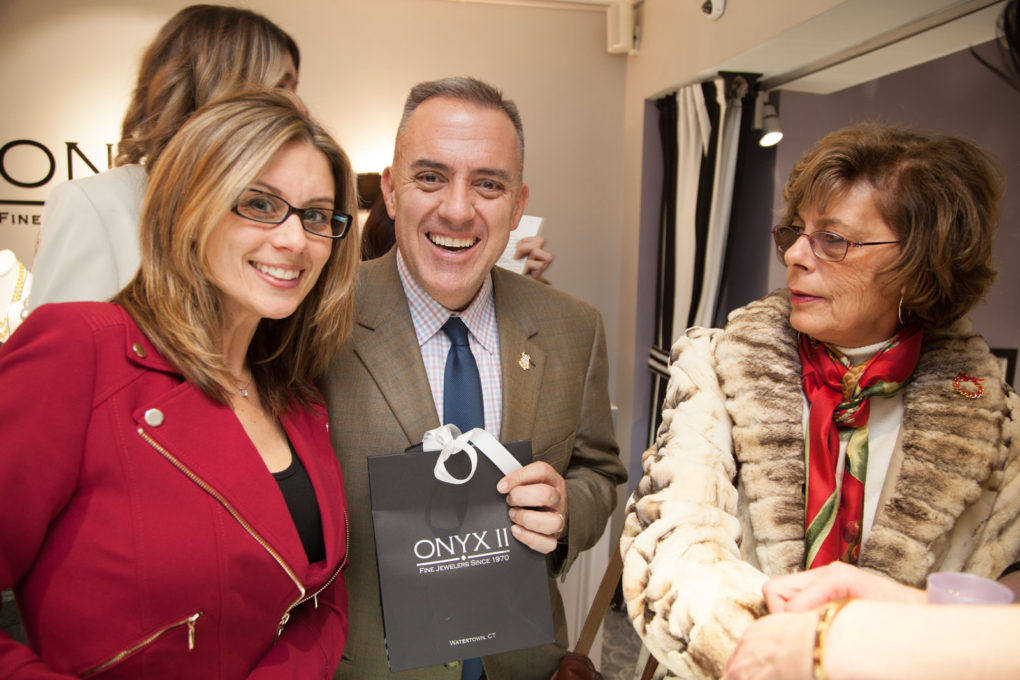 Janelle Wilk, (State Rep) Eric Berthel, Diane Schmidt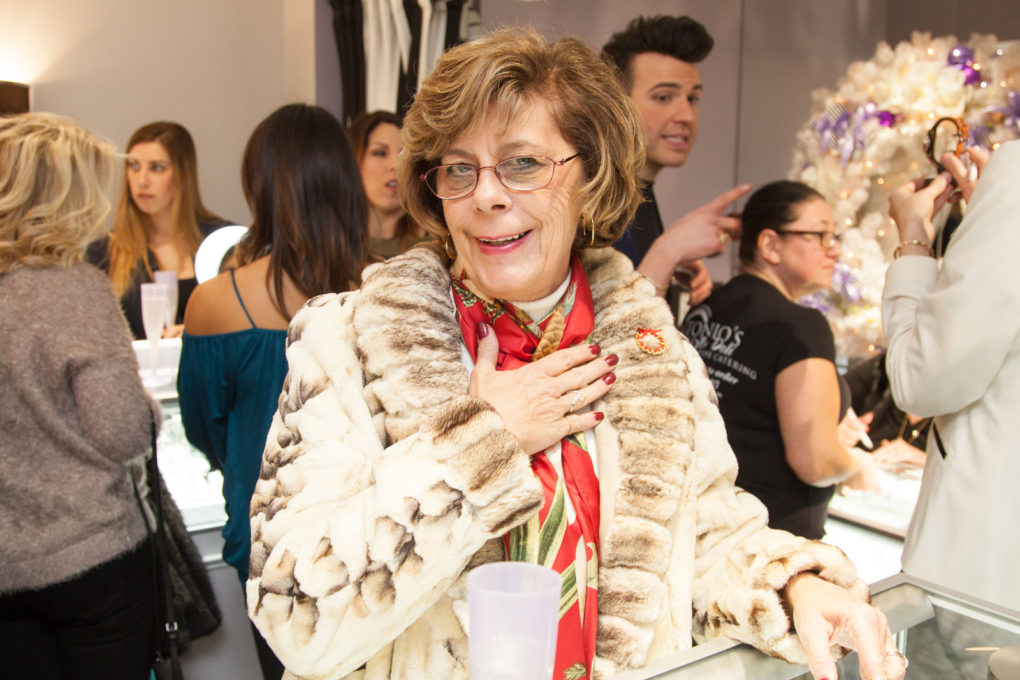 Karen Griffin, Kaitlin Sanzone, Kyle Humphrey, James Murphy, Massimo Verardo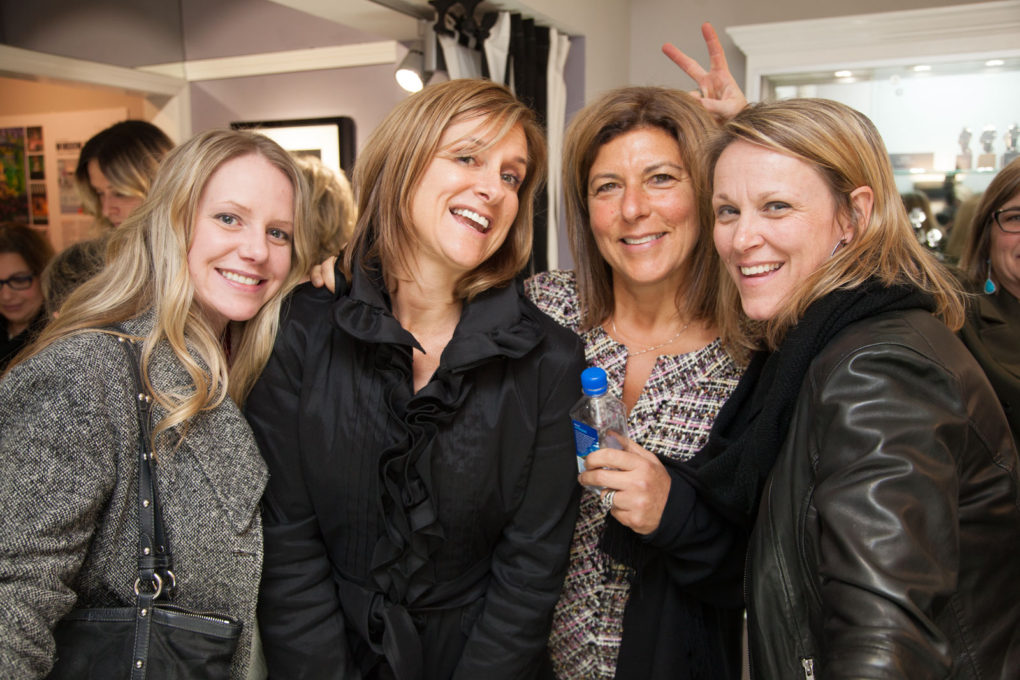 Kara Summa, Kristen Jacoby, Sandy Vigliotti Senich, Stacy LaCapra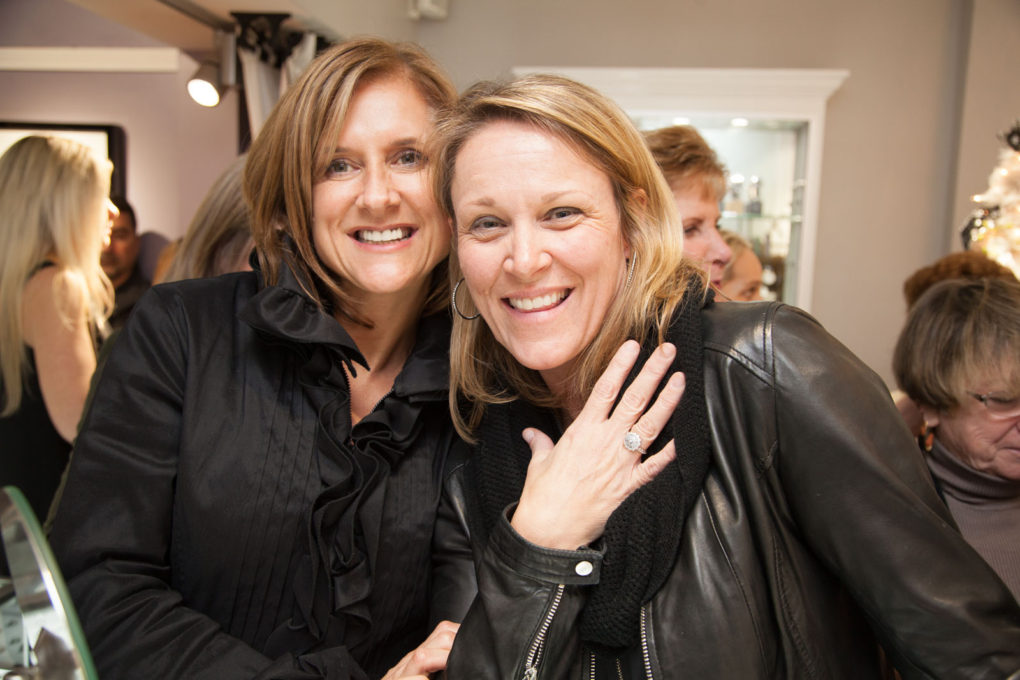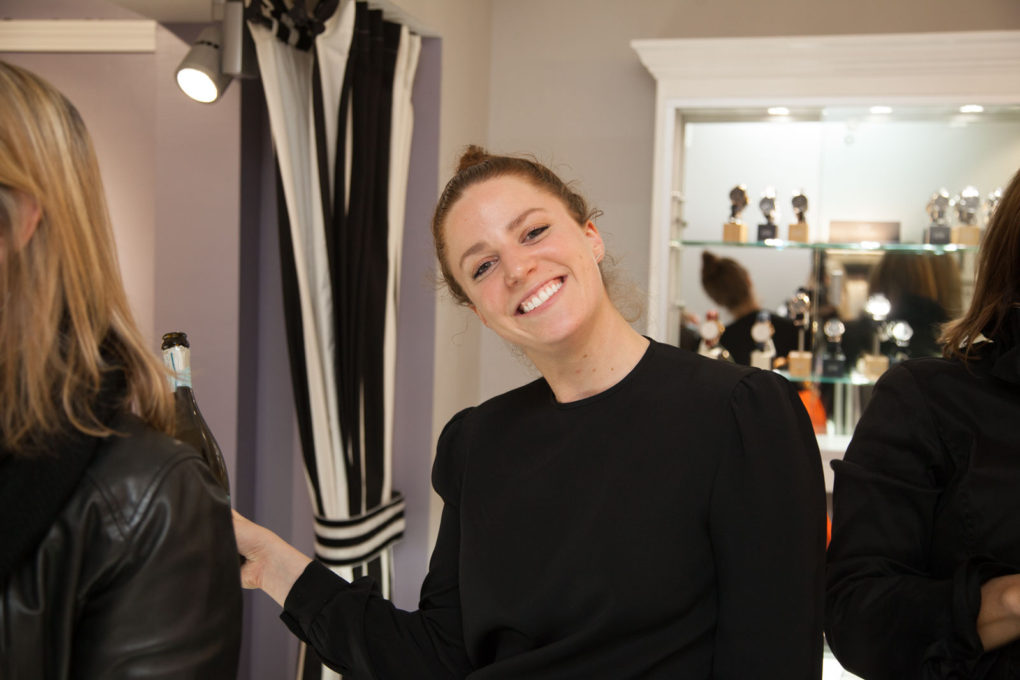 Victoria Columb – also keept us happy with Prosecco, and serving up hors d'oeuvres from Antonio's Restaurant in Waterbury.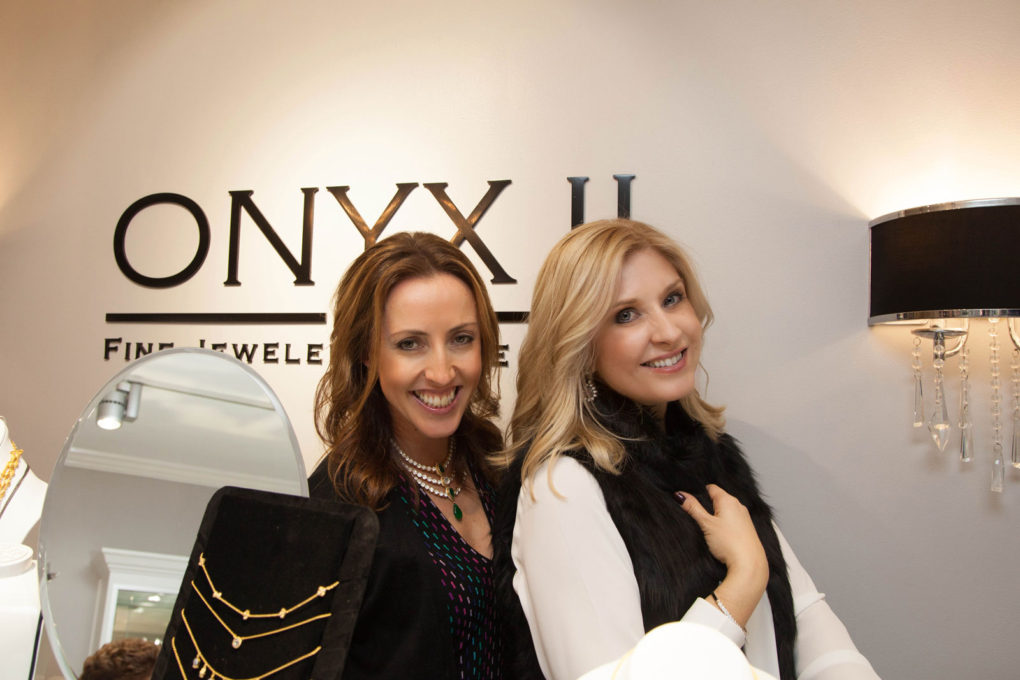 And one final parting #fierce shot for the road…..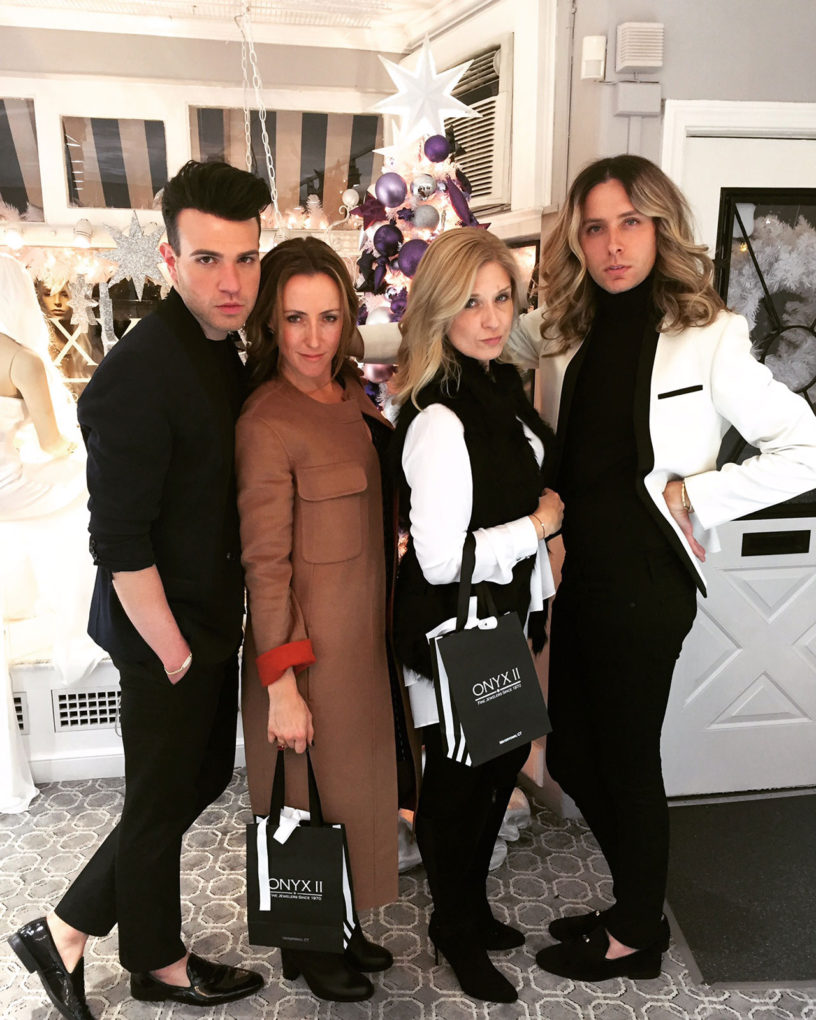 ---
Onyx II, 683 Main Street, Watertown, CT
Pics: Lora/Words: Bev