We love blogging about food features. We love food. We love drinks. Heck, we're proud foodies!
We love experiencing the energetic SoNo vibe, and wanted to get some chat time with Chris Hickey, co-owner of The Spread to find out the inside scoop about what makes this restaurant a hidden gem!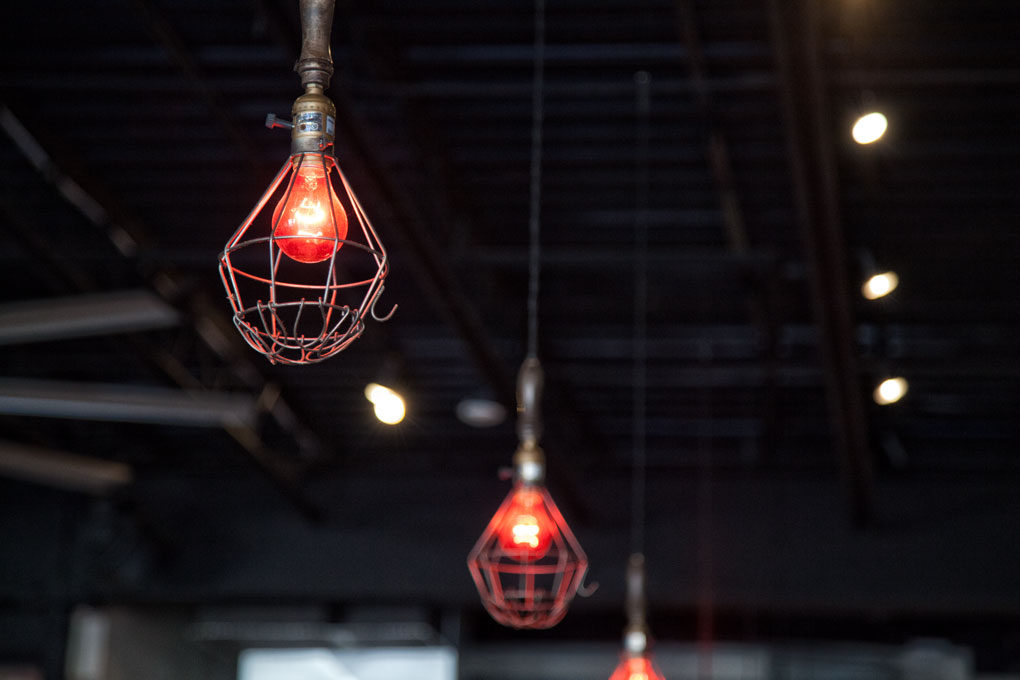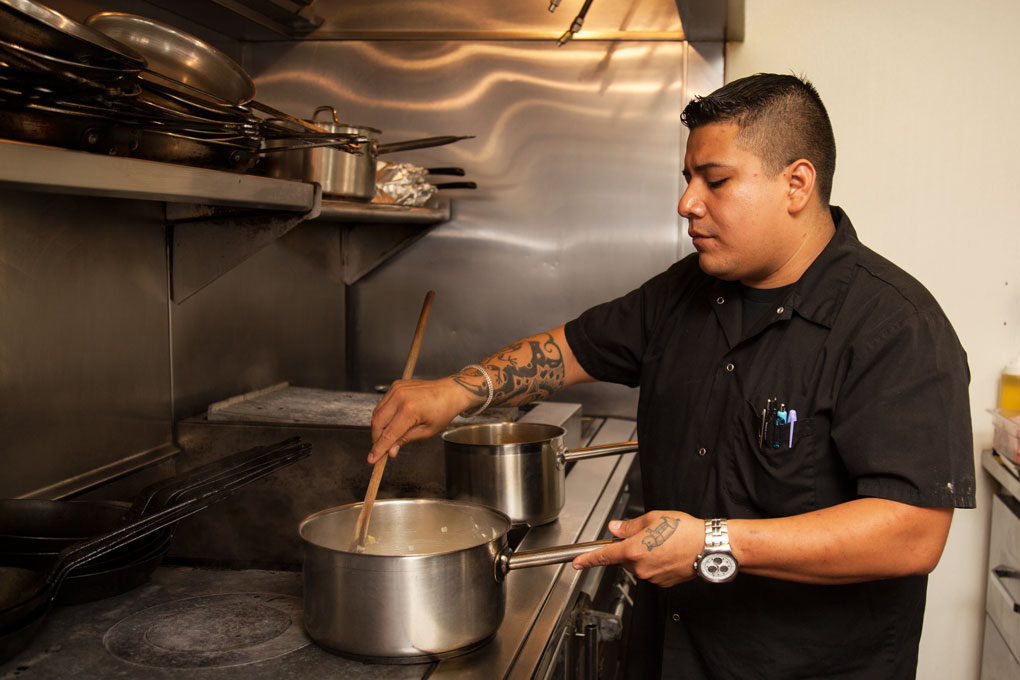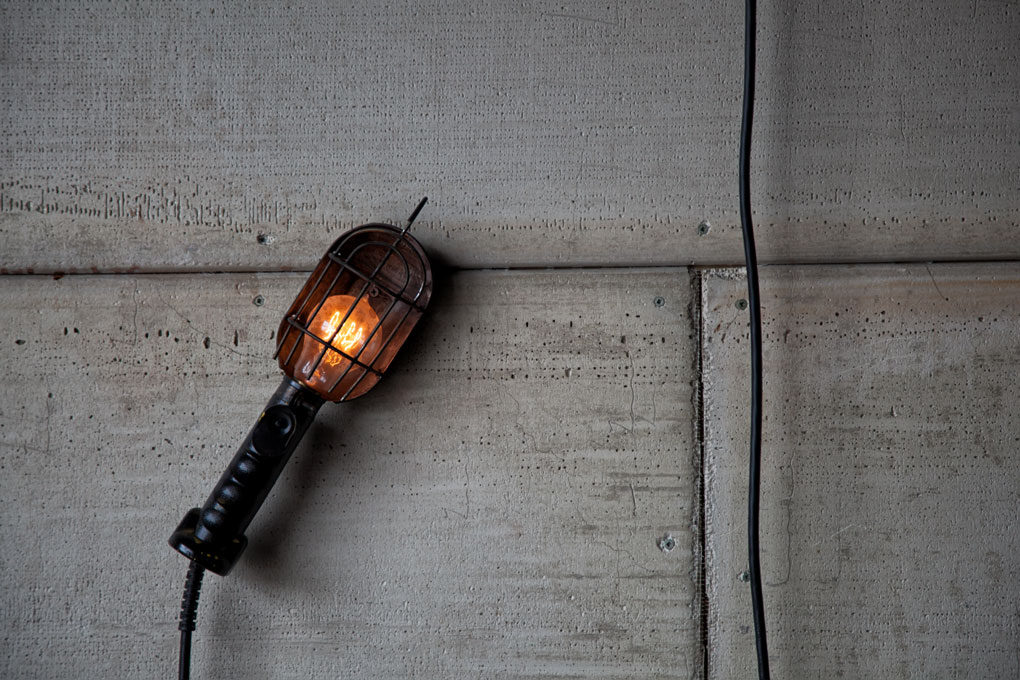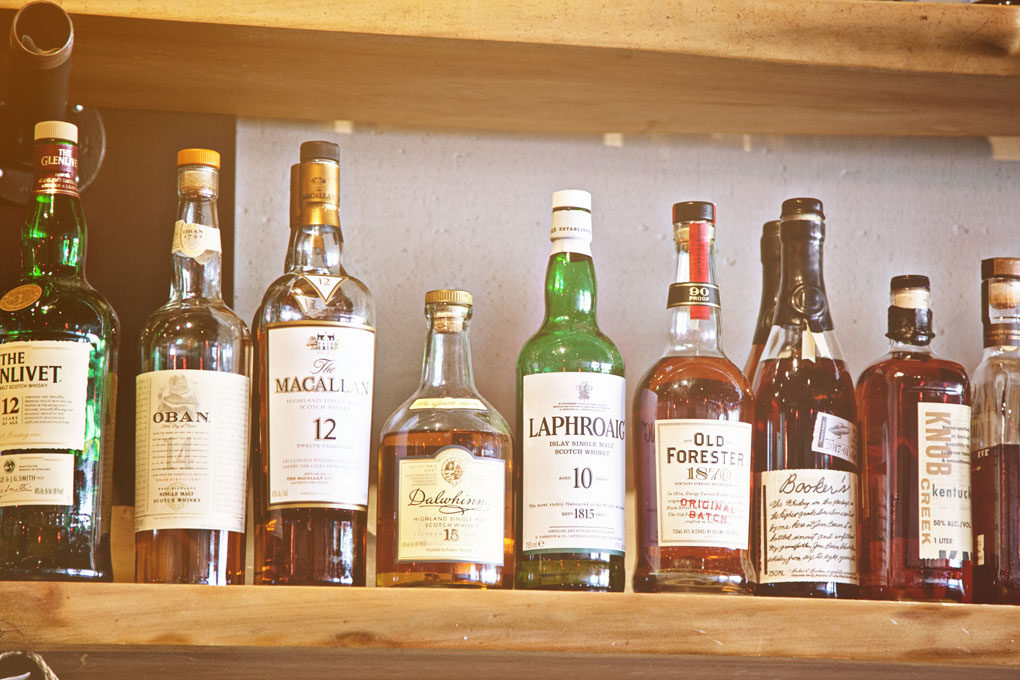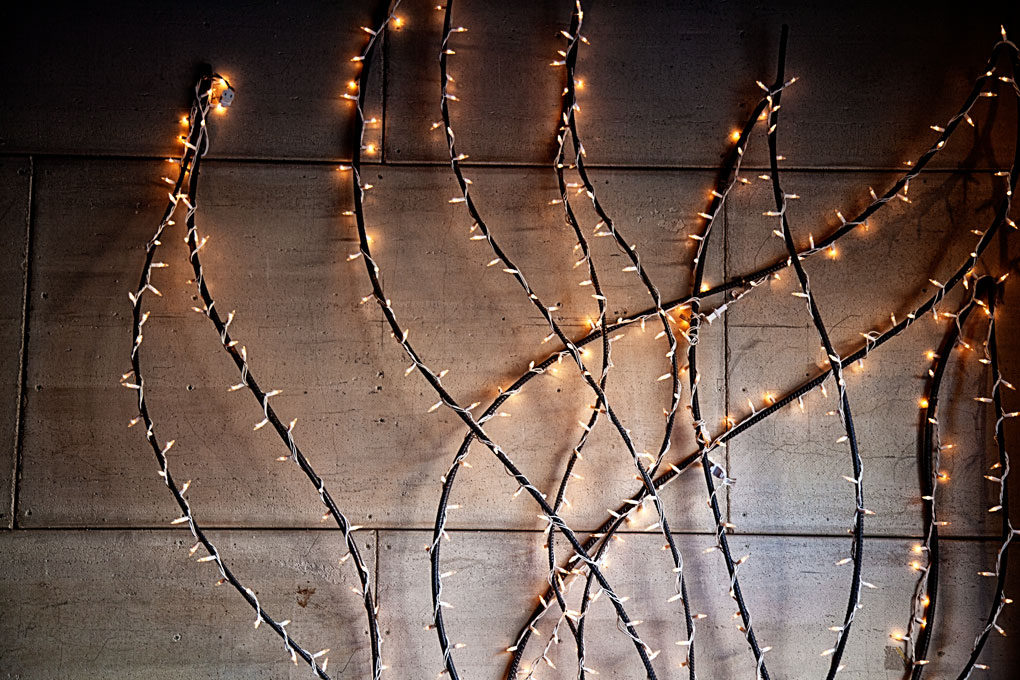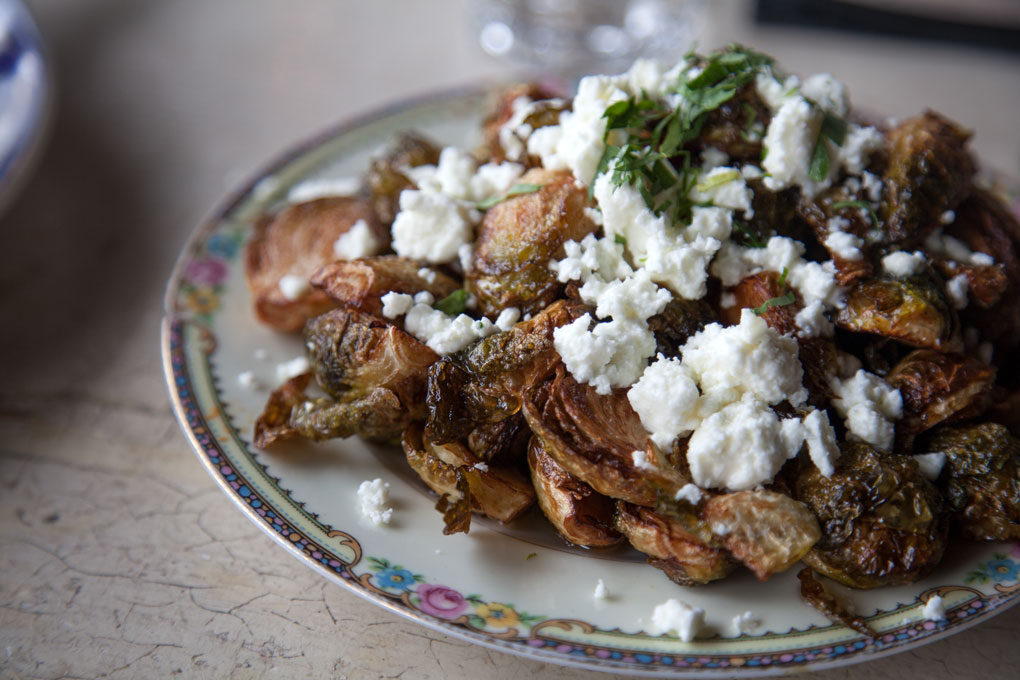 Post sponsored by The Spread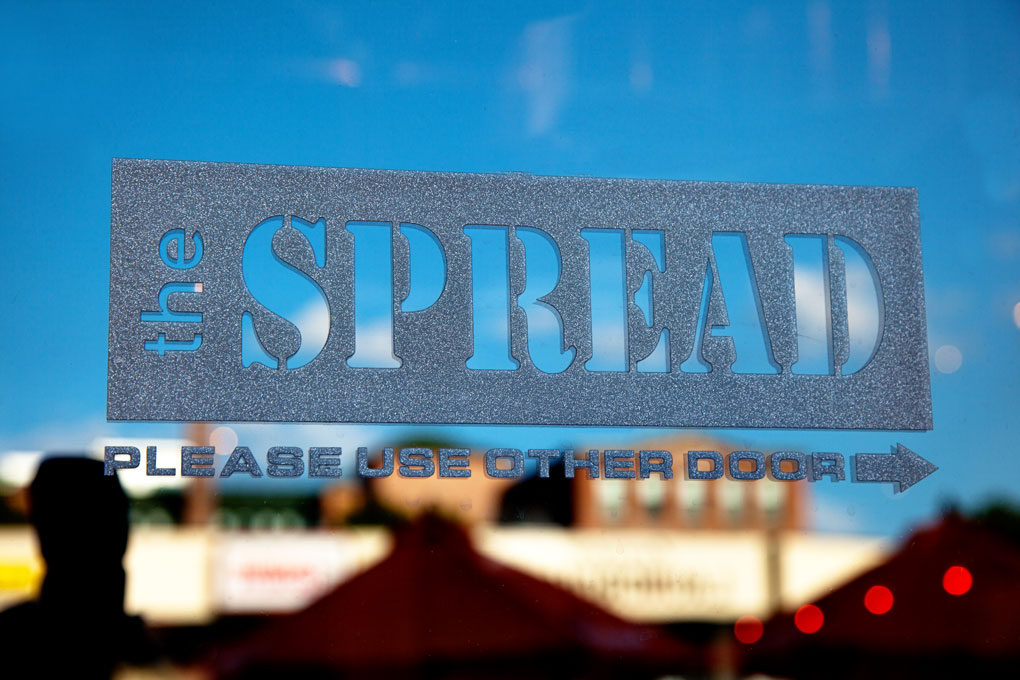 Located at 70 North Main Street in SoNo, The Spread is celebrating a birthday this October and turning 5 years old. If you haven't experienced Chef Carlos Baez's food (fun fact, he was on Beat Bobby Flay last year!), grab a friend/date/spouse/random person on the street, and get it on the calendar, stat!
What we loved #1: the rustic, yet industrial look…
The owners shed blood, sweat, tears, hard work, and time into the demo work when they found the perfect space for their new restaurant. They nailed it (pun not intended). The vibe is casually chic; a fun place to chat at the bar or have a fantastic meal with a date at one of the repurposed antique barn door tables.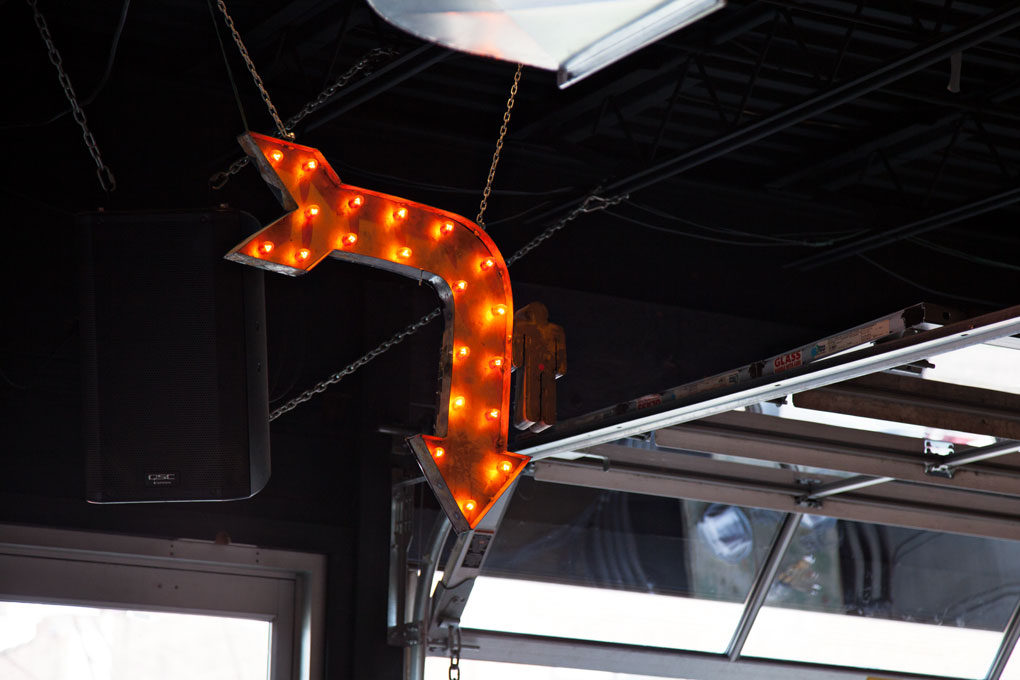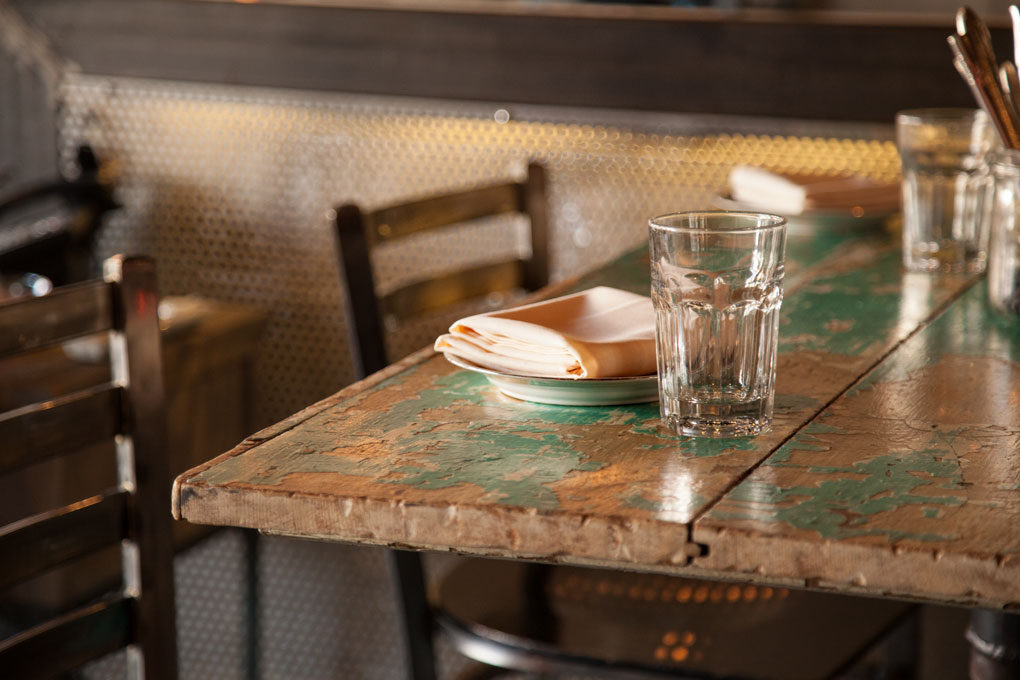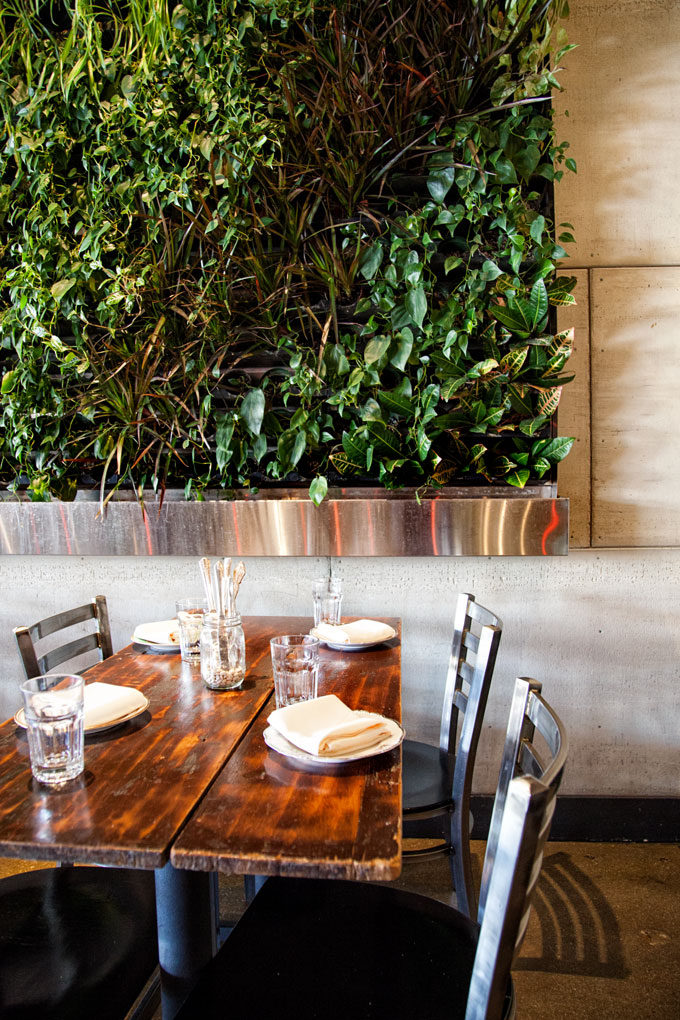 What we loved #2: the drink menu…
We dig a well-thought-out drink menu. Bartenders we're not. Thankfully, The Spread's cocktails are perfect for all tastes and palates. We chose the refreshing Amendolia (cucumber vodka, St. Germain, fresh lime, splash of grapefruit juice), and Tico Juice (Plantation O.D. rum, Grand Marnier, passion fruit nectar), perfect if you want to feel like you're on the beach!
And then we decided to split a Res Pit… you know, being responsible. And we were very, very thirsty.
What we loved #3: the team…
We discovered that these 5 co-owners are friends outside of the restaurant and are truly passionate about what they do. So passionate, in fact, that they opened El Segundo in Norwalk last year, and are getting ready to open another Spread location in Greenwich this fall. YAY!
Of course, we had to sneak into the kitchen to watch Executive Chef Carlos Baez in action. Born and raised in Mexico City, he started cooking with his father at taquerias after school. His varied gastronomic experiences since then have brought him to The Spread where he changes up the menu 2-3 times a week.
We're not the only ones that think he's amazing. According to The Spread's website, "[Carlos'] most recent accolades included Connecticut Magazine Reader's Poll citing his to be the Best Apps in the state, helping the Spread to win the award for Best New Restaurant and a second-place nod for Overall Excellence. His brunch creations also took third place in a very tough category."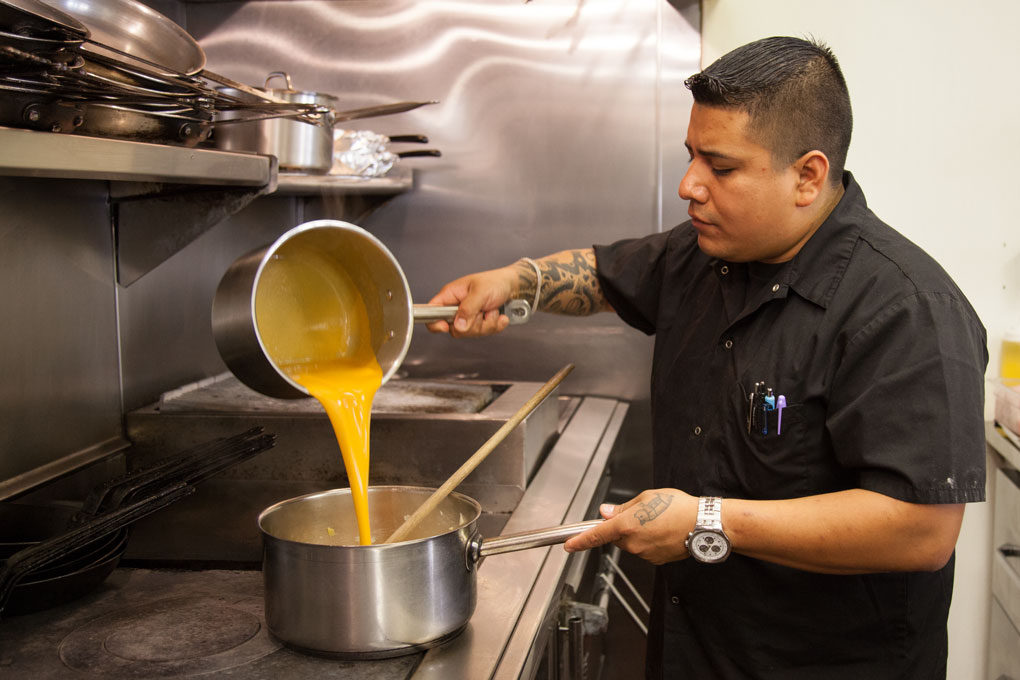 When we asked Chef what he loved to cook the most, he said pulled pork. He loves pork that much. The proof is in the tattoo.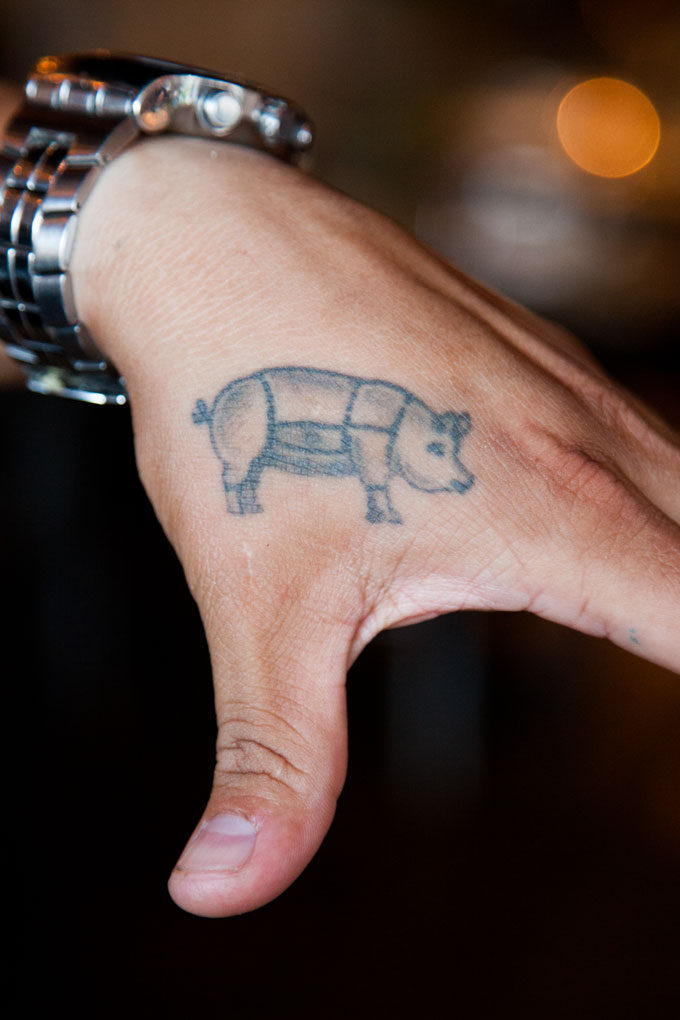 What we loved #4: the food…
Let's get to it. Foodies, enjoy. With a variety to appease all palates, from the adventurous to the meat-and-potatoes crowd, the menu is sure to please everyone in your party.
Chef Carlos first brought us "Figs & Prosciutto". A base of whipped ricotta (OMG), then topped with black and white mission figs, local honey, and candied pecans. Our taste buds screamed, the plate was empty in a really short time, and poor Chris Hickey, who was eating with us, had one pecan, if that…Sorry Chris!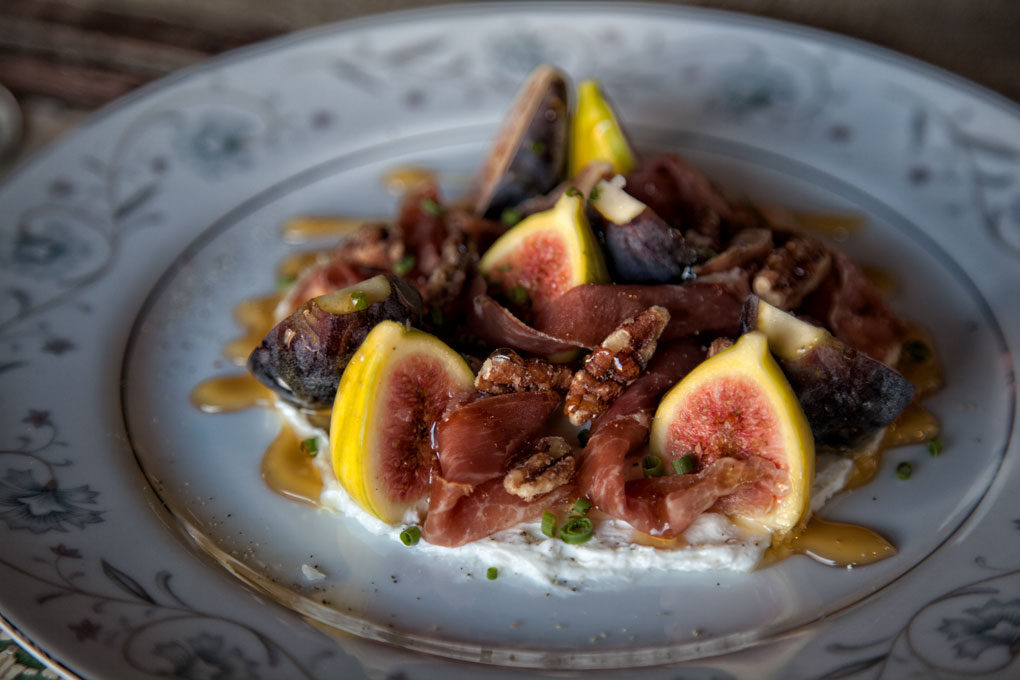 Next up, "Heirloom Tomato & Watermelon." What's better in the summer than feta and watermelon?? Adding local tomatoes, of course. Ingredients also included red onions, basil, and sherry vinegar. Tangy, sweet, salty = yum!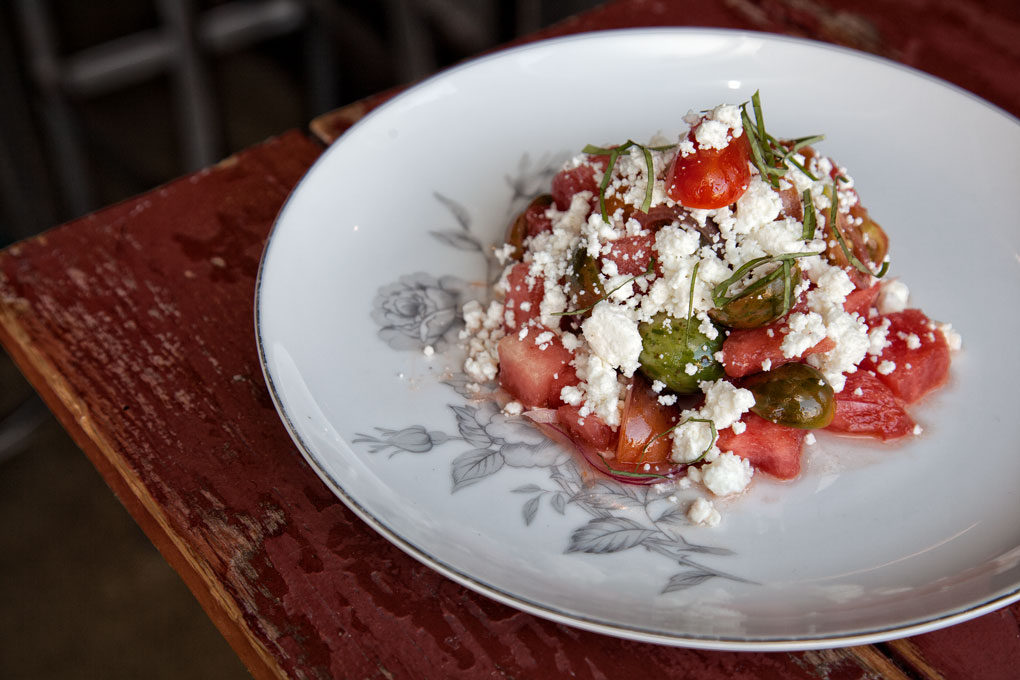 Time for a "medium plate" of "Best of the Best Roasted Shrimp" which Bev really enjoyed! I'm not a shrimp eater, but I did have a taste of the carmelized onion quinoa cake that the shrimp was neatly stacked on. Wowzers.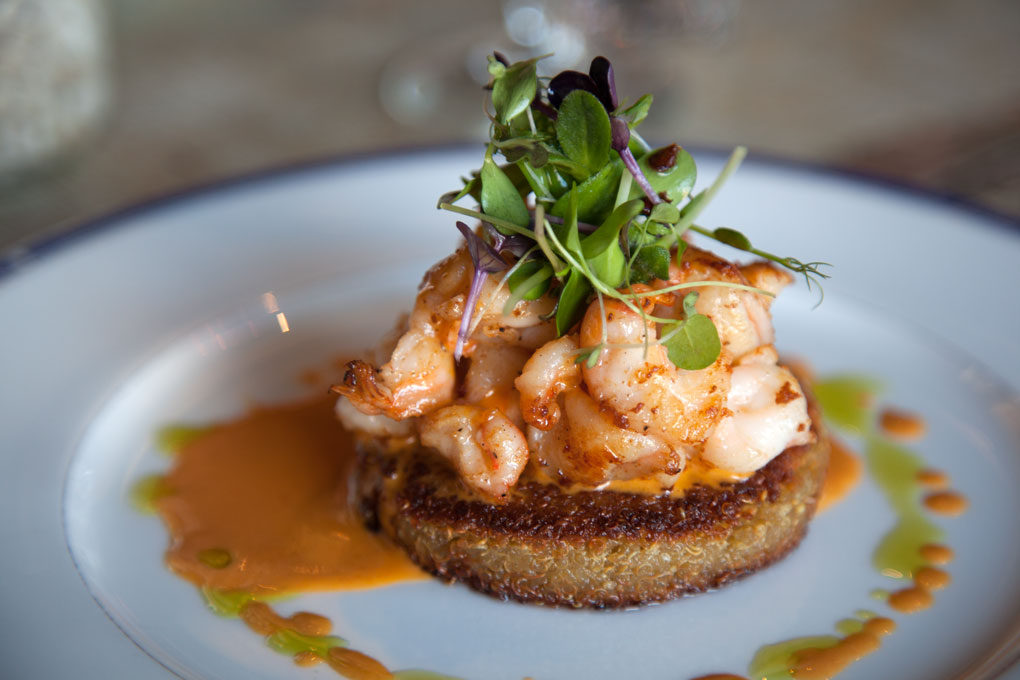 Meat lovers, pay attention. The "Grass Fed Hanger Steak" had my name on it. Ok, I did end up sharing, but this was so delicious, I could have been a little greedy. Served with Horseshoe Farm tomatoes, chimichurri, and micro arugula.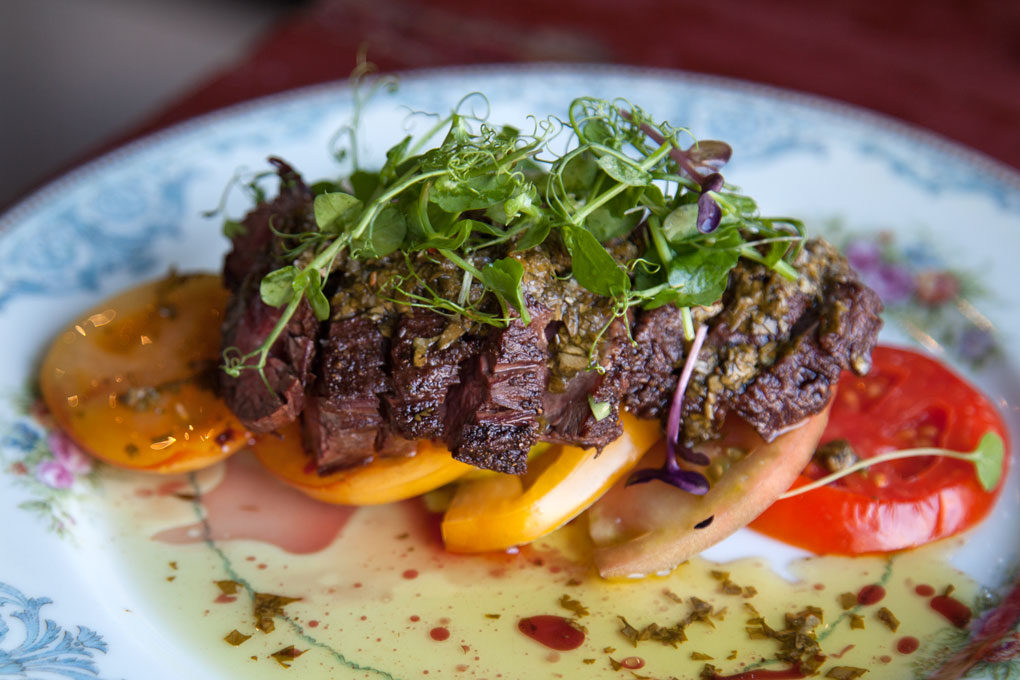 As if our taste buds couldn't get any happier, they did! Our "larger plate" was "Ricotta Gnocchi." I don't think we can go back to regular potato gnocchi ever again. Melt-in-your-mouth little pillows with braised veal and sage velouté (we learned that velouté sauce is one of the five sauces of French cuisine that were designated the five "mother sauces" by Auguste Escoffier in the 19th century. Who knew?). The perfect ending to our tasting adventure. Or so we thought…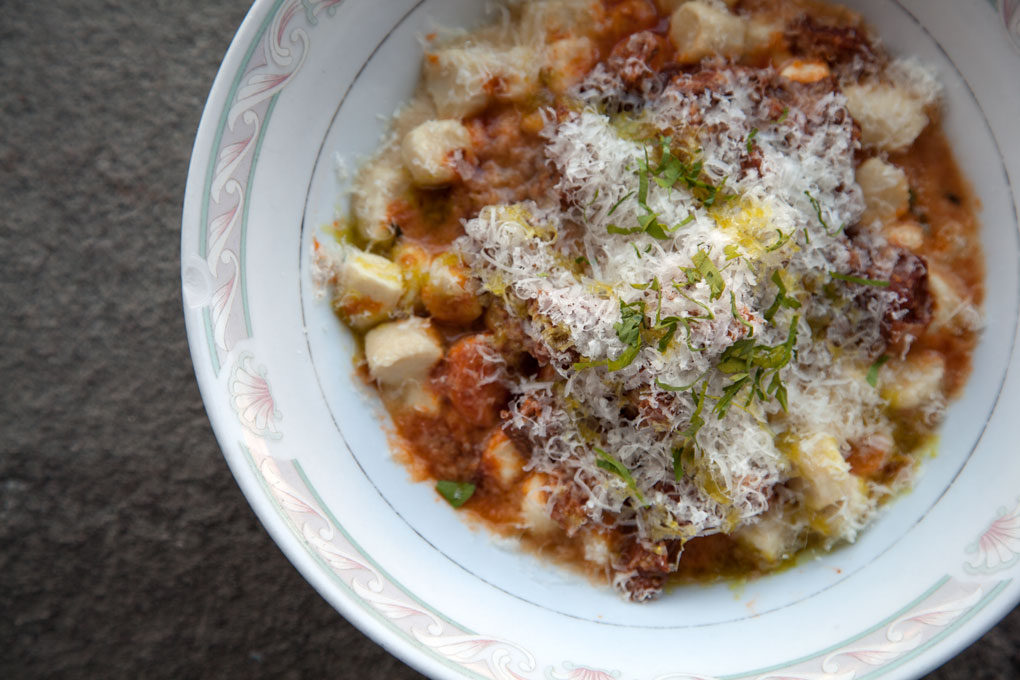 Note: There was a gorgeous, delicious Nutella crème brûlée we devoured, and sadly, there will be no photos. Literally, I forgot to take photos after I had one bite. The spoon kept going in, and Bev and I inhaled it. Gone. Nothing left. Sorry, not sorry. But look! A photo of apple fritters with apple pie gelato. Spectacular!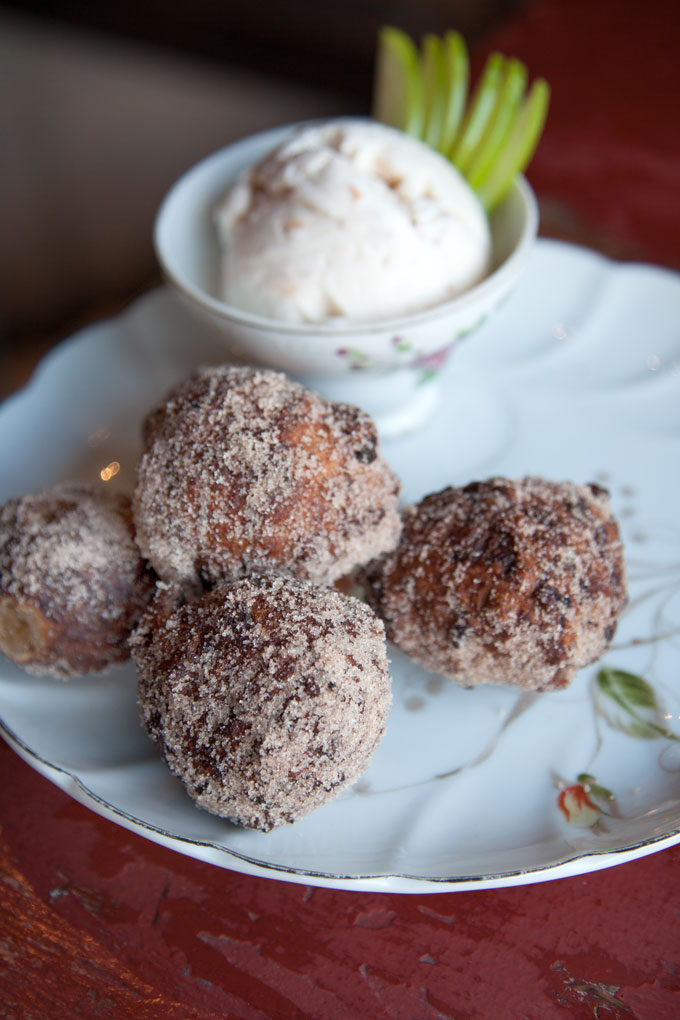 What we loved #5: Catering and party options
The Spread loves to cater! Check out their menu and make sure to contact them for your next event/dinner/wedding – they've catered from 10 people to several hundred.
See you at The Spread SoNo! Tag us in your food pics the next time you head there. We'll drool with you!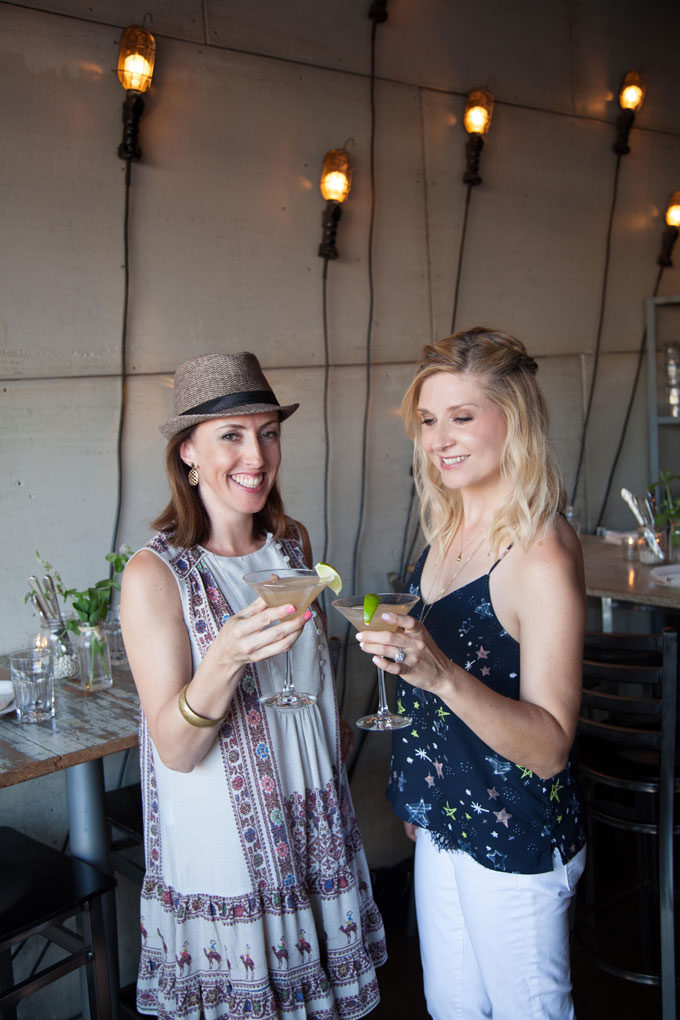 ---
The Spread, 70 North Main Street, South Norwalk, CT
Photos/Words: Lora Karam