It was love at first bite when we met Anne McClelland, owner of The First Bite Catering now located in Brookfield. During a culinary event held at Ameico, Anne served up the most delicious things, perfectly paired with good wine! The way to our hearts right there. We've been her food groupies ever since.
Post sponsored by The First Bite Catering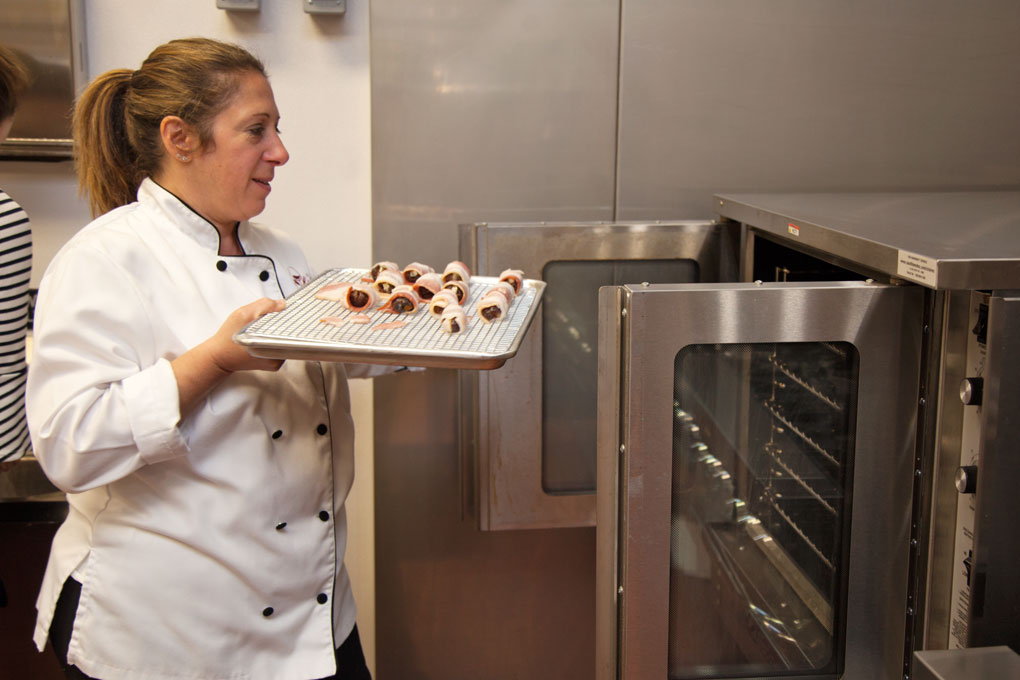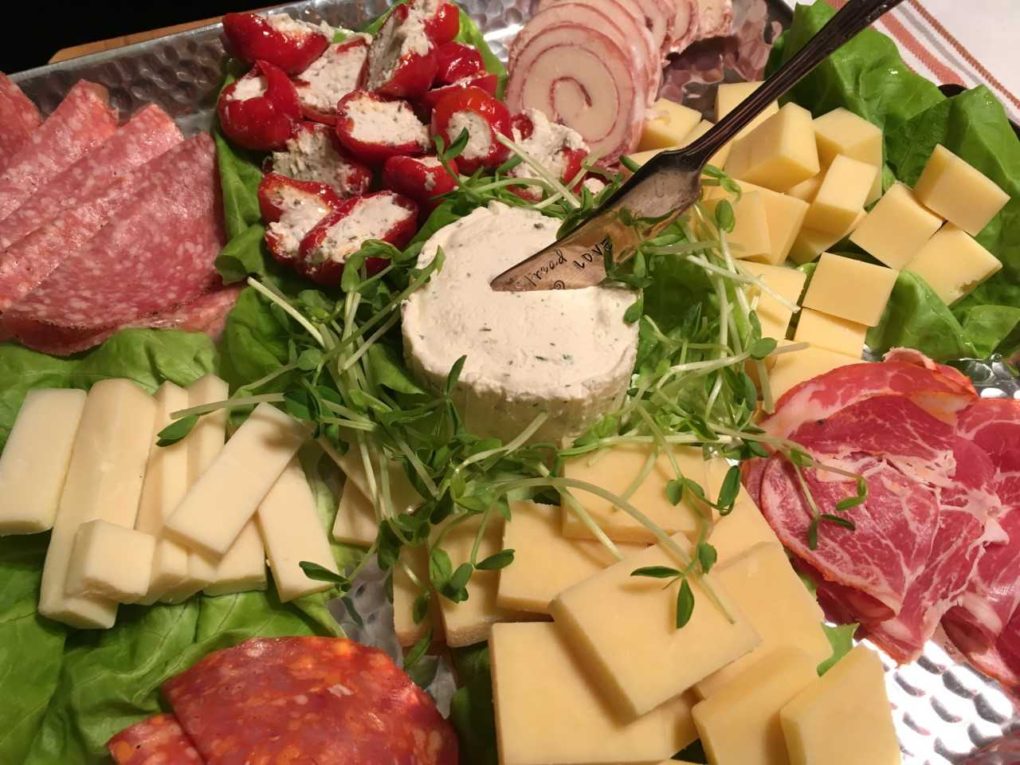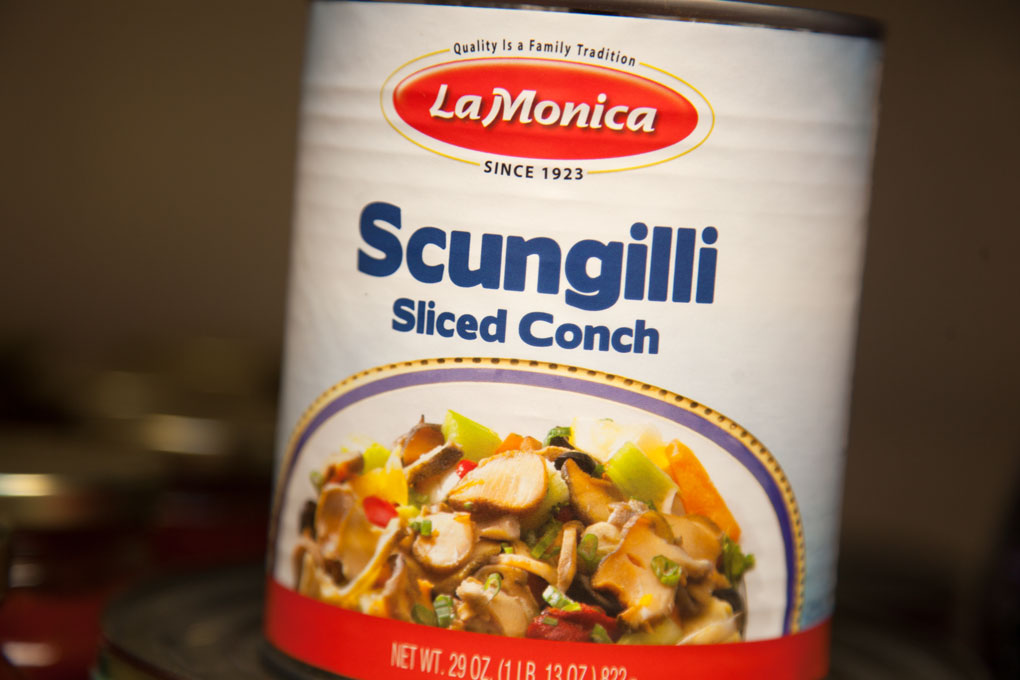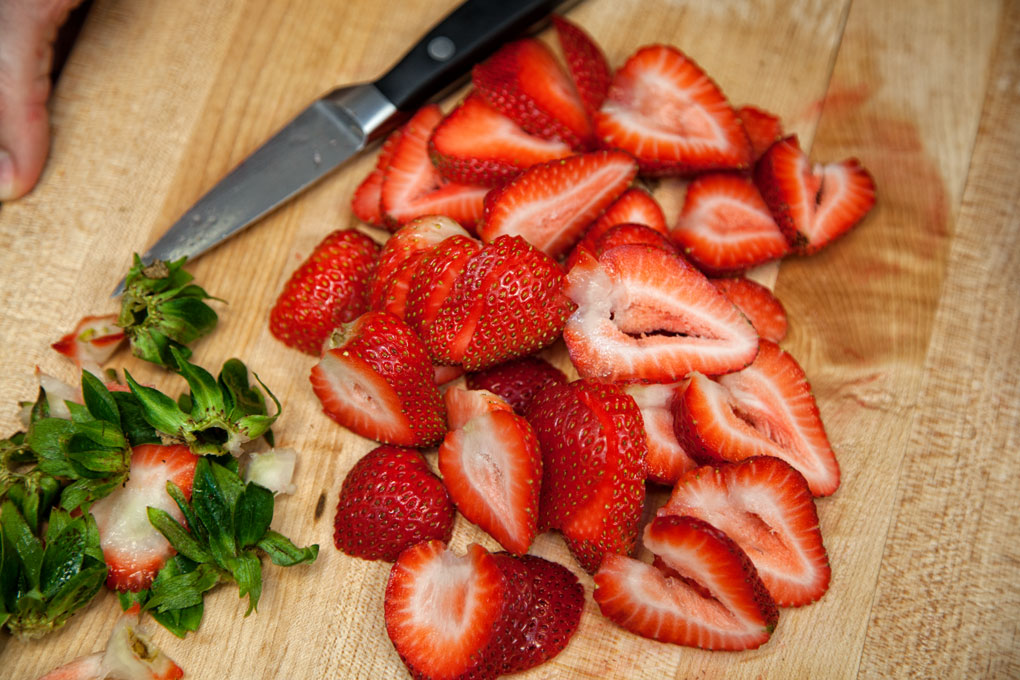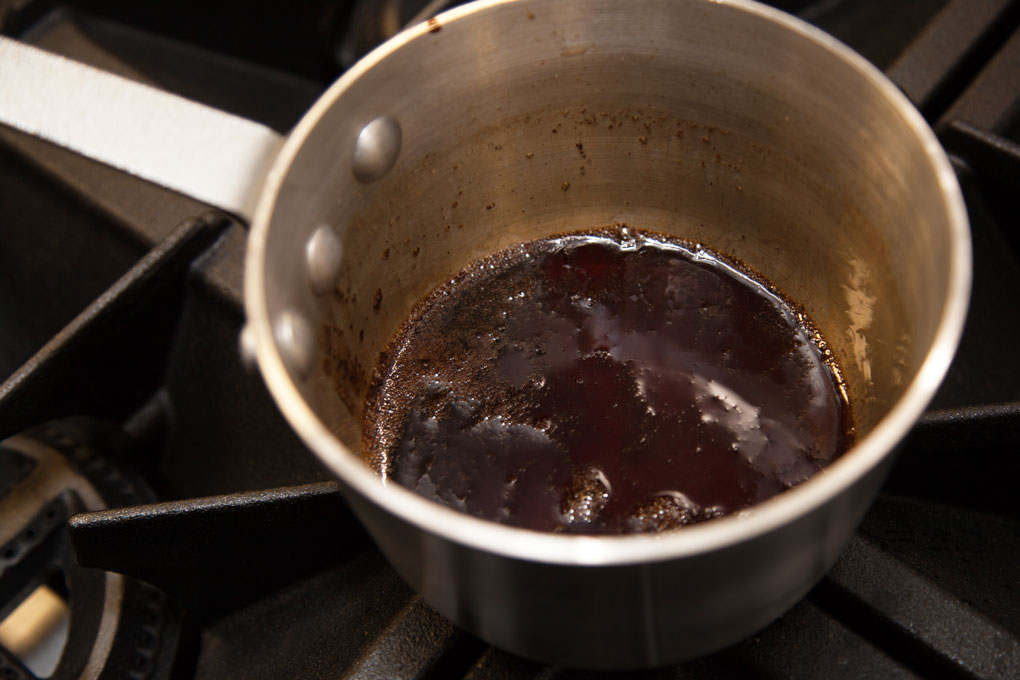 We love Anne's cooking skills so much that we asked her to cater our recent three-year birthday party. Everyone was raving about the food afterward…that, and our speech 😉
We're so thrilled to have been following her growing biz since we met over two years ago and can't wait to show you around her catering kitchen and cooking school in Brookfield.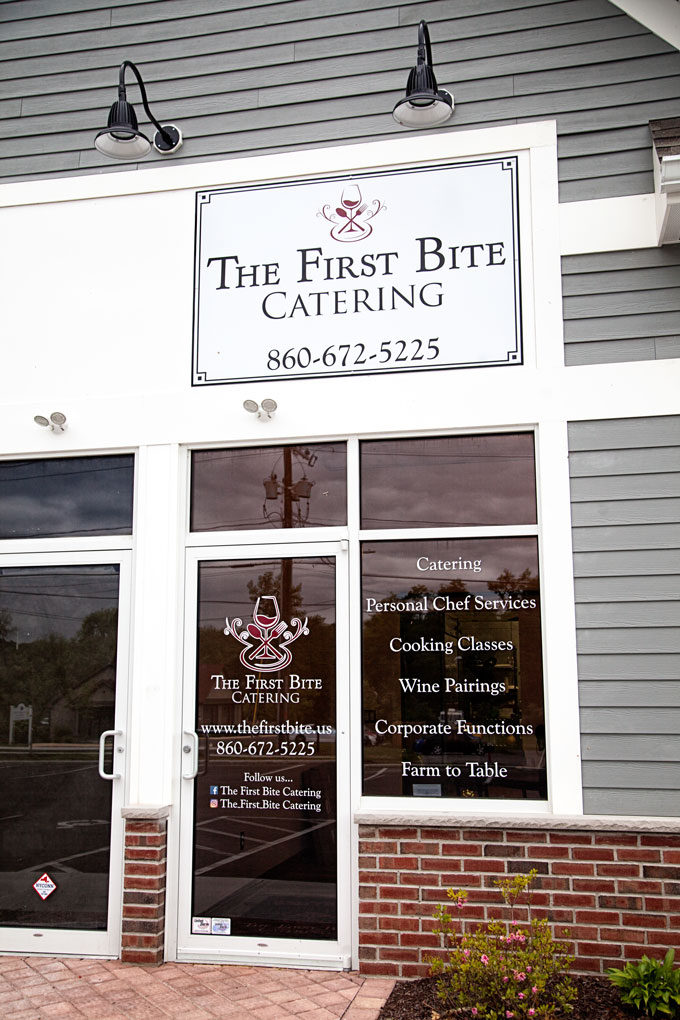 The First Bite Catering
The First Bite specializes in catering intimately-sized events (75 and under) with professional service and fabulous food. Menus are customized and come with wine pairing advice to enhance the entire experience. They will work with you to create an appropriate menu for your event, shop for it, and prepare it fresh for your party. First Bite supports local farmers whenever possible.
How about the Personal chef service? Yes, please!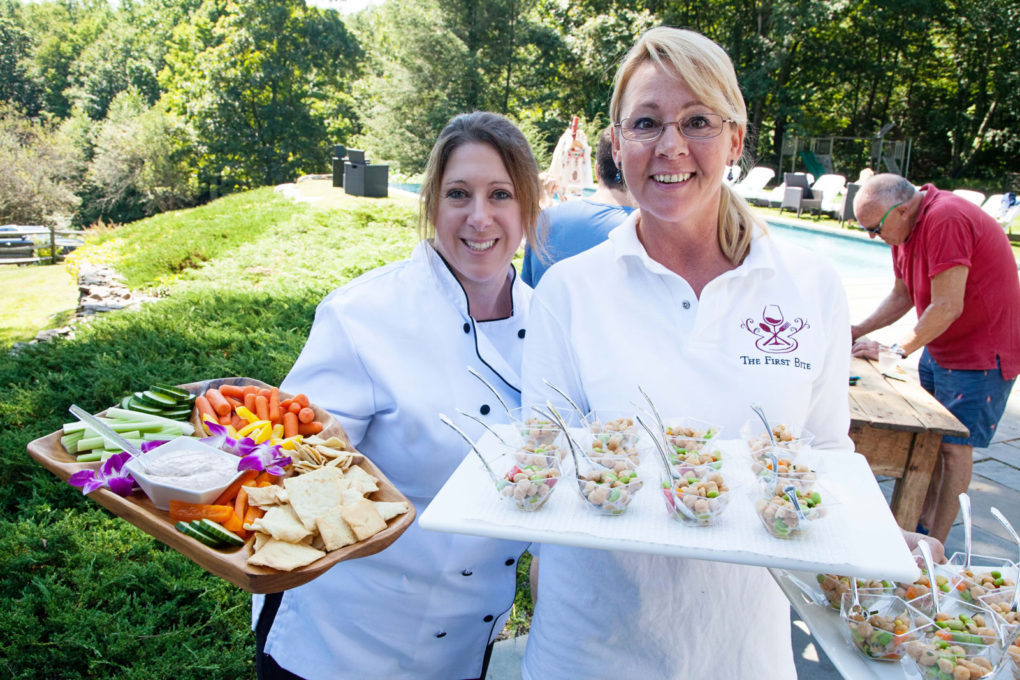 CT – Colorado – CT
Entering their third year of business in CT, The First Bite originally began in Denver, Colorado in 2002 as Anne Noto Catering. After 11+ years in Littleton, Colorado, Anne moved back to CT and started up The First Bite in New Milford.
As the business grew, she realized that it was time to find the perfect spot to open a commercial catering kitchen. That spot is 540 Federal Road, Brookfield.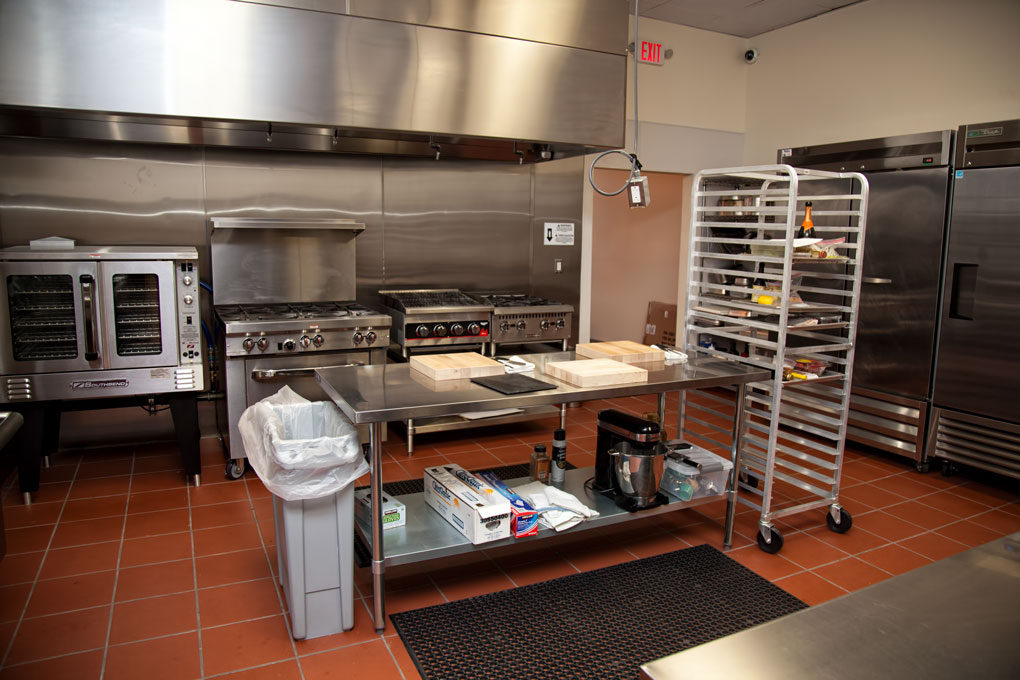 Cooking classes
We love hands-on learning experiences (bonus when they include eating and sipping wine), so, we're especially excited that Anne is offering cooking classes in her shiny new kitchen. Check out the class schedule here. Want to arrange a fun night out for your gal pals or significant other? Give Anne a shout like we did. Classes can be customized. We asked her to teach us how to make simple (emphasis on simple) appetizers we can rustle up for summer evening soirees.
"Unlocking Appetizers" cooking class!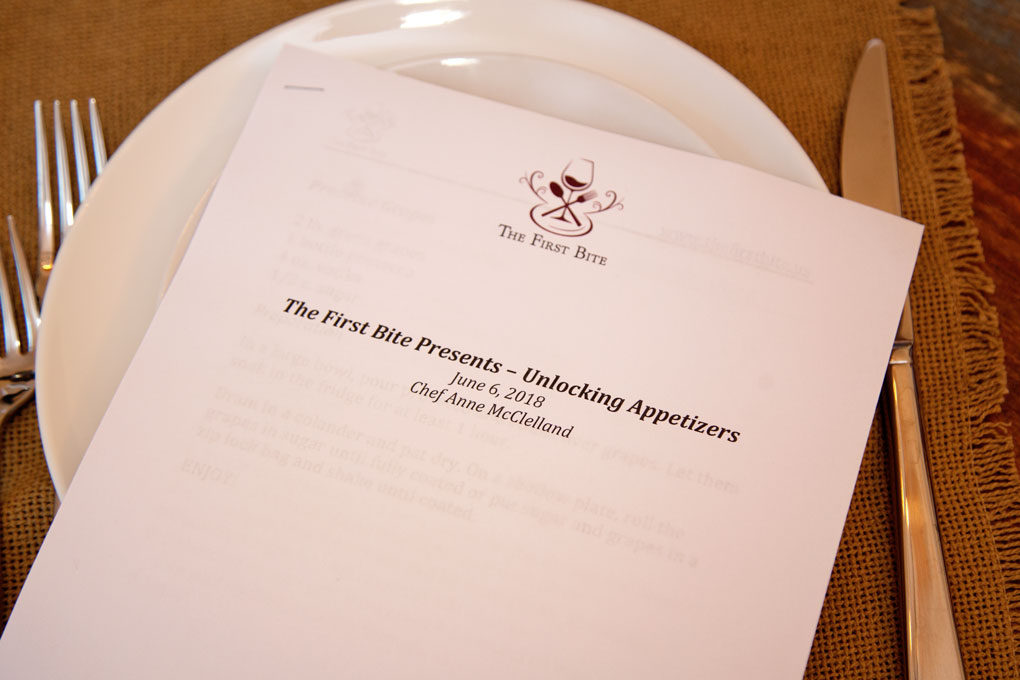 But first, wine…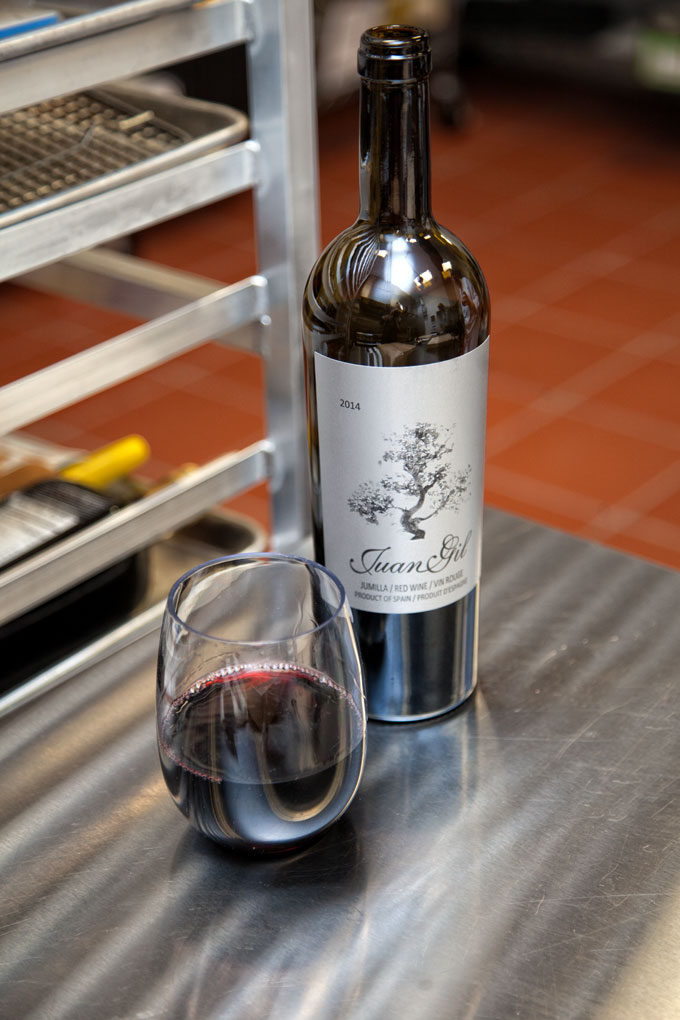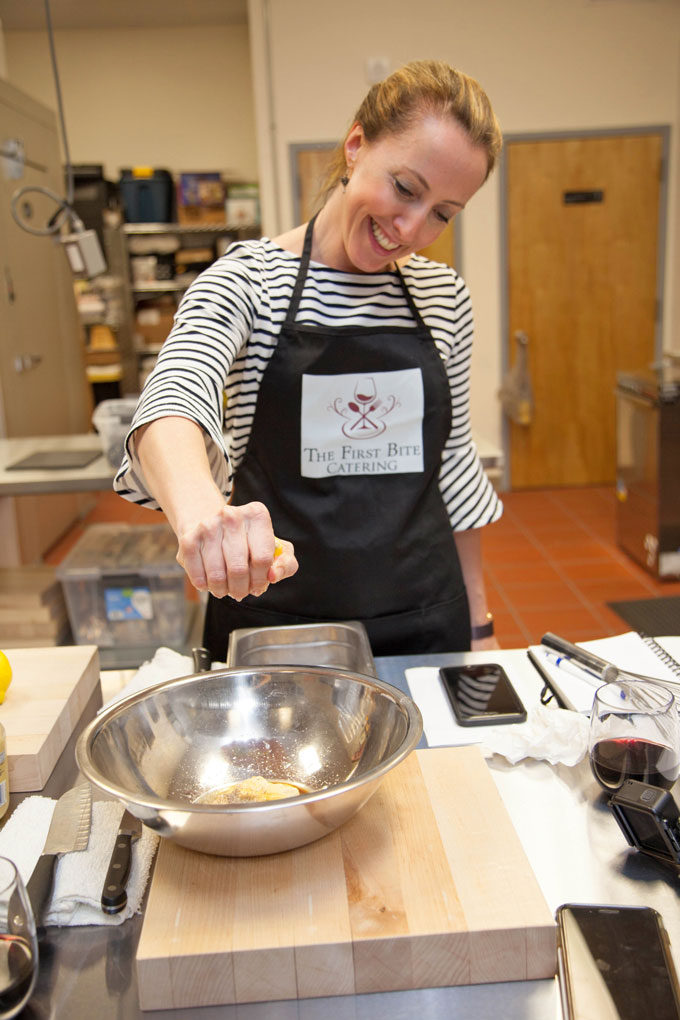 Learning a new lemon squeezing technique, which is to squeeze it cut side up, so the seeds stay in the lemon! What? Genius.
We learned how to make Prosecco grapes, honey mustard chicken satays, and blue cheese stuffed dates wrapped in bacon. Oh, and fresh strawberry tarts with a balsamic drizzle. Who's coming to our summer soirees?!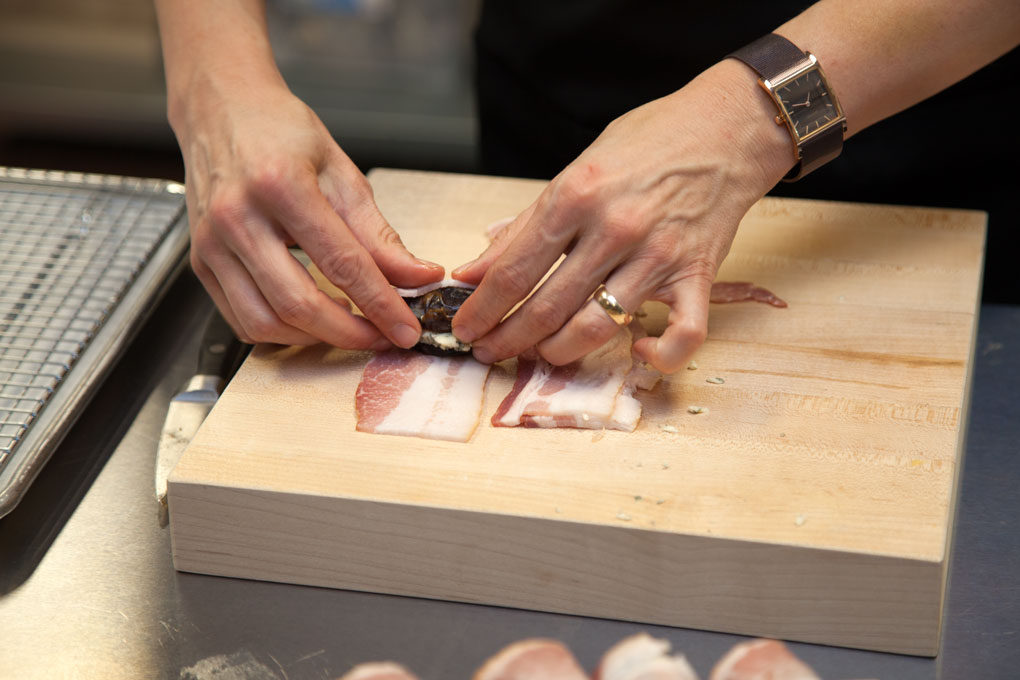 Dates, stuffed with cheese, wrapped in bacon = pure mouth joy!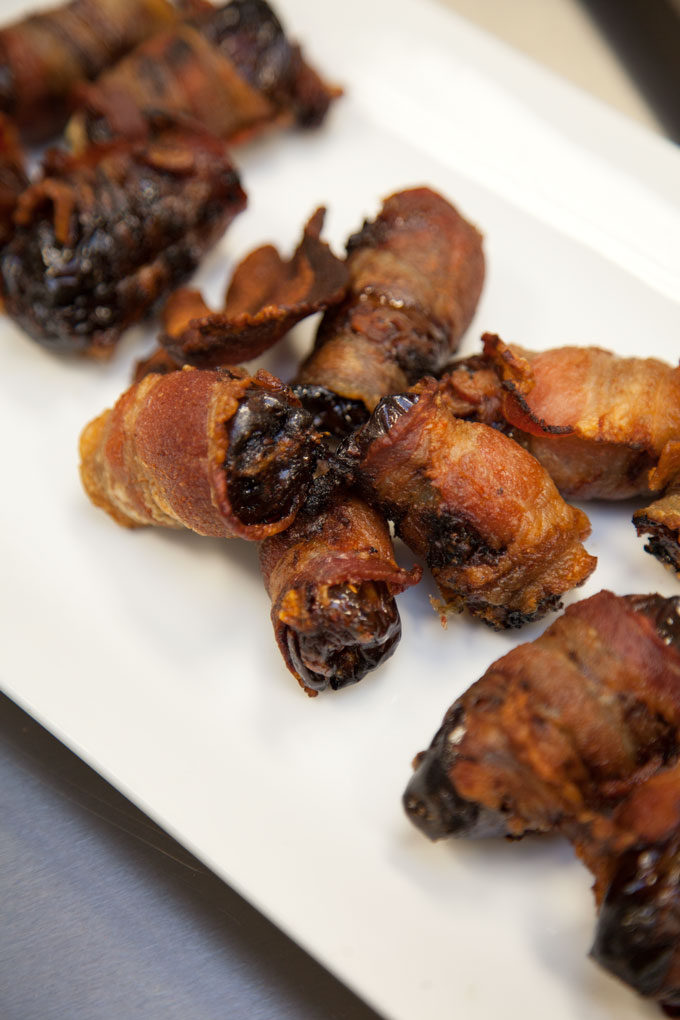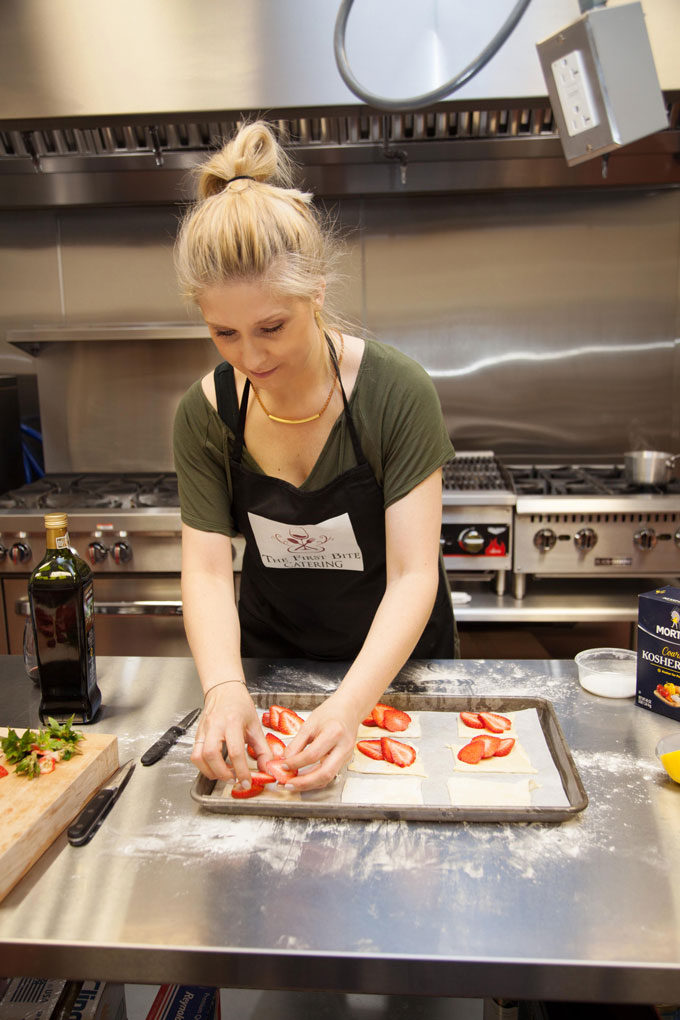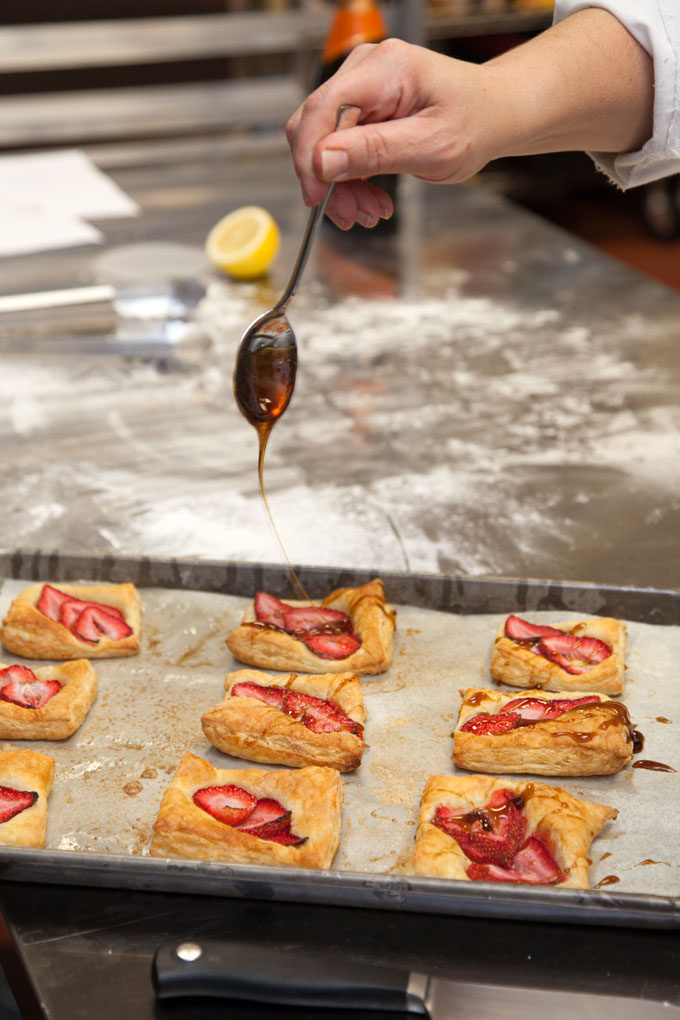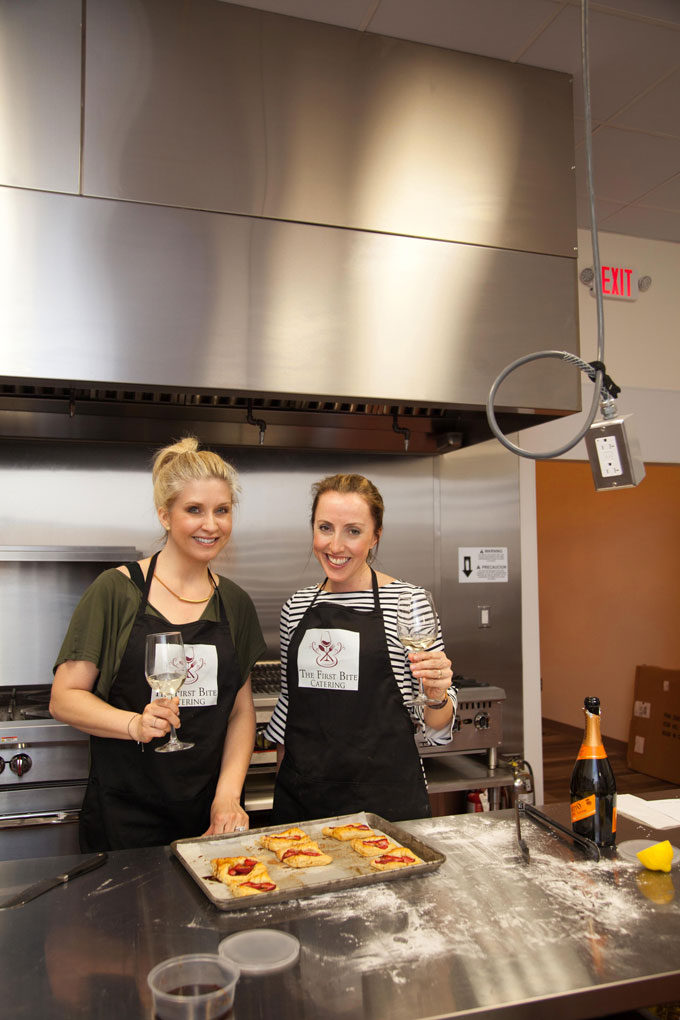 Meet Anne McClelland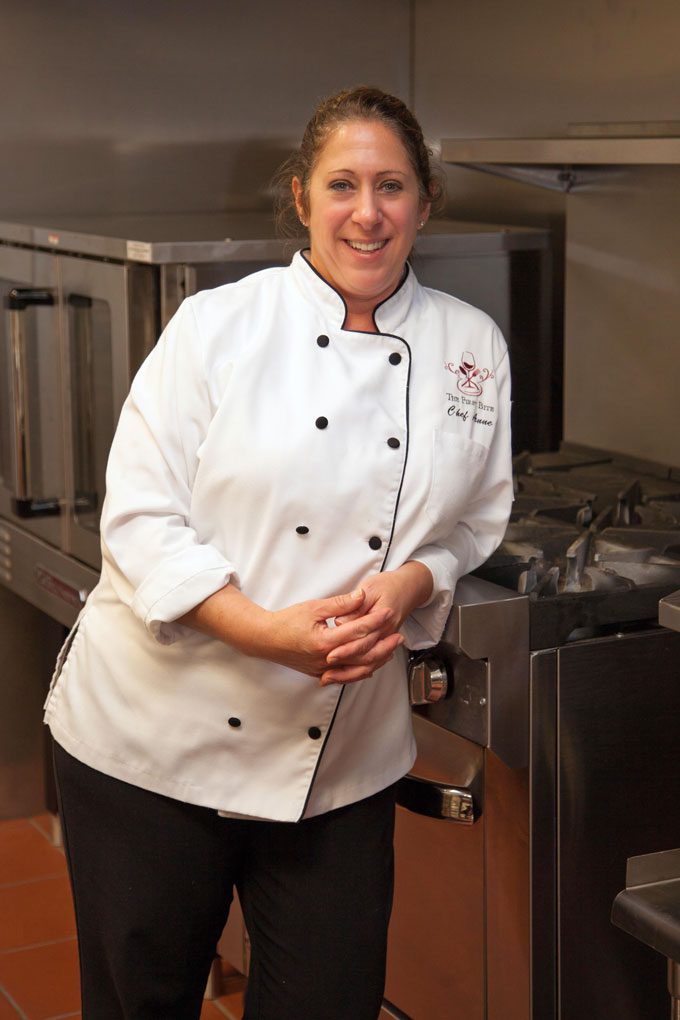 And now for the best part of cooking…the sitting down and eating. The First Bite is all cozy dining room in the front, and behind a sliding barn door, all commercial kitchen in the back.
We eat, we pat ourselves on the back for being such great cooks, and we ask Anne our standard culinary questions.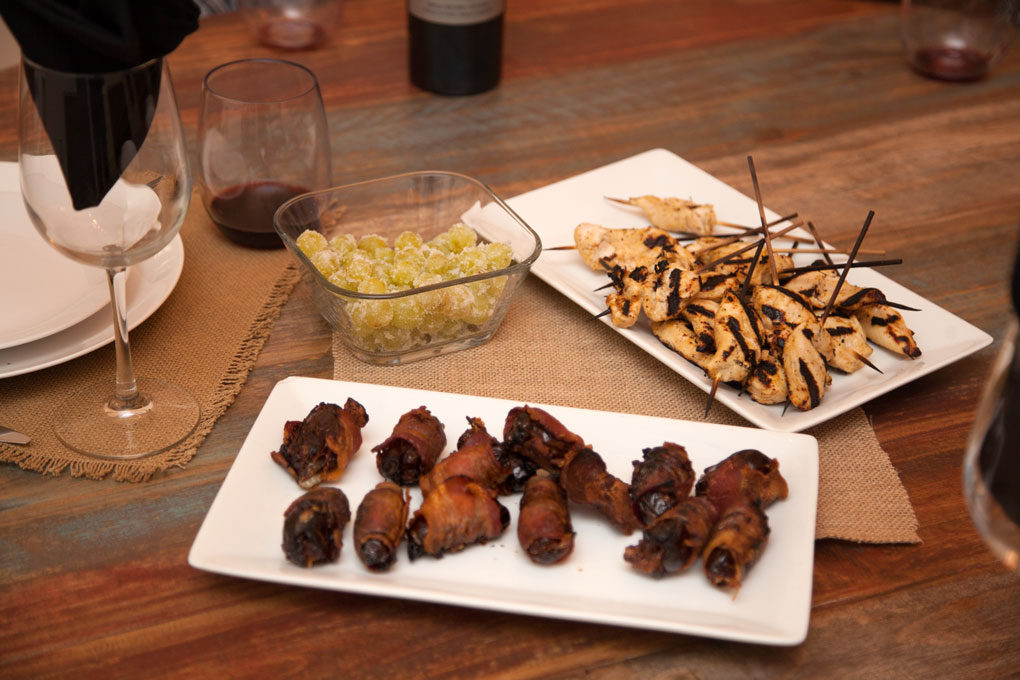 Your favorite meal is…?
My grandmother's pasta and meatballs, which I can no longer get. Hands down to this day, the best meal ever.
The most underestimated spice/food people aren't using in recipes that they should?
Mustard is one of those things people don't think to throw in recipes. It's great for salad dressings, marinades. A hidden gem in your pantry that everyone has!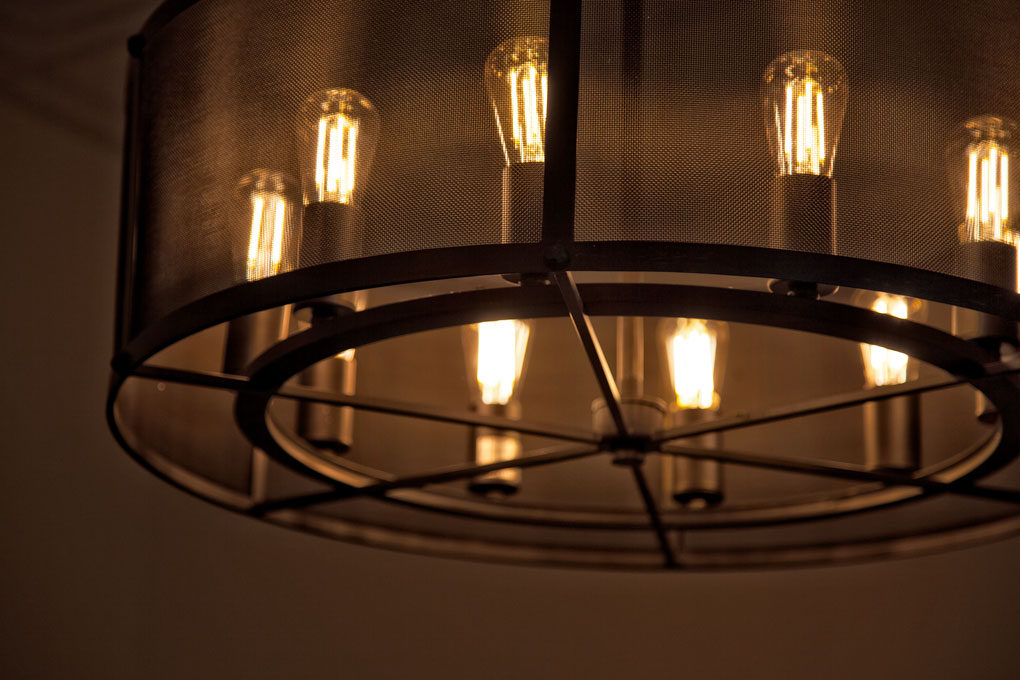 Any food-related family traditions?
So many! We make our own sausage, we make our own wine. I grew up in a traditional Italian family, so Christmas Eve was always seafood. I still do Sunday dinners with friends. I'll do a big bowl of pasta and meatballs and sausage. Pasta from Villarina's because it's amazing. I grew up in the kitchen and started cooking when I was 4. I love to feed people.
What's a food you hate?
Caviar! I struggle with it. Worst day of culinary school was caviar.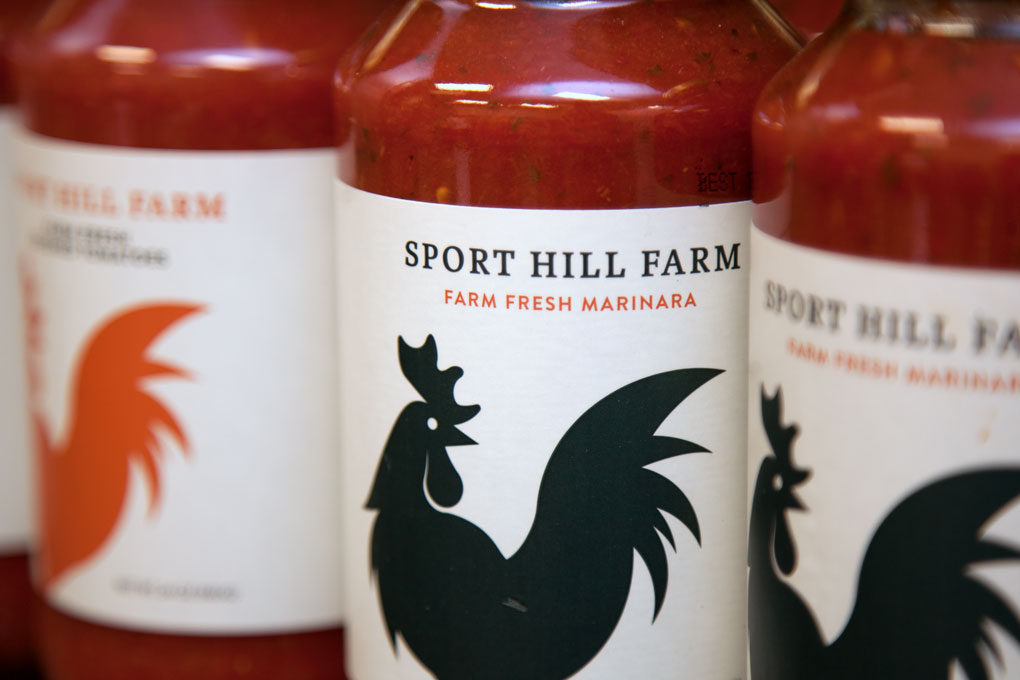 Favorite day of culinary school?
Ice carving! This girl, a block of ice, and a chainsaw? I had so much fun.
Favorite kitchen gadget?
Probably my microplane. I use it for zesting, I use it for cheese, garlic, ginger, turmeric. I use it for all kinds of things!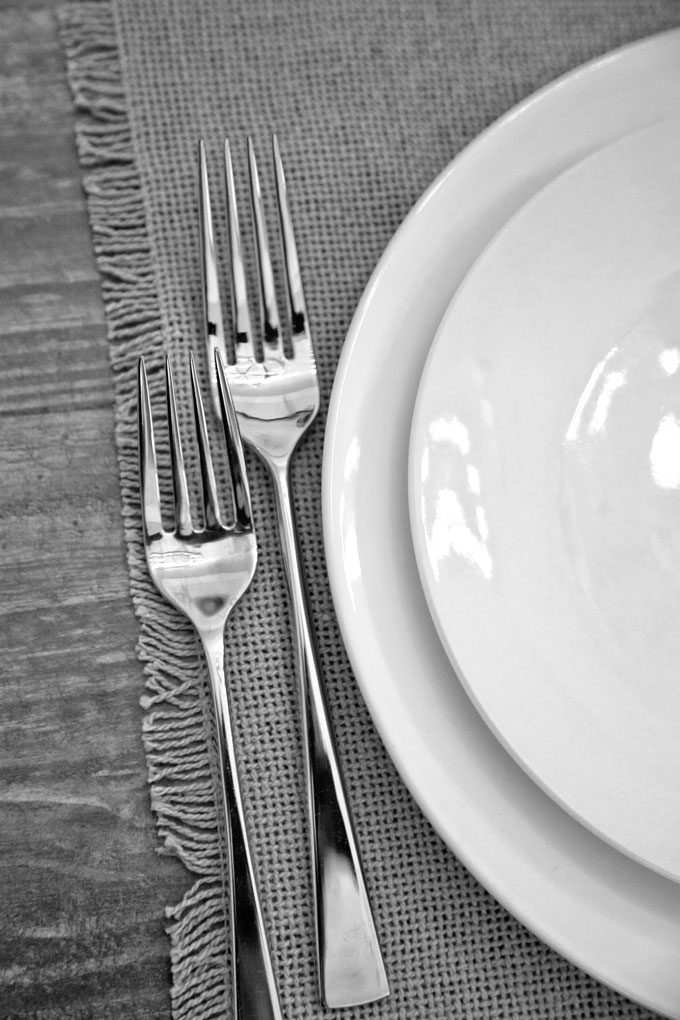 ⚠Warning: Try The First Bite quinoa brittle and you'll be hooked!
Lastly on The First Bite's repertoire, pre-packaged quinoa brittle! If you've tried it, you're probably addicted and buy it whenever you see it! A guilt-free treat on the healthier side that's gluten and dairy free, and vegan-friendly. Add to that the fact that TFB also donates a portion of their profits from the sale of the packaged goods to local animal shelters and canine cancer research…best treat ever.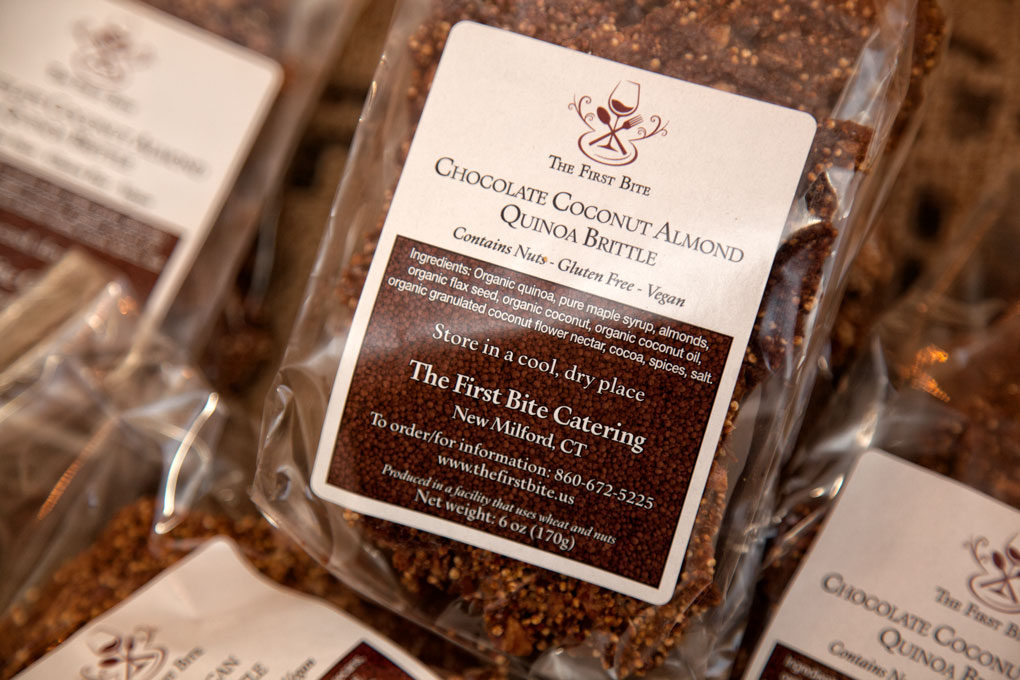 Valdeon (blue cheese) Stuffed Dates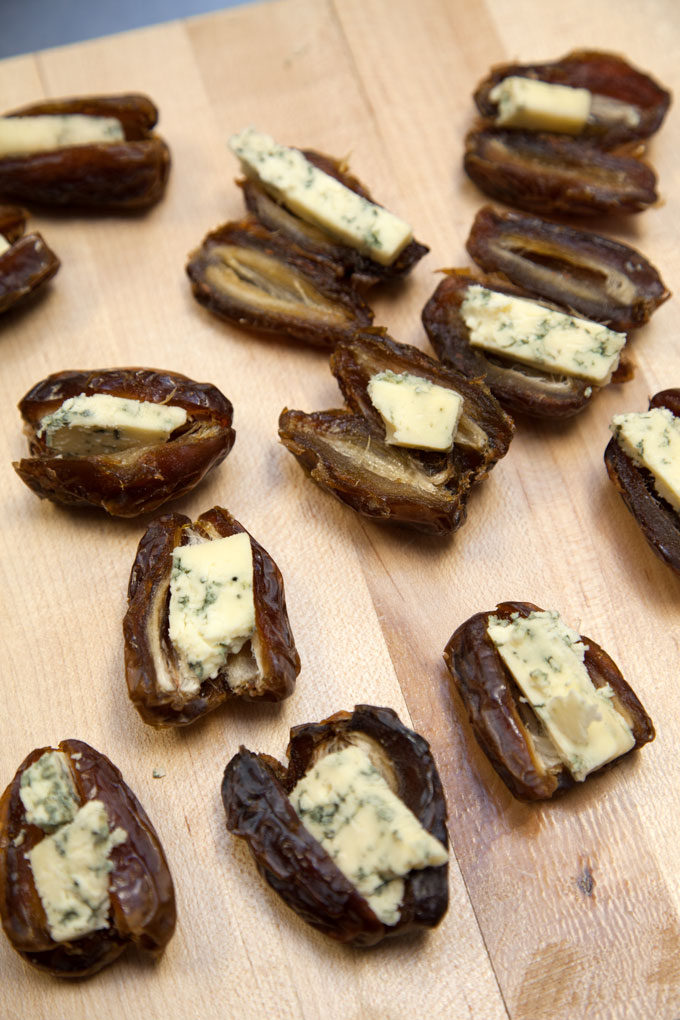 Makes 24 pieces
6oz Valdeon or Blue Cheese
24 Medjool dates, pitted
12 slices of bacon, halved crosswise
24 toothpicks soaked in water for 20 minutes
Preparation
Slice the cheese into ½ inch pieces until you have enough for each date.
Tuck the cheese into each date and pinch the dates closed.
Wrap a strip of bacon around each date and secure with a toothpick.
Place the wrapped dates in a large skillet, seam sides down, and sauté, turning, until the bacon is browned on all sides, about 10 minutes. Drain on paper towels and serve hot. Can also be baked on a rack in the oven at 400F for 15 minutes or until bacon is crispy. Turn over halfway through cooking.
Pair with a medium or bold red wine and enjoy!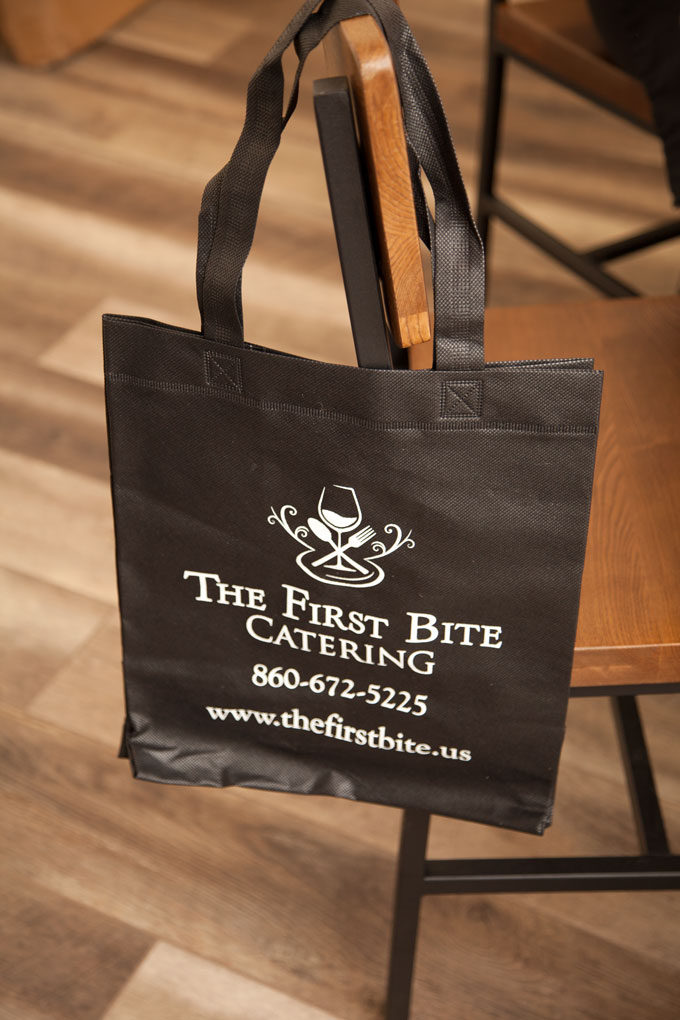 Coming soon! Prepared food to go…
Heads up! The First Bite Catering will be offering prepared food ready to pick up and cook at home (or freeze for later) in the fall. Personally, we can't wait to be able to grab us some Anne McClelland food to eat (and perhaps fool guests into thinking we cooked).
---
540 Federal Road, Brookfield, CT
860-672-5225
Pics: Lora/ Words: Bev